X-47B makes its first landing on an aircraft carrier, the aircraft just took a giant leap for unmannedkind
The X47-B has just something incredible, it has landed on an aircraft carrier, unmanned.

Published Sun, Jul 14 2013 9:27 PM CDT
|
Updated Tue, Nov 3 2020 12:22 PM CST
The Northrop Grumman-built X-47B is an unmanned drone, and it has completed its first successful landing on an aircraft carrier at sea. We reported on the X-47B being the first unmanned drone to take off from an aircraft carrier, but landing unmanned? Remarkable.
Considering aircraft carriers are constantly moving with the ocean waves, even an experienced pilot would have trouble landing on one. It's not an easy thing to do, but unmanned, run purely on technology, algorithms and equipment? That's quite an achievement. The X-47B Unmanned Combat Air System (UCAS) is designed to fly mostly on its own, without much hands-on time from shipboard operators.
The precision landing was just that: precise. It is a huge step for multiple reasons, as this has been a procedure set in motion after quite a few years, and nearly a billion US dollars. On Wednesday, the X-47B made a 35-minute flight from the Navail Air Station at Patuxent River, Md., to the aircraft carrier, where it hooked onto the 3 wire with its tailhook and came to a perfect stop from a speed of approximately 145 knots in less than 350 feet.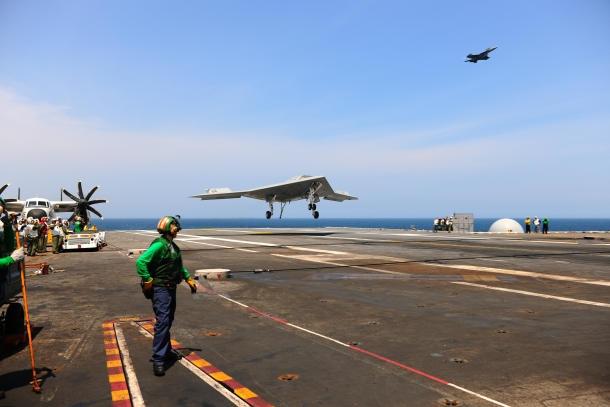 After its first successful landing, it took off again and made a second arrested landing proving it wasn't just a once off. There was a third takeoff, but the X-47B "self-detected a navigation computer anomaly" and took off to a designated alternative landing side, on land, at Wallops Island Airfield in Virginia, where it again landed, with precision.
You can read more on the story here, or check out the Wikipedia page on the X-47B, here.
Related Tags