Intel has detailed overclocking the new Haswell architecture at IDF Beijing and not much has changed from overclocking Ivy Bridge. One major difference between Ivy Bridge and the upcoming Haswell architecture is that Haswell features just one voltage input that can be as high as 3.04v. Ivy Bridge had numerous different voltage inputs that were controlled externally.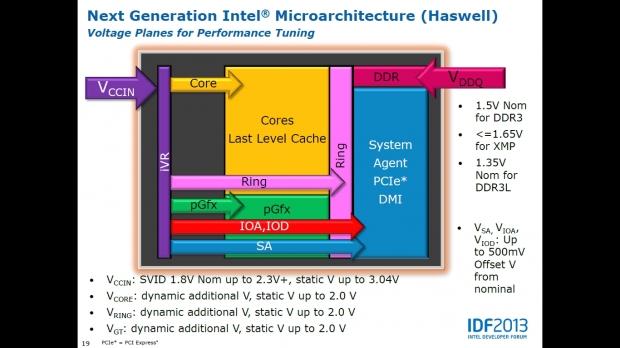 The one new rule of thumb for overclocking Haswell is that the input voltage (VCCIN) needs to be at least 400mV higher than the core voltage (VCORE). This yields VCCIN >= VCORE + 400mV.
Other changes include an increased max multiplier--80x vs 63x--though this doesn't mean Haswell will be able to achieve 8Ghz. Intel has also included BCLK ratios that are present on the X79 platform.
There are plenty of other nuances for overclocking the new Haswell CPUs and HWBot has done a great job of detailing all the ins and outs, so head over to source #1 below to check it out!