Earlier today here in Taipei we attended the yearly Intel Computing Technology Demo which is tour held by Intel folks from the headquarters in US where they give Asian press a look into some fairly exciting tech that it's working on and stuff that we may see in the future.
At the event at the Sherwood Hotel today, Intel showed off a lot of its new Ultrabooks, tablets and smartphones, which of course are all powered by Intel chips. A lot of those products have been seen at events prior to this one, but what took our interest was Intel's take on perceptual computing and where it sees it going in the future.
At the front of the room was an Acer Aspire S7 Ultrabook running Windows 8, some may get excited for that fact alone. Besides just multitouch where we are now with such Windows 8 based machines, Intel showed off various demos which makes uses of the computer's web camera to produce some rather interesting results.
In the video above the first part shows a demo where a Creative Labs 3D camera (attached via USB) is able detect the user's fingertips and control lightning. It uses depth perception and other cool technologies to recognize your fingertips and interact with them on-screen. Another demo we saw (not shown in the video above) showed the camera being able to recognize an Intel employee's hands, and he was able to accurately move around balls on the screen, even flick them with a real flicking motion - quite cool.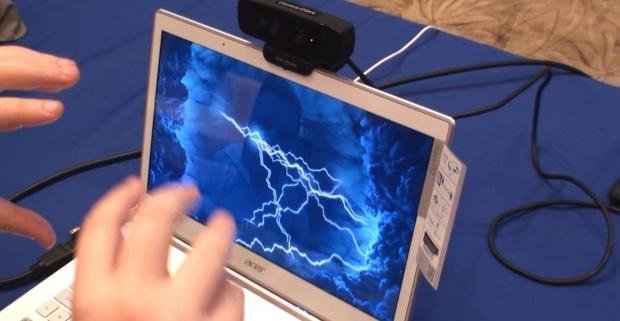 The second part of the video shows a demo racing game designed to show off human-like interaction with a PC. The game used the Aspire's S7 built-in web camera (2D) to not only be able to detect my face, but also the movement of my face to control such things as looking up and down, as well as left to right. For example, Logitech web camera software has for quite a while now been able to place objects such as crowns on the users head by detecting the position of the users head, but we haven't seen software being able to interact to this level before. We were able to drive the car without touching the screen, keyboard or mouse, or anything else for that matter. The software knows to look for the mock-up steering wheel and detect steering motions, just as if we were steering left or right with an actual car steering wheel.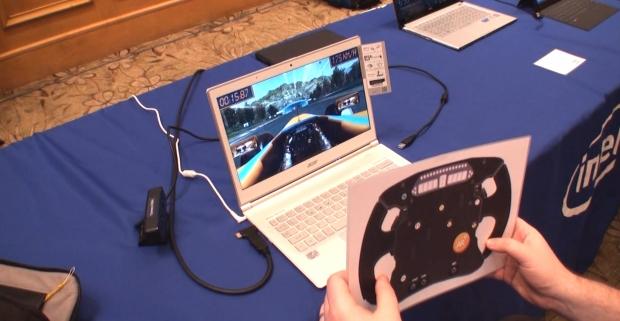 We appreciate Intel coming out all this way to Taiwan (as well as other Asian countries) to give us a look at its new products and things that it finds cool that consumers may be able to see in the years ahead. Keep visiting, guys!