NVIDIA announced their "GeForce Experience" earlier this year, and have now released a beta that will allow the first 10,000 people to register to get their hands on it. After the signups have closed, NVIDIA will monitor the user feedback and take out any of the big bugs.
The GeForce Experience only supports 32 games at the moment, and just the Fermi- and Kepler-based NVIDIA GPUs. More games will be added to the supported list in the coming weeks. If you don't know what the GeForce Experience offers, it will help people who don't optimize their games for their specific hardware. Enthusiasts, like myself and I'm sure many others reading this, will sit there and optimize their graphics settings in their games to get the best performance, or quality.
Everyone is different - some people like a mix of medium/high graphics and a steady 60fps or 120fps minimum (that would be me). There are others who want the maximum eye candy, and will find no problem running at 30fps or lower. NVIDIA's software will help those who don't want to sit there adjusting sliders and settings, with the software eventually being capable of accessing NVIDIA's cloud-based supercomputers that will work out, and then download the best in-game settings for your particular PC.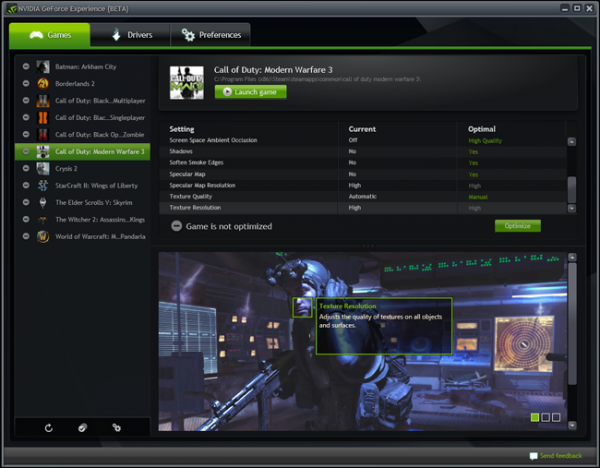 Not only will the software automatically configure your system, it will be capable of running driver updates automatically, by downloading them in the background and notifying you when they're ready to be installed.
NVIDIA have shown a six-step process that they use to test each game:
We start with expert game testers that play through key levels of the game (indoors, outdoors, multiplayer etc.) to get a feel for the load and how different settings affect quality and performance.

The game tester identifies an area for automated testing. This area will be from a demanding portion of the game. We don't always select the absolute worst case since they tend to distort the results.

As part of the game evaluation, the expert game tester will identify an appropriate FPS target. Fast paced games typically require higher FPS. Slower games lower FPS. We also define and test against a minimum FPS to minimize stuttering. The average framerate target is typically between 40-60 FPS, the minimum 25 FPS.

The most difficult part of OPS is deciding which settings to turn on and which to leave off in a performance limited setting. This is done by analyzing each setting and assigning them quality and performance weights. The game tester compares how each setting (eg. shader, texture, shadow) and each quality level (eg. low, medium, high) affects image quality and performance. These are stored as weights which are fed to the automation algorithm.

From here on the testing is automated. The GeForce Experience supercomputer tests the game by turning on settings until the FPS target is reached. This is done in the order of maximum bang for the buck; settings that provide the most visual benefit and least stress on the GPU (eg. texture quality) are turned on first; settings that are performance intensive but visually subtle (eg. 8xAA) are enabled last.

Finally, the GeForce Experience supercomputer goes through and tests thousands of hardware configurations for the given game. Unique settings are generated for each CPU, GPU, and monitor resolution combination.