LSI AIS 2012 - We all have enough doom and gloom with the whole Twinkie situation but this story has a theoretical happy ending. If you follow the SSD market you already understand that as flash scales to smaller die sizes the number of electrons held decreases. The following slides were taken from two tracks at AIS 2012. We're working on getting the full slide decks or at least getting a link so you can read through both of these well put together presentations.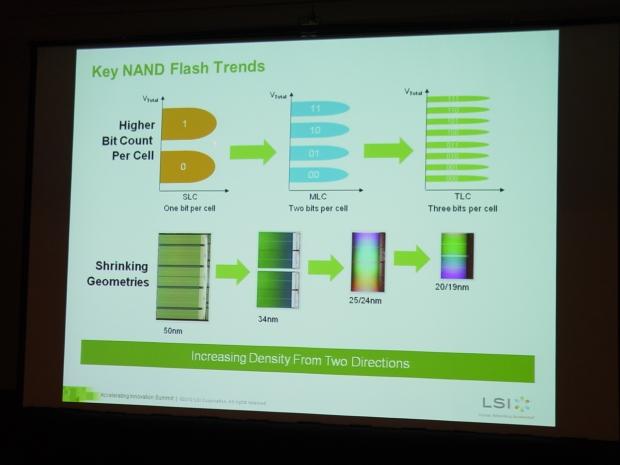 TLC is already shipping in a number of thumb drives and a couple of SSDs (one consumer, one enterprise that we know of) and increases the number of bits per cell. At the same time die shrinks decease the available space to electrons stored to charge a cell.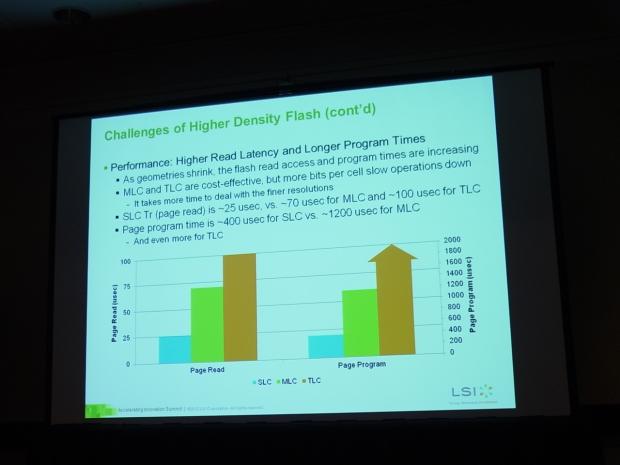 As the dies shrink, the access time and program times increase, not the direction we want to go with SSDs.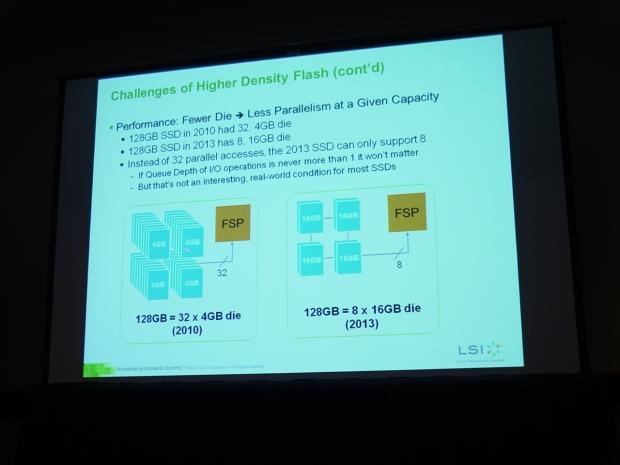 SSDs achieve their speed by reading and writing data to several NAND at the same time. As the NAND capacity increases the number of NAND chips decrease. Again, slowing SSD performance.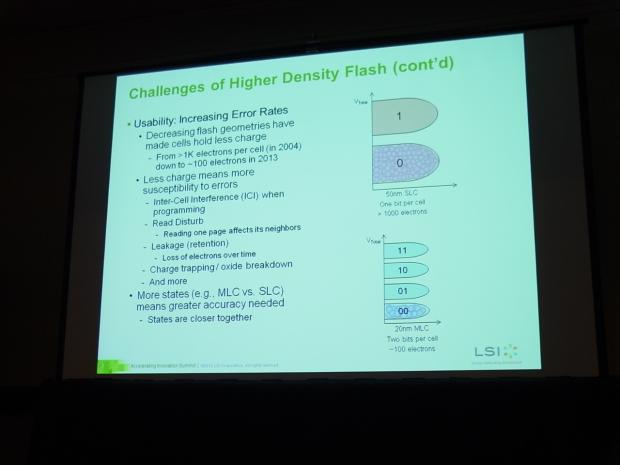 Since 50nm SLC flash, the electrons held decreased 10x (20nm).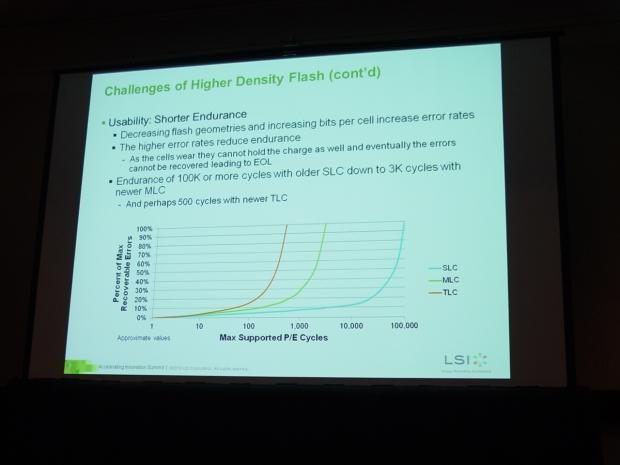 Error correction and control needs to become even more powerful to keep up with the increased number of errors...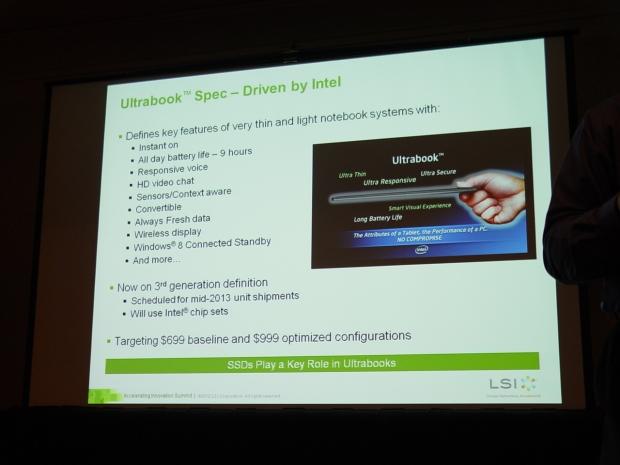 ...and next generation flash controllers have to do this without using more power.
We've all read about the great features Intel dictated in the Ultrabook specifications. Intel says but others need to deliver. The ultrabook specifications are already impressive but the next generation is scheduled for mid 2013.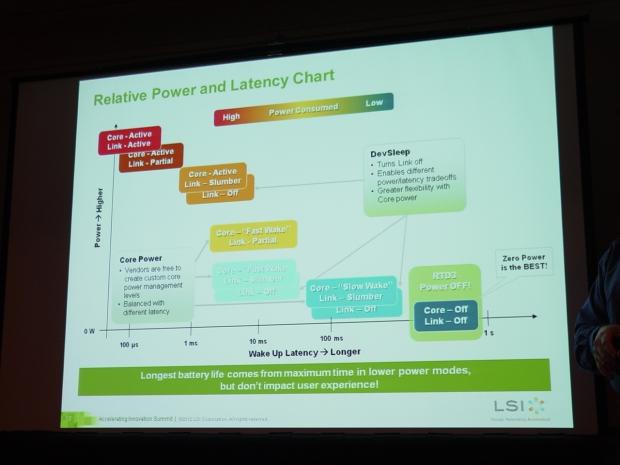 SSD manufactures are faced with challenges from all directions. In this slide we see that next generation SSDs need to decrease power consumption and learn to work in deeper sleep states. The deeper the sleep state, the lower the power usage but the time needed to wake the drive and other components. Low latency increases the user experience but increased latency brings us back to the HDD ages.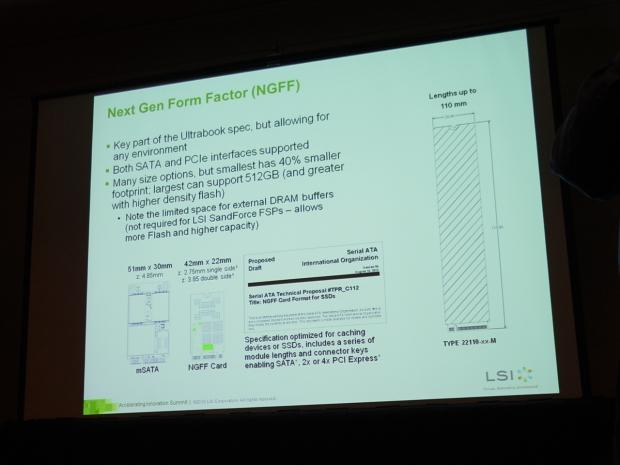 The SSD of tomorrow is still a work in progress and the number of proposed physical forms is increasing. We can't point to a single solution and tell you with certainty where we are headed but in this slide two Next Gen Form Factor (NGFF) models are displayed next to an existing mSATA spec drive.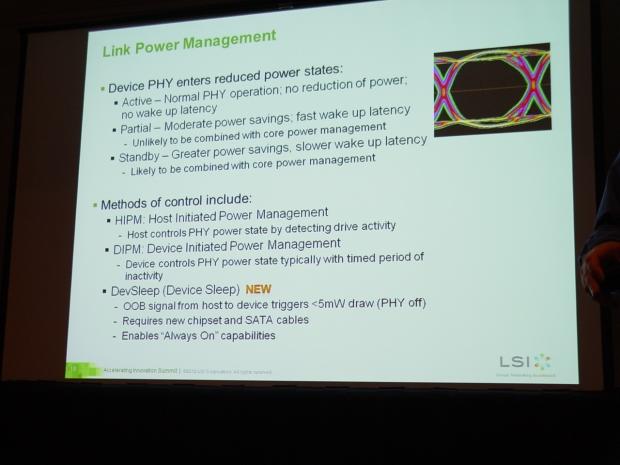 Words like unbelievable and unreal are overused but fitting for next generation challenges for SSDs. In the presentation we learned of future power requirements that move sleep state power draw to less than 5mW over the entire deep sleep state time. That could be less than 5mW over 13 hours. That's about the same amount of energy discharged when you shock yourself on the door knob after walking across the carpet.