There are some people who think that potential future President of the United States, Republican nominee Mitt Romney is hiding something. There have been various reports, and you can Google (or Bing) it yourself for some more information.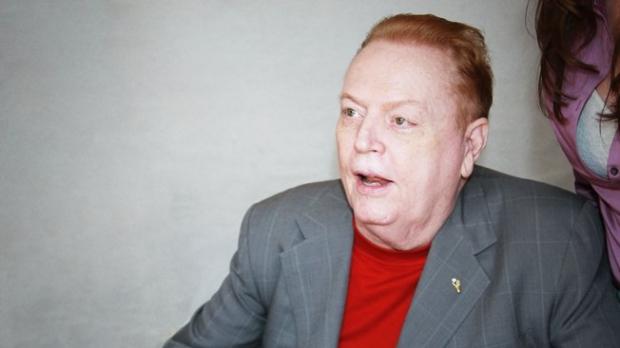 Last week we reported that hackers had gotten their hands on Mitt Romney's previous tax returns, and are asking for $1 million Bitcoin's or they'd release them. Now we have founder and publisher of Hustler magazine, Larry Flynt, hitting the wire that he is offering $1 million as a reward to anyone who can give him Romney's tax information.
Flynt took out a full-page ad in the Sunday's edition of The Washington Post, promising "up to $1 million" for the dirt on Romney's "unreleased tax returns and/or details of his offshore assets, bank accounts and business partnerships." When money is being thrown around like this, someone might step forward. But, if you had this type of information, and it did involve, and prove that Romney has something very sinister to hide, that is completely provable, would you really want to share it?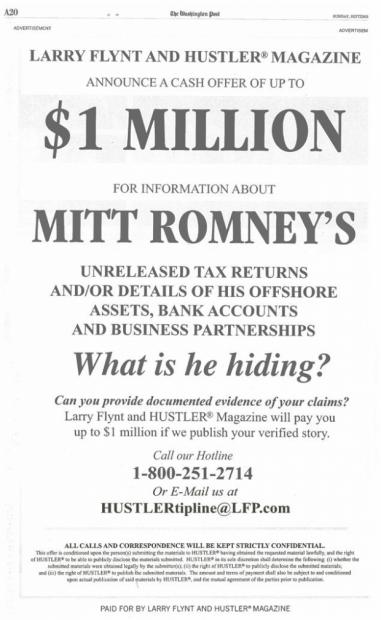 Would you really, at the end of the day, be truly 'anonymous'? I'm sure that Romney has people that could track you down - and the power of the Secret Service would make sure of that. Department of Homeland Security, the NSA, FBI and more would most likely get involved, and you'd eventually forget what daylight looked like, or what water tasted like when you hit the was-meant-to-be-closed Guantanamo Bay.