Turns out NVIDIA doesn't think to highly of Intel integrated graphics, who would have figured? They apparently feel that the HD4000 series is the same as HD3000 series in that they are both incapable of playing 40% of games. KitGuru turned to an expert to analyse the slide, and the expert happened to be from Intel.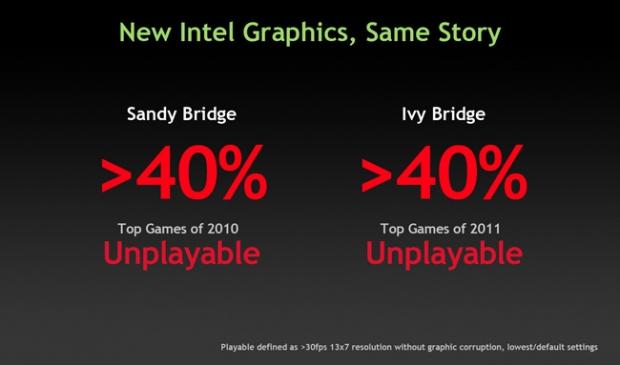 The slide, seen above, contains quite of bit of information about the testing NVIDIA performed. "If nVidia claims that over 40% of the top games are unplayable on Intel HD4000, then that's simply not true", said Huddy. The idea is that Intel graphics are unable to play top 2011 games at the lowest settings and provide over 30 FPS.
Of course, Intel denies these claims. It's true, if you want the best of the best performance, you'll have to go to a dedicated solution from AMD or NVIDIA, but Intel's integrated solution is better in recent years and will allow playing to occur on laptops and value desktops. Intel, due to the number of CPUs it ships, is the largest GPU provider.
Intel is planning on continuing to increase its graphics offerings in the coming years and sees it as an important part of the company going forward. Back to NVIDIA's original claim, I'd be a bit skeptical of the 40% claim. Sure, there are probably a couple of games from 2011 who's lowest graphics settings are really high, but the 40% number seems inflated.