Apple's Newsstand makes $70k per day
Apple's Newsstand is making $70k each and every day.

Published Tue, Mar 27 2012 11:34 PM CDT
|
Updated Tue, Nov 3 2020 12:29 PM CST
People are spending up big on Apple's Newsstand app, where a study of Apple's App Store for iPad during just the month of February from market research firm Distimo shows that the top 100 publications raked in more than $70,000 a day. This is just absolutely huge, considering that the revenue is from the United States alone, and is led by News Corp.'s The Daily, followed by The New York Times, and The New Yorker magazine.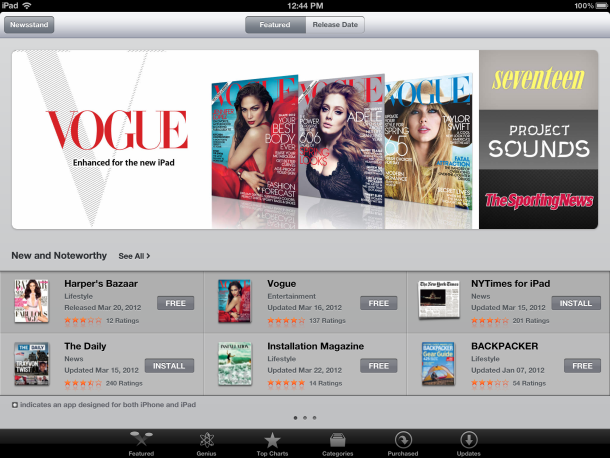 Apple don't disclose what individual app makers and content providers earn on ints store, but Apple provide 70-percent of each sale to the content creators, holding back 30-percent for themselves. Publishers can also let existing subscribers view digital editions of content, to which they've already subscribed to. But, they're not allowed to link to outside Web sites where subscriptions can be struck outside of Apple's App Store, that's a naughty no-no.
Some noteworthy metrics from the study:
China has outgrown the United States, when it comes to daily downloads of free applications. The country tallied more than 1.1 million daily downloads from within the top 300 most popular free apps. By comparison, the U.S. tallied "just below" 1 million daily downloads, Distimo said.
The U.S. is still the top-grossing country, when it comes to iPad app spending. It is trailed by Australia, Canada, and the United Kingdom.
The iPad has more apps with in-app purchase than apps built for the iPhone. Ten percent of the iPad applications on the App Store had in-app purchase, versus 6 percent for the iPad.
iPad users download lots of weather apps. One of the omissions from Apple's iPad version of iOS is a built-in weather app. That has led to some serious downloading, Distimo said. While the number of downloads is nowhere near the same class as things like entertainment, travel, or photography, the study found the number of downloads for weather apps to be considerably higher than how many such apps are available.
Related Tags