Apple's latest third-generation iPad is now here, folks, I have one on the desk next to me, but I have a tonne of news to deliver to you loving readers, who are more important than that little thing.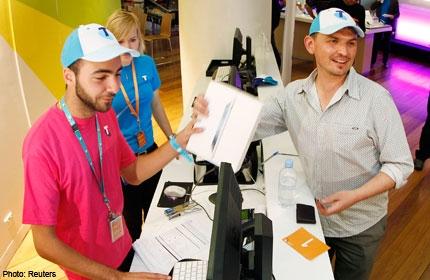 We all know it has hit, and Australia was first, because well, you know, we rock. Anyway, we had midnight launches in some states with some telcos like Telstra opening their doors (and arms and tills) at midnight. This is a full eight hours before Apple opened their retail doors, so some people were greeted with iPads very early today.
It has been reported that there were "snaked" queues, but I'm based in South Australia and had no problems. I called Big W, JB Hi-Fi and a few of their local retailers, and all of them had stock. My local JB's had all 6 flavors of the iPad in stock, and I drove down and picked two of the iPads up without any problems.
Expect a quick-look unboxing video from yours truly coming in the next 24 or so hours, my upload speed is atrocious. 20kb/sec. Might as well attach it on a USB stick, put it in a bottle, and push it into the ocean. It'll get to Cameron in Taiwan faster that way.