Xbox scooped up 40% of all videogame sales during 2011
Microsoft stamps foot down, takes 40% of all videogame sales in 2011.

Published Fri, Jan 13 2012 1:18 AM CST
|
Updated Tue, Nov 3 2020 12:30 PM CST
Microsoft has shown its strength just now, with the Xbox taking in nearly half of all consumer spending from physical sales in 2011. Roughly $6.7 billion, or 40-percent of consumer retail spending, was spent on the Xbox, breaking into two separate categories. $2.1 billion on consoles, and $4.6 billion on games, according to NPD data released today.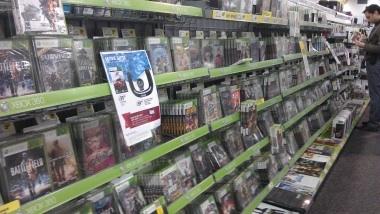 These figures take into account U.S. retail sales of new physical videogame content, inclusive of portable and console hardware, games and accessories. In the collective sectors, they generated revenues of $17.02 billion last year, an 8-percent decline from 2010's $18.6 billion in generated revenues. Out of that $17.02 billion, Microsoft took a very respectable 40-percent of those sales.
The report doesn't include sales from digital formats, with things like downloadable content, social and mobile games, used and rental sales. Those so-called "newer" categories generated $7.24 billion in revenues last year, an increase of 7-percent over 2010. Whilst the increase in spending on alternative formats was there, it wasn't enough to offset the declines in physical retail. Consumer spending across both categories was between $16.3 and $16.6 billion, falling 2-percent from last year.
NPD Group Analyst, Anita Frazier, had said that December's sales accounted for just 23-percent of the annual total, compared to taking 28-percent on average over the past ten years. Sony's PlayStation also performed very nicely, seeing a 5-percent increase across all game categories in 2011.
How did the Nintendo Wii fare? It saw a decline year-over-year. In a separate statement, Microsoft said it outsold the PlayStation by 2.7 million units. 66 million Xboxes and 18 million Kinect accessories have been sold.
Here are the top 10 best-selling games in December, according to NPD:
Call of Duty: Modern Warfare 3 by Activision Blizzard.
Just Dance 3 by Ubisoft.
Elder Scrolls V: Skyrim by Bethesda Softworks.
Mario Kart 7 for 3DS by Nintendo.
Battlefield 3 by Electronic Arts.
Madden NFL by Electronic Arts.
Assassin's Creed: Revelations by Ubisoft.
NBA 2k12 by Take Two Interactive.
Super Mario 3D Land for 3DS by Nintendo.
Batman: Arkham City by Warner Bros. Interactive.
Related Tags