Want a free Windows Phone? Sure, just tell Microsoft you're a Malware victim, oh and an Android owner
Microsoft's latest marketing stunt, offering Windows Phone's to Android malware victims.

Published Wed, Dec 14 2011 10:29 PM CST
|
Updated Tue, Nov 3 2020 12:30 PM CST
Android owner? Malware victim? Like free stuff? Well, all you'll need to do is tell Microsoft about the problems you've had with malware on your Android-based phone.
Microsoft's latest social media marketing intiative, is not to push their own Windows Phone-based products, but to take a stab at Google and their malware woes. Ben Rudolph, Microsoft Windows Phone "evanglist", is behind the scheme, which uses the hashtag "#droidrage" on Twitter.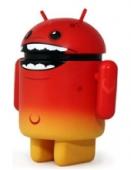 Linking followers to current news articles about Android malware, Rudolph says he will give an "upgrade" to a Windows Phone to the "5 best" stories of being a victim of Android malware.
Marketing stunt, sure. Will it work, you can bet your Christmas-filled stomach it will. It must be a glorious day for Microsoft, as they're the ones that are usually being bagged on about their Windows OS being victim to malware, when compared to Unix or Mac OS X.
How long until we can expect a similar marketing campaign from Google?
Related Tags