Breakthrough in lithium-ion batteries could increase capacity and recharge rate by 10 times
New battery technology could see a 1000-percent increase in not only capacity, but super-fast rechar.

Published Thu, Nov 17 2011 2:18 AM CST
|
Updated Tue, Nov 3 2020 12:30 PM CST
We've seen some pretty amazing advances in mobile technology over the past decade, and even more so in the past two to three years. Battery life is one thing that has not kept up with the fast pace of the industry and this is set to [hopefully] change.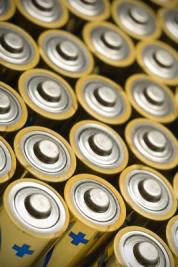 A team of engineers at Northwestern University claim to have discovered a breakthrough that could revolutionize the industry. The researchers have developed an electrode for lithium-ion batteries that could increase the capacity and recharge rate by 10 times. If this can be done, we could see smartphones lasting for an entire week before requiring a recharge. Oh, what's that? You need to recharge it to last another week? That'll only take a few minutes versus a few hours.
Currently, lithium-ion batteries are charged by a chemical reaction that causes litium ions to move between the anode and cathode. As energy is used, litium ions travel from the anode to the cathode through the electrolyte. This is reversed when its charging. The anode is composed of carbon-based graphene sheets and they can only handle one lithium atom per six carbon atoms.
The Northwestern University researchers have drastically improved both qualities by sandwiching clusters of silicon between the graphene sheets. What this does is stabilize the silicon while allowing the graphene to transfer a larger number of lithium atoms. Recharge rates are improved by using chemical oxidation to create 10-20nm holes in the graphene sheets, giving the lithium ions many shorter paths to travel instead of clumping along the edges.
This new technology is expected to be in our hands within three to five years.
Related Tags