GIGABYTE 3D Dual UEFI BIOS hands-on with X79-UD7 motherboard
GIGABYTE goes Dual UEFI BIOS and 3D - say what?!
Published Nov 14, 2011 2:01 AM CST
|
Updated Tue, Nov 3 2020 12:30 PM CST
1 minute & 7 seconds read time
Now that the Intel NDA is up for the X79 Express chipset, we can finally let fly with all of our content on the subject. Our latest is from the GIGABYTE headquarters here in Taipei where last week we visited them and got a good look at their range of motherboards to support the new Socket 2011 Intel processors.
Since we've already spent a good amount of time previewing some GIGABYTE X79 boards and others, we didn't want to focus too much on the boards themselves, but some of the features included. We will start off with the all new 3D Dual UEFI BIOS. 3D, you say? Yes - well probably not the kind of 3D you are thinking with movies and the need to pull out some fancy active shutter glasses.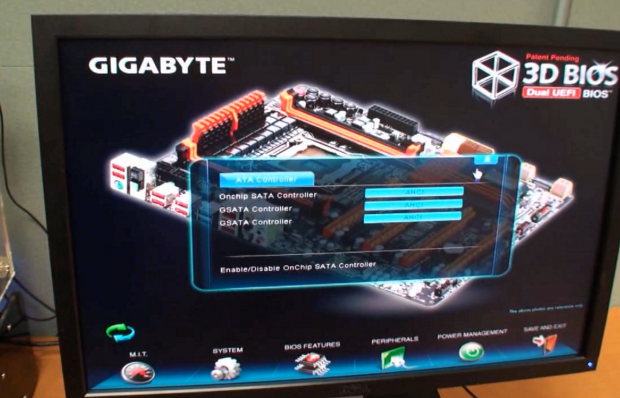 This new BIOS from GIGABYTE focuses on an easy to use experience for people who may be venturing into the BIOS for the first time, yet it is still loaded full of advanced settings for advanced users and overclockers who know what they are doing. When first loading the BIOS, you are shown a full size picture of your motherboard, which can be rotated to show different angles of the board. Using your mouse, you move the cursor over different parts of the system and it gives you a description of what type of options and settings you can change for that part of the motherboard.
GIGABYTE has employed a larger than usual 64MB ROM for its 3D BIOS and that allows a good amount of interactivity with a rather fancy and stylish BIOS. Check out the video for a full hands-on look at the BIOS.
Related Tags