Seagate to intro 1TB platters spinning at 7,200 RPM
Seagate are set to intro 1TB per-platter 7200 RPM hard drives.

Published Wed, Nov 2 2011 8:06 PM CDT
|
Updated Tue, Nov 3 2020 12:30 PM CST
Seagate currently have their GoFlex external drives using the 1TB platter technology, but they feature 5400 RPM and are not as fast as the usual 7200 RPM drives. But, with 7200 RPM drives, there's usually less GB per platter. Seagate don't want this, and neither do we.
Seagate will now intro a bunch of new drives sporting the 7200 RPM spindle rate, with 1TB platters on a SATA 6Gbps interface. The new drives will have a model number ending in M00x which represents the new drive and its 7200 RPM speed.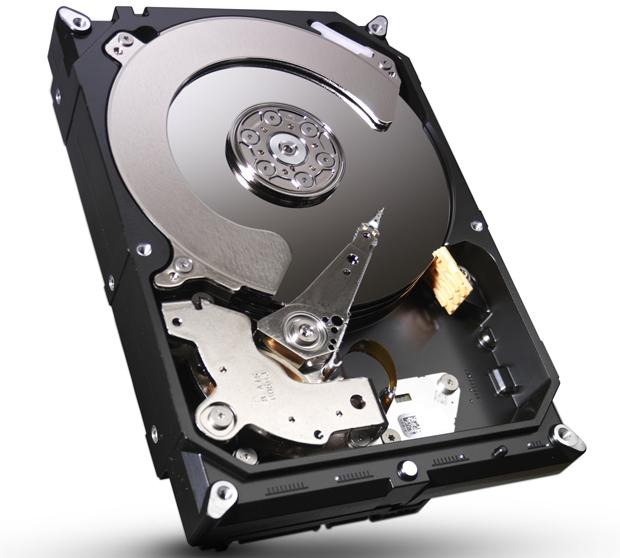 Tech wise, platter capacity plays quite a big role in just how much storage a hard drive can hold, but it can also impact performance. Areal density is key, which is a measurement of how many bits are squeezed into each square inch. The more bits per square inch, the more data passes under the drive head with each revolution of the platter.
Seagate are set to have crammed 625 gigabits into each and every square inch. The closest competition is the recently-announced Hitachi Deskstar 7K1000.D which also sports a 1TB platter at 7,200 RPM. But that has an areal density of just 566 gigabits per square inch, so Seagate wins in that area.
Seagate claim that the new drive will be capable of reading up to 210MB/sec and writing at up to 156MB/sec. Lower capacity drives will actually have less performance, with Seagate offering a plethora of sizes in their new range from 250-500GB that sport 16MB of cache, up to 750GB-3TB drives that offer 64MB of cache.
There will be 250, 320, 500 and 750GB drives, in TB sizing we have 1, 1.5, 2 and 3TB. For drives between 250-500GB, they will offer average and max transfer rates of 125MB/sec and 144MB/sec, respectively.
Price wise, they aren't too bad at all. Suggested retail pricing on the 3TB is $180, $106 for the 2TB, $84 for the 1.5TB and $72 for the 1TB model. I'm not sure if this pricing will go up because of the floods in Thailand, but these new drives are definitely sexy.
One downer on them, though. Two-year warranty. Seagate did used to be the only hard drive maker to offer an astounding five-year warranty on all of its internal hard drive range, but they have cut this down to two-years. Desktop Product Marketing Manager, David Burks says this is a business decision rather than an indication the new models are somehow less reliable than their predecessors.
To calm this down, Seagate have claimed the updated Barracude range has an annualized failure rate of less than 1-percent.
Related Tags