AMD Fusion A-series, 10.5-hour battery life, DirectX 11-powered, USB3.0 support
AMD Fusion A-series, looking very good indeed!

Published Tue, Jun 14 2011 12:59 AM CDT
|
Updated Tue, Nov 3 2020 12:31 PM CST
AMD Llano, we finally meet. AMD has officially donned the Llano chips with the Fusion A-Series name and are 32-nanometer APUs designed with desktops and mainstream laptops, taking a glaring stare at Intel's Core 2011 processors. AMD are claiming superior processing, discrete-level graphics and a whopping 10-plus hour battery life with Fusion A-Series.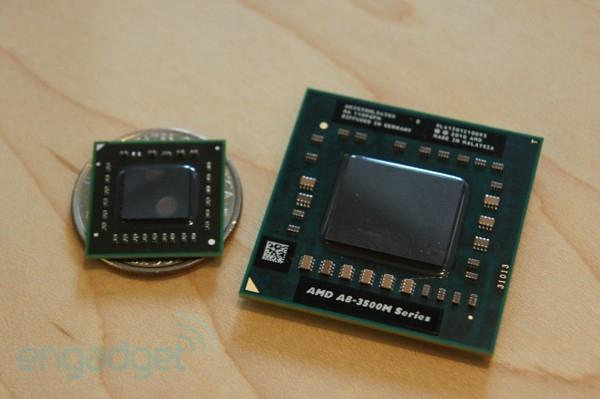 AMD is also looking to take a break from the CPU plus GPU paradigm, this is not to say they're ditching Radeon cards, because they too can be coupled with an APU for a 75-percent boost in graphics performance, something AMD calls "Dual Graphics." The Fusion A-Series chips come in at just 228 square millimeters, quite tiny, ain't it?
The A-Series include no less than seven laptop APUs across three different families, offering up to 4MB of cache and clock frequencies as high as 1.9GHz in the dual-core A4 chips, with up to 2.5GHz if you include AMD's Turbo Core technology. Surprisingly, these chips are also stereoscopic 3D-capable, inclusive of USB3.0 support, DirectX 11, OpenCL / OpenGL, AMD Wireless Display and both 1600MHz DDR3 and low-power 1333MHz DDR3L memory.
The new APUs are promising more than ten and a half hours of resting battery life thanks to power gating with AMD claiming that its quad-core A8-3510MX APU is capable of lasting more than three and a half hours longer than the dual-core Core i5-2410M processor. AMD are also taking another stab saying their dual-core A4 chips will compete with Intel Core i3 CPUs, the quad-core A6 taking on the i3 and i5 and the quad-core A8 stalking the i5 and i7. Systems based on A4, A6 or A8 chips are expected to start at around $499, $599 and $699 respectively.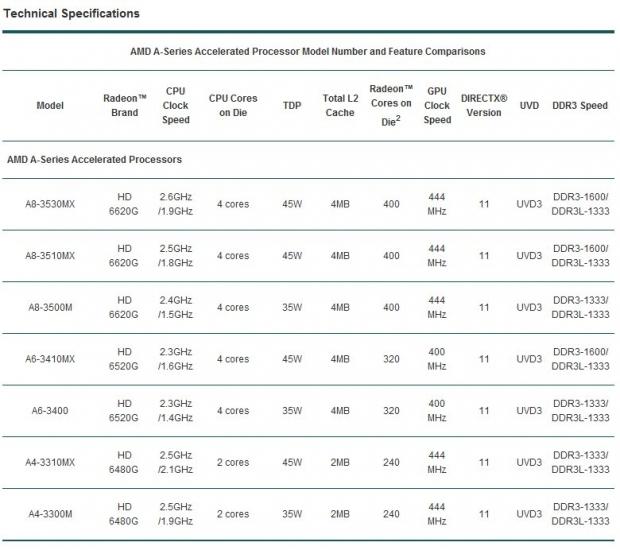 Next up, graphics. The A-Series has up to 400 shader cores depending on the model, and now includes two new AMD technologies. AMD's Vision Engine: AMD Perfect Picture HD which is meant to clean up 1080p video post-processing. Secondly, AMD Steady Video which compensates camera shake in movies.
A-Series-powered PCs are already shipping and AMD says we should expect to see at least 150 of them by the end of the year.
Related Tags