MSI starts bundling Assassin's Creed II with select HD 5800 / HD 5900 series cards
A little sweetener for an already good lineup.
Published Thu, May 27 2010 5:06 AM CDT
|
Updated Tue, Nov 3 2020 12:34 PM CST
We don't see as many video card partners these days including full version games to give the icing on the cake; certainly not as much as we used to. So it's nice to see MSI deciding to do this :-

There's no doubt they've picked a real good'en to bundle with their new R5970 and R5870 series cards, being named Game of the Year by the New York Times and getting a big thumbs up from game reviewers everywhere. Nearly all of MSI's video cards in their lineup are non-reference in one form or another, be it superior coolers, factory overclocks or higher grade components for better stability, and in some models a mixture of all.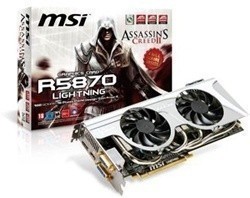 So, a good choice of game, good mix-up of cards in their lineup and hopefully good pricing should have MSI seeing their inventories cleared at a more rapid rate hereon. Keep an eye out for the boxes on the shelf that show Ezio (the star of Assassin's Creed) glaring at you.
Related Tags