Purchase a Designated MSI Graphics Card and Get a Free Copy of the Full DVD Edition of Assassin's Creed 2
Play the Role of an Assassin and Fight for Your Family's Honor

[Taipei-Taiwan] Globally-renowned mainboard and graphics card manufacturer MSI, with world-renowned video game company Ubisoft, are collaborating on the release of the ATI R5970 and R5800 Series* graphics cards by offering a free copy of the full DVD edition of "Assassin's Creed 2" -- named Game of the Year by the New York Times. In this thrilling action-adventure game, you play the role of a prominent member of the Florentine family that has been framed. To exact revenge, you must train and become a skilled and powerful assassin to restore your legacy. With MSI's high performance graphics cards, gamers can fully enjoy the enchanting scenery of Venice, the majestic view of Florence, experience the many unique skills used as an assassin, and jump onto rooftops and over walls as you try to escape pursuing enemies! The framed assassin needs your skilled hands to guide him in seeking revenge and fighting for his family's honor!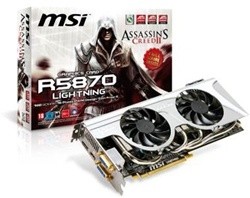 MSI targeted gamers during the development of the high-end R5970 and R5800 Series graphics cards by using server-grade, military-class components. These components include cores with the rare element "tantalum", Hi c-CAP capacitors with a life-span 8 times longer than solid state capacitors; a Solid State Choke that provides the best heat-resistance, lowest noise, and highest stability; and a Solid CAP that has a 10 year lifespan. Besides increasing overall product quality and stability, the Afterburner utility, co-developed by MSI and Rivatuner, is designed especially for advanced gamers to customize graphics card performance and allows them to simultaneously master overclocking, tuning, and monitoring of critical information. Also worth noting is that the R5970 and R5800 high-end graphics cards' built-in cooling design incorporates the highest quality fans and heat conductors, so gamers won't need to worry about instability brought on by overheating or sacrifice performance requirements.
* Designated graphics card series models include: R5970-P2D2G / R5870 Lightning / R5870-PM2D1G / R5850 Twin Frozr II / R5850-PM2D1G / R5830 Twin Frozr II, See details on product packaging to confirm the free DVD edition of "Assassin's Creed 2" is included.
Please visit our Website for more information:
http://event.msi.com/vga/assassin_creedII
Last updated: Apr 7, 2020 at 12:02 pm CDT