Seagate unleashes 'Hybrid' SSD+HDD Momentus XT
Higher capacities, SSD access times, cheaper!
Published Mon, May 24 2010 1:40 AM CDT
|
Updated Tue, Nov 3 2020 12:34 PM CST
The SSD world is more competitive than ever, especially since SandForce readied up their SF-1200 mainstream controllers for manufacturers which kept pricing down whilst pushing performance to new heights; a combination that has everyone jumping on the bandwagon.
However, big gun mechanical storage maker Seagate is focusing on bringing something much different to stand out from the crowd and has been developing some SSD-threatening 'hybrid' drives for mass market.
Seagate calls it the Momentus XT which marries a traditional mechanical 2.5-inch, 7200rpm, 250, 320 or 500GB (750GB rumoured to be in the works, too) 3Gbps SATA HDD with a 4GB solid state drive (likely from Seagate's Pulsar series) which has data cached into it that uses something Seagate calls 'Adaptive Memory algorithm'. This algorithm is in place to monitor data transfers to and from the drive right from power-up and will index and copy the most commonly accessed files into the SSD on the fly for faster overall performance.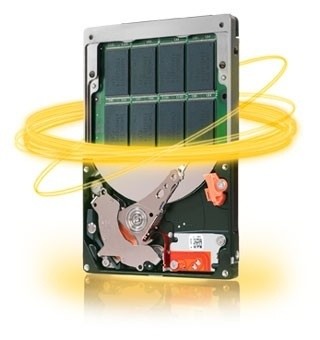 Seagate senior product marketing manager, Mark Wojtasiak says that by the second boot-up of using the new drive it will already know about 80% of the activity on the system and be able to optimize itself to increase boot times, application load times and increase speeds of other regular data transferring tasks. This process is always in action; a continual loop to check upon the types of use the storage sub-system is being called upon to do.
The idea is excelled performance not far off the mark of fully fledged SSDs, but with much cheaper pricing and higher storage capacities.
An NDA has been lifted on the new Momentus XT series today and as such there's some coverage beginning to surface around the web. Both
Overclockers Club
and
Benchmark Reviews
have full reviews of the drive online as of now.
Related Tags