Core i5 750 Clocked to 4.4GHz on air stable
In just under 20 minutes.
Published Thu, Sep 24 2009 11:18 AM CDT
|
Updated Tue, Nov 3 2020 12:36 PM CST
Last night I was playing around with Intel's new Lynnfield and wanted to see what I might be able to get out of it. I was not looking to spend a ton of time but wanted to see what the fastest stable overclock on air I was able to get.
So I hooked up my trusty ASRock P55 Deluxe that we reviewed with the Lynnfield and dropped the Core i5 750 into it. I also had an 8GB kit of Corsair Memory that I was testing (expect a review of it shortly)so I dropped that in as well. To get things off the ground I went straight to the OC Tweaker page and hit the EZ OC settings. I selected 4200MHz and let the board set everything up. I rebooted and was off and running at 4.2GHz no problem.
Restarting the system I headed right back into the BIOS. From there I pushed the BClK up to 215 MHz and made sure Turbo was enabled for that 21x Multiplier. From there I was able to hit the login screen but after entering the password I got an immediate blue screen. It looked like 4.5GHz was out of the question. From there I started working backwards. I ended up with a very healthy 210 BLCK at a 21 Multiplier. The Corsair memory was humming along at 1686MHz with timings of 8-8-8-24 1T. At this speed some of my tests started crashing so I backed the memory off a slower 1264MHZ but I was able to drop the latency to 7.
From there I was able to put up a 32M SuperPi score that ranks
w8th in the world for the Core i5 750
on the ASRock board. Not too terribly bad for spending around 20 minutes to see what this little chip could do.
In short the Core i5 750 is quite the impressive CPU, the removal of the extra memory channel and Hyper-Threading makes it very overclockable and a threat to AMD's low end CPUs. Up till now AMD has been able to hold price and overclockability over Intel's head. Well it looks like that is in danger of coming to an end.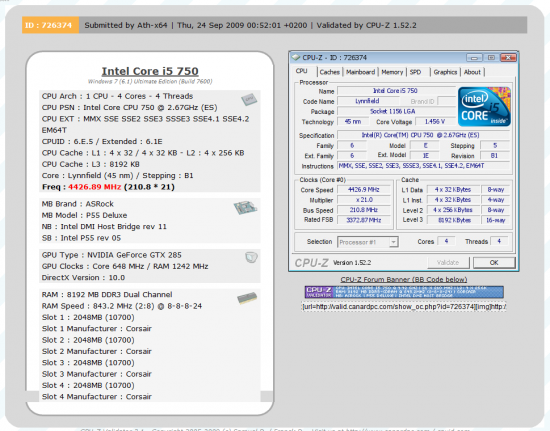 Processor
: Intel Core i5 750
Mainboard
ASRock P55 Deluxe (P130 BIOS) (Supplied by
ASRock
)
Memory
: 8GB Corsair Dominator GT CMD8GX3M4A1600C8 Ver 3.1(Supplied by
Corsair
)
Hard Disk
: Kingston SSD Now M (Intel X25-M 80GB SSD) (Supplied by
Kingston
)
Graphics Card
: Zotac GTX 285 AMP! Edition 1GB (flashed to stock BIOS) (Supplied by
Zotac
)
Cooling
: Intel Supplied ThermalRight MUX-120 Cooler (Supplied by
ThermalRight
)
Operating System
: Microsoft Windows 7 Ultimate RC-1
Drivers
: Intel INF 9.1.1.1015, ForceWare 190.62
Related Tags