S3 Graphics are still keeping a bit of competition in place against the two big guns; they've just introduced
three new Chrome 400 series GPUs
for mobile platforms.
These ultra low power 65nm chips comprise the Chrome 440 ULP, 435 ULP and 430 ULP, consuming no more than 7W of power, making them ideal for ultra-mobile PCs and notebooks with battery life being the main point of focus.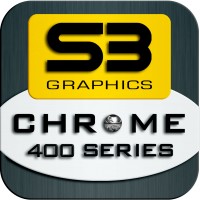 Features wise, these GPUs are well equipped with DX10.1 support, S3s ChromotionHD video technology and a 64-bit memory interface.
For further information on the new Chrome 400 ULP series GPUs, head over to
this page
on S3 Graphics' website folks.
S3 Graphics today announced its Chrome 400 Ultra Low Power (ULP) graphics processor series, based on the most power-efficient GPU architecture on the market. Today's users will now be able to enjoy the latest HD media playback and DirectX 10.1 gaming experience on mini-notes as well as notebook PCs.

Ultra mobile PCs, like the increasingly popular mini-note PC category, are designed to be thin and light so manufacturers could not integrate largely due to the required cooling apparatus. Using less than 7 watts, the S3 Graphics Chrome 400 ULP series graphics processors produce significantly less heat than competitor offerings, enabling the addition of dedicated graphics to mini-note PCs for the first time.

Today's mobile PCs users are demanding more graphics processing power than ever before. Innovations like the Aero user interface in Windows Vista offer a fluid, visually attractive desktop experience that requires a dedicated graphics processor. Hi-Def media content, including the latest Blu-ray optical disk technology, is continuing to gain momentum while DirectX 10.1 compatible gaming is also becoming important in the mobile space as notebooks replace desktop PCs in the home. The S3 Graphics Chrome 400 ULP series delivers a compelling blend of features and performance with minimal impact on battery life.