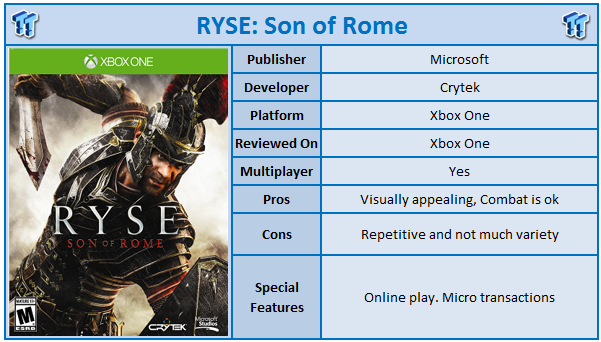 To say that Ryse has had a tough development is quite an understatement. Starting out as a Kinect only game (during the time that Microsoft was imposing strong DRM and Kinect mandatory as part of the Xbox One experience), it has had a rough lead up to launch. Crytek is an industry stalwart that is known for its amazing graphics engines, but not so good gameplay. With this in mind, it was not hard to see why this was one of the least anticipated Xbox One launch games, however having now played it through to its bitter end, there may just be something here for a gamer or two to enjoy.
Ryse: Son of Rome (Ryse) begins with the main character Marius returning home to his family villa after successfully becoming part of the Roman army. Marius' father gives him the final training before rogue Barbarians storm the family villa and kill Marius family and his father. In a cliche story of revenge, it is up to you as Marius to avenge your family's death and stop Rome from falling to the barbarians.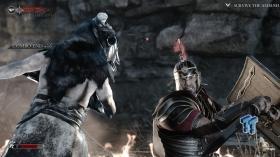 There's something ultimately frustrating about the gameplay found in Ryse and that is basically that Crytek doesn't know when to quit when it's on a good thing. For the most part, the gameplay is monotonous and repetitive, but there are a few moments through the game where the actual potential of this title shines through. Unfortunately, these good sections drag on far too long and by the time you have completed them, you will be reminded just how repetitive this game is.
Throughout its eight levels, you will find yourself performing the same actions over and over again with not much variety. Running from point A to B, you will take down numerous foes, and this is where Ryse shows itself to be more about its looks than the depth of its gameplay.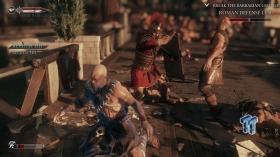 As you take out enemies, they become weakened and prone to an execution. When moving into the execution mode, the game goes into a slowmo mode and starts a basic quick time event. The enemy will quickly flash the color of the button you need to press to get a good hit before finishing off the enemy. The problem is that to be successful at this game, you really need to do this with every enemy present in the game, and when you kill hundreds throughout the course of the game, you can see why this gets repetitive.
The reason why you need to kill each enemy in this way is because you can boost an attribute of Marius by doing so. If running low on health, you can use executions to regain health, or if dominating, use the execution to gain more XP or power from the execution. You can also increase Marius skill by using valour gained on the battlefield (or unfortunately by purchasing gold in micro transactions). However, even though you get a gain out of executing enemies, it still becomes tedious.
The combat is all about timing, but not as good as it could be. One of the key issues is that it always just turns into a quick time event no matter how well you fight. In the boss battles, you really do need to time your defence and strikes well and there is a good game trying to bust out of this monotonous gameplay, but it just never quite happens before the credits roll.
The fact this was a Kinect game also shines through. Whenever you take over command of a group of soldiers, the game will display a prompt to either yell out a command or hold the LB button. The fact that holding the LB button takes longer than actually yelling the command shows where Crytek believes the fun in this gameplay can be had. Not sure about you, but yelling in a Roman like voice at my television isn't necessarily what I want out of a game, but for what it's worth, it does work well. This is also where the game starts to break up its monotonous gameplay with sections like taking over a bunch of archers, storming a fort or taking over a bow emplacement.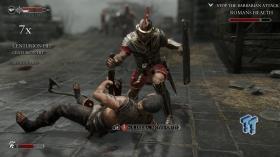 Ryse does have multiplayer although again it shows that the game was a launch title and potentially had features cut to make the date. Multiplayer is in the form of co-operative play where you fight in an arena trying to impress the crowd by executing enemies in varied ways. There is no player on player combat, which seems strange, but it does have a persistent levelling system for your character, where you gain levels as you partake in more matches and more combat
One area where Ryse is super impressive is its visuals. If this is what we are seeing in an Xbox One launch game, the mind boggles as to how far this console could go over the coming years. Crytek as previously mentioned is known for its amazing graphics, and Ryse does not let it down. It's almost fair to say this is the best looking game over the two new platforms and the animations on display are stunning to say the least. The characters face brings across emotion without actually having to speak it and the executions whilst boring, are rendered well and bring across the bloody and brutal world that Crytek is trying to portray. Voice acting is moderately impressive especially when Marius yells commands and the soundtrack is of the cinematic variety.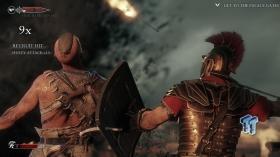 Ryse is a game that shows potential, but let's itself down without knowing when to move on from a good scene. This is the kind of game that with a little tweaking could have been a good launch title, but we can't help but feel this game has fell into the trap of thinking that the only thing that can be added in a new generation of consoles is graphic fidelity, which is of course not the case. The Kinect integration at least shows this and if you want a graphical powerhouse to show your friends what your shiny new box can do, then there is nothing better than Ryse in that regard. Just don't expect a game with depth.