I just bought a new monitor (Samsung S23A750D) and I want to upgrade my graphic card.

Current config:
Samsung S23A750D
AsRock Z77 Extreme4
Intel I5 2500k @4,5Ghz
16GB of DDR3 1600Mhz G.Skill Ripjaws CL9
Palit GTX 470
CoolerMaster GX 750w
What card should i get? (cost ~650$)
Hi Daniel,
The 120Hz monitors are great for gaming - so first off, nice choice! I have the 27-inch model from Samsung and absolutely love it. Since your new monitor is capable of 1920x1080 and 120Hz, if you want to hit that 120 frames per second for the monitor to look silky smooth in games, you're going to need a decent GPU.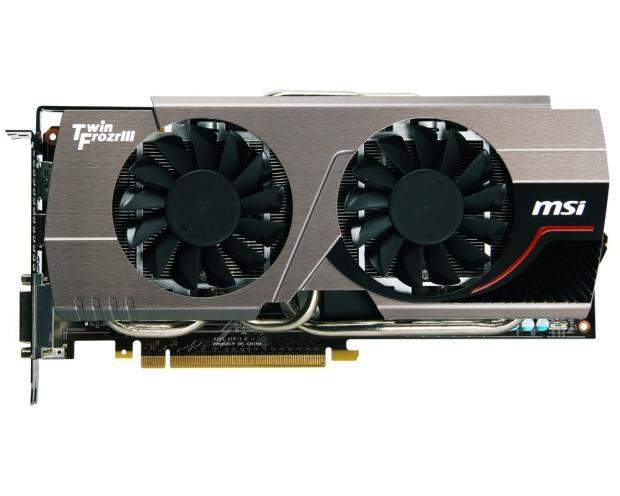 For a $650 budget - you have enough to play around with to achieve that - so I would recommend something from NVIDIA. For $529.99 from NewEgg, you could get yourself's MSI GeForce GTX 680 Twin Frozr card, which features 4GB of RAM and an awesome custom cooler.
Alternatively, since your motherboard supports SLI and your PSU is beefy enough - you could go for two-way SLI GeForce GTX 670s. NewEgg sells Galaxy-branded GeForce GTX 670s for $359ea - just over $700. This would give you plenty of power to reach 120fps in most games, and would beat the single GeForce GTX 680 in terms of performance.
The last alternative, is to grab the GTX 680 and down the track grab another one for SLI action.
Edit: Some people have wondered why I haven't recommended an AMD Radeon-based GPU - well, that is definitely an option so I'll add that in here now. NewEgg sell some of the HIS- and Sapphire-branded Radeon HD 7970s for just $379.99. You could also two-way CrossFire them up for some extreme performance.
The reason why I recommended NVIDIA here is because I've (personally) had a better run with them with 120Hz monitors. I will be running some more tests and providing some walkthroughs of this in the near future, so keep checking back to see how we go!
Last updated: Nov 3, 2020 at 07:10 pm CST