ATI Catalyst 6.11 Performance Analysis
We look at ATI's latest Catalyst 6.11 drivers for users of Radeon graphics cards - any performance improvement? Read on!
Published Tue, Nov 21 2006 11:00 PM CST
|
Updated Tue, Nov 3 2020 7:04 PM CST
Introduction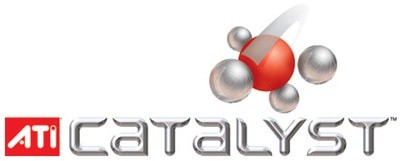 With a change in motherboards and a complete swap over in graphics cards, we are running a bit late again with the latest Catalyst release from
ATI
AMD. With the November set coming out earlier than we expected, they did come as a bit of surprise and caught us unprepared.
We have actually changed it up a fair bit this month but let's have a quick look at the latest performance improvement being offered from ATI (or should we say, AMD *confused*) and have a closer look at what we have changed this month.
Performance Improvement

A performance increase is noticed in Call of Duty 2. Performance improves as much as 12.5% at 19x12 settings and as much as 10.5% at 12x10 settings on X1900 Software Crossfire configurations. Largest gains seen with 4xAA enabled.
Let's get started!
Benchmarks - Test System Setup and 3DMark05
Test System SetupProcessor(s):
Intel Core 2 Duo E6600 a@ 3150MHz (350MHz FSB 1:1)
Motherboard(s):
ASUS P5B Deluxe (Supplied by
ASUS
)
Memory:
2 X 1GB G.Skill HZ PC8000 @ 350MHz 4-4-4-12 (Supplied by
Bronet
)
Hard Disk(s):
Hitachi 80GB 7200RPM SATA 2
Operating System:
Windows XP Professional SP2
So how do we justify our lateness? Is the fact that Gears of War arrived on XBOX 360, enough?
If not, we have changed our test system motherboard over rendering our 6.10 benchmarks useless which meant we had to test our cards twice instead of once. We thought we would take the chance though to change it up.
We have completely swapped the cards over - low and mid range is represented with the Radeon X1300XT and X1650PRO, high-end gets the Radeon X1950XTX and previous generation gets the X850XT.
We have also taken away F.E.A.R. which we will continue to use in our normal reviews but here we have added in Company of Heroes. Why did F.E.A.R. go to replace this? Well, Company of Heroes is not only super intensive but also offers us that very cool ability to see the minimum and average frame rates which is important.
Let's continue on and see what happened in the latest release.
3DMark05Version and / or Patch Used:
Build 120
Developer Homepage:
http://www.futuremark.com
Product Homepage:
http://www.futuremark.com/products/3dmark05/
Buy It Here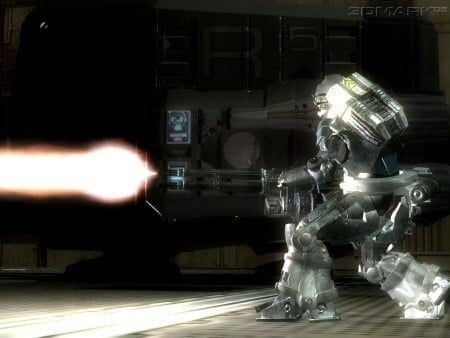 3DMark05 is now the second latest version in the popular 3DMark "Gamers Benchmark" series. It includes a complete set of DX9 benchmarks which tests Shader Model 2.0 and above.
For more information on the 3DMark05 benchmark, we recommend you read our preview
here
.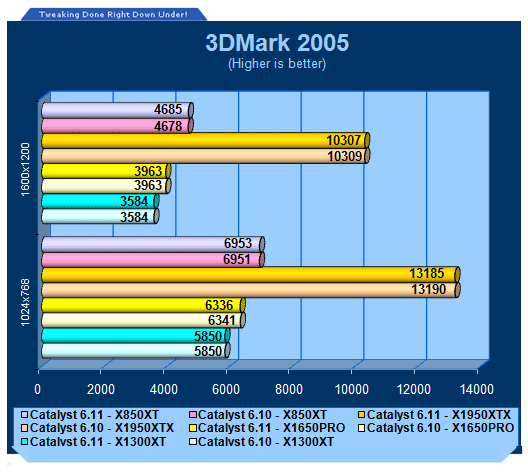 In our first benchmark we can see across the board that there aren't any performance gains.
Benchmarks - 3DMark06
3DMark06Version and / or Patch Used:
Build 102
Developer Homepage:
http://www.futuremark.com
Product Homepage:
http://www.futuremark.com/products/3dmark06/
Buy It Here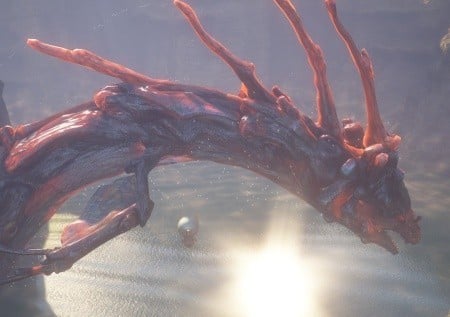 3DMark06 is the very latest version of the "Gamers Benchmark" from FutureMark. The newest version of 3DMark expands on the tests in 3DMark05 by adding graphical effects using Shader Model 3.0 and HDR (High Dynamic Range lighting) which will push even the best DX9 graphics cards to the extremes.
3DMark06 also focuses on not just the GPU but the CPU using the AGEIA PhysX software physics library to effectively test single and Dual Core processors.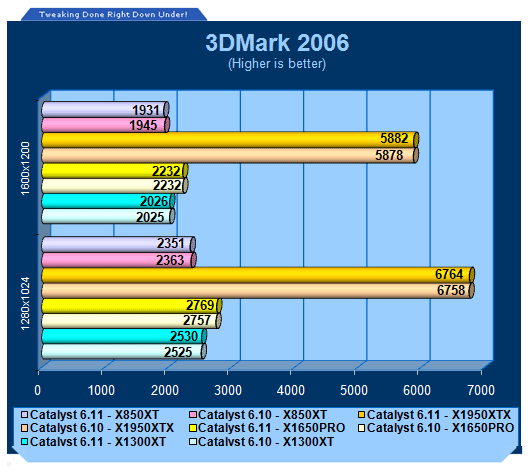 The more intensive 3DMark06 like its older brother doesn't see any gains with the latest driver release.
Benchmarks - Half Life 2 (Lost Coast)
Half Life 2 (Lost Coast)Version and / or Patch Used:
Unpatched
Timedemo or Level Used:
Custom Timedemo
Developer Homepage:
http://www.valvesoftware.com
Product Homepage:
http://www.half-life2.com
Buy It Here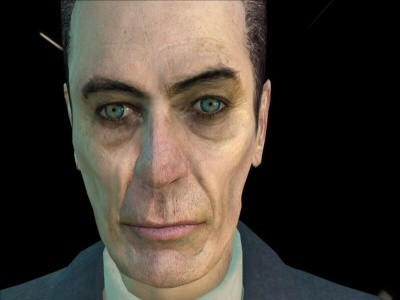 By taking the suspense, challenge and visceral charge of the original, and adding startling new realism, responsiveness and new HDR technology, Half-Life 2 Lost Coast opens the door to a world where the player's presence affects everything around him, from the physical environment to the behaviors even the emotions of both friends and enemies.
We benchmark Half Life 2 Lost Coast with our own custom timedemos as to avoid possible driver optimizations using the "record demo_name" command and loading the timedemo with the "timedemo demo_name" command - For a full list of the commands,
click here
.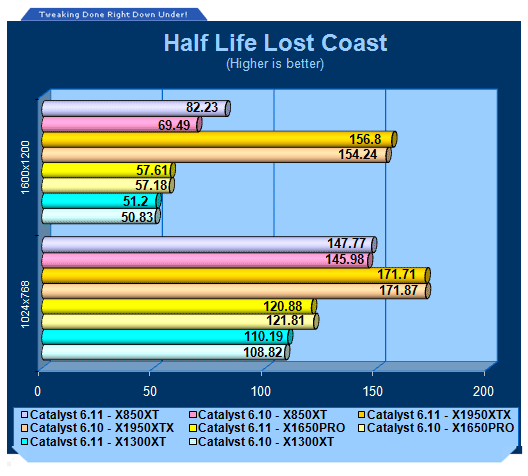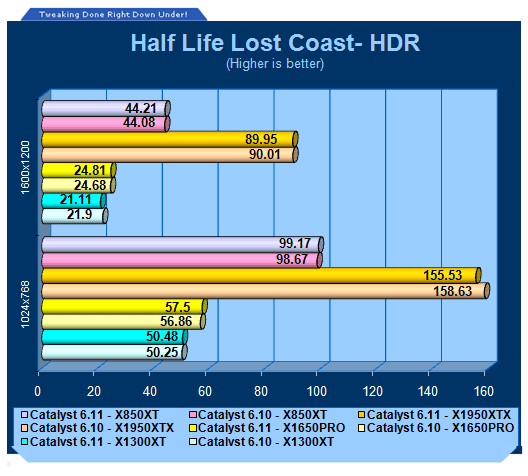 The older X850XT seemed to get a slight bump in non-HDR tests with all other cards and tests showing no real change across the board.
Benchmarks - PREY
PREYVersion and / or Patch Used:
Unpatched
Timedemo or Level Used:
HardwareOC Custom Benchmark
Developer Homepage:
http://www.humanhead.com
Product Homepage:
http://www.prey.com
Buy It Here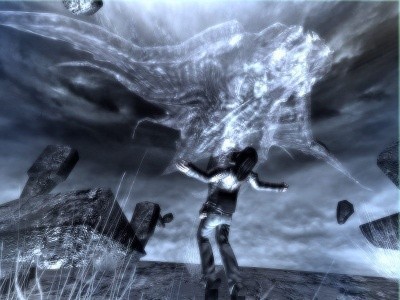 PREY is one of the newest games to be added to our benchmark line-up. It is based off the Doom 3 engine and offers stunning graphics passing what we've seen in Quake 4 and does put quite a lot of strain on our test systems.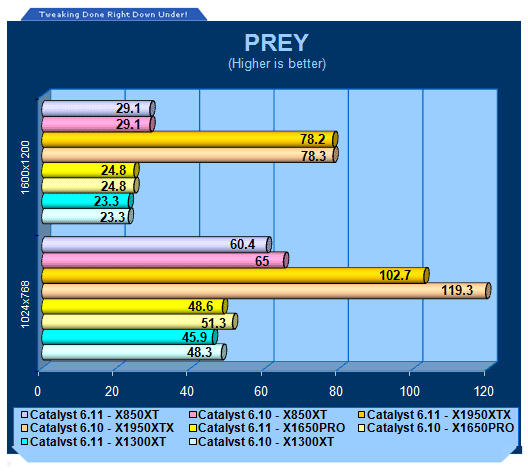 Low resolution results show us performance drops across the board in PREY while the higher 1600 x 1200 shows no real change at all.
Benchmarks - Company of Heroes
Company of HeroesVersion and / or Patch Used:
Demo
Timedemo or Level Used:
Built-in Test
Developer Homepage:
http://www.relic.com
Product Homepage:
http://www.companyofheroesgame.com
Buy It Here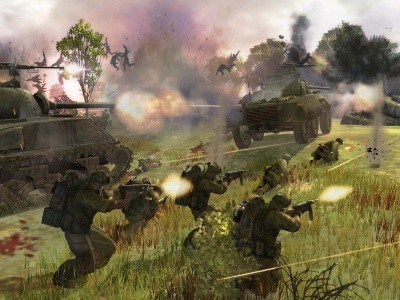 Company of Heroes, or COH as we're calling it, is one of the latest World War II games to be released and also one of the newest in our lineup of benchmarks. It is a super realistic real-time strategy (RTS) with plenty of cinematic detail and great effects. Because of its detail, it will help stress out even the most impressive computer systems with the best graphics cards - especially when you turn up all the detail. We use the built-in test to measure the frame rates.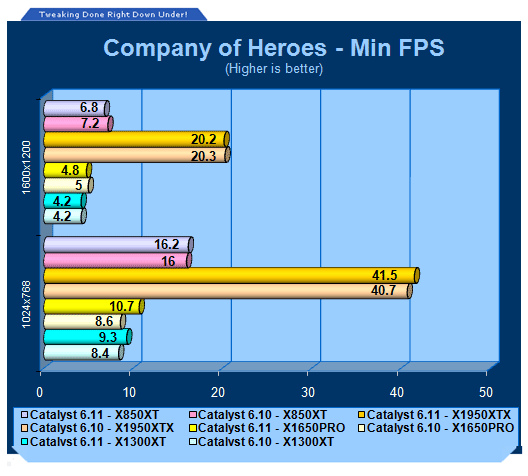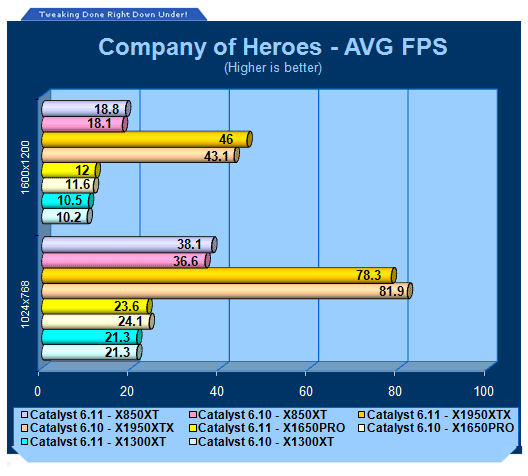 We can see that in our newest addition the new drivers at the lower resolution see a slight bump in minimum FPS across the board which is exceptionally handy. Averages and high resolution results seem to be pretty solid though.
Benchmarks - High Quality AA and AF
High Quality AA and AF
In our High Quality tests we bump the Antialiasing (AA) and Anisotropic Filtering (AF) up causing the card(s) to be put under more load. This usually helps us remove the CPU limitation. We normally use 4 x AA and 16 x AF as this is quite a common setup for most people who are venturing into the AA and AF area.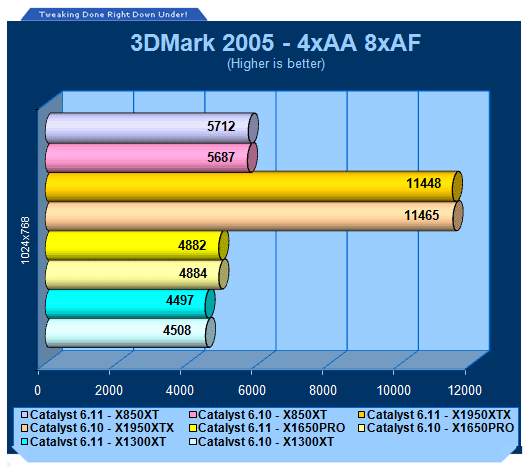 The first of our high quality tests show us no improvements with the latest drivers like we saw in our non AA tests.
Lost Coast again sees no difference across the board.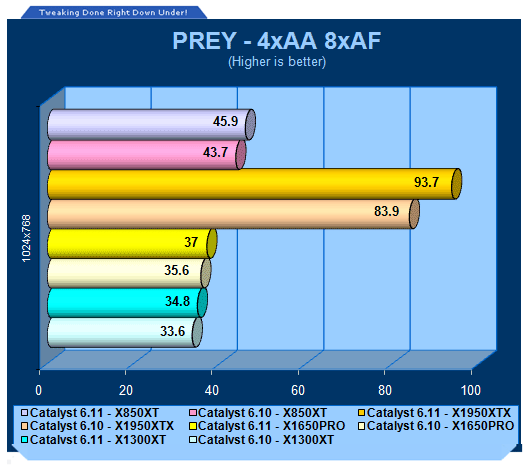 While PREY took a dive in our non AA and AF tests, at the lower resolution with AA and AF being turned on we get a jump.
Final Thoughts
Overall the driver is a bit up and down, there isn't anything to get to excited about. We wouldn't recommend you stress too much about updating to the latest drivers for performance improvements but as always if there is bug fixes and so forth and you are experiencing problems in your games using a Radeon graphics cards, do go ahead and upgrade.
We have our fingers cross that the ATI team at AMD will come out with some big jumps next month as it is the time of giving - giving more performance!
Last year in December we saw multiply releases and with the patch that enabled the ATI line up to take care of Dual Core processors we saw some awesome gains. We hope that ATI or AMD (whatever!!) can make full use of the latest and greatest processors and deliver us a nice Christmas present.
Until next month, Happy Benchmarking!
PRICING: You can find products similar to this one for sale below.

United States: Find other tech and computer products like this over at Amazon.com

United Kingdom: Find other tech and computer products like this over at Amazon.co.uk

Australia: Find other tech and computer products like this over at Amazon.com.au

Canada: Find other tech and computer products like this over at Amazon.ca

Deutschland: Finde andere Technik- und Computerprodukte wie dieses auf Amazon.de