Phison E18 2TB NVMe PCIe Gen4 x4 M.2 SSD Preview
We take an early development version of Phison's E18 Gen4 NVMe PCIe Gen4 x4 M.2 SSD for a spin. Join us as we see what it can do.

Published Nov 16, 2020 7:26 PM CST
|
Updated Tue, Nov 17 2020 7:37 PM CST
6 minute read time
Introduction & Drive Details
Phison is the SSD controller company behind many brands of SSDs. They offer everything from controller only to turnkey SSD solutions customized for SSD retailers. Phison has the distinction of bringing to market the world's first Gen4 SSD, the E16, and single-handedly introducing the world to ultra-high capacity M.2 SSDs of up to 8TB.
Phison is in the process of bringing their second-generation Gen4 E18 controller/SSDs into the retail space. TweakTown works closely with Phison behind the scenes, and as such, Phison decided to let us do a preview of one of their development drives to get a taste of what is to come.
There have been a couple of similar previews already done, and we could have done ours first, but we decided to do ours differently. We decided we wanted to do ours utilizing our new 2021 AMD Ryzen 9 5900X test bench, so we could give you a preview of that as well.
Because this is a preview and not a review, we do not give awards, and we want our readers to understand that this IS NOT a final product. It is not optimized and does not even have the final hardware on its PCB. What we want to do is give you a taste of what the E18 is all about, with the understanding that many of the benchmarks we will show you are considerably slower than the final product will deliver.
With this in mind, we will start by showing you Phison's latest published performance specs for its PS5018-E18 Gen4 x4 NVMe 1.4 controller.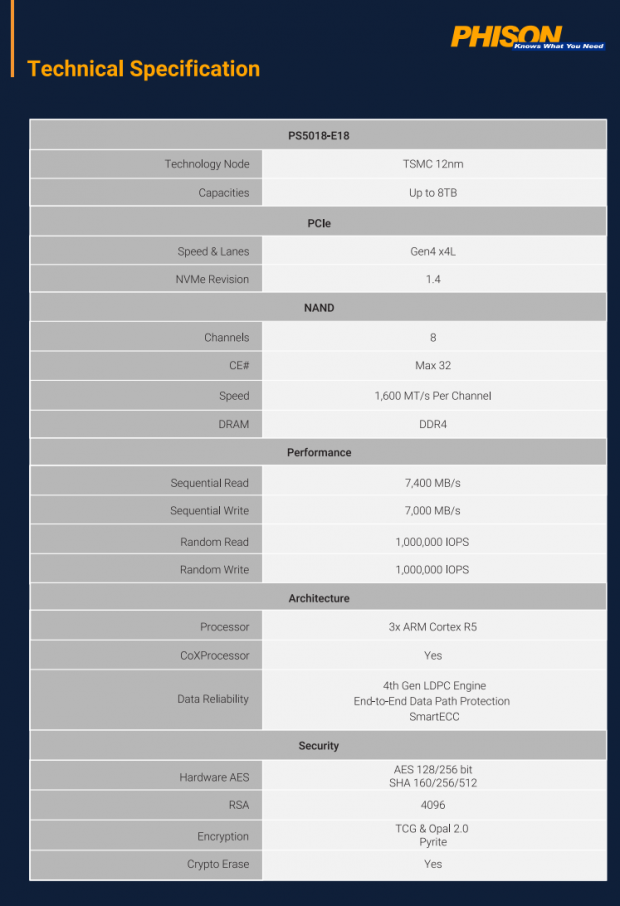 First, we see the E18 controller can handle capacities of up to 8TB. Next, we see the E18 is employing the latest NVMe revision 1.4 protocol. Then we get an indication of what's to come when the E18 goes full retail by looking at the NAND speed of 1,600 MT/s per channel. This indicates that retail versions will likely be sporting flash arrays composed of Micron 176 Layer flash. Our preview drive has a flash array composed of much slower 96 Layer Micron flash.
Moving along down the datasheet, we come to the eye-popping sequential speeds of 7,400/7,000 MB/s. Our preview drive cannot reach those speeds, as you will see. However, we have evidence that those speeds are not inflated and that 176 Layer flash is in the works as provided by the following benchmark: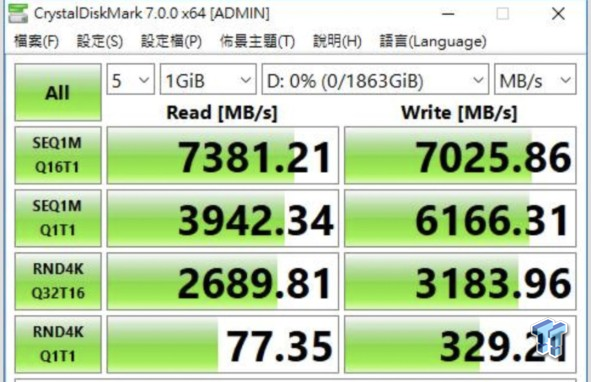 This benchmark came directly from Phison's headquarters in Taiwan and was provided as a world exclusive for TweakTown a few weeks ago. We fully expect to see these speeds firsthand when Phison E18-powered SSDs come to market through retail brands such as Sabrent.
Now that we've established what this preview is about, let's get into the numbers as served up by our work-in-progress Ryzen 9 5900X-based SSD test rig. We chose to put this early version of a Phison E18-powered 2TB SSD up against the two fastest retail SSDs we've tested to date for this preview. Samsung's 1TB 980 Pro and Western Digital's WD Black SN850 1TB.
Drive Details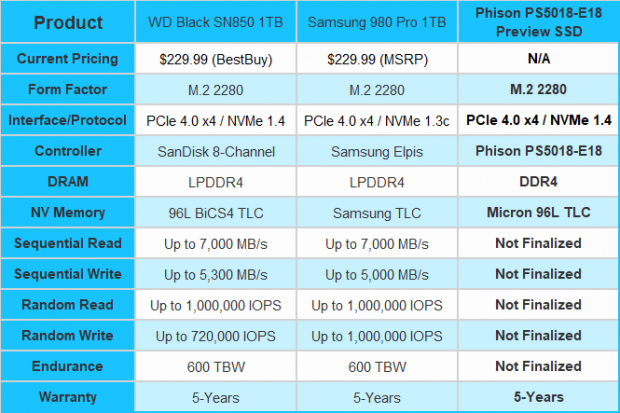 Here we have factory specs for the two competing SSDs that will comprise our limited test pool.


We notice the E18 controller has a ridiculously small footprint compared to other controllers. This gives Phison the flexibility to populate a tiny 2280 PCB with up to eight flash packages and two DRAM packages. This is important because if 2020 has taught us anything, it's that "Capacity is King".
Jon's Test System Specifications
Synthetic Benchmarks: CDM & Anvils
CrystalDiskMark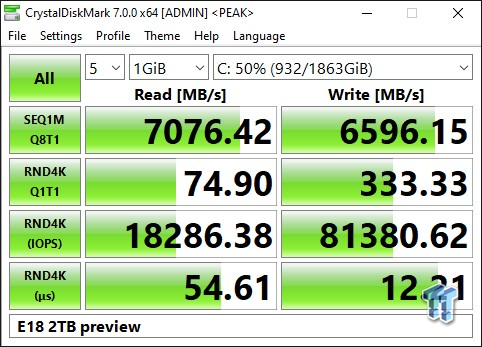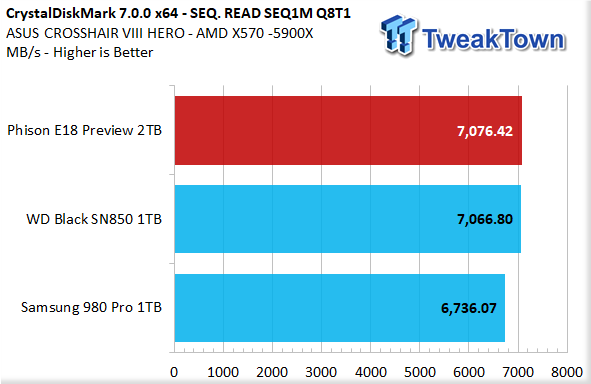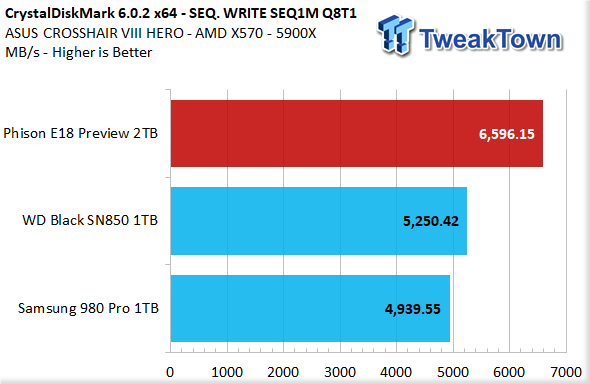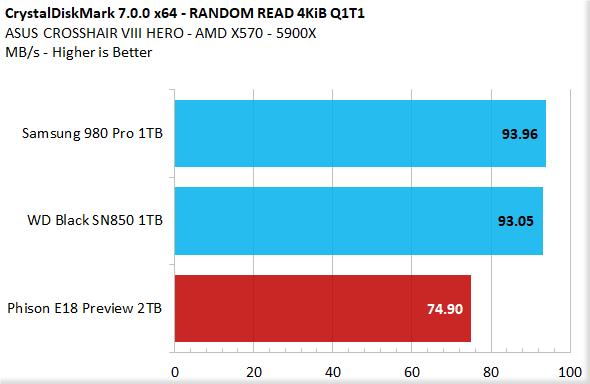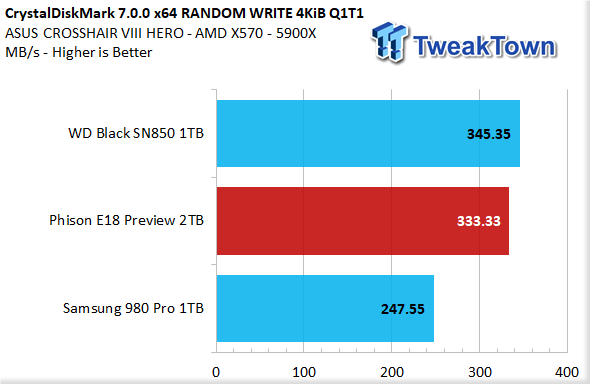 Starting with sequential speeds, we see that even in its pre-production form, our E18 can deliver between 1,350 and 1,650 MB/s more sequential write performance than the two fastest retail SSDs we've tested to date. Keep in mind that the E18 in its retail form is expected to deliver another 400 MB/s sequential for both read and write. Amazing.
Anvil's Storage Utilities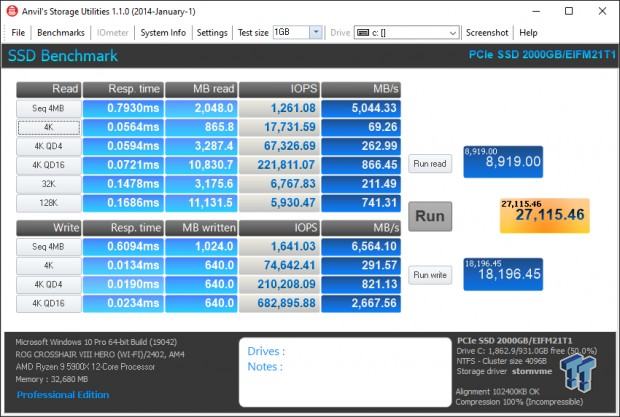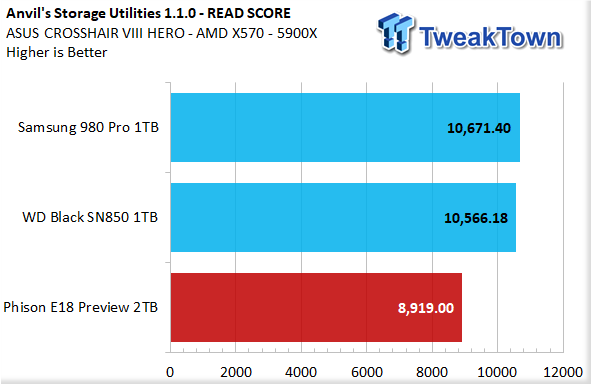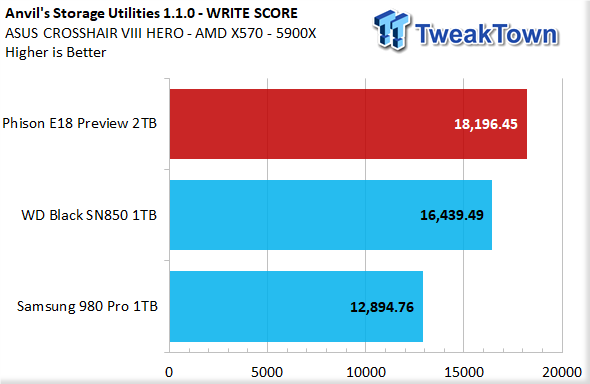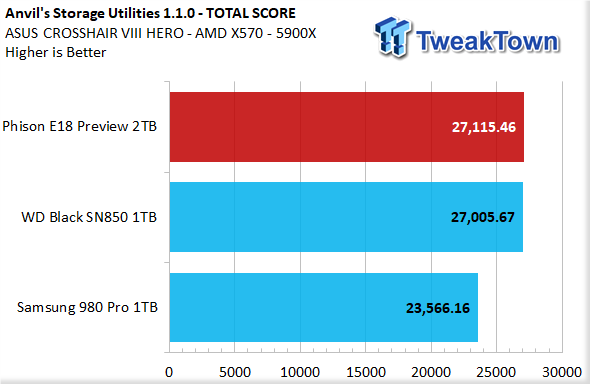 In terms of overall scoring, our preview SSD managed to win outright. Our E18 development SSD does this with overwhelming write performance, the likes of which we've not seen before. However, as we always say, we consider total read performance more important, so this is more of a tossup than a win for the E18 preview SSD. Read performance is one of many aspects of the E18's performance that we have been told will greatly improve when it reaches its final retail form.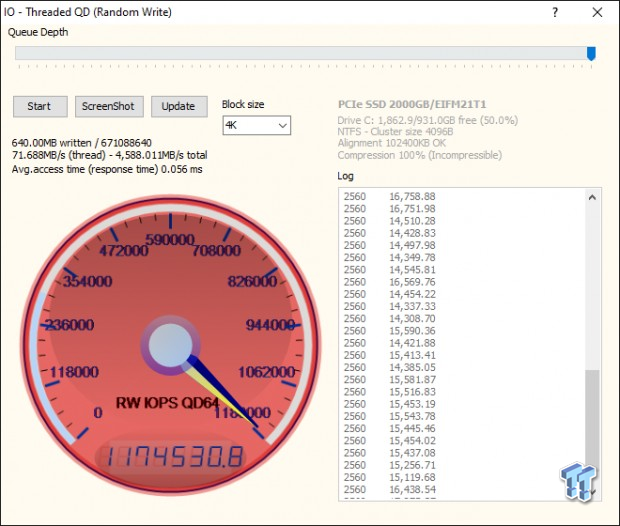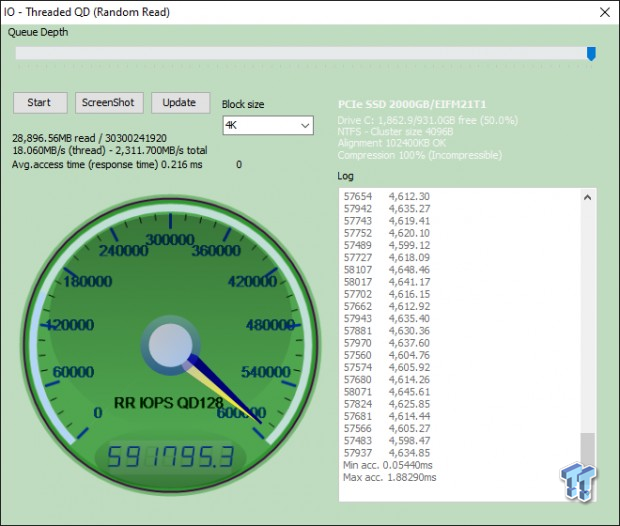 We've never seen a consumer SSD that can hit 1.1 million IOPS at QD64. Impressive. Random read has a way to go before it can hit 1 million IOPS, but this is a work in progress again.
Synthetic Benchmarks: AS SSD & ATTO
AS SSD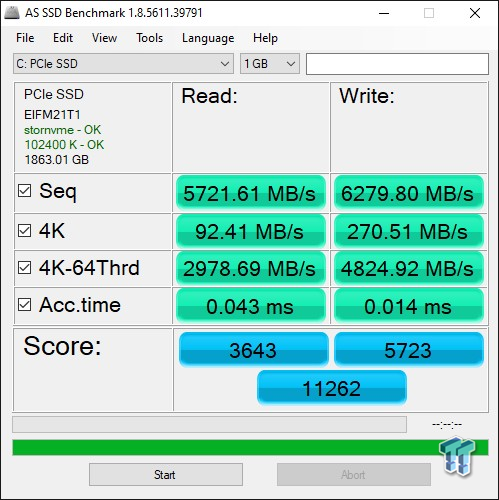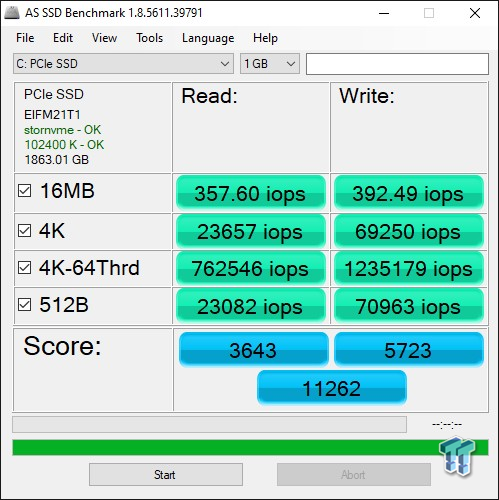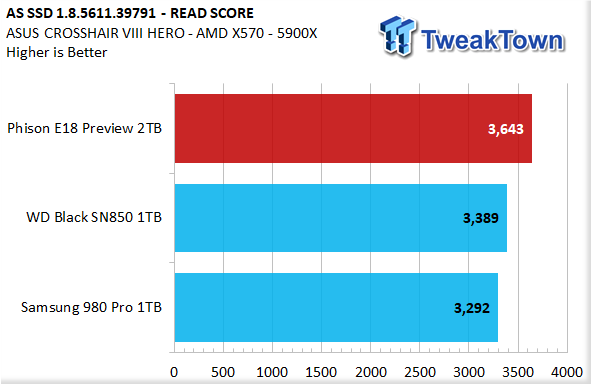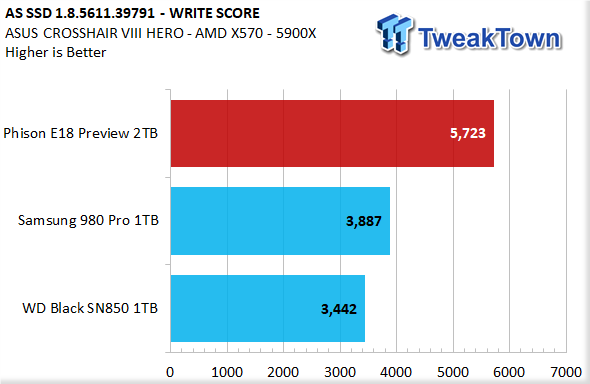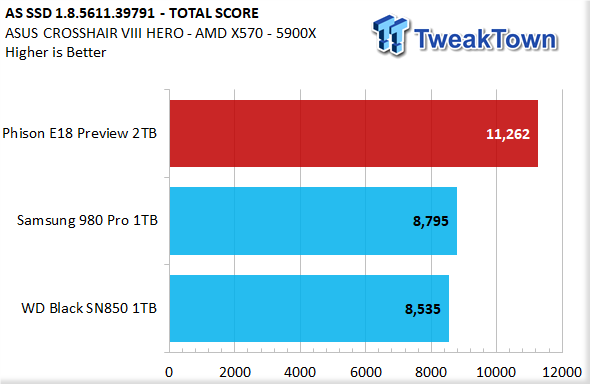 Phison SSDs and AS SSD always seem to get along very well, as evidenced by our preview SSDs dominating performance. It is a blood bath for the WD Black and the 980 Pro. They never stood a chance. And again, keep in mind that the E18 is expected to get MUCH faster very soon. Amazing.
ATTO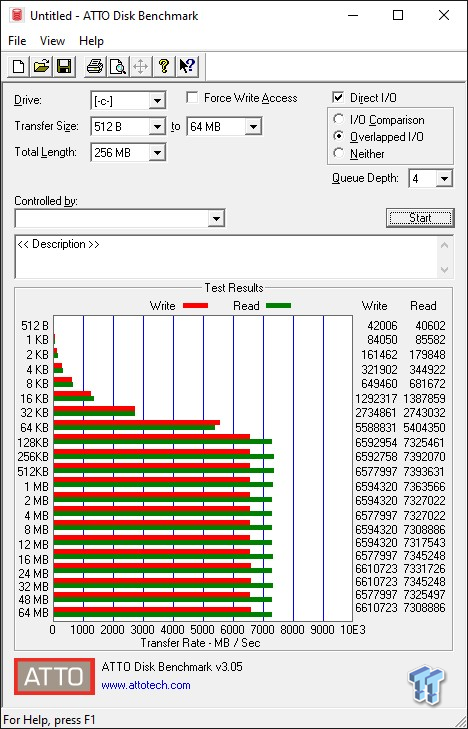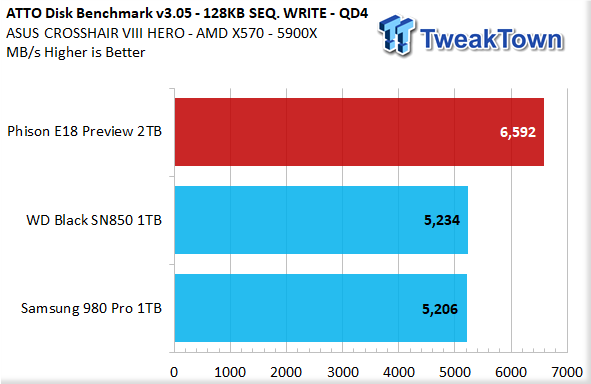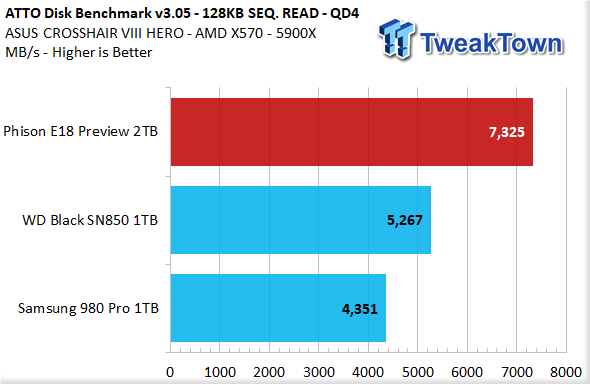 We are always looking for full speed at 128K transfers, and an SSD will rarely grant us our wish. This time we get exactly what we want, full speed at 128K transfers and another dominating performance for the pre-production E18.
Real-World Testing: Transfer Rates & Gaming
Transfer Rates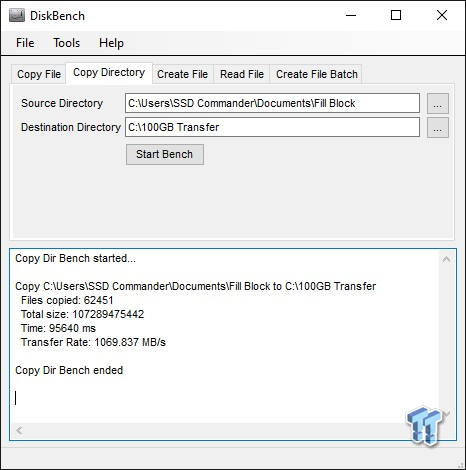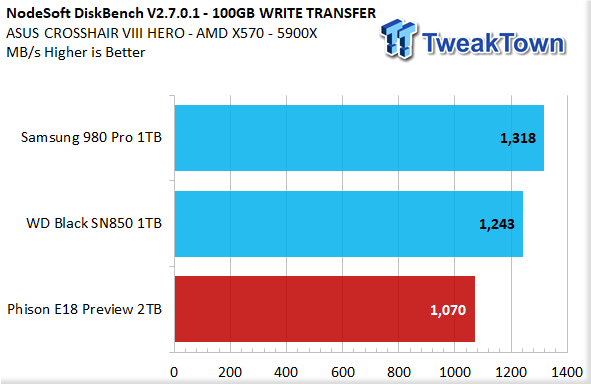 Interestingly enough, our pre-production E18 does not win our write transfer test and is easily beaten by our two contenders.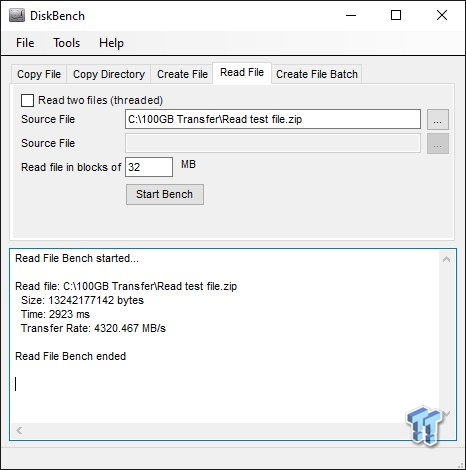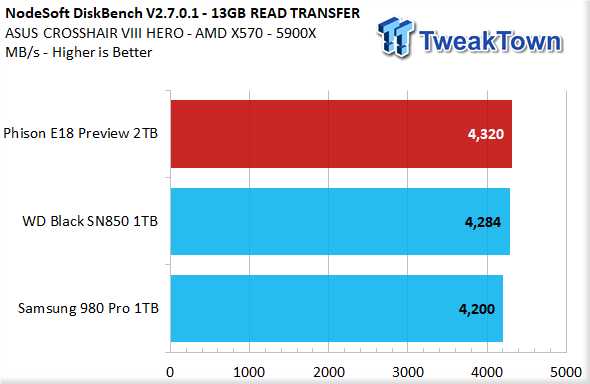 Serving data is more important than programming it in the consumer space. Here we witness another role reversal of sort with our E18 sample serving data to the host faster than our retail contenders.
On another note, we see a massive improvement from our 5900X system compared with our almost retired 3900X system as the new one delivers about 1,000 MB/s higher throughput.
Game Level Loading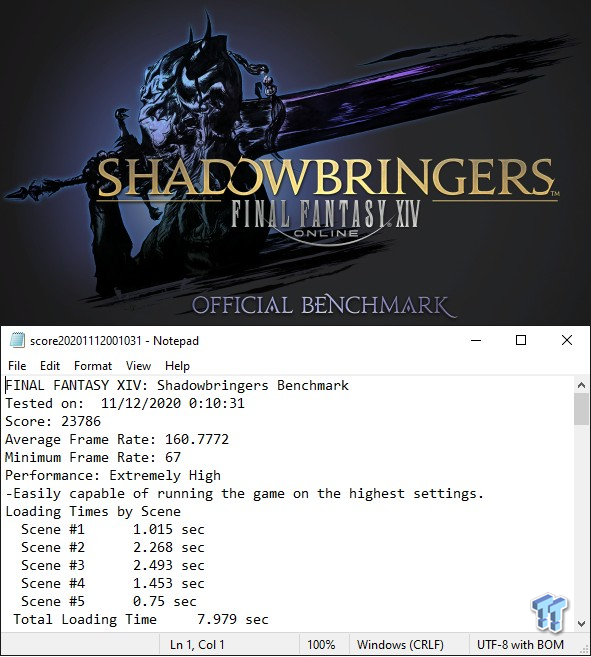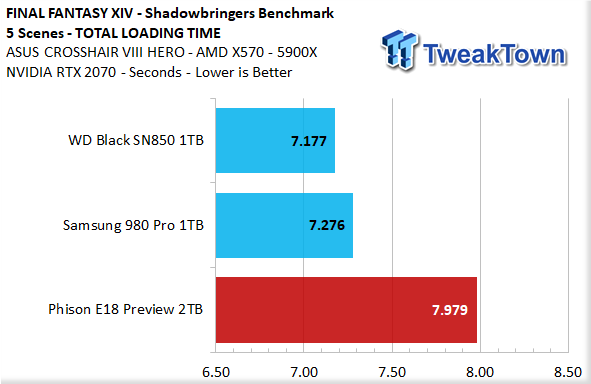 Even though our pre-production E18 sample loses to the WD Black SN850 by .802 seconds, we are delighted by what we see because Phison has made great strides here. Previously Phison SSDs have been 1.2 to 2.5 seconds slower than SSDs like the WD Black, as depicted in red by the following charts.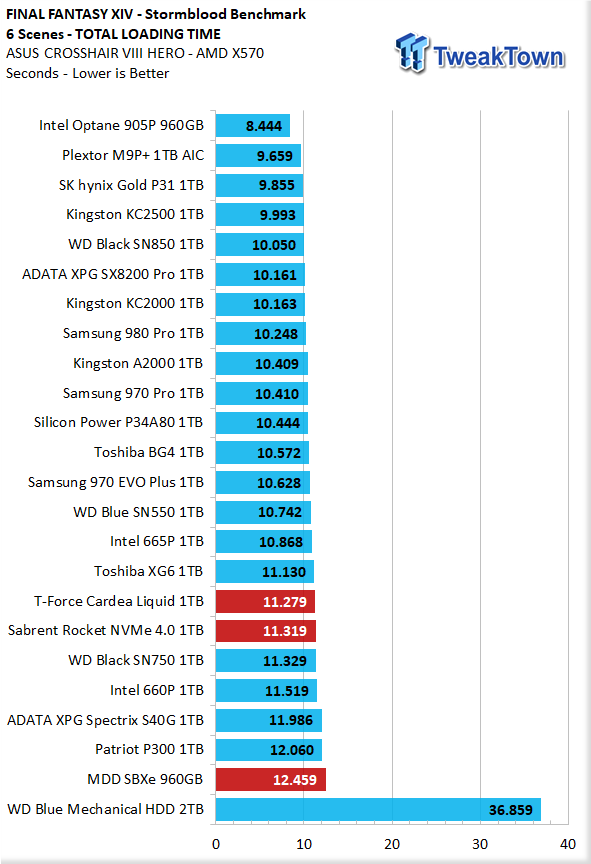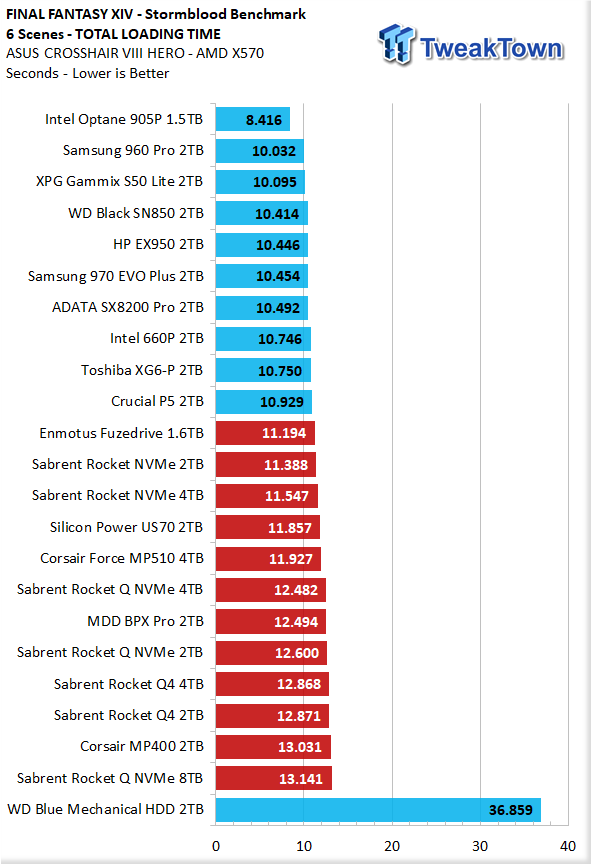 So, this is very encouraging to see. And again, Phison expects to close the gap significantly and maybe even take the lead when the E18 reaches its retail form. We will also point out, because you may not realize it, just how many SSDs are Phison powered. We can take away from the high-capacity chart how Phison has ushered in the era of "Capacity is King".
Real-World Testing: PCMark 10 Storage Tests
PCMark 10 Storage Test is the most advanced and most accurate real-world consumer storage test ever made. There are four different tests you can choose from; we run two of them.
The Full System Drive Benchmark and the Quick System Drive Benchmark. The Full System Drive Benchmark writes 204 GB of data over the duration of the test. The Quick System Drive Benchmark writes 23 GB of data over the duration of the test. These tests directly correlate with user experience. Of the two tests, we feel that the Quick System Drive Test most accurately replicates a typical user experience.
PCMark 10 Full System Drive Benchmark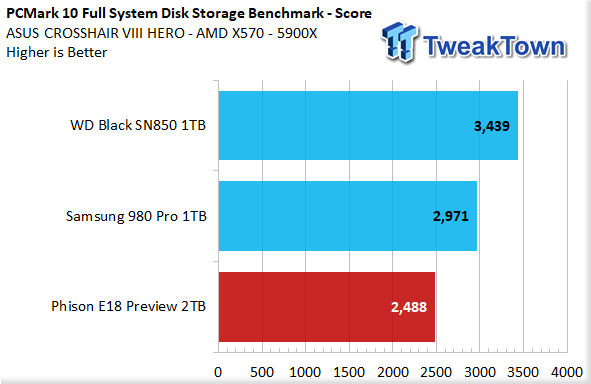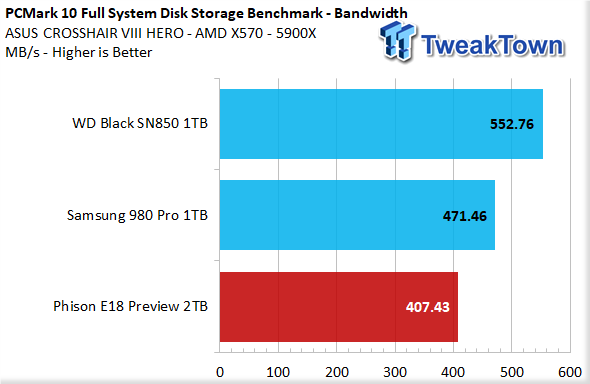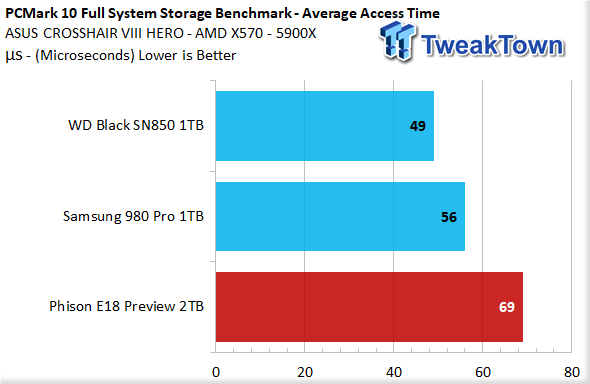 The E18 preview SSD gets outperformed here by a substantial amount, but this was expected with 96 Layer flash and the firmware we are running. We've spoken to Phison about this, and they say they have already hit more than 520 MB/s bandwidth with some minor tweaks. We would not be surprised to see Phison's E18 come out on top here when it reaches its retail form.
PCMark 10 Quick System Drive Benchmark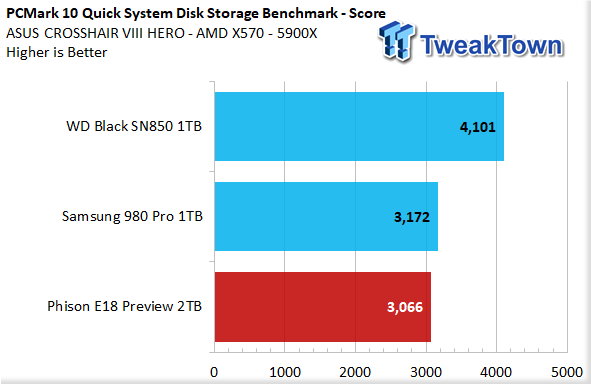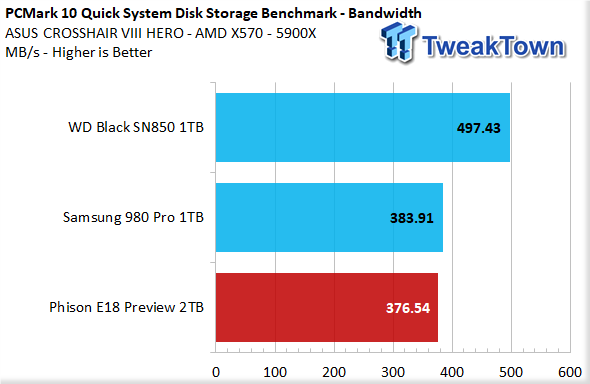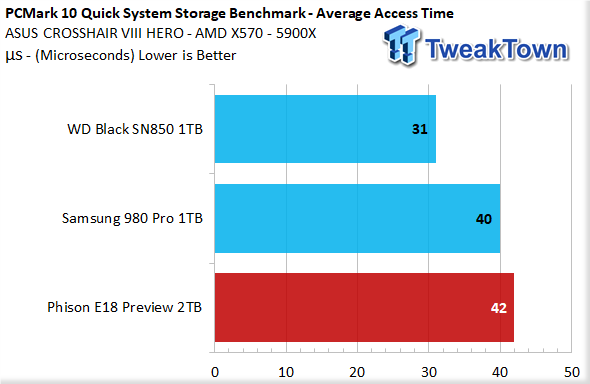 Phison has always done extremely well with this our most important test, so it's not surprising to see even our preview E18 SSD essentially match Samsung's 980 Pro. We know big improvements are coming shortly here as well, which could potentially put Phison on top.
Final Thoughts
We want to thank Phison for sending out development drives because it gives our readers a foretaste of what's to come. It also takes some big stones and a lot of confidence in their product to do so when that E18 preview SSD cannot perform at its full potential. This is almost unheard of and much appreciated.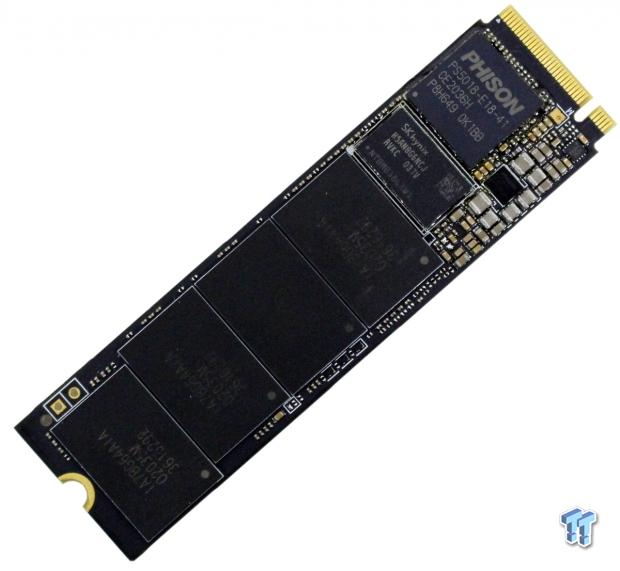 There has been a lot of buzz surrounding the E18 and what to expect in terms of performance related to owning the performance crown. Even our somewhat hobbled, non-optimized preview SSD can outperform the fastest retail drives we've tested to date in many of our benchmarks. This is encouraging, and we've come away thinking that Phison may be able to take the performance crown from WD.
It's looking good for Phison as we see it. However, others are coming from InnoGrit and SMI that Phison may have to deal with if they want to be on top. Exciting times!
We openly invite the companies who provide us with review samples / who are mentioned or discussed to express their opinion. If any company representative wishes to respond, we will publish the response here. Please contact us if you wish to respond.