ATI Catalyst 6.9 Performance Analysis
We are late to the party this month but we finally have our Catalyst 6.9 performance analysis. Read on for the numbers!
Published Tue, Sep 26 2006 11:00 PM CDT
|
Updated Tue, Nov 3 2020 7:04 PM CST
Introduction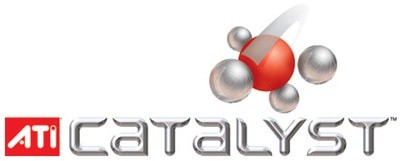 Normally we're the one making note of how late ATI are to release the latest version of Catalyst but not this time around, its us who are running late with bringing you our monthly Catalyst driver performance analysis.
All for good reason though - with the release on the new ATI Radeon graphics cards, one would think that the latest 6.9 drivers would bring support for the new cards from ATI (the X1300XT, X1650PRO and of course the X1950XTX). We were shocked though after completing tests on our hacked 6.8 driver on the new cards to then discover the new 6.9s doesn't support the cards.
The guys at the ATI driver team in Canada didn't have enough time to provide support for their new cards and the with strict time constraints, the driver had to be released without support for the new Radeon cards.
Back to the drawing board it was to pull out the previous models and begin retesting as our test system had been updated and the results from our latest preview were absolutely useless.
So after a whole lot of mucking around and a whole lot of unnecessary testing we have with us the latest 6.9 drivers compared against the previous 6.8 drivers that we saw last month.
Release Notes from ATI
3DMark2006 - overall performance improves 6.7-23.7% with anti-aliasing enabled due to improvements in HyperZ efficiency on the Radeon X1300, X1600 and X1800 series of products. The largest gains can be seen on Crossfire configurations and/or 256MB card configurations at resolutions of 1280x1024 or greater

Doom3 - performances improves up to 9.3% due to further OpenGL shader complier and transform engine optimizations on the entire Radeon X1000 Series of products. The largest gains can be seen on Radeon X1900 configurations at resolutions of 1600x1200 or higher
Benchmarks - Test System Setup and 3DMark05
Test System SetupProcessor(s):
Intel Core 2 Duo E6600 @ 3430MHz (or 381MHz FSB with 4:5 memory)
Motherboard(s):
DFI Infinity 975X (Supplied by
Bronet
)
Memory:
2 X 1GB G.Skill HZ PC8000 @ 476MHz 4-4-4-12 (Supplied by
Bronet
)
Hard Disk(s):
Hitachi 80GB 7200RPM SATA 2
Operating System:
Microsoft Windows XP Professional SP2
Drivers:
ATI Catalyst 6.8 and 6.9 and DX9c
Since we recently introduced the new test bed and we had to retest all our graphics cards again, we thought we would take the chance to upgrade the cards we use in our monthly Catalyst performance analysis articles.
We are moving the X1300 PRO to the new X1300XT, X1600PRO to new X1650PRO and X1900XT 512MB to the brand new X1950XTX. These will be featured from next month as long as Catalyst 6.10 supports all of these graphics cards.
Like we discussed though in our introduction we didn't have much joy with the latest release from ATI, so with a whole lot more testing we finally completed everything and here we are.
Read on for all the results!
3DMark05Version and / or Patch Used:
Build 120
Developer Homepage:
http://www.futuremark.com
Product Homepage:
http://www.futuremark.com/products/3dmark05/
Buy It Here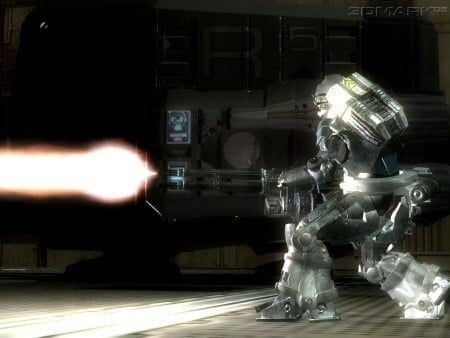 3DMark05 is now the second latest version in the popular 3DMark "Gamers Benchmark" series. It includes a complete set of DX9 benchmarks which tests Shader Model 2.0 and above.
For more information on the 3DMark05 benchmark, we recommend you read our preview
here
.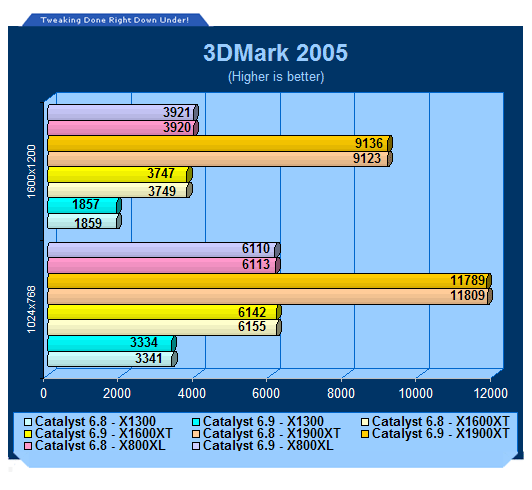 3DMark05 sees no difference across the board with the latest release of drivers.
Benchmarks - 3DMark06
3DMark06Version and / or Patch Used:
Build 102
Developer Homepage:
http://www.futuremark.com
Product Homepage:
http://www.futuremark.com/products/3dmark06/
Buy It Here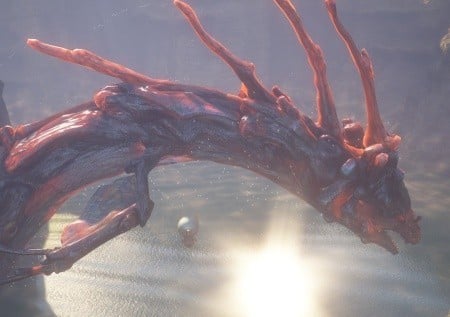 3DMark06 is the very latest version of the "Gamers Benchmark" from FutureMark. The newest version of 3DMark expands on the tests in 3DMark05 by adding graphical effects using Shader Model 3.0 and HDR (High Dynamic Range lighting) which will push even the best DX9 graphics cards to the extremes.
3DMark06 also focuses on not just the GPU but the CPU using the AGEIA PhysX software physics library to effectively test single and Dual Core processors.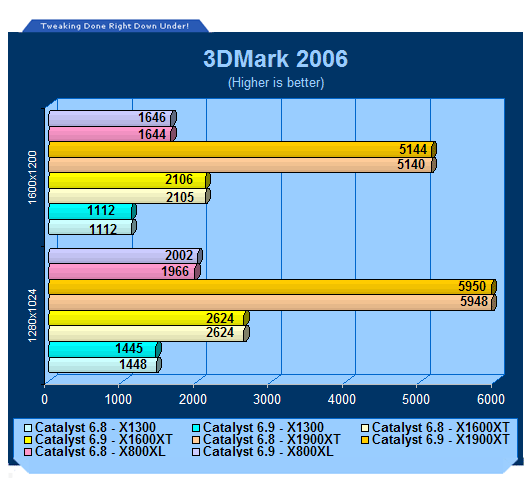 Moving along to 3DMark06 while a performance increase is apparently offered with AA and AF on we can see that there are no performance gains when AA isn't turned on.
Benchmarks - Half Life 2 (Lost Coast)
Half Life 2 (Lost Coast)Version and / or Patch Used:
Unpatched
Timedemo or Level Used:
Custom Timedemo
Developer Homepage:
http://www.valvesoftware.com
Product Homepage:
http://www.half-life2.com
Buy It Here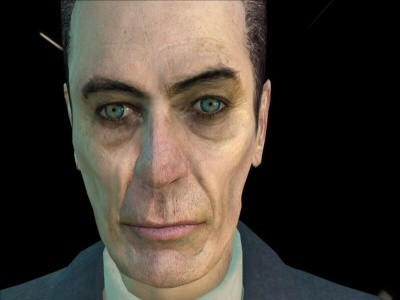 By taking the suspense, challenge and visceral charge of the original, and adding startling new realism, responsiveness and new HDR technology, Half-Life 2 Lost Coast opens the door to a world where the player's presence affects everything around him, from the physical environment to the behaviors even the emotions of both friends and enemies.
We benchmark Half Life 2 Lost Coast with our own custom timedemos as to avoid possible driver optimizations using the "record demo_name" command and loading the timedemo with the "timedemo demo_name" command - For a full list of the commands,
click here
.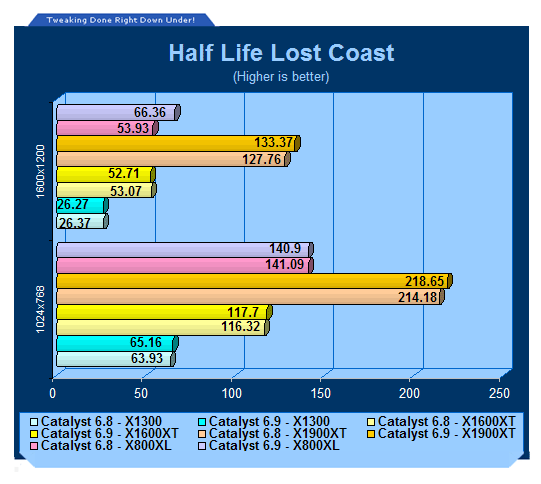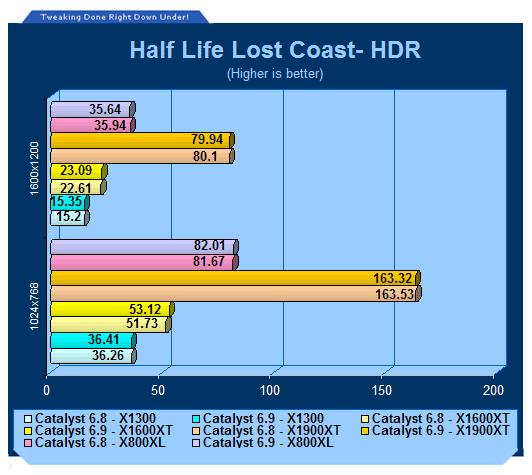 Our tests with HDR disabled see a nice increase at the higher end cards but our HDR tests see no real performance increase.
Benchmarks - PREY
PREYVersion and / or Patch Used:
1.1
Timedemo or Level Used:
HardwareOC Custom Benchmark
Developer Homepage:
http://www.humanhead.com
Product Homepage:
http://www.prey.com
Buy It Here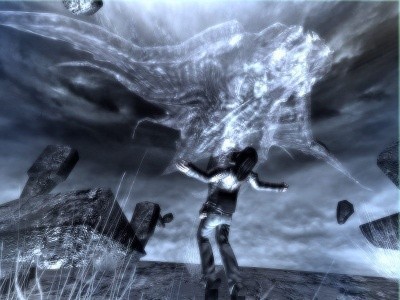 PREY is one of the newest games to be added to our benchmark line-up. It is based off the Doom 3 engine and offers stunning graphics passing what we've seen in Quake 4 and does put quite a lot of strain on our test systems.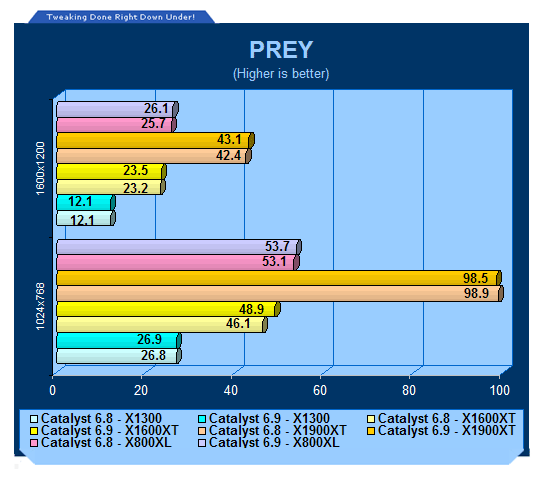 While we saw that ATI said a performance increase would be seen in Doom 3 we normally see other OpenGL games follow suit but unfortunately there are no gains with the latest 6.9 drivers for PREY.
Benchmarks - F.E.A.R.
F.E.A.R.Version and / or Patch Used:
Unpatched
Timedemo or Level Used:
Built-in Test
Developer Homepage:
http://www.vugames.com
Product Homepage:
http://www.whatisfear.com/us/
Buy It Here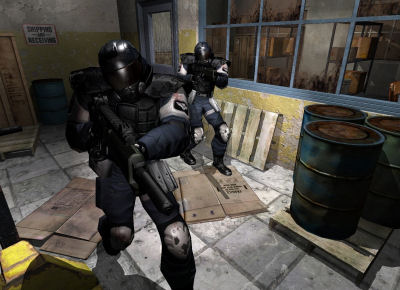 F.E.A.R. (First Encounter Assault Recon) is an intense combat experience with rich atmosphere and a deeply intense paranormal storyline presented entirely in first person. Be the hero in your own spine-tingling epic of action, tension, and terror...and discover the true meaning of F.E.A.R.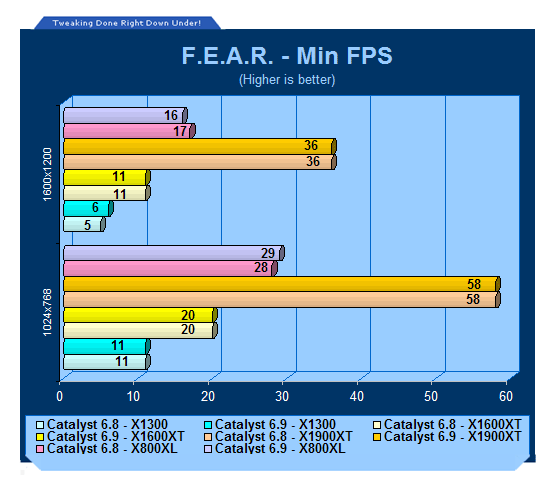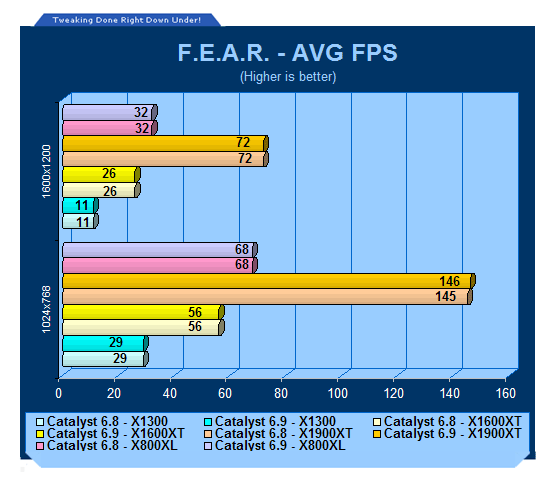 In typical F.E.A.R. style we see no performance increase or decrease across the board - everything is pretty much sitting the same.
Benchmarks - High Quality AA and AF
High Quality AA and AF
In our High Quality tests we bump the Antialiasing (AA) and Anisotropic Filtering (AF) up causing the card(s) to be put under more load. This usually helps us remove the CPU limitation.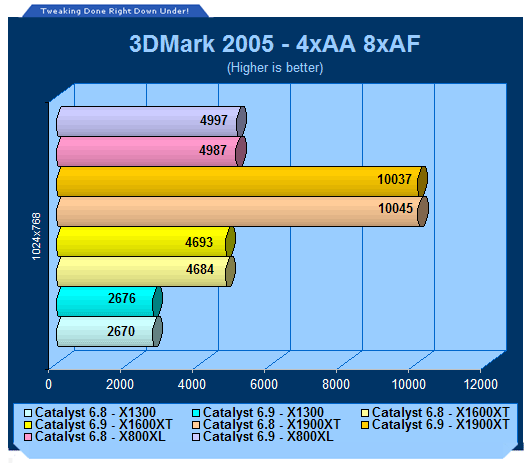 Turning on AA and AF no gains are seen in 3DMark05.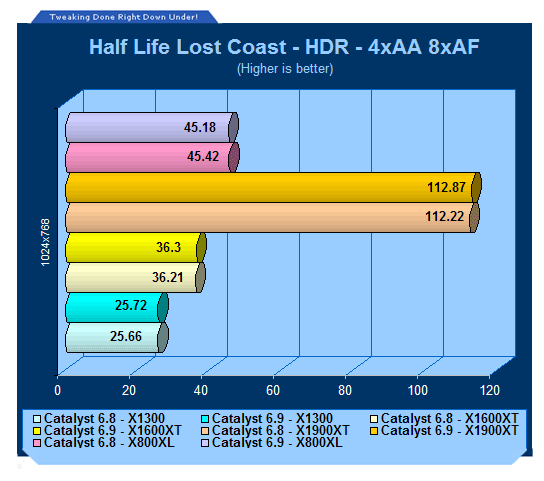 While our non HDR tests saw improvements our HDR tests with and with out AA and AF don't see any change.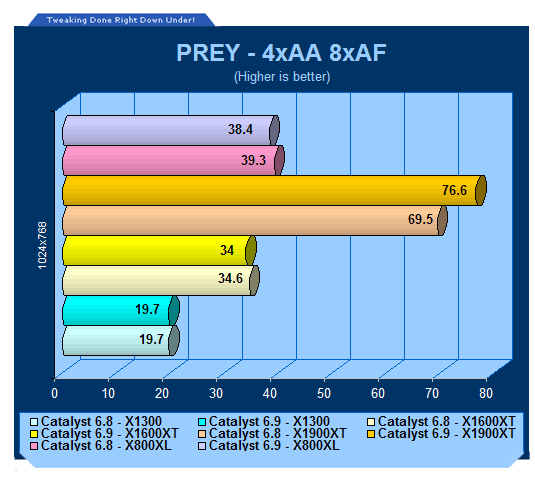 PREY sees a really healthy gain on the X1900XT with AA and AF enabled but the rest of the cards find themselves sitting at the same speed.
Final Thoughts
All that testing resulted in some pretty boring results. Performance wise we aren't really seeing anything much except a bump in our higher end cards in HL2 with HDR disabled and a increase in PREY for the X1900XT when AA and AF is enabled.
We don't expect increases every month but it is nice to have them - the normal array of bug fixes are present as usual though unless your game is mentioned in them we wouldn't be rushing out to install the latest drivers - especially if you have one of the new Radeon cards.
Until next month, Happy Benchmaking!
PRICING: You can find products similar to this one for sale below.

United States: Find other tech and computer products like this over at Amazon.com

United Kingdom: Find other tech and computer products like this over at Amazon.co.uk

Australia: Find other tech and computer products like this over at Amazon.com.au

Canada: Find other tech and computer products like this over at Amazon.ca

Deutschland: Finde andere Technik- und Computerprodukte wie dieses auf Amazon.de