Best SSD For Gaming: Over 120 SSDs Tested!
With over 120 SSDs tested, Chris Ramseyer is welcomed back to the TweakTown family in a huge way!
Published
9 minute read time
Introduction
You want to take The Warrior of Light and comrades to the war torn region of Gyr Abania but slow storage delays your journey. Today we find the best SSD for gaming by looking at 125 products including many classics that you likely already own.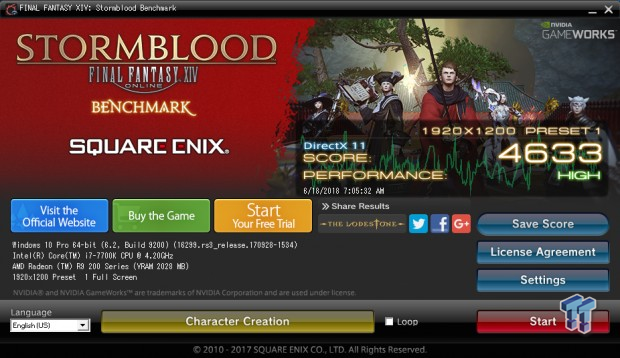 It's the age old story. Slow load times make gaming less exciting. The story plays out across platforms and game modes. As graphics quality increases, so does the amount of data required for virtual worlds. The data has to come from your storage system but not all storage is the same.
The first online game to focus attention on the storage system was Battlefield 3. When released no one had heard of a SSD. The Western Digital Raptor series with 10,000 RPM platters was the fastest consumer storage drive and a must have for gamers. A single drive would get you in the game quickly and in most clans that might mean getting in a jet before others on your team.
To gain a real advantage, gamers would pair more than one drive in RAID 0 to load faster, and get a jet off the ground before anyone else. Building an array of eight WD Raptors would allow you to destroy the enemy jets before they even got off the ground. At that moment, fast storage became a beneficial tool for multiplayer gaming just like surround sound and wide format monitors.
Final Fantasy XIV: Stormblood Benchmark
Square Enix built a load-leveling test in the Final Fantasy XIV: Stormblood Benchmark. The software is free and works on any Windows platform. Most users run the software to measure graphics performance but we've used the rare load-leveling feature to test several types of storage products including NVMe, SATA, and Optane SSDs, as well as hard disk drives.
Test System
In our testing across different systems, we found the load-leveling benchmark to be very sensitive to memory and processor architectures. An X299 system with a 10-core 3GHz processor and 64GB of system memory finished the test much faster with very quick SSDs. The same system took just as long to complete the test with hard disk drives as the Z270 platform we chose to publish results using.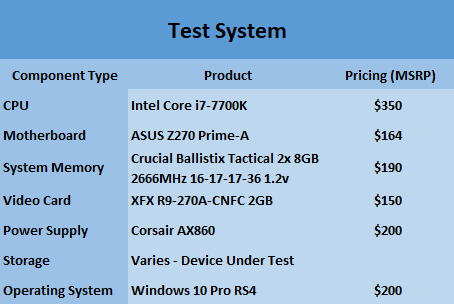 We left some performance on the table with our Z270 platform, but it's much closer to what our readers use today. Our system choice didn't change the performance ranking, a drive that was faster on the X299 was still faster on the Z270.
Our gaming test system uses an Intel Core i7-7700K processor running at stock speeds but we did enable the multicore enhancement option. The system runs Windows 10 Pro RS4 with updates for Spectre and Meltdown patches. All of the drives tested hold both the operating system and the game test files. We cloned the operating system from a master image to ensure consistent testing. Our ASUS Z270 Prime-A motherboard runs the latest BIOS with CPU vulnerability fixes that slow random storage performance. We limited the system to just 16GB of Crucial Ballistix DDR4 2226MHz memory, the same I use for all of my storage test systems.
Performance Testing
We divided the SSDs by capacity sizes for each chart. In the first chart, we look at 2TB and 1TB SSDs but also included products with 3D XPoint technology (Optane), and large capacity hard disk drives. The second section shows 512GB SSDs and a single Seagate SSHD (hybrid drive) with a cold and warm data test. The final chart groups 256GB and 128GB products.
In each chart, we further divide products by color. The dark blue bars show NVMe SSDs while the light blue bar shows SATA SSDs. The orange bars show hard disk drives.
By separating the drives by sizes, we loosely separated them by price. Some of the drives we tested are no longer available. We wanted to incorporate some products that you may currently own, or used in the past. Products like the Crucial C300, the first SATA III SSD, and the Intel X25-M were iconic in there day, so they have some value as historic record, but also give some users a scale to base new products against.
We paired all Optane Memory (cache) drives with a Seagate BarraCuda Pro 12TB HDD.
2TB, 1TB, Optane, and HDD Testing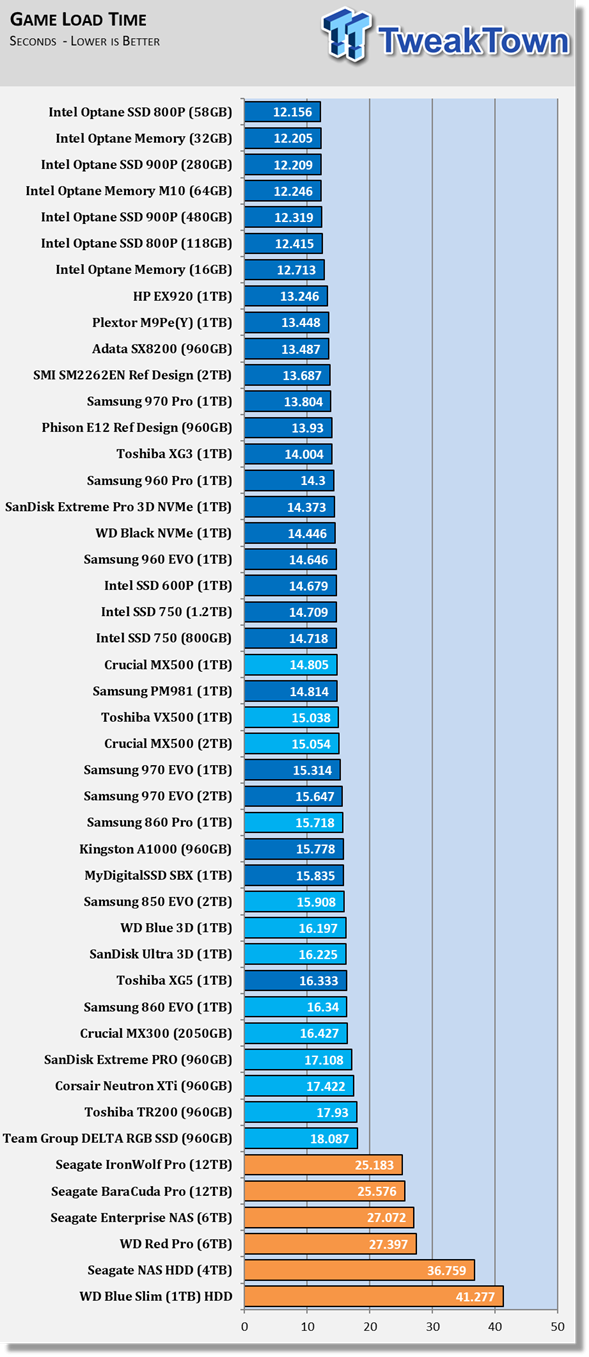 3D XPoint-based products, especially Optane Memory (cache drive + HDD or SSD), have many skeptics but the technology is sound. The large chart includes these products due to the high cost per gigabyte of any SSD with 3D XPoint memory. Even pairing an Optane Memory module with a high capacity hard disk drive like our Seagate BarraCuda Pro 12TB is expensive, but you can also use the Optane Memory modules on your existing hard drive, or a smaller capacity drive. You still need to upgrade to a 200- or 300-Series chipset and 7- or 8-Series processor.
Optane products dominate the performance charts and deliver the only 12 second results. The flagship Intel Optane SSD 905P was the only product to break into the 11-second range. It is truly an amazing SSD but the 960GB model carries a $1,300 price tag. We don't have a 480GB 905P to test but expect it delivers the same performance for half the cost.
SSDs utilizing the Silicon Motion, Inc. SM2262 controller also performed very well. The HP EX920, Adata XPG SX8200m and Intel SSD 760p are the most popular shipping today with this controller. Mushkin just started shipping another low-cost SM2262 drive, the Pilot, in recent weeks. We have Pilot drives on the way but they were not available for this test.
The Plextor M9Pe also performed very well in test with large capacity drives. The early firmware that originally shipped on the M9Pe SSDs wasn't very good but the new 1.04 firmware brings this series to life with improved performance.
This chart also includes two highly anticipated next generation NVMe controllers currently in development. The two drives from Phison (E12) and Silicon Motion, Inc. (SM2262EN) are not using final firmware. We do get a glimpse into the current state of development.
The fastest SATA SSD falls to the middle of the chart in the 23rd position. NVMe SSDs can load games faster without the hard limits of SATA, around 550 MB/s for large block size sequential data. Not all NVMe SSDs outperform all SATA SSDs. The Toshiba VX500 and Crucial MX500 SATA SSDs perform very well and load the game faster than the Samsung 970 EVO, Kingston A1000 and MyDigitalSSD SBX.
Hard disk drive performance is about what we expected. Even though we only tested six HDDs in this section, we can divide them into different classes. The IronWolf Pro and BarraCuda Pro are the newest drives in the chart. Both use Helium to reduce the friction in the platter. The Enterprise NAS HDD, Red Pro and NAS HDD are all older models. The Western Digital Blue Slim HDD is from a Lenovo Y700-17isk notebook purchased recently. It represents a typical HDD currently shipping in notebooks today from large OEMs.
512GB and SSHD Testing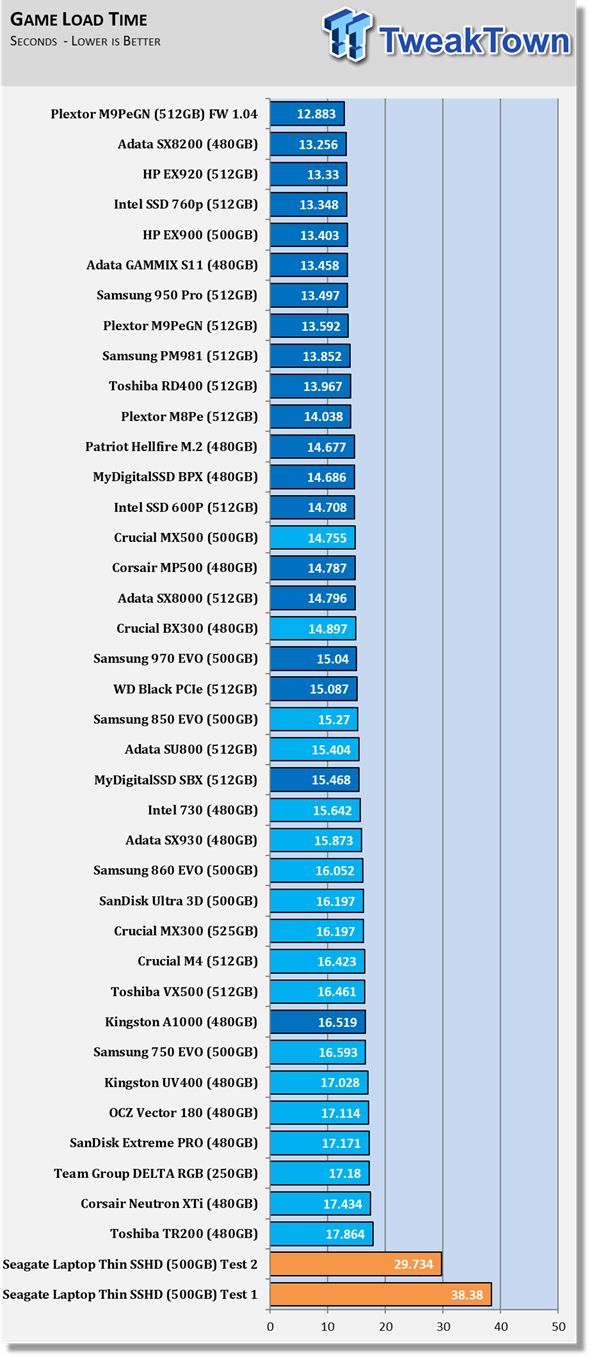 Plextor released the M9Pe series in three versions. The M9Pe(Y) is an add-on card with RGB lighting and a massive heat sink. The M9PeG is a M.2 2280 SSD with a thin aluminum heat sink and the M9PeGN is a bare drive without the heat sink (the lowest priced model). The M9PeGN with the new 1.04 firmware leads the 512GB game load time chart. The same drive with the original firmware, 1.00, fell to eighth place.
The three 512GB class drives we have with the Silicon Motion, Inc. SM2262 controller came in just behind the Plextor. The SM2263 4-channel controller on the HP EX900 was strong enough to place 5th in our chart. The drive, along with the SM2262 models, use new Micron/Intel 64-layer flash with a high-speed interface to the controller.
The same memory also put the Crucial MX500 above the other SATA SSDs. Again, we see some of the SATA drives outperforming a handful of entry-level performance NVMe products.
This chart only features a single hard disk drive. Unlike the previous chart, this one has a special drive that is part spinning disk and part SSD. The Seagate Laptop Thin SSHD is an older model and the technology has to run the application once before it can store a portion of that data in a SSD-like cache. The more you run an application, the more data it will put from it in the cache area. We ran the SSHD twice in our test and saw a nine-second reduction in the load time. It still took nearly twice as long as the slowest SSD making SSHD technology less desirable for gamers than Optane Memory (cache) or pure SSD products.
256GB and 128GB Testing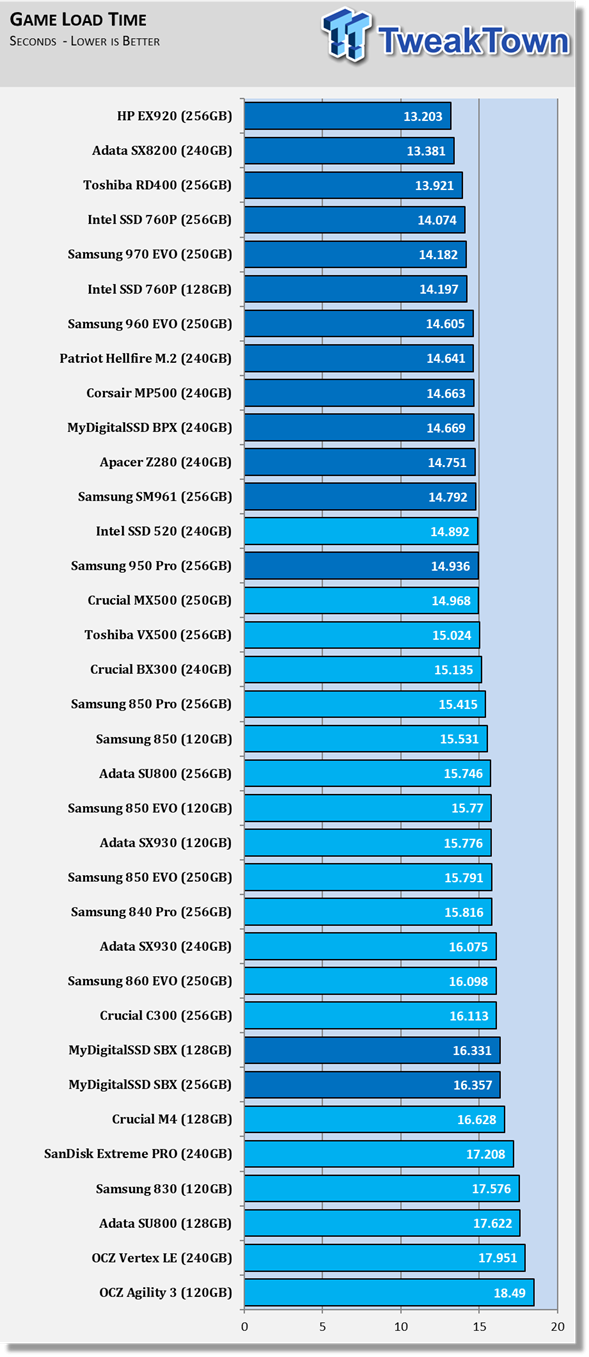 Low capacity SSDs are the most interesting from a technology standpoint. As flash technology progresses, the capacity of the die size increases. SSDs are fast because they feature an internal RAID where data flows from more than one point at the same time. As the die capacity increases, the number of die being read or written to decreases. Companies try to use faster flash to make up for less parallelization with mixed results.
The fastest SATA SSD in the 256GB/128GB result is actually one of the oldest. The Intel SSD 520 240GB with a SandForce SF-2281 controller loads the Final Fantasy levels faster than the Crucial MX500 250GB using the latest 64-layer memory technology.
The Silicon Motion, Inc. SM2262 controller found the HP EX920, Adata SX8200, and Intel 760p takes three of the top four positions on this chart with the Toshiba RD400 in the third position.
Final Thoughts
We learned a lot today about modern SSD performance. Optane technology is amazing, as is the Silicon Motion, Inc. SM2262 controller paired with Micron 64-layer memory. The same memory also produces excellent results paired with older SATA controllers. Finally, even some older SSDs are able to keep pace with newer drives. Here we will explore these topics in more detail.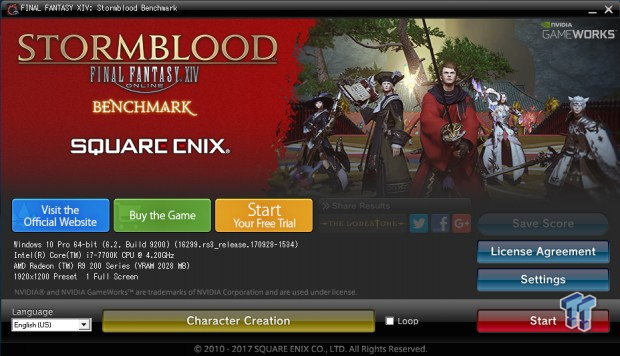 Optane, either as a standalone SSD or as a cache in the form of Optane Memory is superb. I love the technology but as a consumer advocate, I don't like the price.
3D XPoint memory used in all Optane branded products is a new technology that is faster than flash, less dense, and obviously more expensive. These products will never match flash in cost per gigabyte but we shouldn't downplay the technology because it costs more in many cases. Intel has made it possible to afford Optane performance with the Optane Memory modules used to cache your primary storage. The latest Rapid Storage Technology (RST) driver even allows you to cache a secondary drive.
Ideally, this feature allows you to load your Steam and Origin game libraries on a hard disk secondary drive with your operating system on a high-speed primary SSD. Using Optane Memory still requires a 200- or 300-Series chipset motherboard but as new products come to market, the older chipsets will cost less. Over time, the hefty system requirements will become less of an issue. Older chipsets with NVMe RST cache, mainly some 90-Series and all 100-Series chipsets, can use Optane modules as a cache drive but not as official Optane Memory with preloaded data. It's an unofficial workaround and unsupported, but it works almost as well as the official Optane Memory on 200-Series, and newer, chipsets.
Moving away from Optane, the Silicon Motion, Inc. SM2262 controller is in the middle of every high-performance flash NVMe shipping today. The HP EX920, Adata SX8200, and Intel SSD 760p are the perfect mix of price and performance right now. Other drives, like the Mushkin Pilot, just came to market and we expect more to come in the future. Silicon Motion, Inc. also has faster SM2262EN coming in the near future but as of right now, the SM2262-based products are what you should buy today.
All of the SM2262 drives features Micron/Intel 64-layer flash but it's not exclusive to NVMe SSDs. The Crucial MX500 uses the same flash. It shouldn't be a surprise to see this drive leading most of the other SATA SSDs. If you are not ready to dive into NVMe for your next upgrade, then the MX500 is your best option available.
We found a number of positive trends to talk about in this editorial but there are also a few negatives to discuss. The first is the viability of lower capacity SSDs for gaming. Games have grown in recent years and you can only put a few AAA titles on small capacity SSDs. We don't recommend purchasing anything smaller than a 512GB drive if you plan to load a lot of games on a drive. If you plan to divide your storage between multipole drives then a smaller SSD still works well for your operating system, Office, and other essential applications.
We also can't overlook the current state of SSDs from Samsung. The new 970 (NVMe) and 860 (SATA) SSDs with 64-layer memory do not dominate the performance charts like the previous generation did when compared to other products released around the same time. I suspect Samsung will release firmware to increase performance over time with the new products. This is less of a Samsung issue than it is the progress other companies have made with flash technology and commodity controllers. 64-layer memory has leveled the field when it comes to performance. Samsung does still have a very large lead in endurance and that shouldn't be overlooked when shopping for a SSD you plan to use for a very long time.
PRICING: You can find products similar to this one for sale below.

United States: Find other tech and computer products like this over at Amazon.com

United Kingdom: Find other tech and computer products like this over at Amazon.co.uk

Australia: Find other tech and computer products like this over at Amazon.com.au

Canada: Find other tech and computer products like this over at Amazon.ca

Deutschland: Finde andere Technik- und Computerprodukte wie dieses auf Amazon.de
We openly invite the companies who provide us with review samples / who are mentioned or discussed to express their opinion. If any company representative wishes to respond, we will publish the response here. Please contact us if you wish to respond.