Introduction & Specifications, Pricing and Availability
Earlier this month, we published a full review of the Samsung XP941 512GB M.2 2280 SSD that RamCity in Australia provided us. The XP941 is the world's first M.2 SSD to feature four PCIe 2.0 lanes. Just a month before, we published the world's first consumer M.2 PCIe drive from Plextor, the M6e. These two products differ in that the XP941 doubles the number of PCIe lanes going to the drive.
At this stage of the game, no one really predicted Samsung to jump the gun and shoot past the PCIe 2.0 x2 stage. Even though Plextor just released the M6e and SanDisk has an OEM product with the same controller, Marvell and others are just now really starting to show off PCIe 2.0 x2 controllers. After our Samsung XP941 review, Marvell announced a new PCIe 2.0 x2 controller for SATA Express (SATAe), and we're still trying to wait patiently for SandForce's new SF3700. Imagine the surprise on the product managers' faces when they first heard about Samsung's long jump straight to four lanes.
Just as impressive is ASRock's leap to what the company calls Ultra M.2. At the same time as other motherboard manufacturers graced us with the spec M.2 based on PCIe 2.0 x2, ASRock let loose with steel toe boots and delivered a PCIe 3.0 x4 solution with up to 32Gb/s bandwidth, due to 128/130b encoding.
Yes, we said PCIe 3.0, and you are correct: no one has even mumbled PCIe 3.0 yet in relation to native SSDs. Before ASRock dropped the bombshell, we didn't give it a second thought and even now wouldn't expect to see a 32Gb/s drive until 2016 or beyond.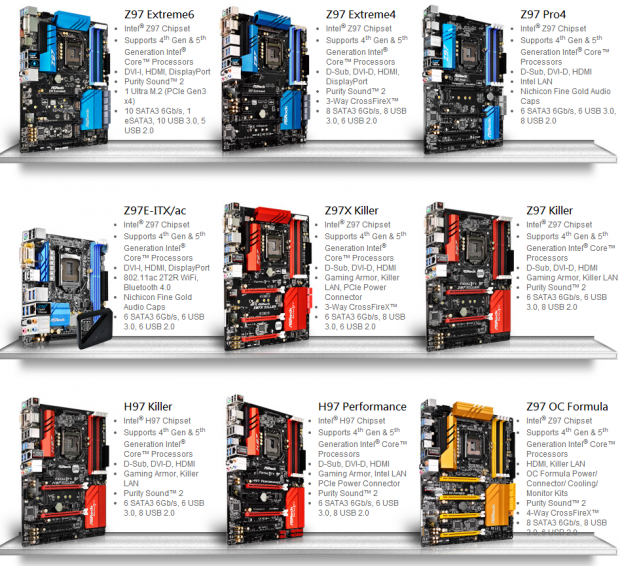 ASRock released several Z97 and H97 motherboards when the new Intel chipsets launched. We routinely see very cool features, and the cooler they are, the more expensive the motherboard is. I'm bringing this up now because a feature as cool as PCIe 3.0 x4 for storage at the start of PCIe 2.0 x2 is about as cool as it gets. You might expect the feature to cost an arm and a leg, but that is why I'm bringing the price up first. Newegg lists all of ASRock's 9-Series motherboards, and the prices range from $99.99 to $219.99. You are thinking the $219.99 is where the Extreme6 rests, but that is the price of the flagship overclocking board, Z97 OC Formula.
The ASRock Z97 Extreme6 we're looking at today with the most advanced and, at this time, completely exclusive Ultra M.2 PCIe 3.0 slot is... $169.99. Now that you know we are NOT talking about an ultra-premium priced motherboard in the $400+ range, we can get down to business and not feel let down at the end of the review. I hate it when I read about 600+ HP cars from domestic manufacturers only to read the last paragraph and realize I couldn't afford it. The Extreme6 is priced very well for what it has onboard. Now, let's get to talking about the onboard goodies.
PRICING: You can find the ASRock Z97 Extreme6 for sale below. The prices listed are valid at the time of writing but can change at any time. Click the link to see the very latest pricing for the best deal.
United States: The ASRock Z97 Extreme6 retails for $178.12 at Amazon.
Canada: The ASRock Z97 Extreme6 retails for CDN$198.00 at Amazon Canada.
ASRock Extreme6
Before we get started, I want to point out this editorial isn't a full review of the ASRock Extreme6. Today, we're just looking at the storage capabilities of this impressive motherboard. TweakTown's own Shawn Baker will have a full review of the Extreme6 shortly that covers CPU, GPU, multi GPU, audio, and other performance data.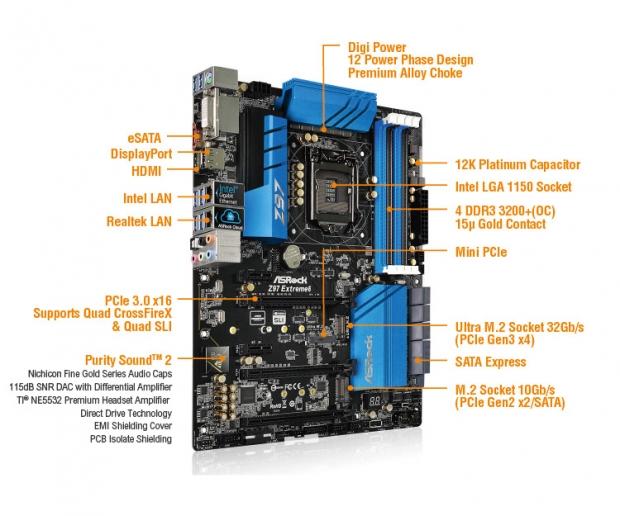 The Extreme6 uses Intel's latest Z97 chipset with Haswell LGA1150 processors. On the storage side, this motherboard gives users a total of ten SATA 6Gb/s ports, an M.2 PCIe 2.0 x2, an Ultra M.2 PCIe 3.0 x4, one SATA Express (shared with two SATA 6Gb/s), one eSATA external port, ten USB 3.0 ports, and five USB 2.0 ports (one vertical Type A onboard).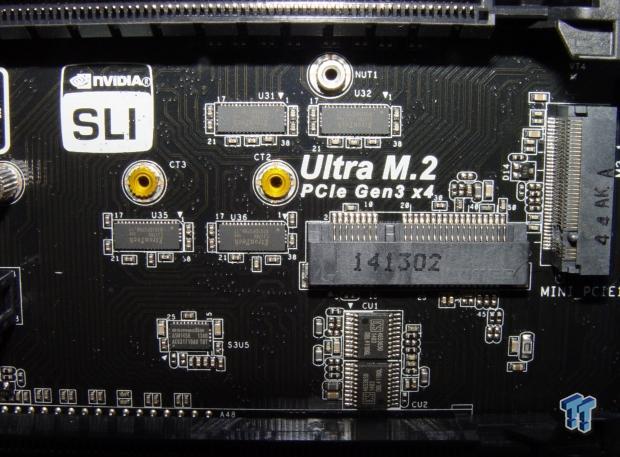 As far as we are concerned, the star of the show is the Ultra M.2 slot shown above. The Extreme6 is the only motherboard at the launch of Z97 to even have one despite a plethora of Z97 and H97 products released. To put it simply, the Extreme6 has it and nothing else does. Further increasing the exclusivity, the Ultra M.2 slot connects straight to the CPU and does not use the PCIe lanes coming off of the chipset.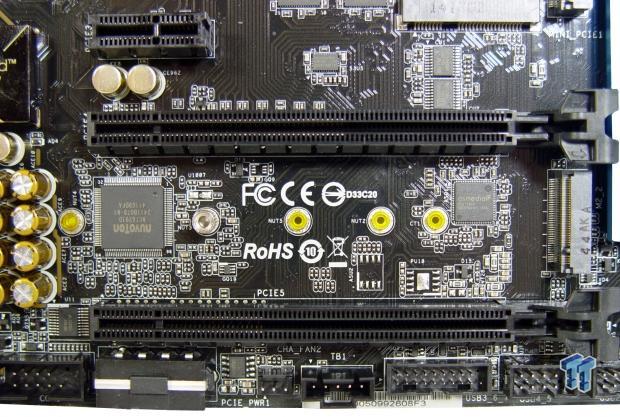 ASRock didn't stop with Ultra M.2, a spec standard M.2 slot is also on the Extreme6. The standard M.2 slot with PCIe 2.0 x2 is capable of delivering up to 10Gb/s, the same as SATA Express.
Both the M.2 and Ultra M.2 slots support SSDs up to 110mm long, also called 22110. Brass tabs in the motherboard serve as the mounting point for a single screw in a standoff that provides support for the SSD. If you happen to have a 2280 form factor drive like the Samsung XP941, you just move the standoff to the proper location.
Both the Ultra M.2 and standard M.2 slots are set for M Key or sometimes called M Card type. PCIe based M.2 SSDs use M Key, while SATA based M.2 SSDs use B Key or have notches cut out for both M and B Keys.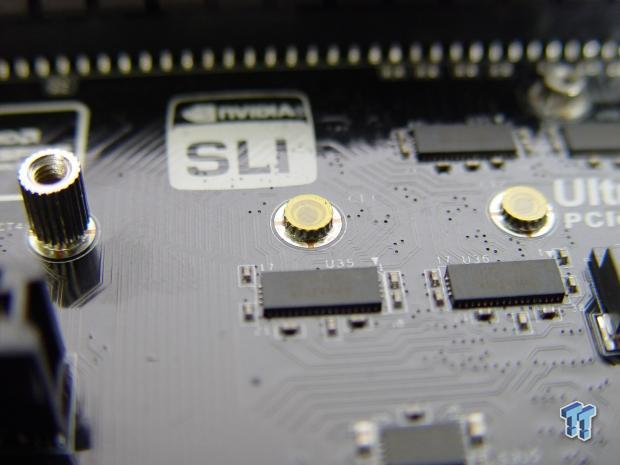 Although it's difficult to see in the other image, all of the brass tabs have covers over them except for the 2280 tab that comes with the standoff inserted inside from the factory.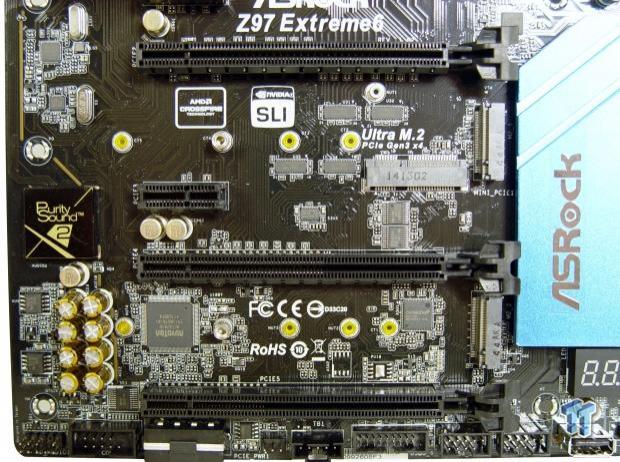 Here we see the PCIe arrangement with the storage PCIe slots located between where you would normally install video cards or other normal PCIe devices. The M.2 SSDs rest under the video card heat sinks (if you have dual height cards). A third card based PCIe slot sits under the Ultra M.2 port for Wi-Fi cards. The Ultra M.2 actually sits high enough off of the motherboard to where you could install a Wi-Fi PCIe card, an M.2 SSD, and then a video card on top of it all. The density is amazing, but users should be mindful of the large amount of heat generated by a trio of PCIe devices in such a small area. Good airflow from the case fans can remedy any hot spots, though.
As you can see, there are four PCIe slots and several components that use PCIe lanes. As usual, Intel delivered a consumer desktop platform that doesn't supply enough PCIe lanes to run everything from the processor's CPU direct PCIe lanes. Even with PCIe switches, using an M.2 SSD in the Ultra M.2 slot means your traditional PCIe allocation drops to x8/x4.
With just eight lanes to the top PCIe slot and four lanes to the middle, SLI from NVIDIA is off the table. Crossfire from AMD is not an issue since AMD has not disabled the feature on 4-lane PCIe slots.

Moving away from M.2 for a moment, we see the SATA 6Gb/s and SATA Express connectors. There are ten SATA 6Gb/s ports total. Six come off of the Intel Z97 chipset and support RAID 0, 1, 5, and 10 with Intel's new Rapid Storage Technology 13 driver. Four additional SATA 6Gb/s ports come from an ASMedia ASM1061 that supports Hot Plug and ASRock's HDD Saver Technology. One port is shared with a rear-mounted eSATA port.
The Extreme6 also has a single SATA Express slot on the bottom left side of the cluster. SATA Express, or SATAe for the short version, carries two PCIe 2.0 lanes to upcoming SATAe SSDs. We should be able to show you several examples in our Computex coverage in less than a week.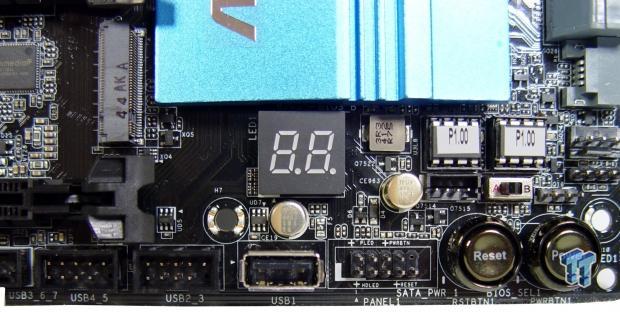 HDD Saver is a new technology introduced by ASRock that allows a user to physically power down HDDs in a user's system. The 4-pin connector next to the BIOS A / B switch provides power to secondary drives. Through a software interface, users can choose to power down non-boot drives for power savings and security. ASRock supplies a special cable that routes power from the onboard header to HDD drives.
In this image, we also see the Type A onboard USB 2.0 port. Type A onboard connectors are usually found in servers for operating system USB drives, a common occurrence in Linux-based systems built for specific uses, like PFSense. We've also seen Type A connectors on expensive workstation motherboards to hold key dongles for software like Cubase and other professional applications. Dongle keys are expensive to replace and fragile in most cases.

The back panel is just as impressive as the rest of the board. The only option not available is 10GbE and VGA. An eSATA port (shared with an ASMedia SATA 6Gb/s) port is on the back as well as six USB 3.0 ports. Dual gigabit Ethernet provides connectivity to the network, while DVI, HDMI, and DisplayPort feed monitors from the CPU's onboard video system.
You may assume since the price is so low that ASRock found ways to cut corners, but that isn't the case. The audio on the Extreme6 uses what ASRock called Purity Sound 2, a premium onboard sound system. Also, a feature often found on premium overclocking systems, the back panel also has a BIOS reset button recessed behind the plate.
Test System Setup and ATTO Baseline Performance
Desktop Test System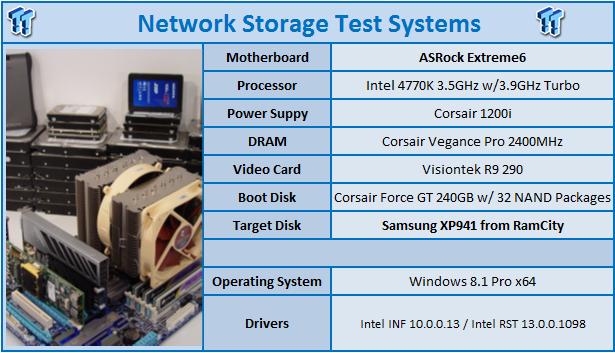 At this time, we do not have an Ultra M.2 SSD to test the full throughput of ASRock's implementation of it. The product doesn't exist in retail form at this time. We do have the next best thing, and it's a product you can purchase today. RamCity was kind enough to send us a Samsung XP941 at the start of the month for a review with a Bplus PCIe adapter that is required to achieve full PCIe 2.0 x4 bandwidth. The only way to use an XP941 at full speed without an adapter is to use an ASRock Extreme6.
I should also note that the ASRock Extreme6 is also the first retail motherboard that can use the Samsung XP941 as a boot device. There are a few hoops that you need to jump through in order to make that happen. If you already install Windows from a USB drive, the only hoop is turning off legacy storage devices in the operating system. This means changing a setting to UEFI only. This can affect some other system components like video cards. Some video cards have updated UEFI BIOS, but others don't. Check with your component manufacturer for updated UEFI BIOS updates.
ATTO - Baseline Performance
Version and / or Patch Used: 2.34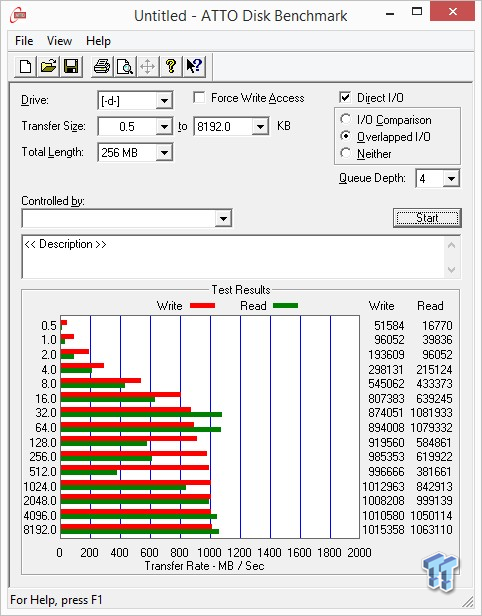 We've already tested the Samsung XP941 provided to us by RamCity with a Bplus M.2 to PCIe x4 adapter. The chart results today will show the original tests and the updated tests with the drive running in the Extreme6.
Right from the start, we see a small sequential write performance increase with the Extreme6's direct to CPU PCIe lanes. We were still not able to match Samsung's claimed sequential read performance of 1170 MB/s, but we did achieve 1081 MB/s. Our sequential writes topped at 1015 MB/s, a bit higher than Samsung's 950 MB/s claims.
Benchmarks – Sequential Performance
HD Tune Pro - Sequential Performance
Version and / or Patch Used: 4.55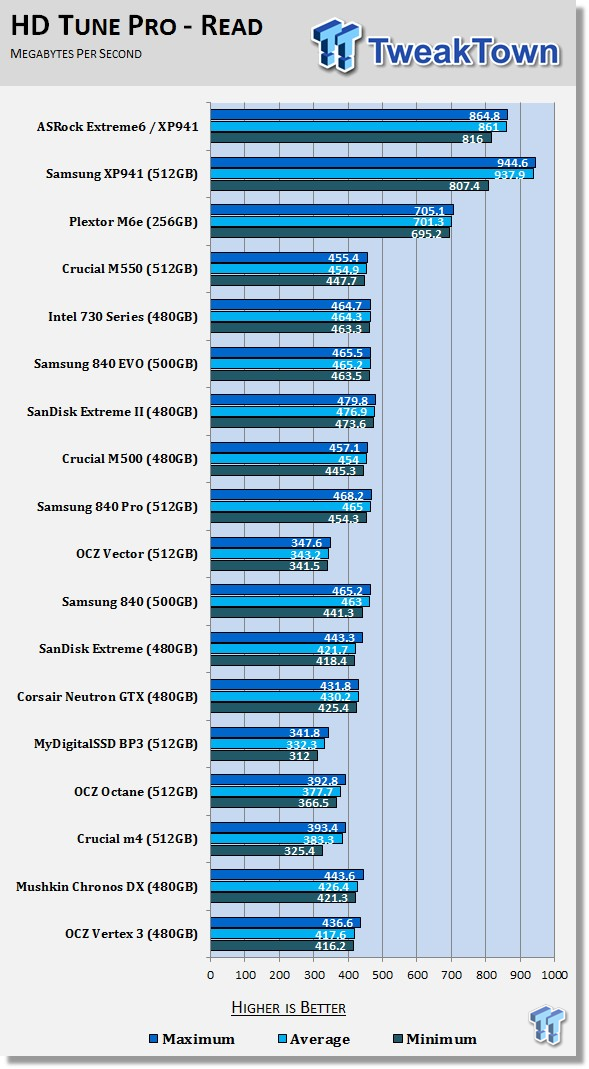 It actually saddens me to report that most reviewers have found that Z87 is a faster chipset than Z97, at least at this time. The Z97 chipset is new, and we even used a new BIOS from ASRock to run the XP941 tests. Our original test of the Samsung XP941 was with Z87, and as you can see, we achieved a higher sequential read score in HD Tune Pro with it.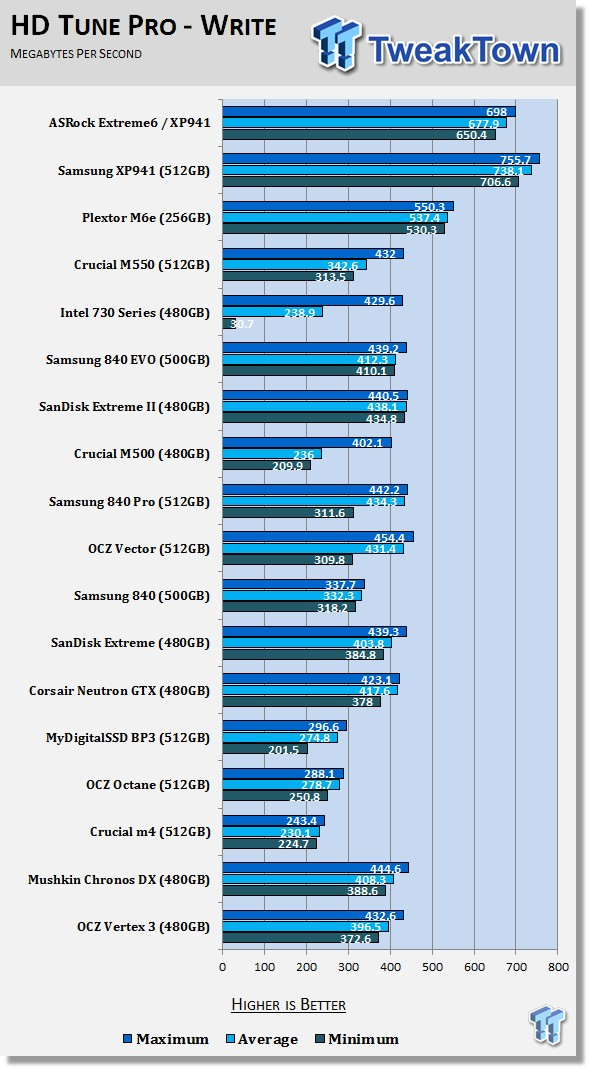 The sequential write performance is also a little slower with the Z97 chipset despite the XP941 talking directly to the Intel 4770K processor.
HD Tach – Sequential Write Performance after Random Writes
Version and / or Patch Used: 3.0.4.0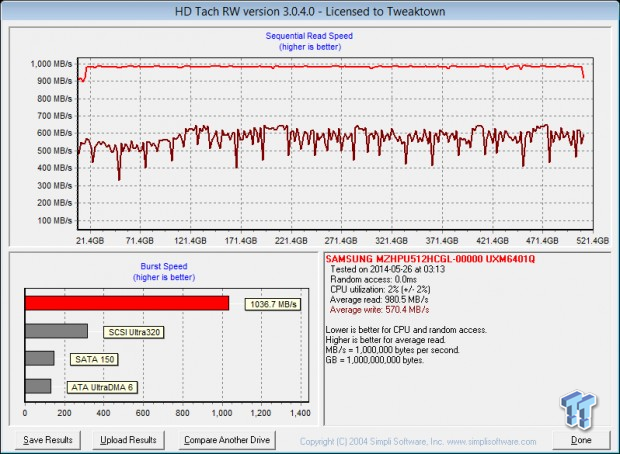 The Samsung XP941 write performance drops a bit after a reasonable amount of random writes to the drive. This isn't an issue with the Extreme6 as all SSDs lose performance as we wear them down to steady state.
Benchmarks - Anvil Storage Utilities
Anvil Storage Utilities
Version and / or Patch Used: RC6
So what is Anvil Storage Utilities? First of all, it's a storage benchmark for SSDs and HDDs where you can check and monitor your performance. The Standard Storage Benchmark performs a series of tests; you can run a full test or just the read or the write test, or you can run a single test, i.e. 4k QD16.
Anvil Storage Utilities is not officially available yet, but we've been playing with the beta for several months now. The author, Anvil on several international forums, has been updating the software steadily and is adding new features every couple of months.
The software can be used several different ways to show different aspects for each drive. We've chosen to use this software to show the performance of a drive with two different data sets. The first is with compressible data, and the second data set is incompressible data. Several users have requested this data in our SSD reviews.
0-Fill Compressible Data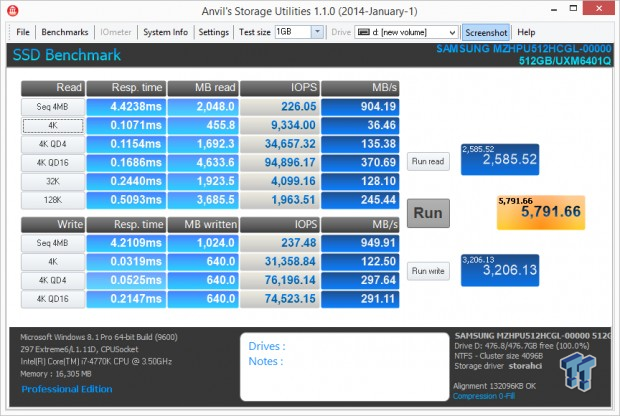 Incompressible Data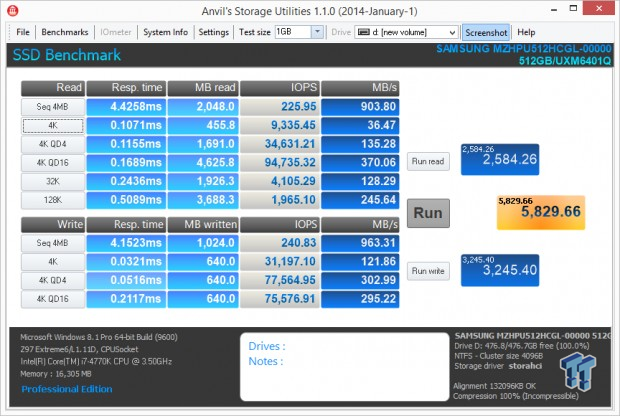 The XP941 works with compressible and incompressible data the same, so there isn't a slow down when writing incompressible data.
Read IOPS through Queue Depth Scale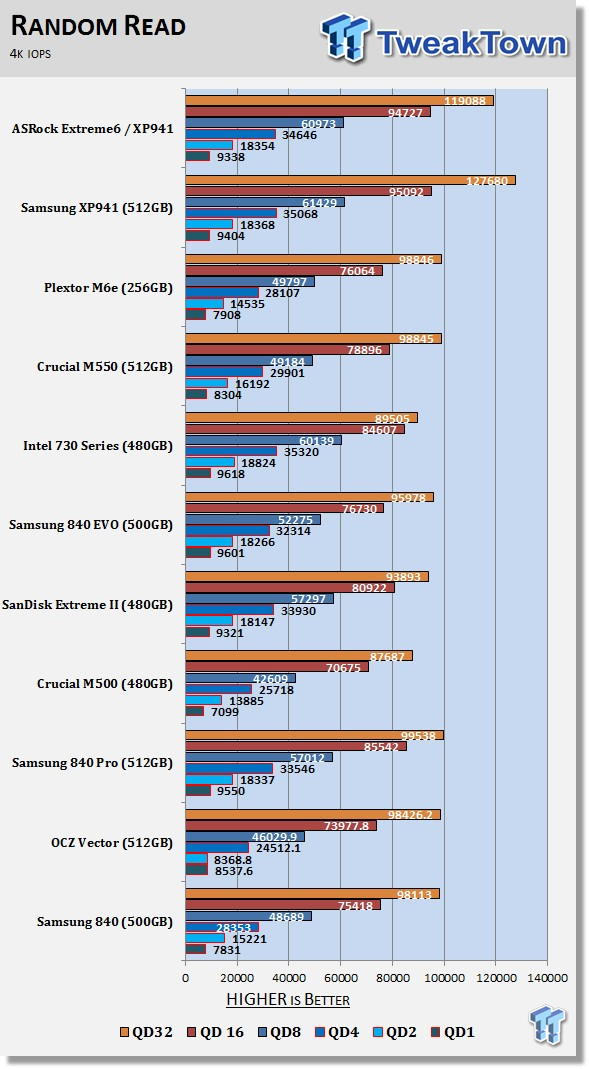 In this test, we see a slight reduction across the board when it comes to random read IOPS. The numbers are very close, and aside from running benchmarks, a user wouldn't be able to tell.
Scaling Write IOPS through Queue Scale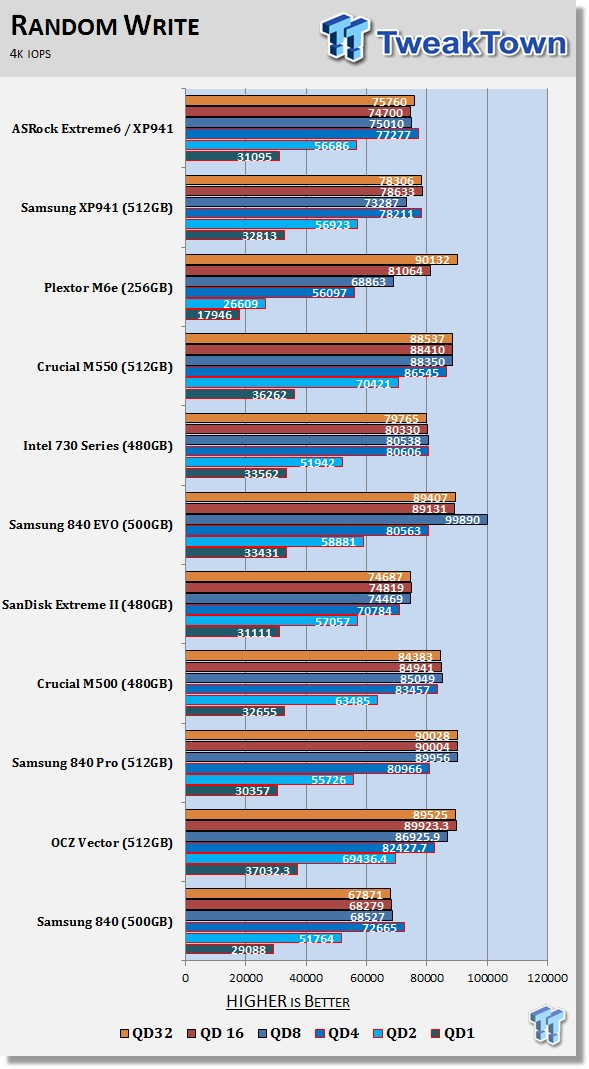 The 4k write IOPS test also shows a slightly reduced number of IOPS with the Extreme6.
Benchmarks - PCMark Vantage (Drives with Data Testing)
Version and / or Patch Used: 1.0.0
For a complete breakdown on the Drives with Data Testing, please read this article. You will be able to perform this test at home with the files provided in the article; full instructions are included.
Brief Methodology
SSDs perform differently when used for a period of time and when data is already present on the drive. The purpose of the Drives with Data testing is to show how a drive performs in these 'dirty' states. SSDs also need time to recover, either with TRIM or onboard garbage collection methods.
Drives with Data Testing - 25%, 50%, 75% Full States and Dirty / Empty Test
Files needed for 60 (64GB), 120 (128GB), 240 (256GB)
60GB Fill – 15GB, 30GB, 45GB
120GB Fill - 30GB, 60GB, 90GB
240GB Fill – 60GB, 120GB, 160GB
Empty but Dirty - a test run just after the fill tests and shows if a drive needs time to recover or if performance is instantly restored.

The real-world performance with data on the XP941 drops to around 50k Marks with the drive in an Extreme6.
PCMark 8 Consistency Test
Futuremark PCMark 8 Extended – Consistency Test
Version and / or Patch Used: 2.0.228
Heavy Usage Model:
FutureMark's PCMark 8 allows us to wear the test drive down to a reasonable consumer steady state and then watch the drive recover on its own through garbage collection. To do that, the drive gets pushed down to steady state with random writes and then idle time between a number of tests allows the drive to recover.
Precondition Phase:
1. Write to the drive sequentially through up to the reported capacity with random data.
2. Write the drive through a second time (to take care of overprovisioning).
Degradation Phase:
1. Run writes of random size between 8*512 and 2048*512 bytes on random offsets for 10 minutes.
2. Run performance test (one pass only).
3. Repeat 1 and 2 for 8 times, and on each pass increase the duration of random writes by 5 minutes.
Steady state Phase:
1. Run writes of random size between 8*512 and 2048*512 bytes on random offsets for 50 minutes.
2. Run performance test (one pass only).
3. Repeat 1 and 2 for 5 times.
Recovery Phase:
1. Idle for 5 minutes.
2. Run performance test (one pass only).
3. Repeat 1 and 2 for 5 times.
Storage Bandwidth
PCMark 8's Consistency test provides a ton of data output that we use to judge a drive's performance.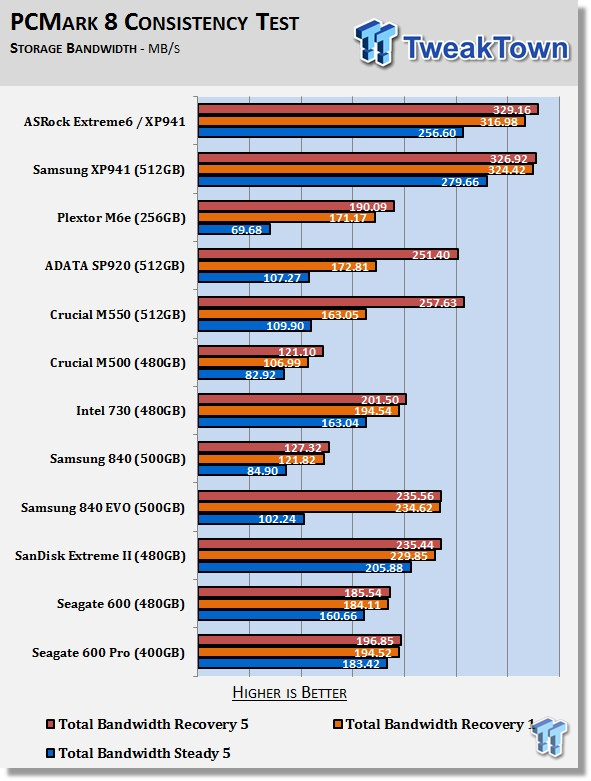 Here we can gauge how close the performance is with an adapter on a Z87 system and the drive directly in the Z97 Extreme6. The performance is very close over a wide range of tests that take nearly 24 hours.
Storage Bandwidth All Tests
Here we see all of the tests plotted on the same chart. This shows the drive from worst case to steady state to recovery performance.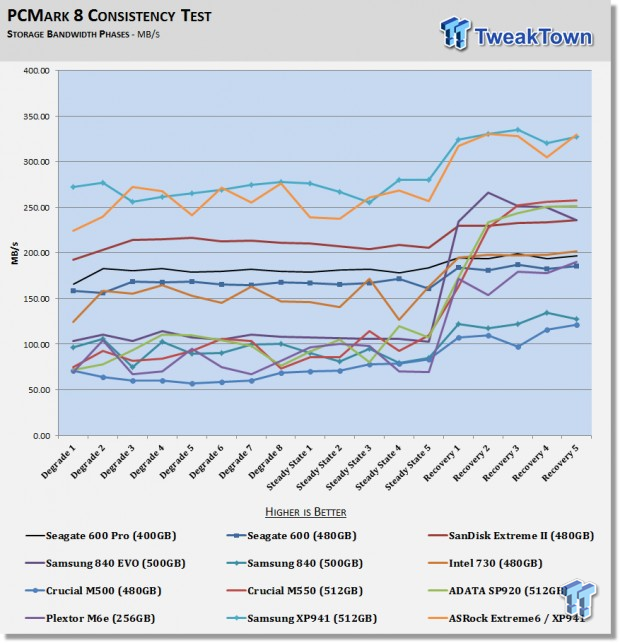 It's not difficult to spot the two tests with the XP941; they are at the top of the chart outperforming the other SSDs.
PCMark 8 Consistency Test - Continued
Total Access Time
The access time test measures the total latency across all 18 tests. This is one of the most important tests we run at this time for consumer SSDs. When your latency is low, your computer feels fast; it's just that simple.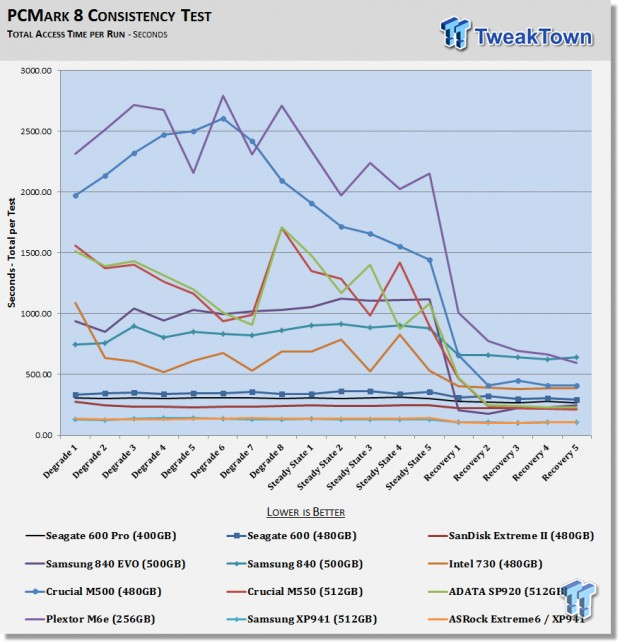 Disk Busy Time
Disk Busy Time shows us how long the drive has to work to achieve the performance from the above. The best scenario is high throughput performance with low busy time. The less the drive works, the less power it consumes. For the most part, this is an efficiency test.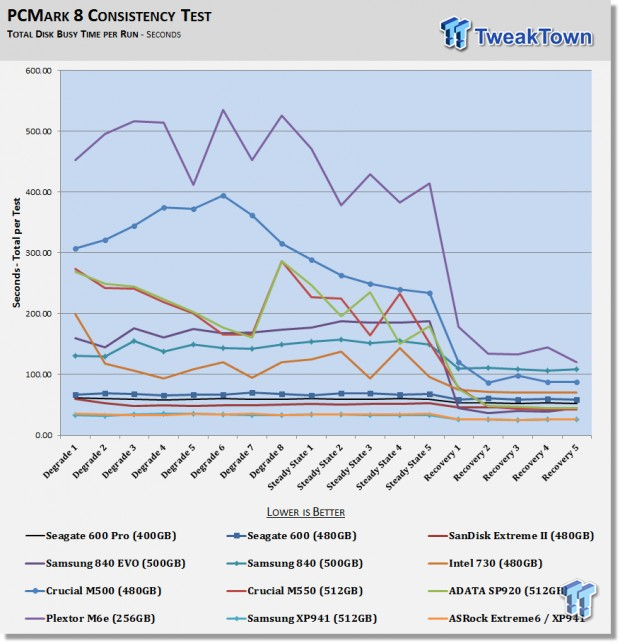 In these two tests, low results are better. It's easy to see what all of the commotion is about when it comes to the XP941. Regardless of how you connect the drives, the latency is very low. This leads to an excellent user experience.
Final Thoughts
Sadly, the ASRock Extreme6 isn't ready to overtake a mature Z87 chipset with the Samsung XP941 PCIe M.2 SSD in an adapter, but all is not lost. The Z97 chipset that's on the Extreme6 is new whereas the Z87 has undergone a number of BIOS revisions in the last year. The performance is still very close, and with some BIOS work, I'm sure ASRock will get the Extreme6 at least up to par with Z87.
Depending on what platform you're coming from, the Extreme6 can still be quite the value. At just $169.99 (Newegg), you get socket LGA1150 support with Ultra M.2. The Extreme6 will work with Broadwell, the successor to Haswell, in a year from now, and by that time, we might actually see some PCIe 3.0 based M.2 drives that take advantage of the massive 32Gb/s bandwidth available.
After going over the math, I can see why many users would choose to go with an Extreme6 over an adapter. The adapter we recommend costs AUD $61.99 from RamCity, but it's not the lowest priced model they sell. The low-cost version costs AUD $25.99. Tack on shipping and such and you have a decent amount of money. The Extreme6 is only $170, and it's a helluva motherboard for the money.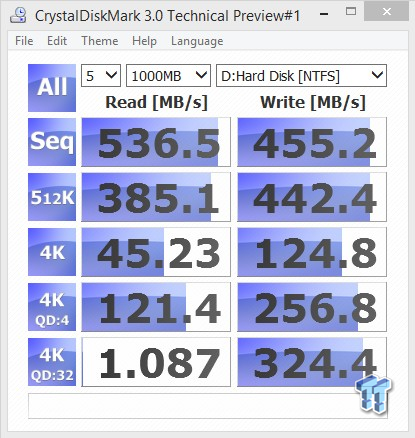 There are some setbacks, though. SLI with Ultra M.2 will not work, but that only affects a small number of people. We also found an issue with the Intel RST 13 driver and hardware that affects QD32 4k random reads. The issue only affects benchmarks since most users will never get to such a high queue depth under normal circumstances. The test above is with a SATA 6Gb/s drive and not the XP941.
Regardless of how you look at it, though, this is the only motherboard on the market at this time that supports M.2 PCIe 3.0 x4. Even if you only use a PCIe 2.0 x4 card like the Samsung XP941, this is the only game in town for direct support without an adapter. The Extreme6 also has a second M.2 slot, with 10Gb/s performance for drives like the Plextor M6e, and SATA Express for when a drive becomes available.
If I was shopping for a new motherboard right now, the Extreme6 is what I would buy just for the Ultra M.2 slot alone.
PRICING: You can find the ASRock Z97 Extreme6 for sale below. The prices listed are valid at the time of writing but can change at any time. Click the link to see the very latest pricing for the best deal.
United States: The ASRock Z97 Extreme6 retails for $178.12 at Amazon.
Canada: The ASRock Z97 Extreme6 retails for CDN$198.00 at Amazon Canada.