Introduction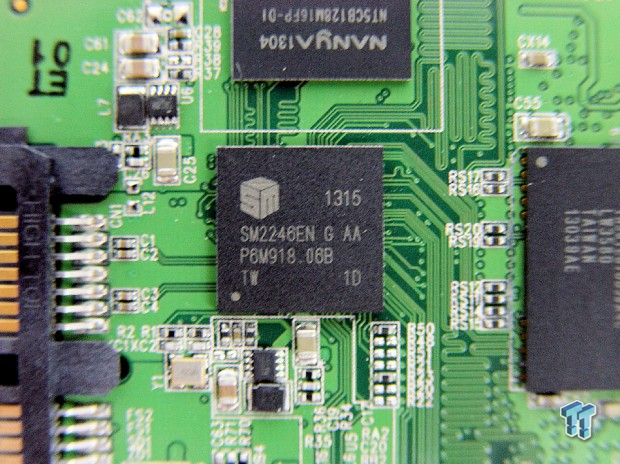 For many this will be the first time you've read about Silicon Motion, but I can guarantee you have a product with Silicon Motion silicon inside sitting on your desk right now. Most of Silicon Motion's products are of the nameless variety, the chips inside cell phones, SD cards, TV tuners and thumb drives that you buy based on other factors like user experience. One wouldn't purchase a product because it has a Silicon Motion 4G transceiver inside. You would buy a Galaxy Note II because it has a badass screen, delivers excellent battery life and provides an enjoyable user experience... at least that is why I bought mine.
I don't even know who makes the transceiver in the Note II, but it seems to work well for me, so I could really care less. The truth is though, a product like our example takes a lot of innovative technology to deliver good battery life and what a company learns in one product can carry over to other products as well. Silicon Motion has a broad portfolio and it just got one product bigger.
The Silicon Motion SM2246EN is a new 4-channel SATA III SSD controller designed to work with a board range of NAND flash, deliver excellent performance, and do it all while using very low power. While we don't have any pricing information on hand since Silicon Motion only provides one hardware piece to the SSD puzzle, we can say that 4-channel controllers are generally low cost parts on their own and require less PCB layers to build a working product. We expect new SSDs built with the new SM2246EN to break into the budget SSD market first, at least based on price.
That doesn't mean this is a preview you should skip over by any means if you are an enthusiast. The Silicon Motion reference design we acquired scored the highest PCMark Vantage score we've ever seen on a single 2.5" SSD, over 91K Marks. Now that I have you attention, let's take a look at the specifications and look deeper at the architecture.
Specifications and Availability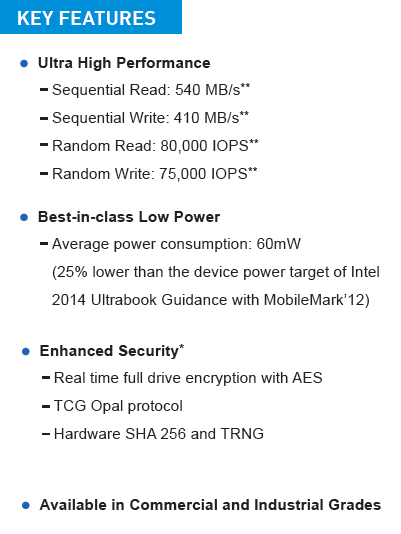 We've noted for several years now that manufacturer claimed performance is only a reference point and has little to do with the true user experience. The Silicon Motion reference design proves our theory. SilMo claims 540 MB/s sequential read and only 410 MB/s sequential write speeds. The claimed random read performance is only 80K and the random write performance is only 75K. I stress [em]only[/em] because drives like the Samsung 840 Pro, OCZ Vector and even some of the highest performing LSI SandForce based drives only deliver an 80K Mark rating in PCMark Vantage, but the SilMo reference design broke into the 90K Mark range.
Raw performance aside for a minute, the new SM2246EN packs a lot of other technology into a small package. Silicon Motion's experience with other products surely played a role in getting the average power consumption down to just 60mW. The new controller also hits all of the encryption buzzwords as well, TCG Opal and eDrive (not listed in the image above), both are hardware encryption standards that are gaining popularity with both business notebook users and those looking for addition protection over a simple BIOS login screen password.

On to the big list, the new controller design supports existing NAND flash as well as future NAND like SanDisk's 1y flash with a 19mm x 19.5mm die. The Silicon Motion reference design sent to manufacturers (and in a roundabout way, us) uses 19nm Toshiba Toggle 2.0 flash with 16KB page sizes and 64Gb dies. If you don't own a NAND flash fab, the Toshiba NAND used is about the best you can choose for performance, since Samsung doesn't sell their 4-plane NAND on the spot market. We get the feeling after speaking with Silicon Motion that MLC products will be rare compared to the large number of SSDs coming in 2014 with TLC NAND.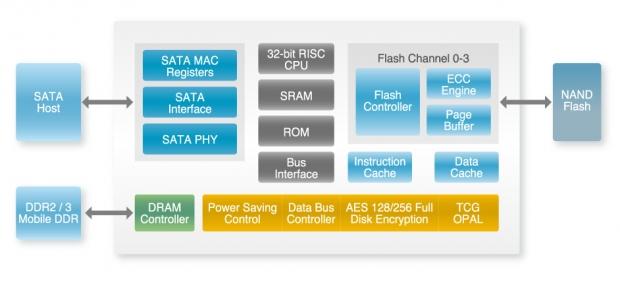 I would hate to toss out a specific number, but TLC NAND flash should be relatively low price from Toshiba / SanDisk and 4-channel controllers are historically low-cost controllers. LSI SandForce and Marvell currently make a 4-channel controller that's used for cache products and even USB thumb drives. Going back to the early days of SSDs, the Indilinx Barefoot and Barefoot Evo were 4-channel designs and cost much less than the Intel X25-M, a 10-channel design.
Silicon Motion's press release states mass production should occur in the third quarter of 2013. The company is excited about CES 2014; it's already listed on the Silicon Motion website. We might actually see more from Silicon Motion in 2013, but I suspect SSD manufacturers will make a big splash at CES in January.
That leads us to what we should expect. At the time of writing, Silicon Motion states the new controller supports up to 512GB of flash. The 4-channel design won't take us to 1TB, the mark most of us want to find in an SSD costing less than $500. A 512GB class SSD with good performance and priced at 50c per GB would make for a nice consolation prize though.
Silicon Motion SM2246EN Reference Design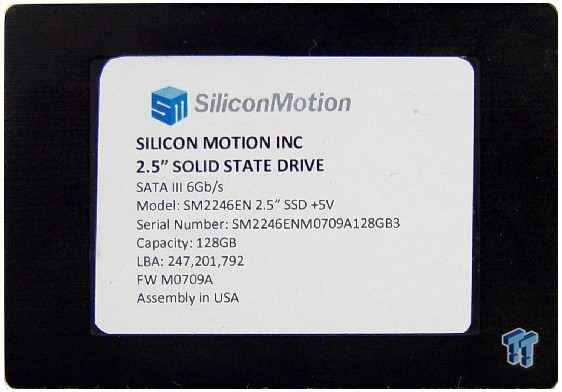 Before we dive in and look at the drive we want to preface the rest of this preview. The sample we received is only a reference design. The drive was built for performance using the best NAND on the open market today and the performance shown today does not represent a specific branded product. A manufacture could build a drive like the one we're testing though. The firmware on the reference design could and most likely will change before retail products come to market so the performance today could increase or decrease.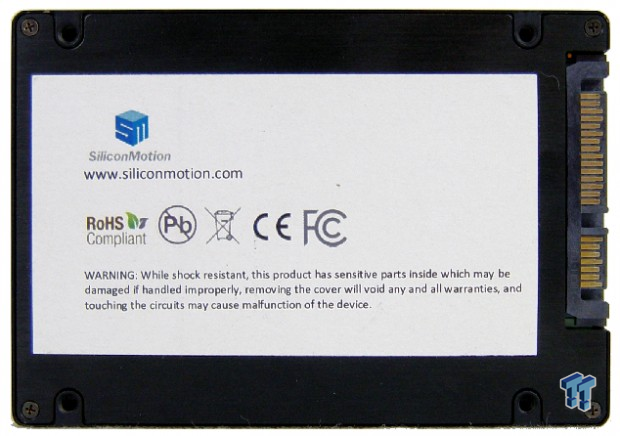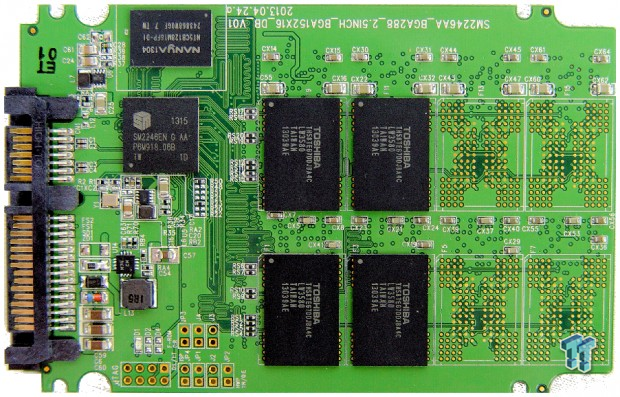 The PCB design doesn't look overly complicated. The controller sits close to the SATA connection and a fair amount of space between the controller, the NAND flash and the DRAM buffer keeps controller heat away from the other components.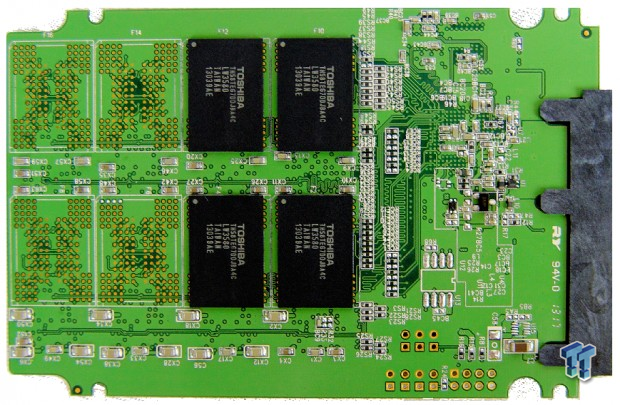 There are eight NAND flash packages, four on each side.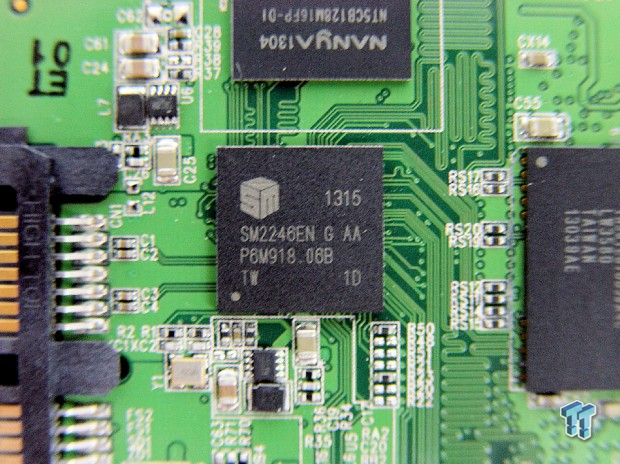 Here we get our first look at the new SM2246EN controller.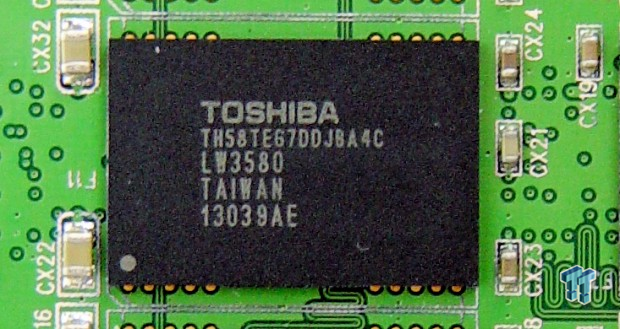 The flash used is Toshiba 19nm Toggle Type C with 16KB page size. Each package is 16GB in size.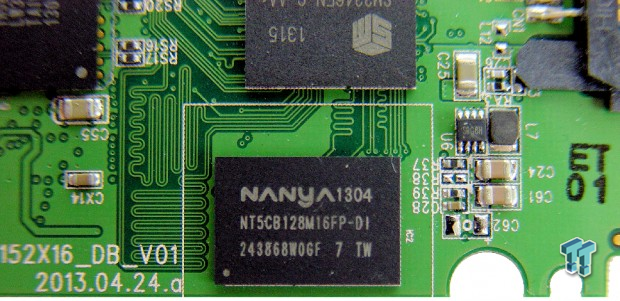 The 256MB DDR3 DRAM buffer is clocked at 800MHz (DDR3-1600) and has 11-11-11 timings.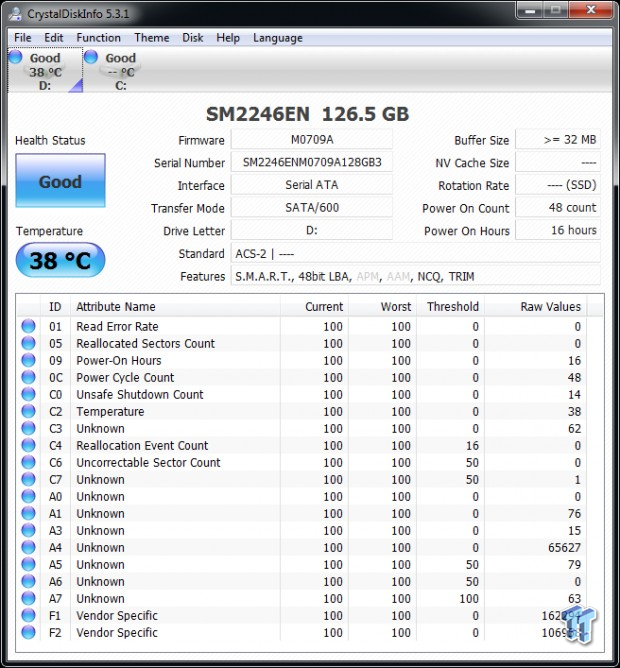 Our reference design sample uses firmware M0709A and uses the ACS-2 ATA command set. Crystal Disk Info detected the capacity size at 126.5GB, an odd size. We suspect Silicon Motion reserved a small amount of space for background activities.
Benchmarks - Test System Setup and ATTO Baseline Performance
Desktop Test System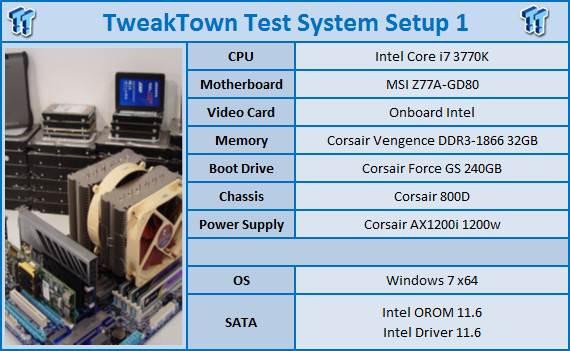 Lenovo W530 - Mobile Workstation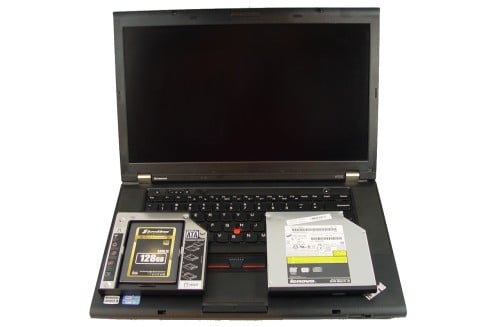 We use two systems for SSD testing. The desktop runs a majority of the tests and the Lenovo W530 runs the notebook power test as well as the real-world file transfer benchmark.
ATTO Baseline Performance
Version and / or Patch Used: 2.34
ATTO is used by many disk manufacturers to determine the read and write speeds that will be presented to customers.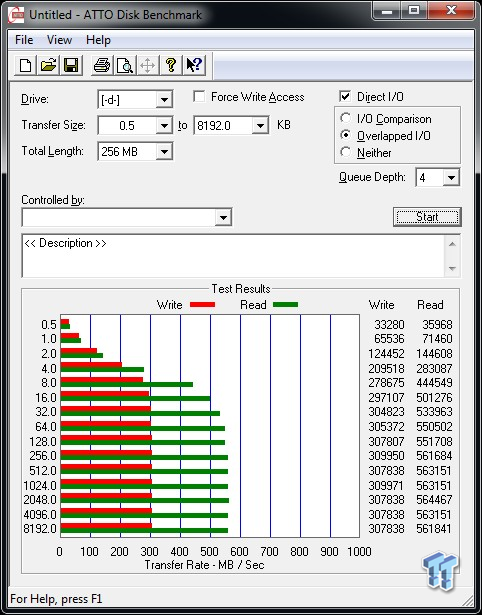 Our ATTO sequential read scores were much better than Silicon Motion's claim of 540 MB/s. We managed to hit nearly 562 MB/s. SilMo claims 410 MB/s sequential write speeds, but we managed to just break 307 MB/s with the reference board and what we suspect is early release firmware.
Benchmarks - Sequential Performance
HD Tune Pro
Version and / or Patch Used: 4.00
Developer Homepage: http://www.efdsoftware.com
Product Homepage: http://www.hdtune.com
HD Tune is a Hard Disk utility which has the following functions:
Benchmark: measures the performance
Info: shows detailed information
Health: checks the health status by using SMART
Error Scan: scans the surface for errors
Temperature display
HD Tune Pro gives us accurate read, write and access time results and for the last couple of years has gained popularity amongst reviewers. It is now considered a must have application for storage device testing.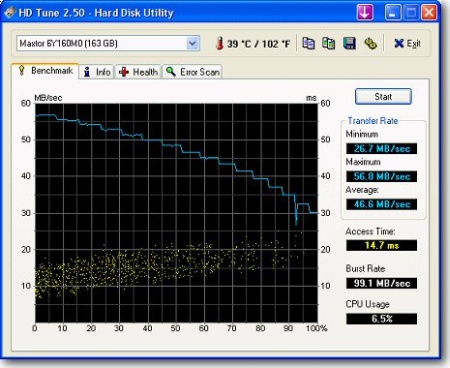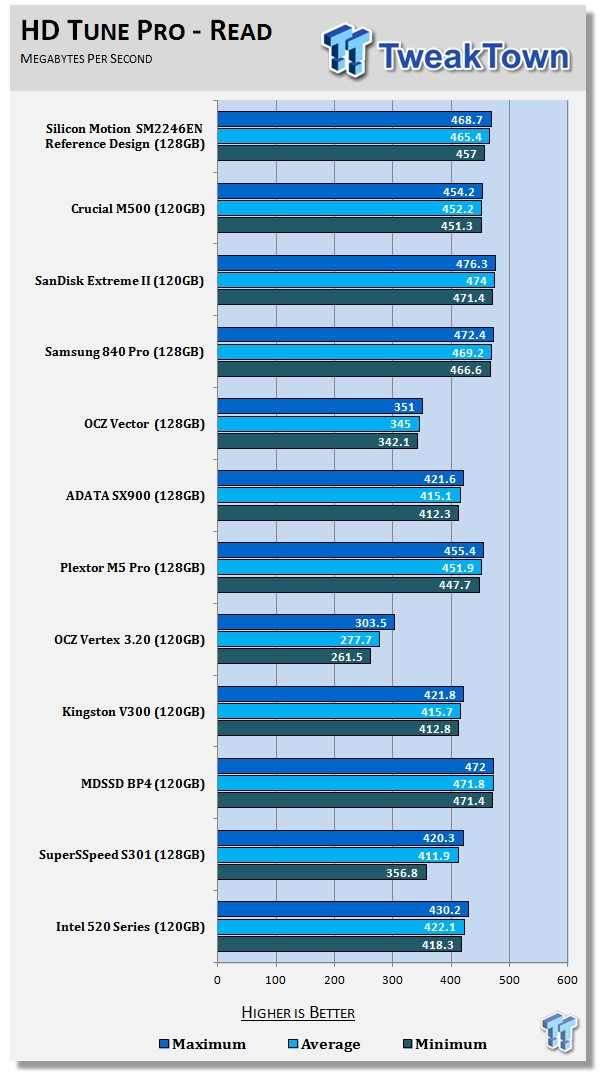 The little four channel controller that could. I looked through the office to find a SF-2241 SSD in 120GB capacity size for a direct comparison, but couldn't find a drive with the right specifications. We have M.2 drives with LSI SandForce and Marvell 4-channel controllers, but didn't want to cloud the results with M.2 drives since all of the results on the charts are from 2.5" form factor products.
The SM2246EN with this flash combination appears to be in the top group of drives when it comes to sequential read performance.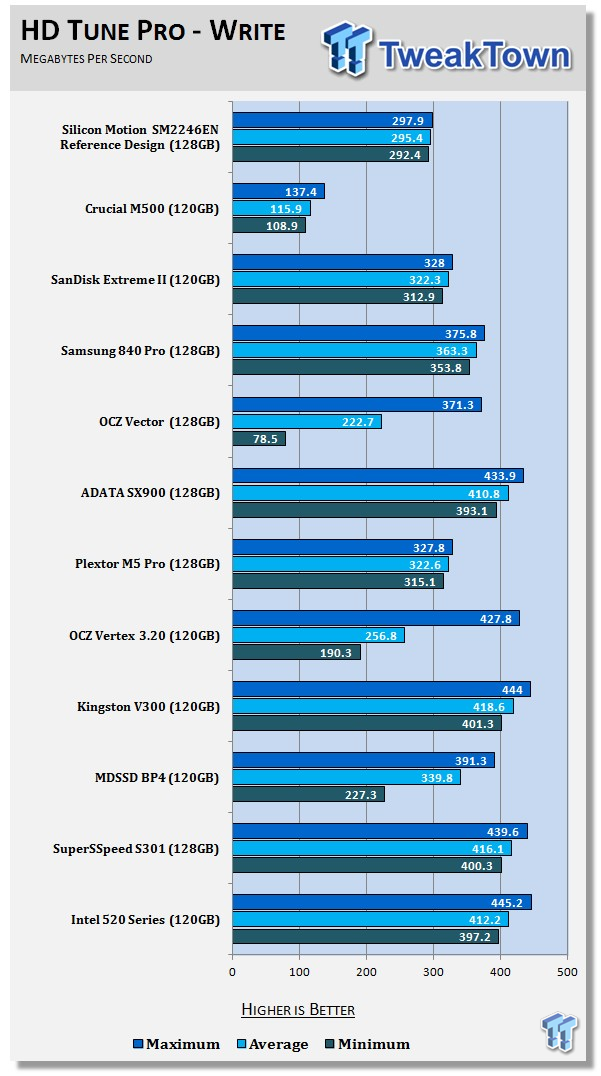 The sequential write performance could use a bit of help. We noticed something odd with this drive, something I don't ever recall seeing before. The sequential write speed is nearly identical to the results in ATTO. We typically see around a 100 MB/s difference on the top tier SSDs between ATTO and HD Tune Pro. The Silicon Motion reference design only loses around 10 MB/s in HD Tune Pro.
HD Tach - Sequential Write Performance after Random Writes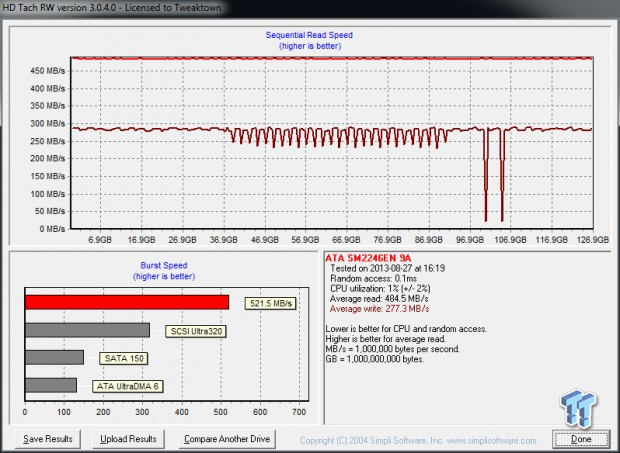 After running through the HD Tune Pro random read and write tests, we ran HD Tach to see how much write performance was lost after a realistic consumer load of random writes. For the most part the Silicon Motion reference design did well, but we did see two large dips where performance dropped to 25 MB/s. This is something we always look for because large dips like this, when frequent, produce a poor user experience.
Benchmarks - AIDA64 Random Access Time
AIDA64 Random Access Time
Version and / or Patch Used: 1.60
Developer Homepage: http://www.aida64.com
Product Homepage: http://www.aida64.com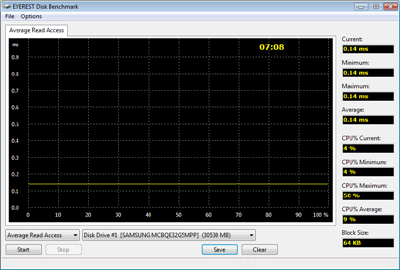 AIDA64 offers several different benchmarks for testing and optimizing your system or network. The Random Access test is one of very few if not only that will measure hard drives random access times in hundredths of milliseconds as oppose to tens of milliseconds.
Drives with only one or two tests displayed in the write test mean that they have failed the test and their Maximum and possibly their Average Scores were very high after the cache fills. This usually happens only with controllers manufactured by Jmicron.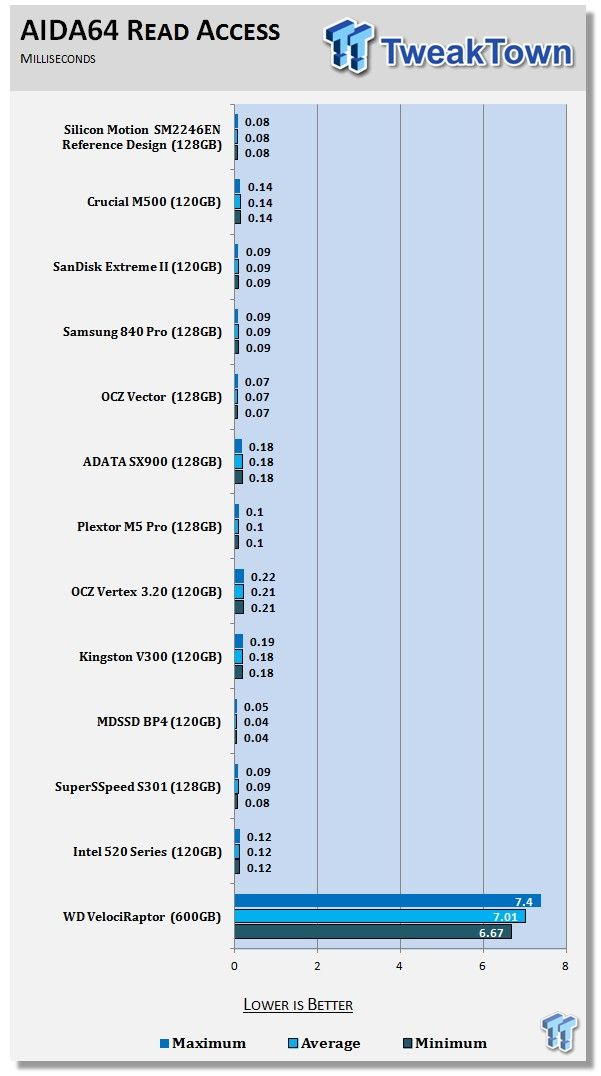 The reference design uses pretty much the best NAND on the market today, so the latency will be low. The real test for this controller will come when paired with TLC NAND.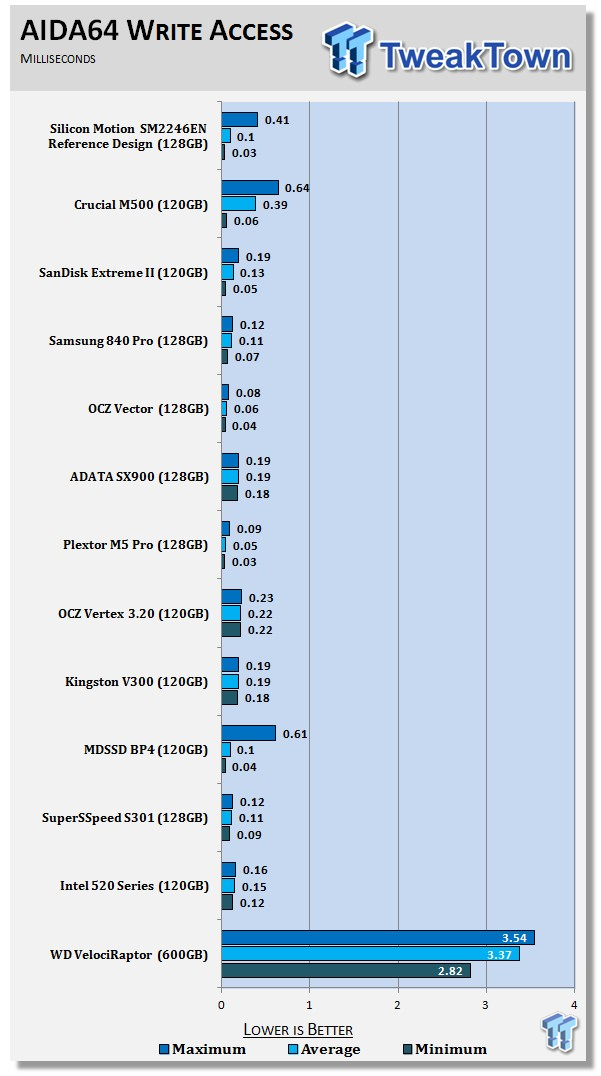 I wish we had this controller paired with IMFT 20nm NAND flash since the IMFT 20nm is what gives other controllers problems with write latency.
Benchmarks - Anvil Storage Utilities
Anvil Storage Utilities
Version and / or Patch Used: RC6
So what is Anvil Storage Utilities? First of all, it's a storage benchmark for SSDs and HDDs where you can check and monitor your performance. The Standard Storage Benchmark performs a series of tests, you can run a full test or just the read or the write test or you can run a single test, i.e. 4K DQ16.
Anvil Storage Utilities is not officially available yet but we've been playing with the beta for several months now. The author, Anvil on several international forums has been updating the software steadily and is adding new features every couple of months.
The software is used several different ways and to show different aspects for each drive. We've chosen to use this software to show the performance of a drive with two different data sets. The first is with compressible data and the second data set is incompressible data. Several users have requested this data in our SSD reviews.
0-Fill Compressible Data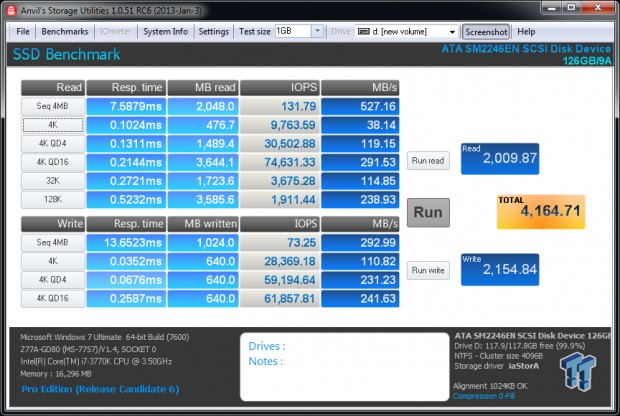 Incompressible Data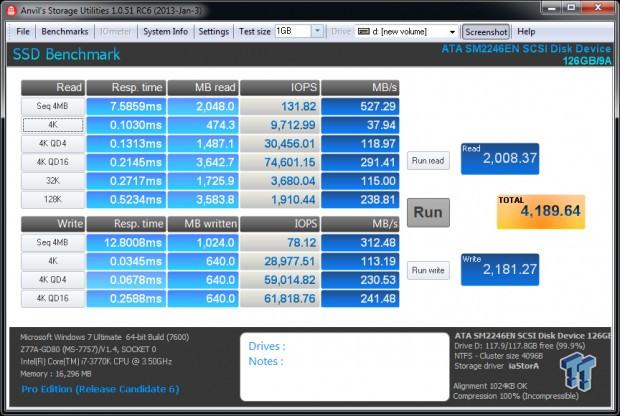 The performance doesn't change much when switching between compressible and incompressible data.
Read IOPS through Queue Depth Scale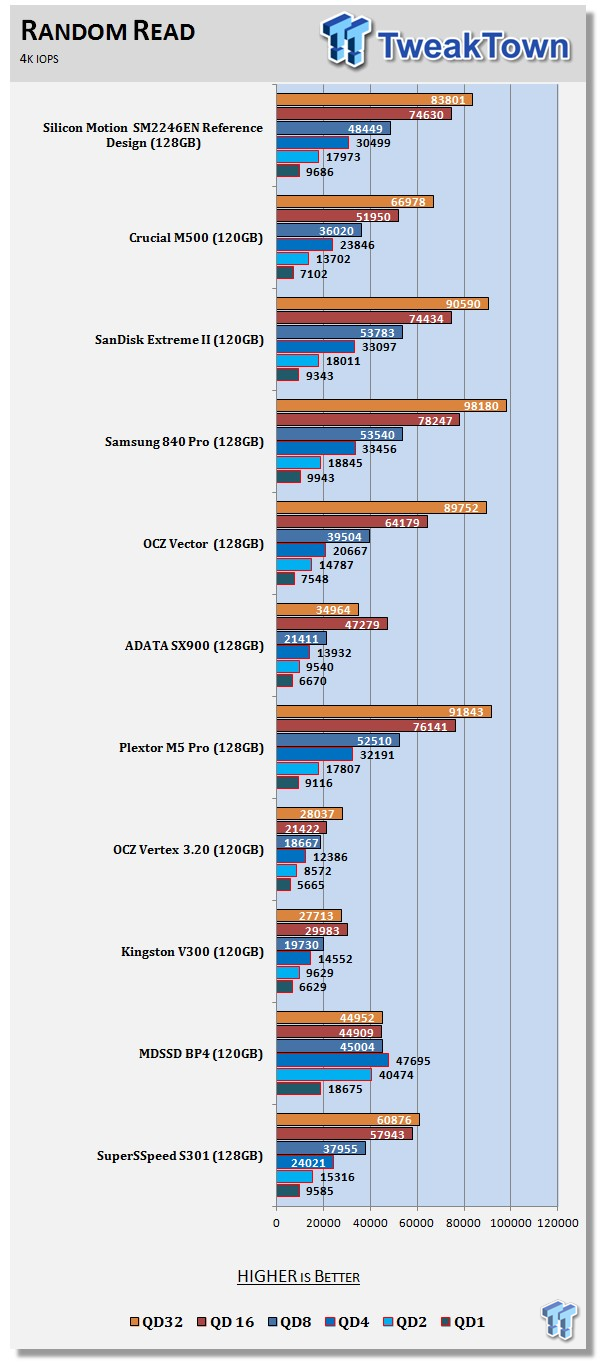 We talk a lot about low queue depth IOPS performance and how high queue depths are rare in a desktop / notebook environment. The Silicon Motion reference design performs with other top tier drives in QD1 IOPS, over 9K. The drive scales well as queue increases as well.
Write IOPS through Queue Scale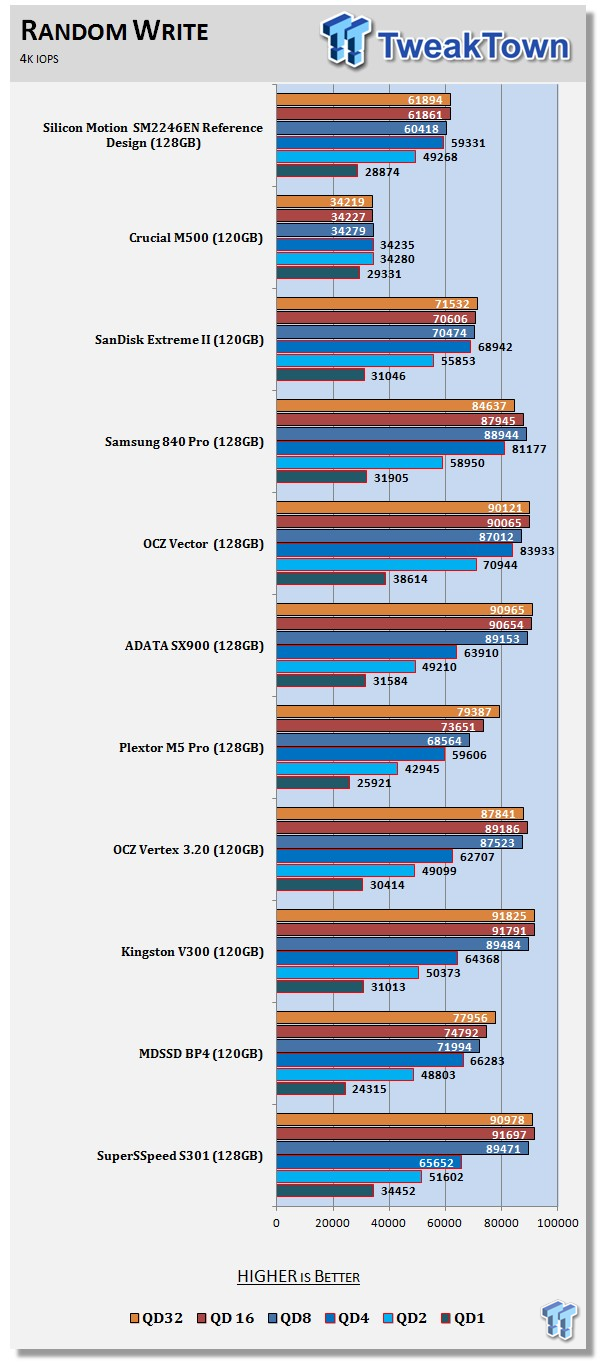 The write IOPS at low queue depth are around average when compared with the fastest SSDs on the market today.
The 28K IOPS at 4K QD1 is faster than any of the budget minded SSDs on the market today, but at the same time, the flash in the reference design is far from what we find in budget offerings.
Benchmarks - CrystalDiskMark
CrystalDiskMark
Version and / or Patch Used: 3.0 Technical Preview
Developer Homepage: http://crystalmark.info
Product Homepage: http://crystalmark.info/software/CrystalDiskMark/index-e.html
Download here: http://crystaldew.info/category/software/crystaldiskmark
CrystalDiskMark is a disk benchmark software that allows us to benchmark 4K and 4K queue depths with accuracy.
Key Features:-
* Sequential reads/writes
* Random 4KB/512KB reads/writes
* Text copy
* Change dialog design
* internationalization (i18n)
Note: Crystal Disk Mark 3.0 Technical Preview was used for these tests since it offers the ability to measure native command queuing at 4 and 32.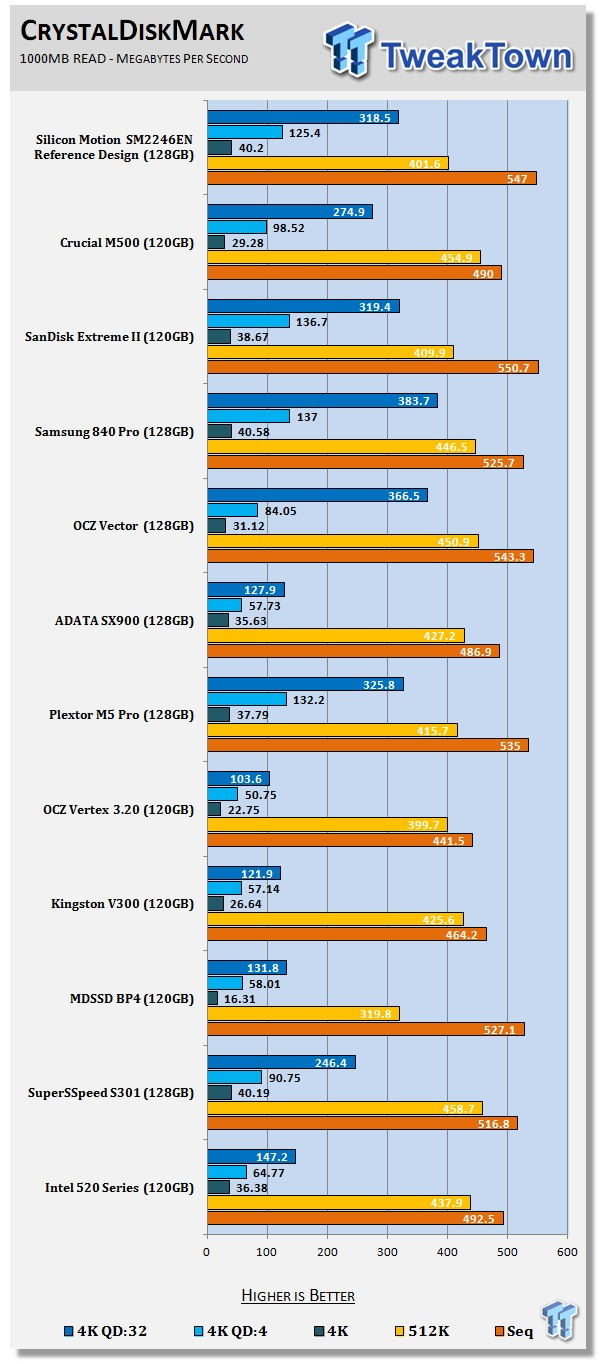 We have a winner... or at least a tie-err. The reference design is only the third 128GB class SSD to break into the 40 MB/s 4K read area. Many have tried, but few have succeeded. The drive scales well in 4K throughput when commands are stacked.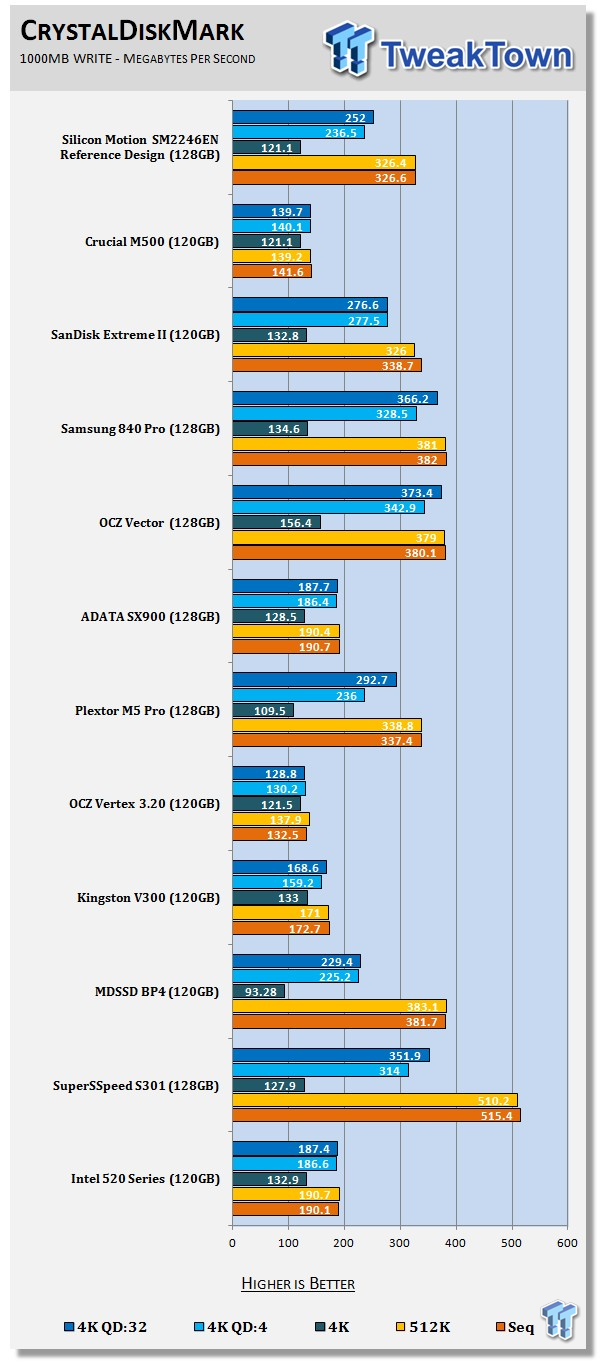 Looking at the numbers, we see the reference design is very close to the SanDisk Extreme II, the newest entry into the hyper-class SSDs with Vector and 840 Pro in the same category.
It's hard to believe that the Silicon Motion SM2246EN is just a 4-channel controller.
Benchmarks - PCMark Vantage Hard Disk Tests
PCMark Vantage - Hard Disk Tests
Version and / or Patch Used: 1.0.0
Developer Homepage: http://www.futuremark.com
Product Homepage: http://www.futuremark.com/products/pcmarkvantage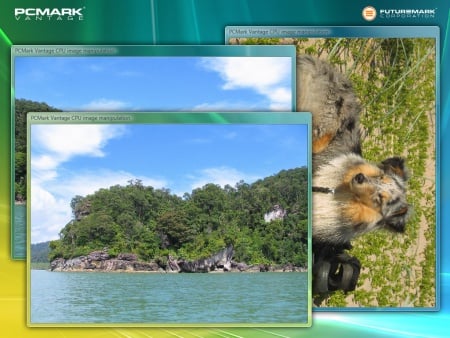 PCMark Vantage is the first objective hardware performance benchmark for PCs running 32 and 64 bit versions of Microsoft Windows Vista. PCMark Vantage is perfectly suited for benchmarking any type of Microsoft Windows Vista PC from multimedia home entertainment systems and laptops to dedicated workstations and high-end gaming rigs. Regardless of whether the benchmarker is an artist or an IT Professional, PCMark Vantage shows the user where their system soars or falls flat, and how to get the most performance possible out of their hardware. PCMark Vantage is easy enough for even the most casual enthusiast to use yet supports in-depth, professional industry grade testing.
FutureMark has developed a good set of hard disk tests for their PCMark Vantage Suite. Windows users can count on Vantage to show them how a drive will perform in normal day to day usage scenarios. For most users these are the tests that matter since many of the old hat ways to measure performance have become ineffective to measure true Windows performance.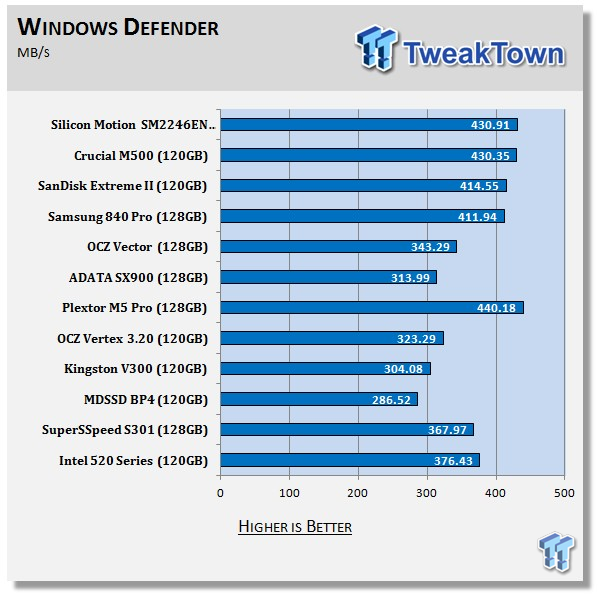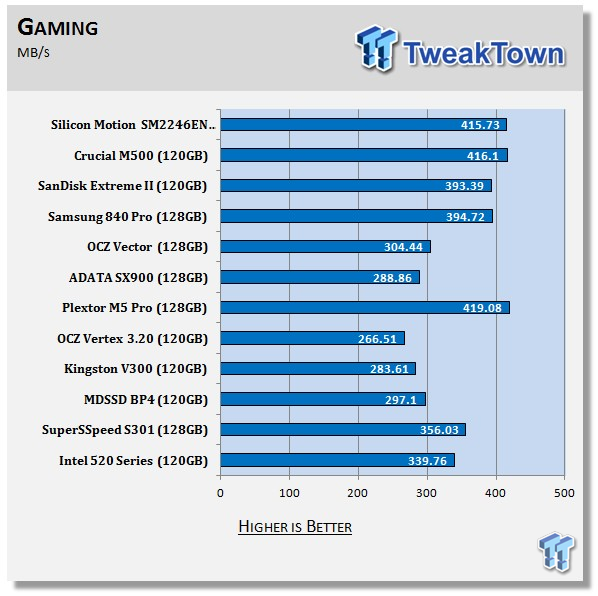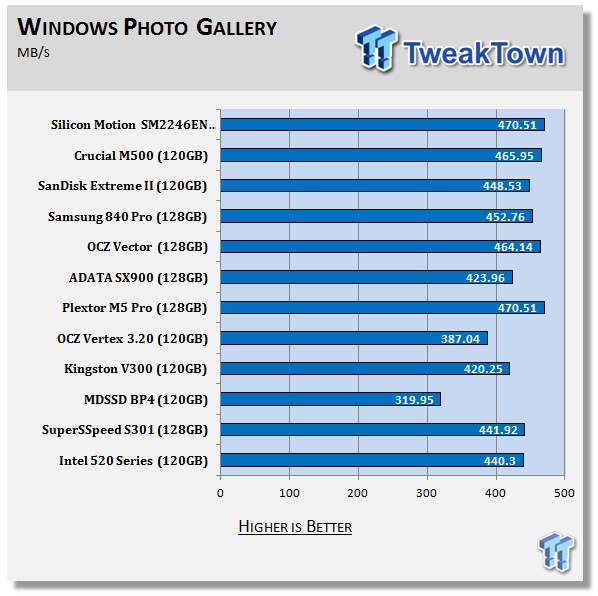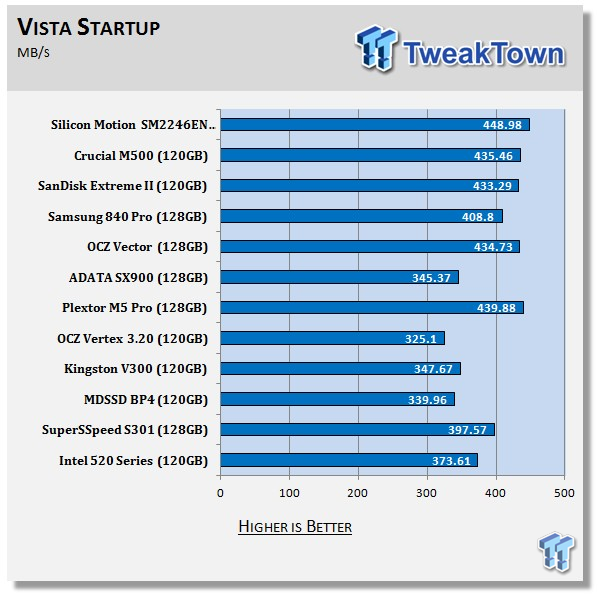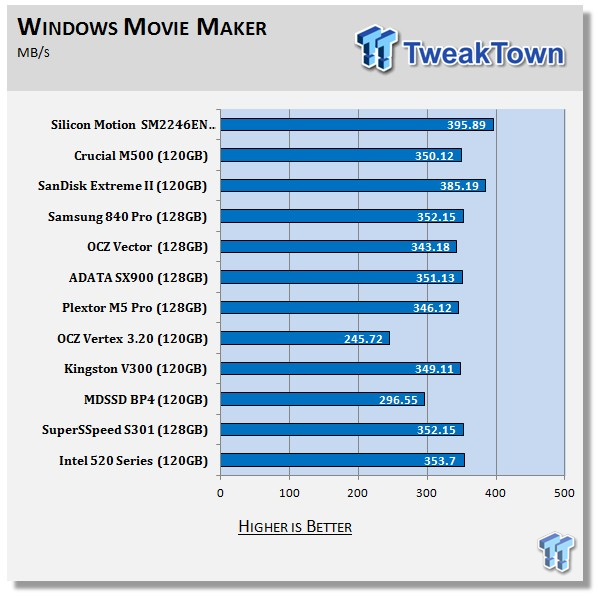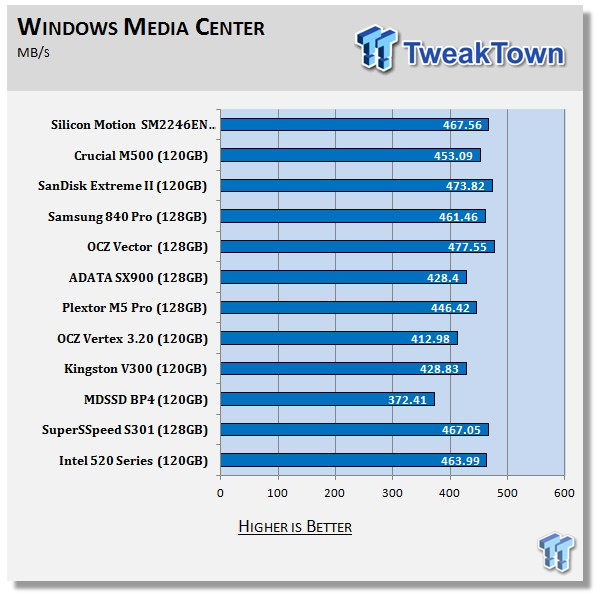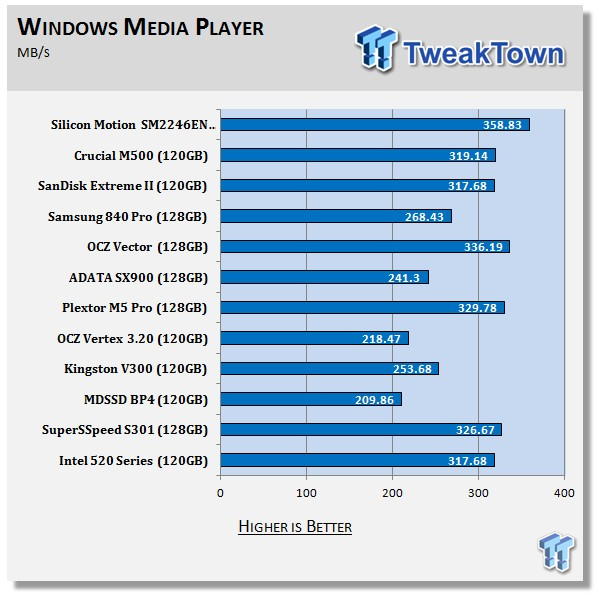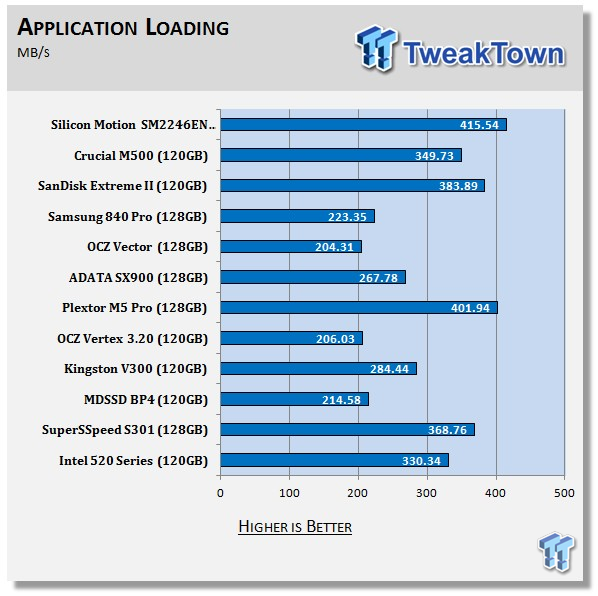 Looking over the charts, we see the Silicon Motion winning a handful of the tests outright. The total score in HDD Marks was over 91K, a record for a 2.5" SSD on our test system.
Benchmarks - PCMark Vantage - Drives with Data Testing
For a complete breakdown on the Drives with Data Testing please read this article. You will be able to perform this test at home with the files provided in the article - full instructions are included.
- Brief Methodology
SSDs perform differently when used for a period of time and when data is already present on the drive. The purpose of the Drives with Data testing is to show how a drive performs in these 'dirty' states. SSDs also need time to recover, either with TRIM or onboard garbage collection methods.
Drives with Data Testing - 25%, 50%, 75% Full States and Dirty / Empty Test
Files needed for 60 (64GB), 120 (128GB), 240 (256GB)
60GB Fill - 15GB, 30GB, 45GB
120GB Fill - 30GB, 60GB, 90GB
240GB Fill - 60GB, 120GB, 160GB
Empty but Dirty - a test run just after the fill tests and shows if a drive needs time to recover or if performance is instantly restored.

Only two other SSDs managed to break into the 50K Mark range when half of the flash was populated with data.
The two others based on LSI SandForce controllers, the SuperSSpeed S301 SLC (the TweakTown Chris Ramseyer Signature Edition drive) and the Intel 520.
Benchmarks - PCMark 8 Hard Disk Tests
Version and / or Patch Used: 1.0.0
Developer Homepage: http://www.futuremark.com
Product Homepage: http://www.futuremark.com/products/pcmark8
Note: PCMark 8 Storage benchmark is ideal for testing the performance of SSDs, HDDs and hybrid drives. Using traces recorded from Adobe Creative Suite, Microsoft Office and a selection of popular games, PCMark 8 Storage highlights real-world performance differences between storage devices.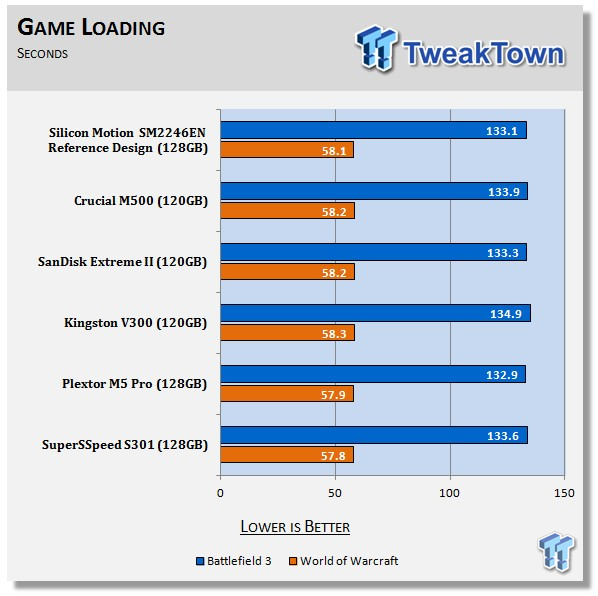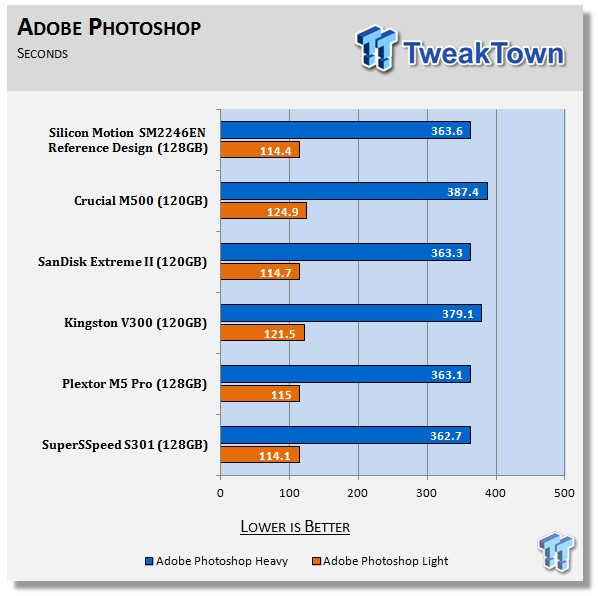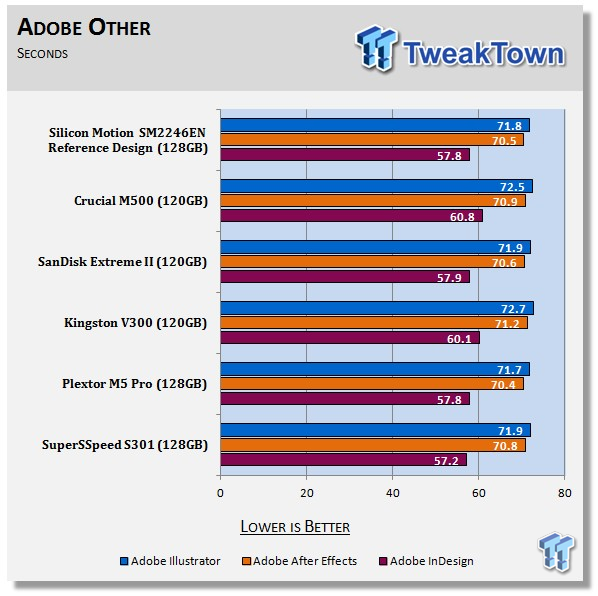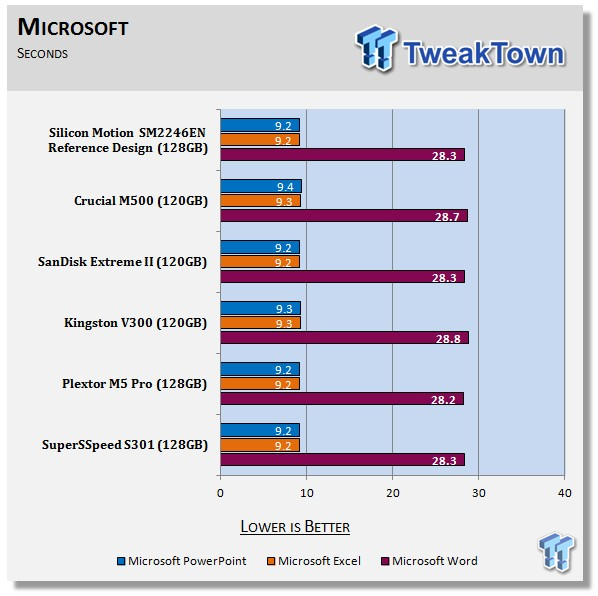 PCMark 8 Storage Bandwidth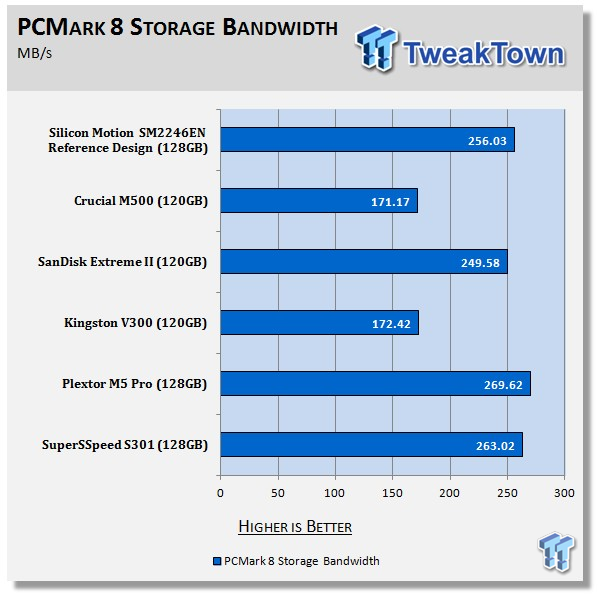 At first I was worried that Silicon Motion programmed the reference drive to deliver exceptional performance just in Vantage, but after seeing the PCMark 8 results, I'm not worried about any cheats.
In PCM8 the drive delivers solid performance.
Benchmarks - DiskBench
DiskBench - Directory Copy
Version and / or Patch Used: 2.6.2.0
Developer Homepage: Nodesoft
Product Homepage: DiskBench
Download here: http://www.nodesoft.com/diskbench/download
Note: In this test we use the Lenovo W530 Mobile Workstation and a SuperSSpeed S301 SLC 128GB SSD to move a 15GB block of data to and from the target drive. This is part of our real-world test regiment. Roughly 45GB of data resides on the target drive before the '15GB Block' is transfer. The 15GB Block is the same data we built for the Data on Disk Testing and is a mix of compressible and incompressible data.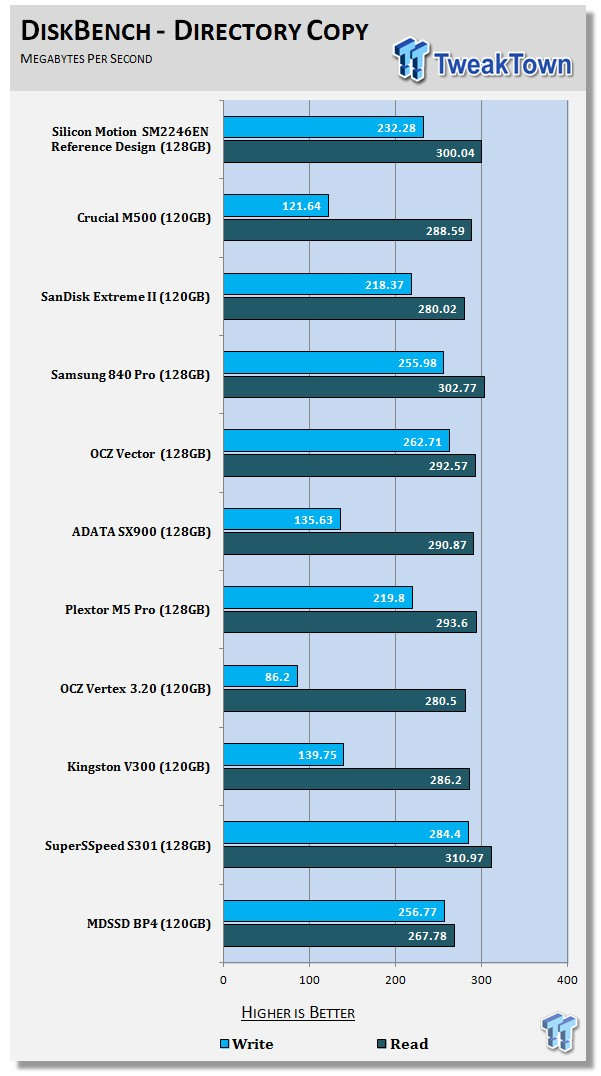 Copying data to and from the Silicon Motion reference design from another SSD on our Lenovo W530 shows strong performance.
Benchmarks - Power and Thermal Testing
Bapco MobileMark 2012 1.5
Version and / or Patch Used: 2012 1.5
Developer Homepage: http://www.bapco.com
Test Homepage: http://www.bapco.com
MobileMark 2012 1.5 is an application-based benchmark that reflects usage patterns of business users in the areas of office productivity, media creation and media consumption. Unlike benchmarks that only measure battery life, MobileMark 2012 measures battery life and performance simultaneously, showing how well a system design addresses the inherent tradeoffs between performance and power management.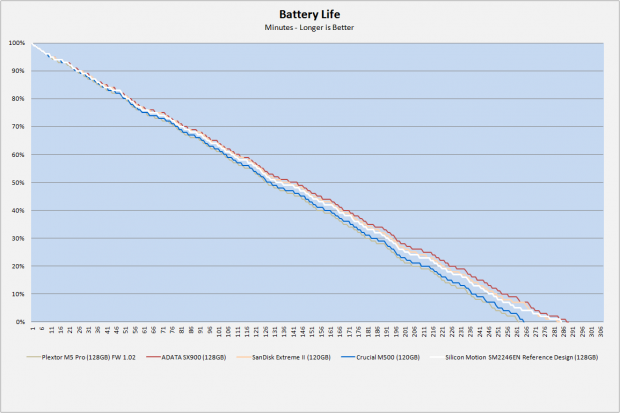 Our MobileMark battery life test with the Lenovo W530 and the SiMo reference design produced results just behind the LSI SandForce B02 controller with the same Toshiba Toggle flash (ADATA SX900).
PCMark Vantage HDD Test - Power Consumption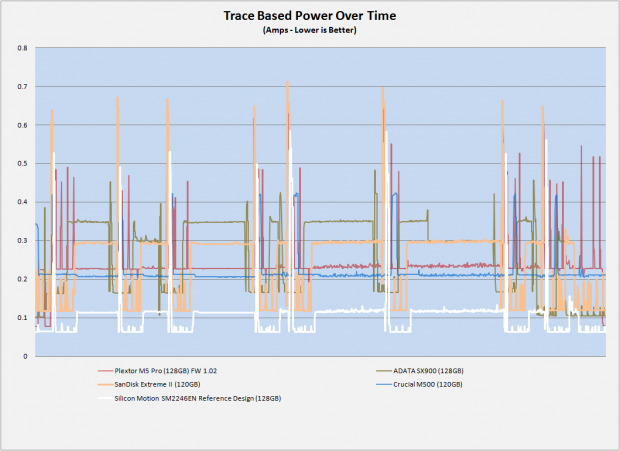 I'm a bit surprised the reference design didn't do better in the battery life test after looking at the power consumption while running a trace based benchmark.
The Silicon Motion reference design barely sips power, it's like a cactus is with water. In a few weeks we should have our first Haswell based notebook with working DEVSLP. We'll try to run the drive with DEVSLP working at that time and see where it stands then.
Thermal Test - BETA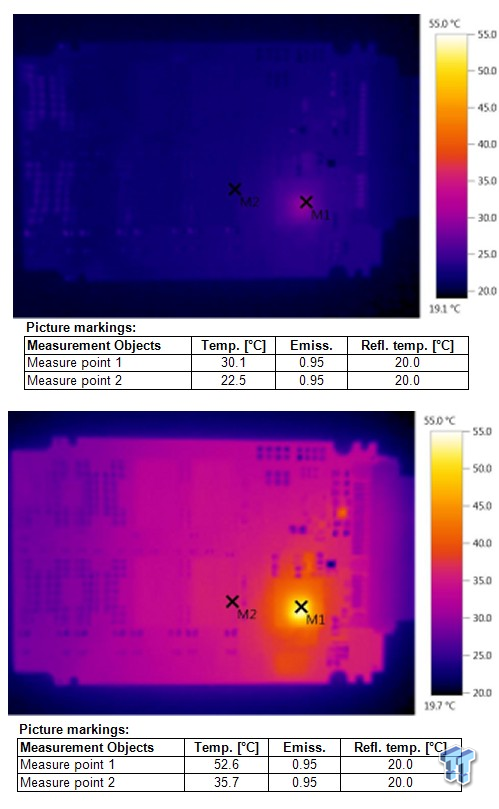 It's difficult to make excessive heat without using excessive power. Here we see the Silicon Motion SM2246EN controller at idle for 10 minutes (top) and under an intense 4K load for ten minutes (below). The ambient temperature for both measurements was 20C.
The SM2246EN controller idles around 30C and under load the controller reaches 52.6C. Measuring point 2 is the closest NAND flash package to the controller. With such a low temperature coming from the controller, we don't have to worry about the flash reaching temperatures outside of spec.
We look for heat issues for both stability and endurance reasons.
Final Thoughts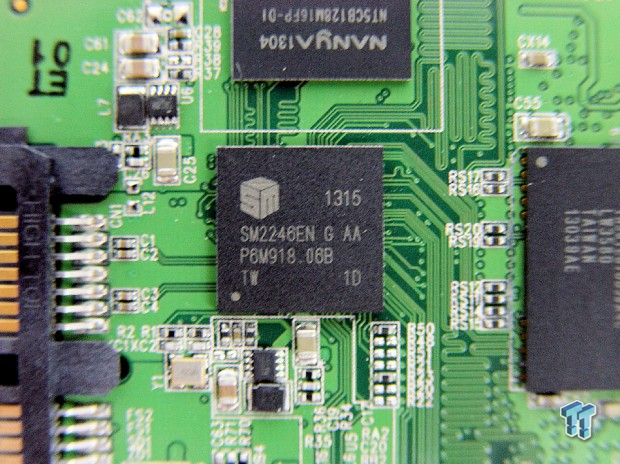 While it's not a final revision product at the time of writing, we expect the SM2246EN controller to hit the market in retail form SSDs around Q4 2013 or Q1 2014. CES would be a good time to launch since it's a massive trade show, but then again, Silicon Motion runs the risk of being overshadowed by a potential LSI SandForce SF-3000 launch. If Silicon Motion can get drives to market through third party customers like Corsair, ADATA, Super Talent and so on, they can take advantage of holiday shopping season. If Silicon Motion manages to hit the price points we're guessing, we'll all have 512GB SSDs under the tree!
The new controller has a lot going for it and we expect it to be a big success for mainstream users. The low power consumption makes it a great controller for use in notebooks and the high performance makes it an option for power users and enthusiasts right now.
What's unknown is how long it will take manufacturers to convert their PCIe based M.2 products to desktop products for enthusiasts. We've talked to a few companies about PCIe SSDs for desktops using M.2 designed controllers and it was like the thought was never even considered before we brought it up. Native PCIe based drives will all but lock SATA based products out of the enthusiast and power user market, except for users building RAID arrays. That could take a large portion of the DIY market out of Silicon Motion's reach, but numbers wise, the notebook upgrade market is where the volume is with DIY.
Surely Silicon Motion has reference design drives in every big box OEM on the planet. It will be interesting to see who makes a product with this controller and where the drives end up. One thing is certain, if you buy a notebook or desktop with the storage performance we saw today from the reference design, it would be difficult to find a product that would compel us to spend money to replace the SilMo reference drive.
We're looking forward to the final release products, especially those pairing this controller with TLC flash. TLC will bring SSDs deeper into the mainstream thanks to lower prices and increase capacity. The performance is still questionable with TLC, but the clock is ticking - we won't have to wait long.