AMD 790FX vs. NVIDIA 780a Chipsets
With Phenom's B3 revision chips showing more strength, we pit the top motherboard chipsets from AMD and NVIDIA today.
Published Thu, Apr 10 2008 11:00 PM CDT
|
Updated Tue, Nov 3 2020 7:04 PM CST
Introduction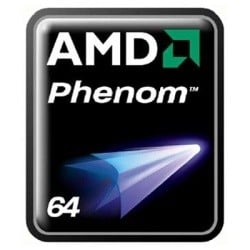 As of late, the focus for us in the industry as far as CPUs and chipsets go is almost everything Intel. Intel has been the biggest player by far; Core 2 has managed to simply trounce AMD. With delays on working Phenom CPUs, it's hard to cover much in the way of AMD.
Finally, we have reason to celebrate. Phenom B3 is out, and as we found out
earlier this week
, the TLB bug has been fixed, making Phenom a viable CPU for the more value and mainstream oriented PCs that require two or more cores. At its respective price point, Phenom really has the ability to fill this gap.
Now that AMD has a new CPU, what about the platform itself? Well, thanks to the acquisition of ATI graphics, who has managed to make some rather interesting chipsets in their short span into the motherboard chipset market, AMD now has the ability to produce its own chipsets for its CPUs at mass, rather than relying on third party chipset manufacturers. AMD already has three new chipset families with multiple platforms under each of the families in its 7 series chipsets.
NVIDIA is not one to be outdone though; while focusing on the Intel platform, AMD has finally started to produce AMD chipsets again, and while the 680a was supposed to be the big momma for NVIDIA's AMD line-up, it simply didn't sell due to AMD's lacklustre CPU architecture when compared to the Core 2 series.
Today we have the top chipsets from both AMD and NVIDIA, that being the AMD 790FX and the NVIDIA 780a. We will pit these two head-to-head; who has the best chipset? Which one is loaded with more features? We will soon find out.
AMD 790FX Explored
AMD's 790FX Chipset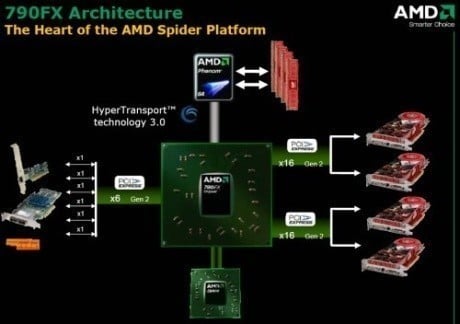 The 790FX is AMD's top dog when it comes to the 7 series chipsets; its purpose is designed around high clock speeds, best in platform performance as well as supporting CrossfireX graphics configurations.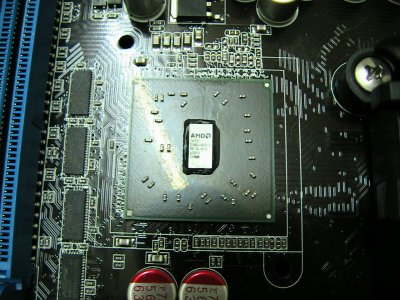 AMD's 790FX chipset is based around a two chip solution. Thanks to AMD's on CPU memory controller and its own integrated Northbridge, the external Northbridge is actually a Hyper transport to PCI Express controller hub. The 790FX is designed to be coupled with the Phenom processors so it comes with a single Hyper Transport 3.0 link between the Northbridge and the CPU.
The 790FX chipset has a total of 42 PCI Express lanes that support the new 2.0 specifications. 32 of the lanes are routed off for graphics setups, depending on the requirements; it can run two PCI Express x16 slots or routed across to four PCI Express x8 slots for CrossfireX setups. Six extra lanes are available for general expansion cards like SATA RAID chips, Gigabit LAN and TV tuners, again depending on what needs to be added on. The last four lanes are reserved for connecting the 790FX Northbridge to the Southbridge. Thanks to the PCI-E 2.0 specs this allows the 790FX to connect to a Southbridge at 4GB/s when connected to a PCI-E 2.0 compliant Southbridge.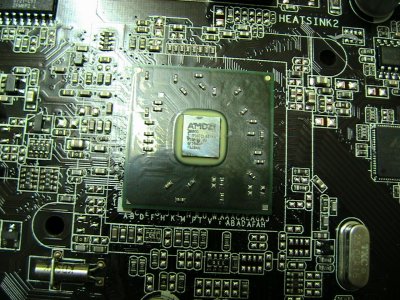 The early 790FX chipsets that have hit the market are coupled with the older SB600 chipset that was built originally by ATI under the ATI branding; it only got a renaming to AMD SB600 after the ATI/AMD merger. The Northbridge to Southbridge connection is only at 2GB/s because it only supports PCI-E 1.1a specs. Its age begins to show as it only has four SATA ports compared to most that now run six. AMD has plans very soon to release the new SB700 chipset which will support six SATA ports, as well as additional RAID functions and a PCI-E 2.0 controller to allow 4GB/s connection between the North and South bridges.
NVIDIA nForce 780a in Detail
NVIDIA's nForce 780a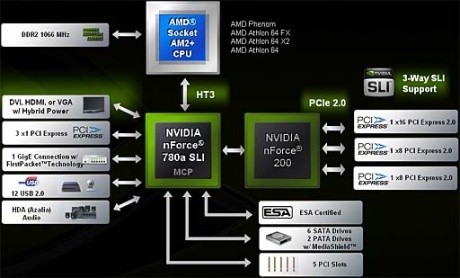 NVIDIA has been one of the biggest players for AMD back when Socket A was in its infancy. NVIDIA started its nForce series chipsets off by making platform solutions for AMD, and it's good to see NVIDIA making more headway here.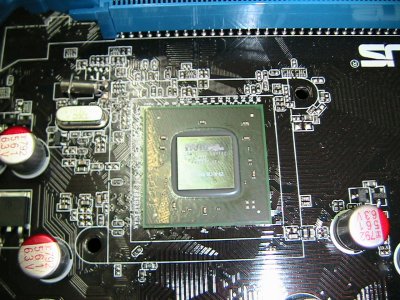 nForce 780a is based around a two chip design, but in all honesty it could have been done in a single setup. However, for some reason beyond our comprehension, NVIDIA decided to do things the hard way, and quite honestly, the wrong way. The two components to the 780a is a single chip 780a GMCP and an nForce 200 PCI Express 2.0 controller hub. The 780a GMCP is designed with Hyper Transport 3.0 interface to the CPU, allowing Phenom customers to get the full benefits associated with HT3.
One of the most interesting things about this is NVIDIA has put a GPU on the 780a, that's right, it has an integrated GPU for if you're not going to use a dedicated graphics card. But really, if you're going to get this chipset, chances are you're going an SLI setup, leaving the onboard GPU useless. If you are only going to use one graphics card, Hybrid SLI is also possible with this setup with certain graphics cards. While Hybrid SLI has its place in the more value positioned PCs, it really has no place in the enthusiast level PC environment.
Hybrid SLI allows the integrated GPU on the chipset to work in conjunction with a discrete graphics card to boost the performance; however this does come at a price. Since the integrated GPU requires a frame buffer, it will steal up to 256MB of your system memory for this task, a big no-no among hardcore gamers. If you're going for a budget system, this will be fine, but for a high-end setup you are likely to see the integrated GPU going to waste.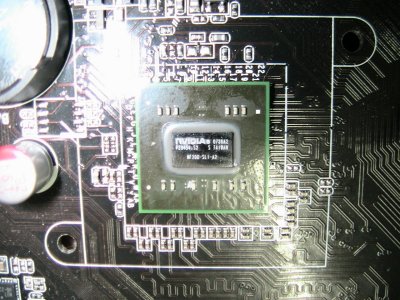 In order to gain PCI Express 2.0 compliancy, the nForce 200 PCI Express 2.0 root hub is resident, the same chip that gives 780i its PCI Express 2.0 ports. Depending on the board, you can have two PCI Express x16 slots or one PCI Express x16 and two PCI Express x8 slots all running 2.0 specs. The hub however connects to the 780a MCP using a single PCI Express x16 lane; this means that if the nForce 200 chip has to send any commands from CPU to GPUs, it's limited to a 4GB/s bottleneck. However, NVIDIA did manage to set the chip up so that any GPU to GPU communications do not need to go to the CPU, so this is where some bandwidth savings go on.
The peripheral setup on the 780a is a better setup than that of the AMD 790FX. First off, it has six SATA ports for mass storage devices, a single Gigabit Ethernet port and HDA audio; in all, a well rounded setup. However, this will soon be lost to SB700 from AMD.
AMD 790FX Test Board
Our 790FX Test Board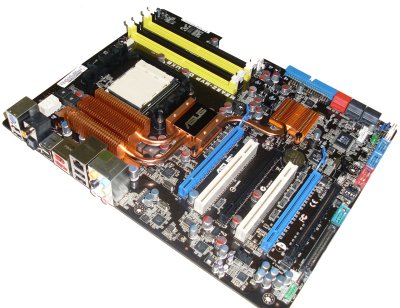 While we are at it, we decided to give you a better look at the two candidates we were sent. Both boards today are from ASUS, and they're aimed high with top quality and features. The 790FX based board we were sent was an ASUS M3A32-MVP Deluxe motherboard. It's based around the same black PCB that all of the ROG, Deluxe and Premium boards use, and it measures the standard 30x24cms.
The Layout of the board is exceptional; the 24-pin power connector is placed behind the four colour coded DDR2 memory slots. The 4/8 pin EPS power connector gets placed at the top left of the board, just above the heatpipe cooler assembly. The IDE connector and six SATA ports are placed along the right hand edge of the board. The four SATA ports coloured black run off the SB600 Southbridge; the two red ones run off a Marvell PCI Express SATA/PATA controller chip.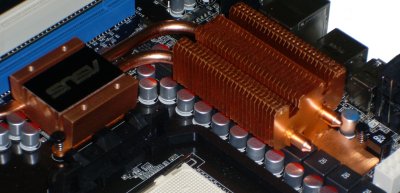 ASUS has beefed up the power regulation system on this series of boards; rather than the outdated eight phases, two extra phases have been added to give a total of 10. A large heatpipe assembly cools the Northbridge, Southbridge and the Mosfets in one action. The space around the CPU area is extremely clean which allows you to install large heatsinks.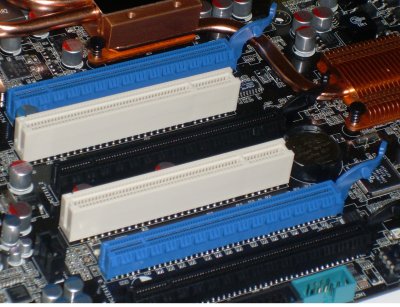 Moving to the expansion slots, ASUS has setup the board to run CrossfireX if you so desire. There are four PCI Express x16 slots; two are blue and two are black. If you intend to run a single or standard two card Crossfire setup, you place them into one of the two blue slots. These are setup to run x16 speeds. If you want a four card setup, you need to plug two extras into the black slots, this then splits the two blue slots' bandwidth between the two extra slots, so instead of two PCI Express x16 slots, you end up with four PCI Express x8 slots. Lastly on the list are two PCI slots for legacy support.
NVIDIA nForce 780a Test Board
Our nForce 780a Test Board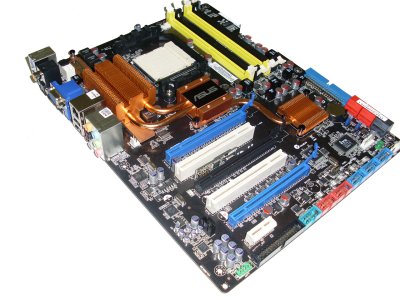 Moving along, we come to the NVIDIA 780a test board we were sent. Again, it's an ASUS motherboard with the model number M3N-HT Deluxe. This board is based around the same 30x24cm ATX layout like the M3A32-MVP, and again the same colour PCB is used.
Layout again is extremely clean in design; the 24-pin power connector gets located behind the four colour coded DDR2 memory slots. The 4/8 pin connector gets placed behind the rear I/O ports at the top left of the board. The single IDE port and six SATA ports controlled by the 780a MCP are on the right hand edge of the board.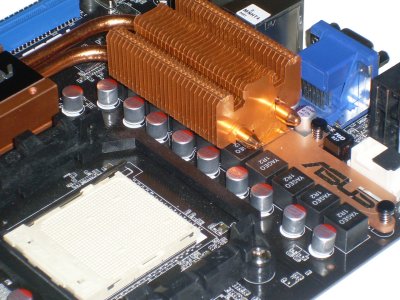 The power regulation system on the 780a board is identical to that of the 790FX board; a 10 phase voltage regulation system powers the CPU to give it as much power as physically possible. This is very handy when running top powered quad cores that have a 125watt TDP. A heatpipe assembly cools the nForce 200, 780a and the Mosfets in one swoop. The CPU socket is extremely clean allowing for large coolers to be installed without any interference from external components.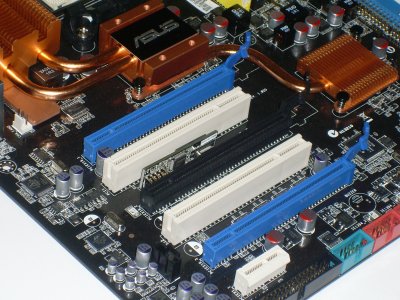 Lastly, the expansion slots. NVIDIA 780a does not support Quad SLI, only 3-way SLI. There are three PCI Express x16 slots; two are blue, one is black. If you plan to run a single or standard SLI setup, you can plug the cards into the two blue slots which will retain full x16 speeds. If you want 3-way SLI, a third card gets placed in the black slot, this then sets the lower blue slot back to a x8 speed and the remaining bandwidth is transferred to the black x8 slot. At the bottom of the board a single PCI Express x1 slot supporting PCI-E 2.0 specs is included and two PCI legacy slots are also supplied.
Test System Setup and Memory Performance
Test System
Processor
: AMD Phenom x4 9850 2.5GHz (Supplied by
AMD
)
Memory
: 2x 1GB DDR2-1186 Geil (Supplied by
Geil
)
Hard Disk
: 500GB Seagate 7200.9 (Supplied by
Seagate Australia
)
Graphics Card
: MSI GeForce 8800GTS 640MB (Supplied by
MSI
)
Cooling
: GIGABYTE 3D Galaxy II (Supplied by
GIGABYTE
)
Operating System
: Microsoft Windows XP SP2
Drivers
: ATI Catalyst 8.3, Forceware 163.21, NVIDIA Platform Driver Beta
Today our test systems consist of only an AMD Phenom X4 processor setup with both our 780a and 790FX boards from ASUS. We are testing out the chipset features and performance on each. We are doing simple chipset tests with no overclocking at this stage, as the 780a is only in its infancy and overclocking isn't quite up to speed yet.
EVEREST Ultimate EditionVersion and / or Patch Used:
2006
Developer Homepage:
http://www.lavalys.com
Product Homepage:
http://www.lavalys.com
Buy It Here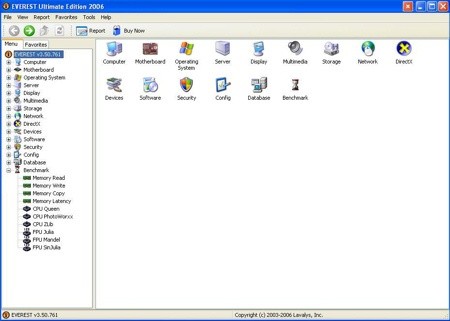 EVEREST Ultimate Edition is an industry leading system diagnostics and benchmarking solution for enthusiasts PC users, based on the award-winning EVEREST Technology. During system optimizations and tweaking it provides essential system and overclock information, advanced hardware monitoring and diagnostics capabilities to check the effects of the applied settings. CPU, FPU and memory benchmarks are available to measure the actual system performance and compare it to previous states or other systems.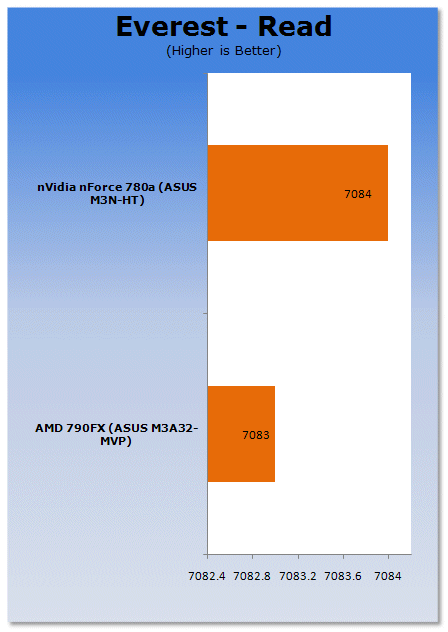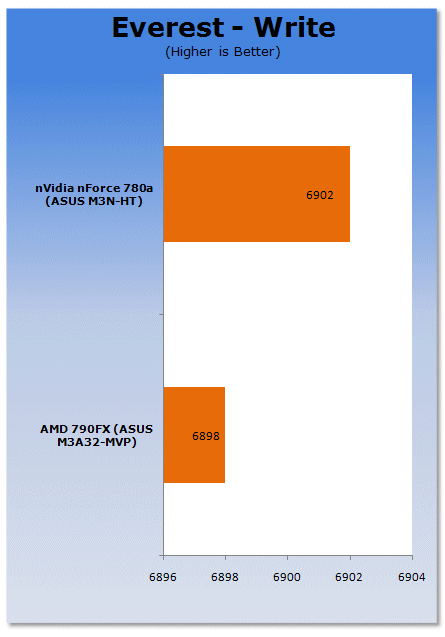 AMD's CPU integrated memory controller eliminates the chipset from this test. Both platforms perform identically.
Benchmarks - SYSmark 2007 Preview
SYSmark 2007Version and / or Patch Used:
1.03
Developer Homepage:
http://www.bapco.com/
Product Homepage:
http://www.bapco.com/products/sysmark2007preview/>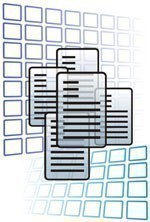 SYSmark 2007 Preview is the latest version of the premier performance metric that measures and compares PC performance based on real world applications.
SYSmark 2007 Preview extends the SYSmark family, which has been widely accepted by IT Managers, PC OEMs, press and analysts worldwide to support Windows Vista.
SYSmark 2007 Preview allows users to directly compare platforms based on Windows Vista to those based on Windows XP Professional and Home.
The new release also incorporates numerous new features and enhancements such as an improved GUI allowing streamlined start-up and run along with a heads-up-display (HUD) and automated error reporting.
SYSmark 2007 Preview is an application-based benchmark that reflects usage patterns of business users in the areas of Video creation, E-learning, 3D Modeling and Office Productivity. This new release includes a robust and refreshed set of applications.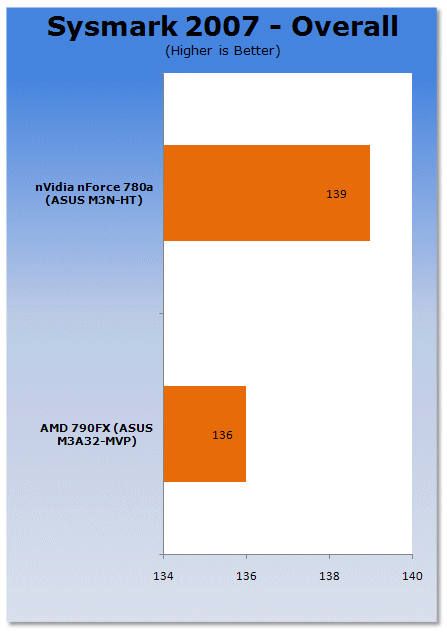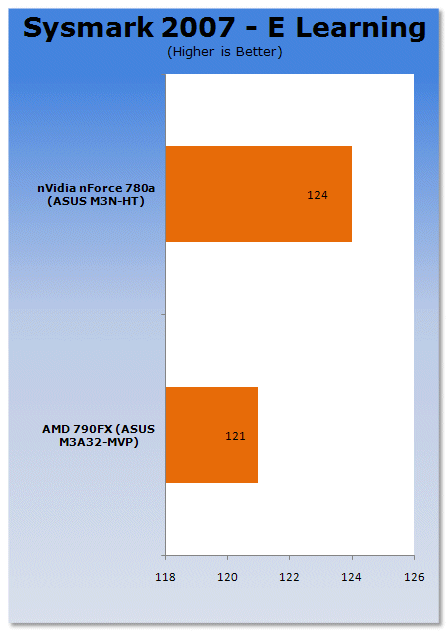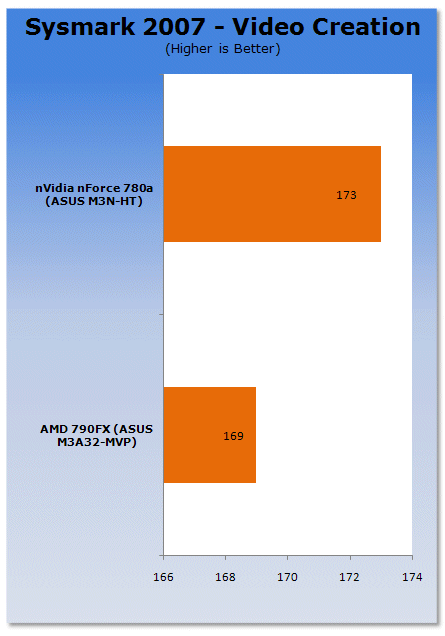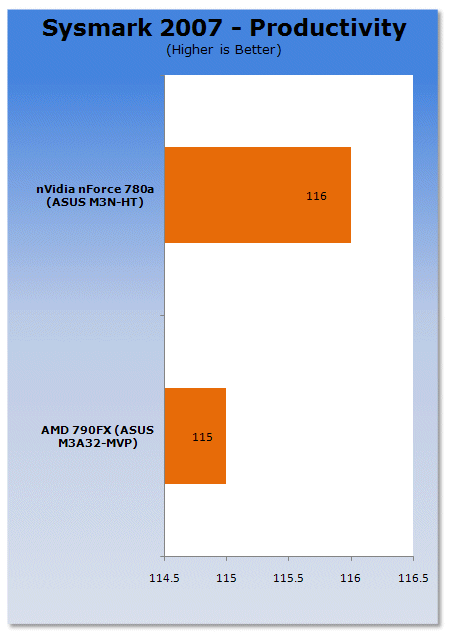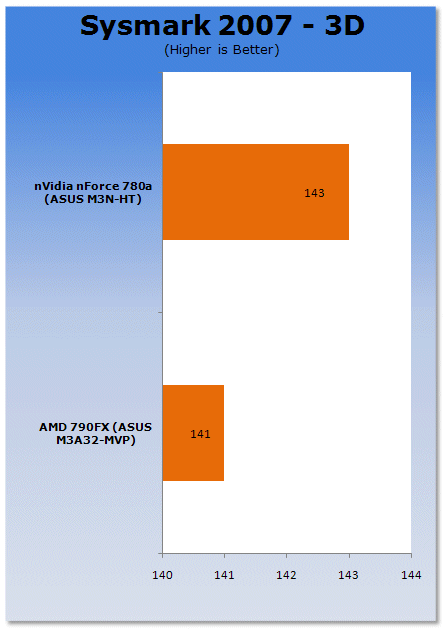 Here we see the NVIDIA setup slightly ahead of the AMD 790FX platform.
Benchmarks - PCMark05
PCMarkVersion and / or Patch Used:
1.2.0
Developer Homepage:
http://www.futuremark.com
Product Homepage:
http://www.futuremark.com/products/pcmark04/
Buy It Here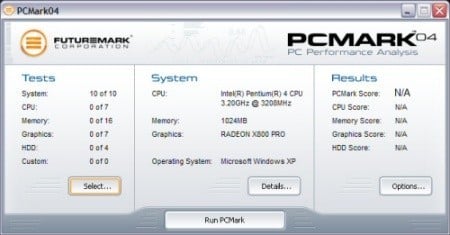 PCMark is a multipurpose benchmark, suited for benchmarking all kinds of PCs, from laptops to workstations, as well as across multiple Windows operating systems. This easy-to-use benchmark makes professional strength benchmarking software available even to novice users. PCMark consists of a series of tests that represent common tasks in home and office programs. PCMark also covers many additional areas outside the scope of other MadOnion.com benchmarks.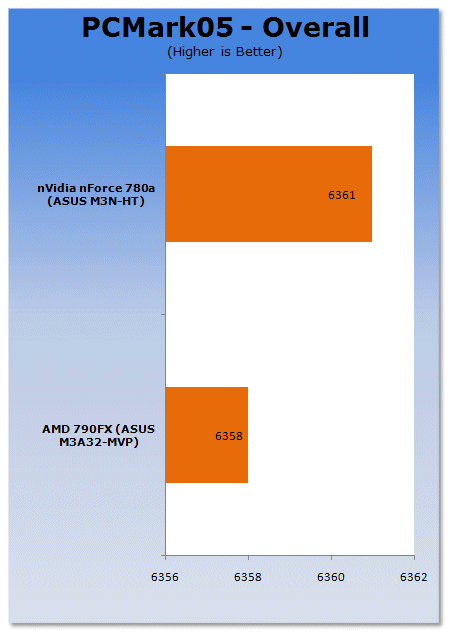 The overall result of PCMark05 also shows us that the NVIDIA setup works slightly faster than the AMD 790FX.
Benchmarks - Adobe Premiere Elements 3.0
Adobe Premiere Elements 3.0Version and / or Patch Used:
3.0
Developer Homepage:
http://www.adobe.com
Product Homepage:
http://www.adobe.com/products/premiereel/
Buy It Here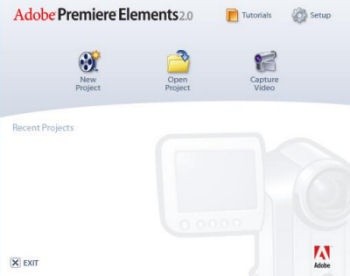 Our test with Adobe Premiere Elements 3.0 is performed with a raw two hour AVI file. It is then compressed into DivX format using the latest version codec. We measure the time it takes to encode and then record CPU usage.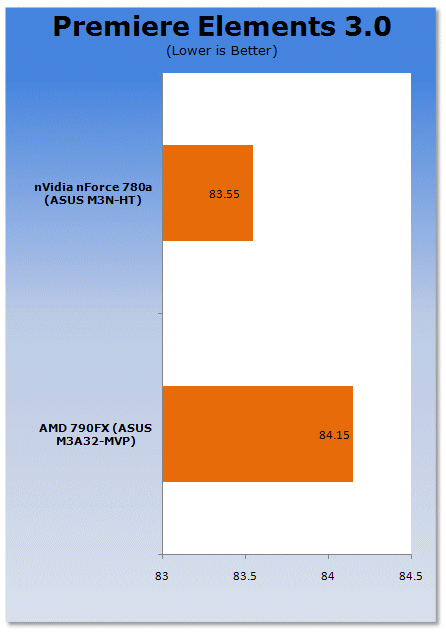 Premiere Elements gives NVIDIA the lead once again, though it's certainly not by much at all.
Benchmarks - HDD Performance
HD TachVersion and / or Patch Used:
3.0.1.0
Developer Homepage:
http://www.simplisoftware.com
Product Homepage:
http://www.simplisoftware.com/Public/index.php?request=HdTach
Buy It Here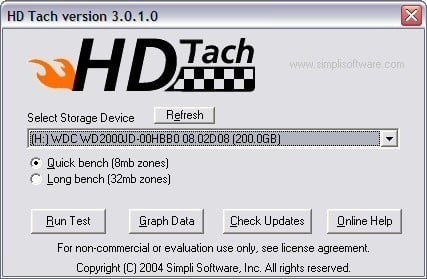 HD Tach has been around for a long time and is excellent when it comes to testing hard drive performance. It is also a very handy program when it comes to testing the controller used on particular motherboards. Tests such as Read, CPU Utilization and Burst are available at a click of the button and give you a good idea of how the hard drive can perform from system to system.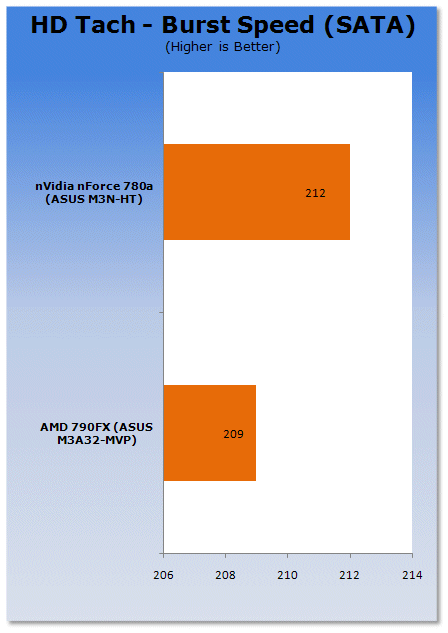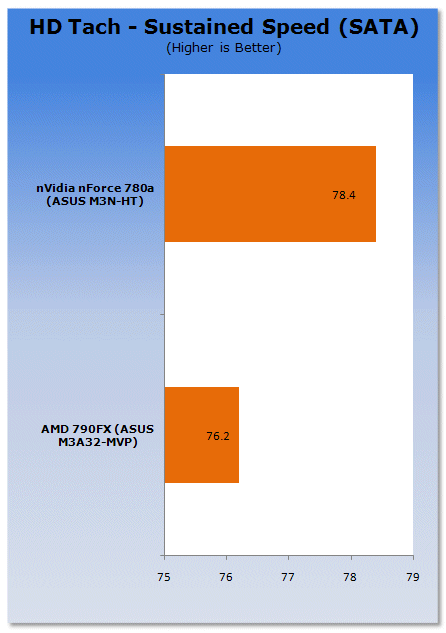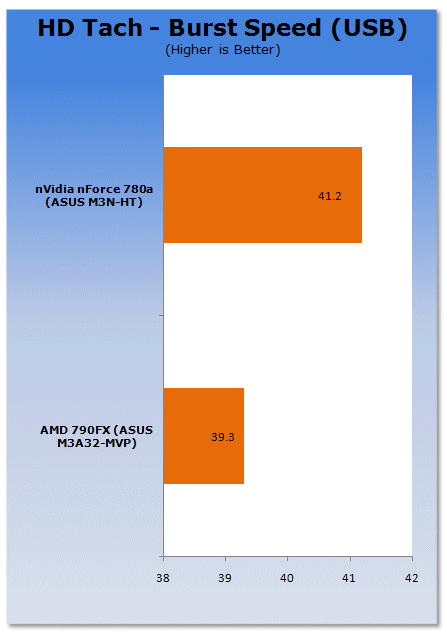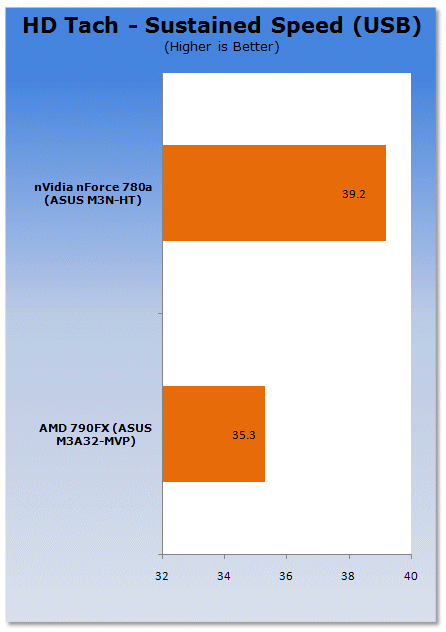 Here we see the NVIDIA storage controller working better than the AMD 790FX one; this is because of the older SB600 used on the 790FX. Also, we did USB tests with a HDD connected to a USB-to-SATA converter; the USB system on the NVIDIA board is also superior.
Benchmarks - 3DMark06
3DMark06Version and / or Patch Used:
1.1.0
Developer Homepage:
http://www.futuremark.com
Product Homepage:
http://www.futuremark.com/products/3dmark06/
Buy It Here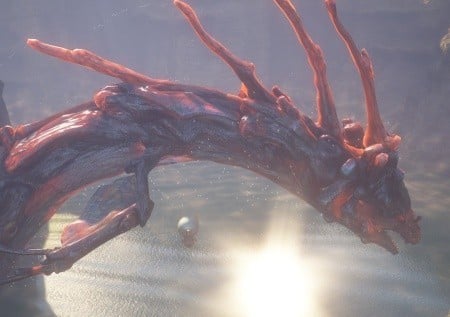 3DMark06 is the very latest version of the "Gamers Benchmark" from FutureMark. The newest version of 3DMark expands on the tests in 3DMark05 by adding graphical effects using Shader Model 3.0 and HDR (High Dynamic Range lighting) which will push even the best DX9 graphics cards to the extremes.
3DMark06 also focuses on not just the GPU but the CPU using the AGEIA PhysX software physics library to effectively test single and Dual Core processors.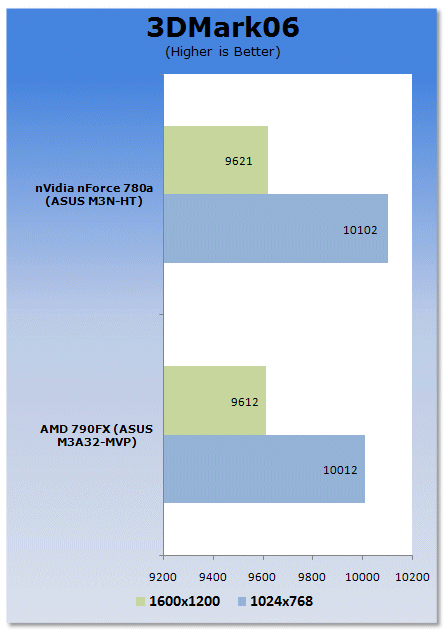 Pressing into 3DMark06 and we see the NVIDIA platform on top here, which could be due to a faster storage controller.
Benchmarks - Prey
PreyVersion and / or Patch Used:
1.2
Timedemo or Level Used:
Hardware OC Demo
Developer Homepage:
http://www.humanhead.com
Product Homepage:
http://www.prey.com
Buy It Here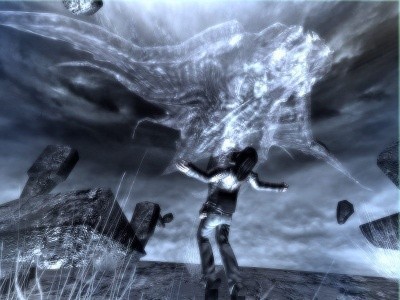 Prey is one of the newest games to be added to our benchmark line-up. It is based off the Doom 3 engine and offers stunning graphics passing what we've seen in Quake 4 and does put quite a lot of strain on our test systems.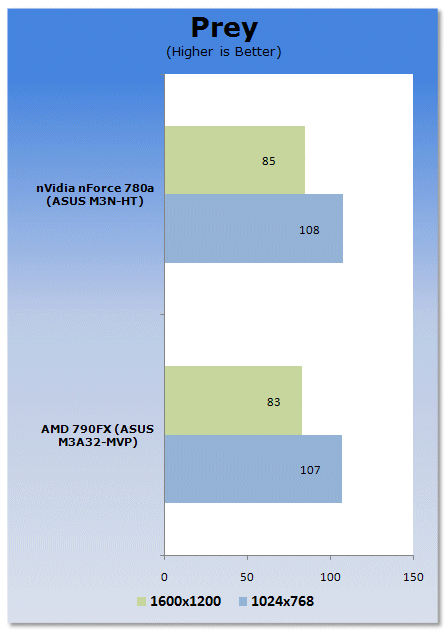 Moving into real world gaming; there are very few differences between the 790FX and 780a platforms.
Benchmarks - Battlefield 2142
Battlefield 2142Version and / or Patch Used:
1.25
Timedemo or Level Used:
Custom Timedemo
Developer Homepage:
http://www.dice.se/
Product Homepage:
http://www.battlefield.ea.com/battlefield/bf2142/
Buy It Here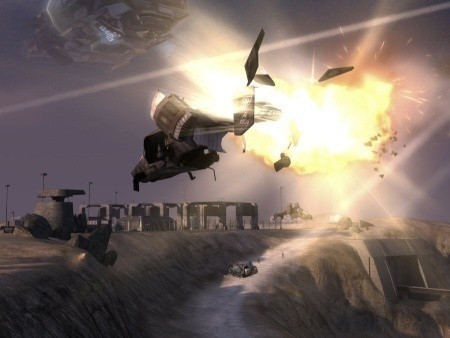 In Battlefield 2142, players choose to fight for one of two military superpowers - the European Union or the newly formed Pan Asian Coalition -in an epic battle for survival.
Armed with a devastating arsenal of hi-tech weaponry, including assault rifles, cloaking devices and sentry guns, players will also take control of the most lethal vehicles known to man. Massive Battle Walkers wage fierce combat on the ground, while futuristic aircraft rule the skies. When taking on this futuristic armor players will need to use their wits and an arsenal of new hi-tech countermeasures like EMP grenades and smart mines to level the playing field.
Putting a bit more stress on the system and again we see little differences between the 790FX and the 780a.
Benchmarks - Far Cry
Far CryVersion and / or Patch Used:
1.3
Timedemo or Level Used:
Benchemall Default Demo(
download here
)
Developer Homepage:
http://www.crytek.com
Product Homepage:
http://www.farcrygame.com
Buy It Here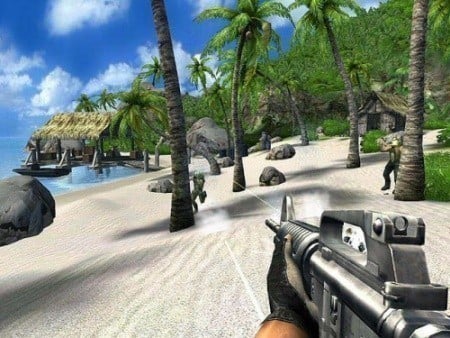 While Far Cry is now one of our older benchmarking games, it is still able to put pressure on most computers systems as it is able to utilize all parts of the system. Utilizing PS2.0 technology with the latest versions supporting Shader Model 3.0 with DX9c and offering an exceptional visual experience, there is no denying that even some of the faster graphics cards get a bit of a workout.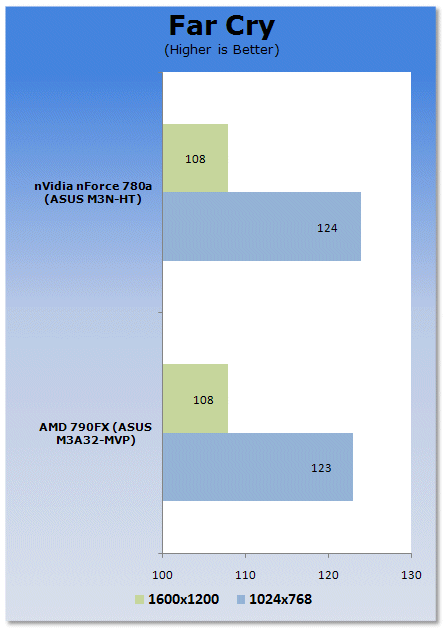 Lastly we have Far Cry. We again we don't see any differences between the two platforms.
Power Consumption Tests
Power Consumption
We are now able to find out what kind of power is being used by our test system and the associated graphics cards installed. Keep in mind; it tests the complete system (minus LCD monitor, which is plugged directly into an AC wall socket).
There are a few important notes to remember though; while our maximum power is taken in 3DMark06 at the same exact point, we have seen in particular tests the power being drawn as much as 10% more. We test at the exact same stage every time; therefore tests should be very consistent and accurate.
The other thing to remember is that our test system is bare minimum - only a 7,200RPM SATA-II single hard drive is used without CD-ROM or many cooling fans.
So while the system might draw 400 watts in our test system, placing it into your own PC with a number of other items, the draw is going to be higher.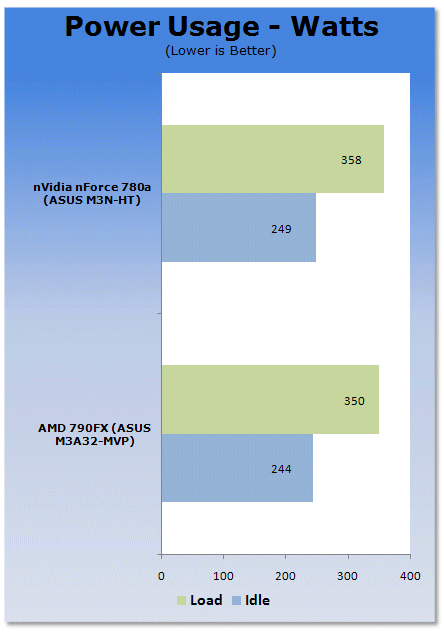 Moving into power usage, AMD's push on the power conservation shows here by reducing the overall power usage, but only by a few watts.
Final Thoughts
The battle between AMD and NVIDIA for chipset supremacy has heated up with AMD really starting to put as much research into developing the top chipset for their own CPUs. After all, if you're not going to do a good job, don't bother at all, especially if you're the one doing the CPUs at the same time. AMD has delivered a fantastic chipset in the case of the 790FX.
The Northbridge setup is far superior to the 780a thanks to its quad graphics card support, and while it may not be a high priority right now, AMD has the leg up for the bragging rights. So far they are the only ones to have quad graphics support for their own CPUs, where NVIDIA has started to fall behind on the technology market. While SB600 is somewhat outdated as a Southbridge, the SB700 is due very soon and will increase the functionality of the 790FX chipset to the top level.
NVIDIA's 780a managed to impress us despite its lack for Quad SLI setups, as well as having to use a separate PCI Express hub to give the platform PCI-E 2.0 compliancy. This is certainly not the way to design things, since the link between the 780a MCP and the nForce 200 will result in latency issues when CPU to GPU communications occur.
ASUS M3A32-MVP Deluxe
Overall, the ASUS M3A32-VMP Deluxe motherboard managed to impress us immensely, which is why AMD decided to supply it with the Phenom test kit. Its feature set is extremely rich, its performance is tops and its eye candy rating is extremely high. While it does have the older SB600 chip, we hope to see the Premium version come out with SB700 when it's released.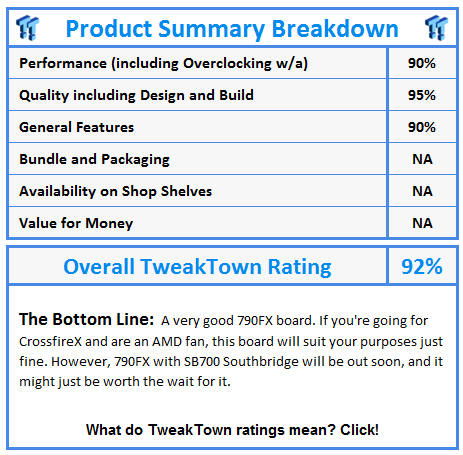 ASUS M3N-HT Deluxe
The ASUS M3N-HT Deluxe board also managed to impress us. Designed around the same high quality PCB design the 790FX used, the board's performance was slightly better than that of the 790FX due to a superior storage controller and USB system. So at this stage for single GPU based setups, the M3N-HT is the slightly better option. However, if you're a Crossfire fan, this board won't help you. As for SLI, NVIDIA won't licence SLI to Intel, so it's not going to give it to AMD. SLI users will be forced to this chipset instead.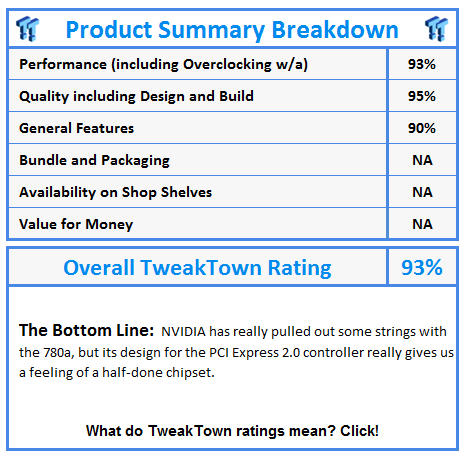 PRICING: You can find products similar to this one for sale below.

United States: Find other tech and computer products like this over at Amazon.com

United Kingdom: Find other tech and computer products like this over at Amazon.co.uk

Australia: Find other tech and computer products like this over at Amazon.com.au

Canada: Find other tech and computer products like this over at Amazon.ca

Deutschland: Finde andere Technik- und Computerprodukte wie dieses auf Amazon.de
We openly invite the companies who provide us with review samples / who are mentioned or discussed to express their opinion. If any company representative wishes to respond, we will publish the response here. Please contact us if you wish to respond.