Does It Actually Work? - Part 1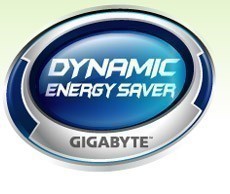 If you've already read the
GIGABYTE X48-DQ6
review and our
DES preview
then you'll have a good idea about what GIGABYTE's DES or Dynamic Energy Saver is supposed to do. We decided to look a little bit deeper into how well it works and after about a week of having it running it seems to be doing its job rather well.
As with all new technology and even more so with features that are meant to save you power and money, there's always a bit of skepticism that has to be laid to rest. However, in this case it really seems like it all works as intended, although there are a few things you need to be aware of before you go ahead and enable DES if you have a suitable motherboard. First of all, don't expect to be able to overclock your system while using DES, since as soon as you change the BIOS to manual mode, DES doesn't want to play.
There is a way around this though, but it's not as flexible as real overclocking; it's to enable GIGABYTE's C.I.A 2 in the BIOS. This is a dynamic overclocking feature and it will overclock the bus speed of the motherboard when extra processing power is needed. This has several downsides; the most noticeable is that your RAM will be overclocked as well. Since you can still set your RAM speed manually even with DES enabled, this could cause your system to crash when C.I.A 2 kicks in, at least if you've tweaked it to its limits.
Another issue is with older processors, as if you look at the DES control panel you'll notice that under Dynamic Voltage it says CPU Voltage and then below that there is a bar and three numbered boxes. Each of those boxes relates to lower CPU Voltage, with level 1 being the closest to stock Voltage and level 3 being the lowest Voltage. This works great with Core 2 based CPU's, but it doesn't work with some older CPU's as they won't get enough power if you go below level 1. This can save some extra power over time if you have a suitable processor, but don't play with this setting if you've got an older CPU.
Does It Actually Work? - Part 2

Click to enlarge
As you might have noticed from the picture above, the board we used for testing comes with a different looking application than the one on GIGABYTE's website, and the explanation is simple; the P35-DS3P rev 2.1 board used only has six phases. The ones used in the examples on GIGABYTE's website are from the X48 boards which feature 12 phases and this is why things look different. One thing we didn't expect though was the fact that the motherboard dropped down to as little as two phases in Windows, which seemed very low even considering the far from cutting edge specifications on the test system. Each of those little yellow cylinders and crank shafts (correct me if I'm wrong here, cars aren't my specialty) represents one power phase and are animated to show that they're working.
Other parts worthy of noting is the Dynamic Frequency menu which allows you to throttle the CPU in a similar way to speed step, but it seems to do it a little bit different to Intel's take on it. Then there's the little green light just under the word beneath the Dynamic Energy Saver logo, this turns on and off the motherboard LED's. There's also an @ sign towards the top of the application and this connects to GIGABYTE's website to check for updates for the software. Finally we have the power saving meter which measures how much power you have saved. This isn't quite working on the early revisions of the software as it'll reset itself if you close down the application or reboot the system.
The test system consisted of the aforementioned GIGABYTE P35-DS3P rev 2.1 motherboard, a Core 2 Duo E6700, 2GB of DDR2 800 memory, a Radeon X1950 Pro, four SATA hard drives, an Ageia PhysX card, an X-Fi Elite Pro, two optical drives and three 120mm fans. Maybe not the most power hungry system around, but at least something that would draw a fair bit of power you'd think. Well, surprise surprise, using a plug-in power meter the peak power draw topped out at 280W. Makes you feel kind of stupid for using an 800W power supply, the only excuse we have was that it was free.
After about two days of uptime the system used had saved close to 400W of power, not much in the big scheme of things, but if you have a PC up and running 24h a day then you can save a lot of power in the long run. The actual number for this system was about 189W a day, which turns out to be close to 69,000W 69kWh a year, since power is normally measured in kWh. To make the calculations easy here, let's say for the sake of it that you pay 10 cents per kWh which seems to be close to the average US electricity price for 2007, you'd save $6.90 over a year. Not a lot of cash? No, not really, but electricity prices are on the rise and a saving is a saving at the end of the day.
Consider this, you run a business, you have 100 computers that are on 24/7/365 and suddenly we're talking a saving of $690 from our example, but it's likely to be a lot more since business pay more for electricity than consumers. And if you add other power saving components to your system such as a more efficient power supply that operates at peak efficiency, a new low power hard drive and what not, then this could add up to being a lot more.
In actual fact, DES saved a lot more power than 189W per day, as this was just for the CPU and motherboard which are both measured after the PSU has converted the power. This is about 8W per hour, but in actual fact the real power saving was somewhere between 15-20W, although as the plug-in power meter we used changed frequently it was hard to get the average power saving. At idle with DES enabled the system used about 145-150W while with DES disabled at idle it was between 160-165W, although it varied constantly.
Using a 15W saving per hour, you're looking at almost 131.5kWh over a year which is a lot of power and a bit more money in your pocket. With electricity prices going up all over the world, this might just be a wise investment for the future and it looks like GIGABYTE might have a winner on its hands for anyone that's interested in saving some money on their electricity bill. We're definitely all for it, let's just hope they manage to churn out a version of DES that works with your system overclocked as well, as it would be great to be able to push the system a bit when you play games and still enjoy the power saving otherwise.