4-way Thermal Interface Material Roundup
We've got a pile of thermal goop on the table for comparison today; We compare two well known brands with two newcomers.
Published Sun, Nov 11 2007 11:00 PM CST
|
Updated Tue, Nov 3 2020 7:04 PM CST
Introduction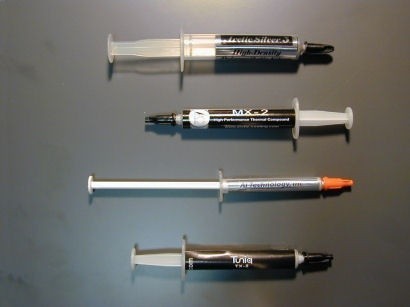 It wasn't all that long ago when you had one simple choice in Thermal Interface Material (TIM) when building a new system. That choice was a little packet of white creamy goo that sometimes came with an OEM heatsink. This material had limited usefulness and would start to break down over time forcing you to either reapply more goo or just clean it off and use nothing.
As time went on, both Intel and AMD, and another company called Cyrix, began to continually create faster processors. With the greater speeds came higher operating temperatures. At about this time a company came out with a product called
Arctic Silver
and history was made; a metallic based material that actually had decent heat dissipation qualities and wouldn't have to be replaced every few months. This company made an instant name for itself and the product was not only a huge success, it became an industry standard that others often tried to compete with but few made the cut.
Recently, we have been seeing an influx of nonmetallic materials hitting the market and they are all claiming to be able to beat the king. Our recent review of the MX-2 product from
Arctic Cooling
showed that there was more than just a little truth in these claims. The MX-2 compound is completely non-conductive material and was able to keep a processor cooler than the Arctic Silver 5 compound used as a comparative product.
Today we have two more products to add to the list of those who want your TIM dollars,
A.I. Technologies
and
Tuniq
(a subsidiary of Sunbeam). Both have TIM products that are making the same bold claims we have already been hearing, so it is time for a little direct comparison. After taking a look at the two newcomers, we will go forward in a head to head... to head... to head (whew) competition and see just how these products all compare to each other. We will also take a look at retail pricing and try to help you figure out where you need to look before laying out your money.
Arctic Silver & Arctic Cooling
Arctic Silver 5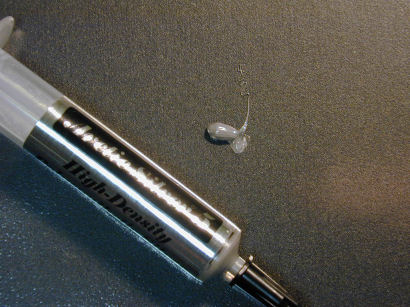 Arctic Silver 5 is a silver based high density thermal compound that is designed to conduct heat away from the processor (or GPU, Northbridge, etc) and into the heatsink. It is made using 99.9% pure micronized silver. Since silver has a natural ability to transfer heat, the end product is a very effective material that has been proven time and time again.
The consistency of AS5 is silky and smooth and application is simple. It doesn't gunk up when you are applying it so you don't have areas that get too little protection. Due to its properties, however, it is most effective when it has had the chance to set. While I have always used a 3-day rule of thumb, the Arctic Silver website indicates it could take as much as 200 hours (just over 8 days) to properly cure.
Even with this caveat, this product has become the defacto standard by which many enthusiasts use as a comparative example for all other compounds hitting the market. With this concept in mind, we will be using it as a baseline for our testing in just a bit.
Arctic Cooling MX-2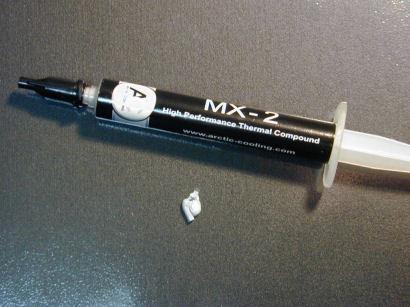 Arctic Cooling is a relative newcomer to the realm of thermal compounds. They did come out with a MX-1 product a while back, but results were not very impressive. When they sent us their MX-2 compound to test here at TweakTown, we were more than a little impressed with the performance levels of this new kid on the block. Even when testing under a TEC cooler, the results were a good deal better than the Arctic Silver 5 we used as a comparison tool.
The MX-2 is just a bit thicker in consistency than the AS5 and is also completely nonmetallic. This ensures a very smooth spread of the material over the protected area and has the added benefit of being non-conductive where electricity is concerned. This means that if you get a little dab on the tracings of your video board, you won't have to worry about a short.
Another advantage of the Arctic Cooling compound is the lack of a requirement to allow the TIM to cure before it is capable of providing full thermal protection to your components. This means you can go from installation to full overclock and not having to worry about your goop setting. It is already fully protected from the instant you mount the heatsink.
A.I. Technology & Tuniq
A.I. Technology Cool Silver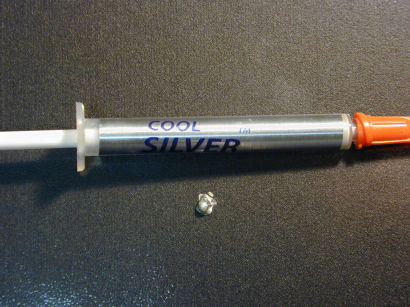 One of our newcomers to the TIM wars is called Cool Silver. It is a compound manufactured by A.I. Technology, a name not familiar to a lot of us. That doesn't mean they haven't been around the playing field, however. These folks have been creating thermal interface materials for the past 25 years and have worked with manufacturers of components for military, aerospace and super-computer products during this time frame.
The goop itself is a silver based compound that A.I. Technology claims is completely nonconductive in bulk. Consistency of the Cool Silver is very smooth and applies easily without any noticeable buildup. Like the MX-2 compound noted on the previous page, this product requires no curing time so you won't have to worry about burning in your build before you start cranking up the speeds.
Tuniq TX-2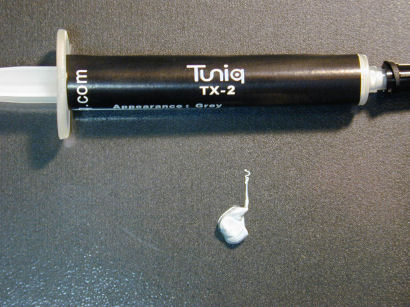 Though you may not know the name "Tuniq", odds are good you will recognize the parent company, Sunbeam. Many enthusiasts have spent more than a little green setting up specialized lighting effects from this manufacturer, so we already know that there is a bond present between the company and those who like to step away from the norm.
Their product, called TX-2, is the least thick in consistency. There is still plenty of body for application, but it spreads a bit easier than the other compounds tested. Coverage was excellent and I noted no areas where the paste did not protect.
Testing
When it comes to testing a thermal interface material, the goal is very similar to cooler reviews where the idea is to determine how cool the processor stays under stress. With this concept in mind, I will be thrashing out an Intel based setup to see just how well all these compounds work.
While some of our compounds claim to require no curing time, I will allow all tested materials to burn in for three days. This will create an even playing field for all products and there will be no advantages one way or the other.
Before we delve into the number, though, let's take a quick look at the test box.
Intel E6600 Processor @ 2.4GHz
Gigabyte GA-965P-DS4 (Supplied by
Gigabyte
)
2GB Corsair PC8500C5 DDR2 Memory (Supplied by
Corsair
)
GeCube X1900XTX Video Board (Supplied by
GeCube
)
In the past, we have made it a habit to look at temperatures at both idle and at load. In this test session, I will be monitoring a bit differently than before. Idle temperatures are more important when realizing the cooling potential of heatsinks, so I will be aiming at testing load temperatures. Of course, this caused a problem when three of the four compounds tested at identical load temperatures.
All right then, lets run through the test data and see how we can determine which product actually works best. Our test methodology consists of running a load test of the processor for approx 26 minutes. To try to find a winner, I went through the temperature logs and figured an
average
temperature throughout the test cycle.
As noted above, the processor is running at default speed it has the stock Intel OEM heatsink mounted for our testing. All system voltages are also set to default values so that everything will be on an even keel and we can give all compounds the same test bed as the others. Ambient temperature was a constant 23C and relative humidity was less than 25% during all test phases.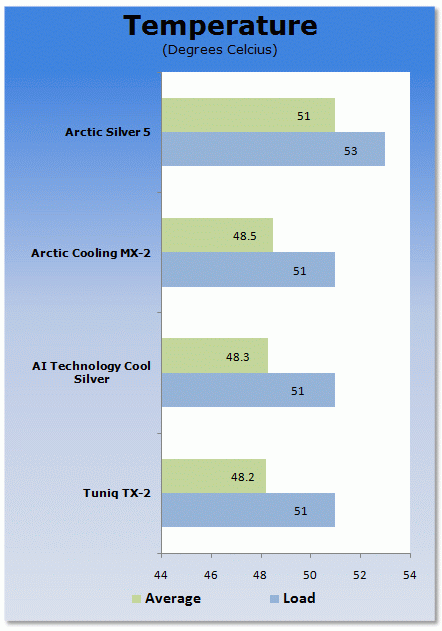 Talk about an even playing field! While I already knew from previous testing that the Arctic Cooling compound would beat out the vaunted AS5, I was more than a little surprised to see the close level of performance from the other products. While the Tuniq brand does manage to take the crown, it is a slim margin and I can say without reservation that any of these products will serve you quite well.
Final Thoughts
Well, I'm impressed. For years we had really only two choices; either the little packet of white goop that came with your new heatsink or Arctic Silver 5. While there has been a new product or two over this time, none could really do a lot in comparison to the king of goop... until now.
Arctic Cooling MX-2 was first in our test labs and performed very well under a TEC cooler and an extremely hot Athlon FX processor. With the new kids in the lab, we reverted to a more common setup to see how well they could perform in a more controlled environment.
The A.I. Technology Cool Silver beat out the MX-2 compound by a meager 0.2C in average temperature through a 26 minute stress test. Maximum temperature was the same as the MX-2 product, so max performance will be the same.
The Tuniq TX-2 compound beat the Cool Silver by an even slimmer 0.1C and again allowed the processor to attain a maximum temperature equal to the other two newcomers. Regardless of the margin, however, the Tuniq compound came out on top of the others and earns the right to be called the best TIM of the lot.
As far as price is concerned, there is a little difference in cost, but not a huge amount. Here is a quick breakdown of the price you can expect to see for these compounds (all prices in USD):
Arctic Silver 5 - $9.99
Arctic Cooling MX-2 - $7.95
AI Tech Cool Silver - $6.99
Tuniq TX-2 - $5.99
It doesn't take a rocket scientist to figure out that the best performing compound in our tests costs less than the others. So even if price is a major factor to you, you can still get the winner at a lower cost than the competing products. If you cannot find the Tuniq compound though, don't be afraid to use any of the items tested. All perform very well and beat out the old king hands down.
PRICING: You can find products similar to this one for sale below.

United States: Find other tech and computer products like this over at Amazon.com

United Kingdom: Find other tech and computer products like this over at Amazon.co.uk

Australia: Find other tech and computer products like this over at Amazon.com.au

Canada: Find other tech and computer products like this over at Amazon.ca

Deutschland: Finde andere Technik- und Computerprodukte wie dieses auf Amazon.de
We openly invite the companies who provide us with review samples / who are mentioned or discussed to express their opinion. If any company representative wishes to respond, we will publish the response here. Please contact us if you wish to respond.