ATI Catalyst 7.7 Performance Analysis
AMD has just released a new set of ATI Catalyst 7.7 drivers for Radeon graphics cards - we check out performance under Win XP.
Published Fri, Jul 20 2007 11:00 PM CDT
|
Updated Tue, Nov 3 2020 7:04 PM CST
Introduction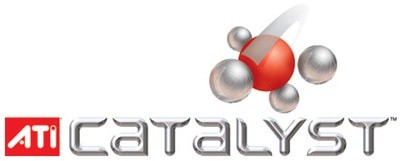 As we roll into a new financial year we find ourselves again with a new set of catalyst drivers for the month of July. Though this month the Catalyst Performance Analysis is getting a bit of an overhaul.
The X1950XTX is going bye-bye along with the X1600XT, in their place we will use the HD2600PRO and HD2600XT. We will also continue to use the HD2900XT as the high-end card, and for a look at last generation we will include the highly popular X1950PRO which was really the only card that has been selling in the enthusiast sector for AMD.
As always we will look at the main improvements in the latest release notes and then get stuck into benchmarking.
Performance Improvements
The ATI Radeon HD2400, HD2600 and HD2900 (single and CrossFire) can see performance improvements of 13.2% or more in various Far Cry maps.
Let's give 'em a whirl...
Test System Setup and 3DMark05
Test System SetupProcessor(s):
Intel Core 2 Duo E6600 @ 3GHz (333MHz x 9)
Motherboard(s):
ASUS P5K3 Deluxe (Supplied by
ASUS
)
Memory:
2 X 1GB Corsair XMS3 DDR-3 1066MHz 7-7-7-21 (Supplied by
Corsair
)
Hard Disk(s):
Hitachi 80GB 7200RPM SATA-2
Operating System:
Windows XP Professional SP2
Drivers:
Catalyst 7.6, Catalyst 7.7 and DX9c
As we mentioned just before, we have done a bit of swapping and changing with the cards we're using from this point on. The particular cards are the HD2600PRO Sonic and HD2600XT Sonic from Palit, whilst the MSI HD2900XT will continue to be used along with the pre-gen PowerColor X1650PRO ACS3.
Unfortunately we don't test FarCry anymore due to the HUGE CPU limitation issues it has, though we will see if the performance jump can be seen anywhere else.
3DMark05Version and / or Patch Used:
Build 130
Developer Homepage:
http://www.futuremark.com
Product Homepage:
http://www.futuremark.com/products/3dmark05/
Buy It Here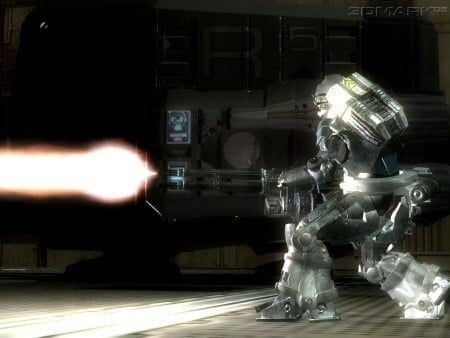 3DMark05 is now the second latest version in the popular 3DMark "Gamers Benchmark" series. It includes a complete set of DX9 benchmarks which tests Shader Model 2.0 and above.
For more information on the 3DMark05 benchmark, we recommend you read our preview
here
.
We can see across the board that there is really no difference between the cards.
Benchmarks - 3DMark06
3DMark06Version and / or Patch Used:
Build 110
Developer Homepage:
http://www.futuremark.com
Product Homepage:
http://www.futuremark.com/products/3dmark06/
Buy It Here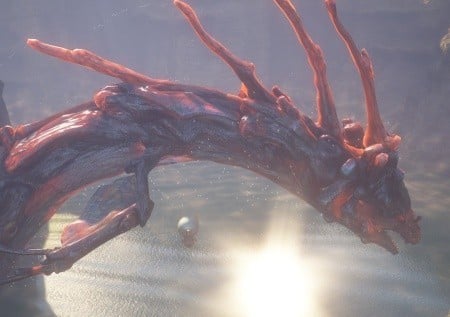 3DMark06 is the very latest version of the "Gamers Benchmark" from FutureMark. The newest version of 3DMark expands on the tests in 3DMark05 by adding graphical effects using Shader Model 3.0 and HDR (High Dynamic Range lighting) which will push even the best DX9 graphics cards to the extremes.
3DMark06 also focuses on not just the GPU but the CPU using the AGEIA PhysX software physics library to effectively test single and Dual Core processors.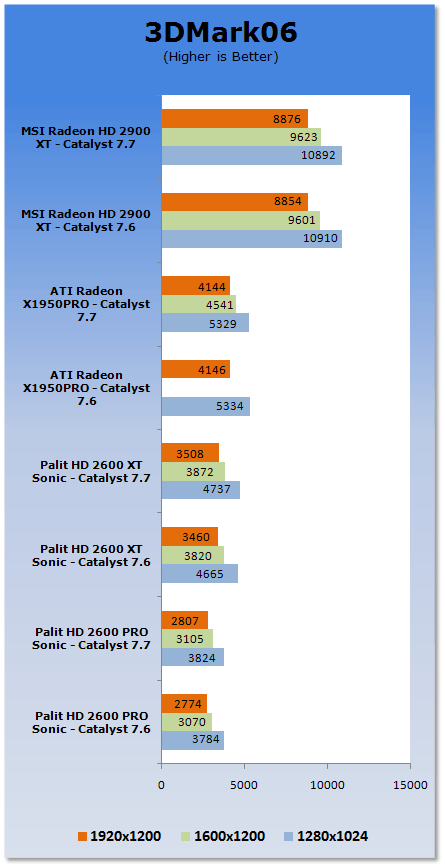 The newer 3DMark06 shows us no improvements.
Benchmarks - Half Life 2 (Lost Coast HDR)
Half Life 2 (Lost Coast HDR)Version and / or Patch Used:
Latest from Steam
Timedemo or Level Used:
Custom Timedemo
Developer Homepage:
http://www.valvesoftware.com
Product Homepage:
http://www.half-life2.com
Buy It Here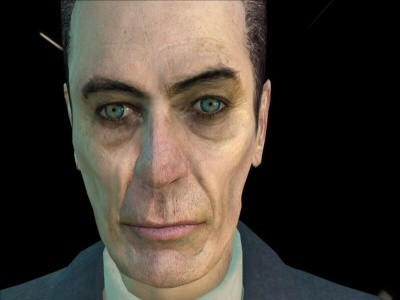 By taking the suspense, challenge and visceral charge of the original, and adding startling new realism, responsiveness and new HDR technology, Half-Life 2 Lost Coast opens the door to a world where the player's presence affects everything around him, from the physical environment to the behaviors even the emotions of both friends and enemies.
We benchmark Half Life 2 Lost Coast with our own custom timedemos as to avoid possible driver optimizations using the "record demo_name" command and loading the timedemo with the "timedemo demo_name" command - For a full list of the commands,
click here
.
Half Life doesn't see any performance change.
Benchmarks - Prey
PreyVersion and / or Patch Used:
Unpatched
Timedemo or Level Used:
HardwareOC Custom Benchmark
Developer Homepage:
http://www.humanhead.com
Product Homepage:
http://www.prey.com
Buy It Here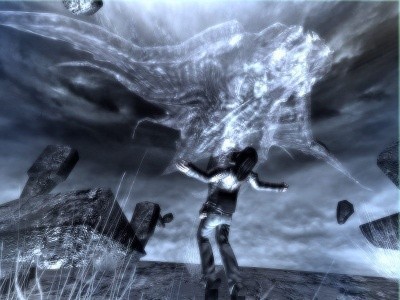 Prey is one of the newest games to be added to our benchmark line-up. It is based off the Doom 3 engine and offers stunning graphics passing what we've seen in Quake 4 and does put quite a lot of strain on our test systems.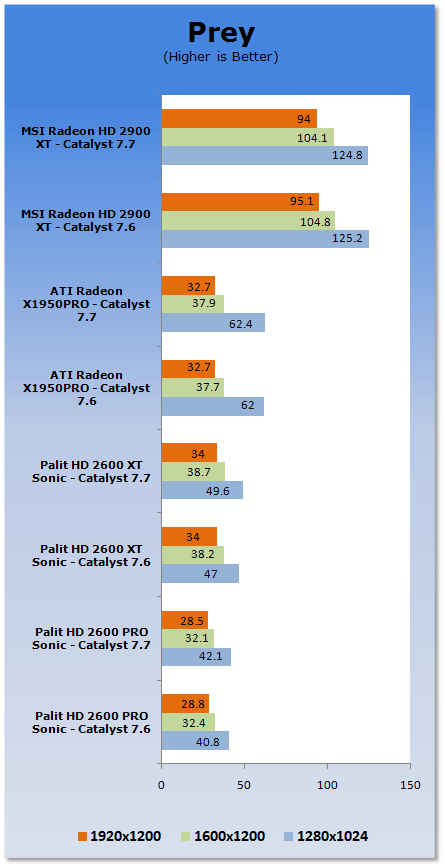 OpenGL performance gets a slight bump on the lower end / lower resolution setups but apart from that there are no real changes.
Benchmarks - Company of Heroes
Company of HeroesVersion and / or Patch Used:
1.5
Timedemo or Level Used:
Built-in Test
Developer Homepage:
http://www.relic.com
Product Homepage:
http://www.companyofheroesgame.com
Buy It Here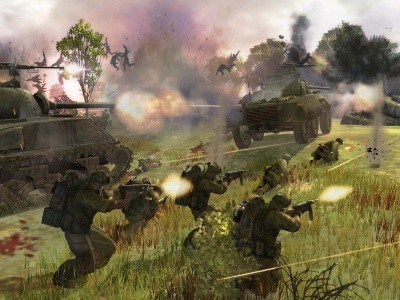 Company of Heroes, or COH as we're calling it, is one of the latest World War II games to be released and also one of the newest in our lineup of benchmarks. It is a super realistic real-time strategy (RTS) with plenty of cinematic detail and great effects. Because of its detail, it will help stress out even the most impressive computer systems with the best graphics cards - especially when you turn up all the detail. We use the built-in test to measure the frame rates.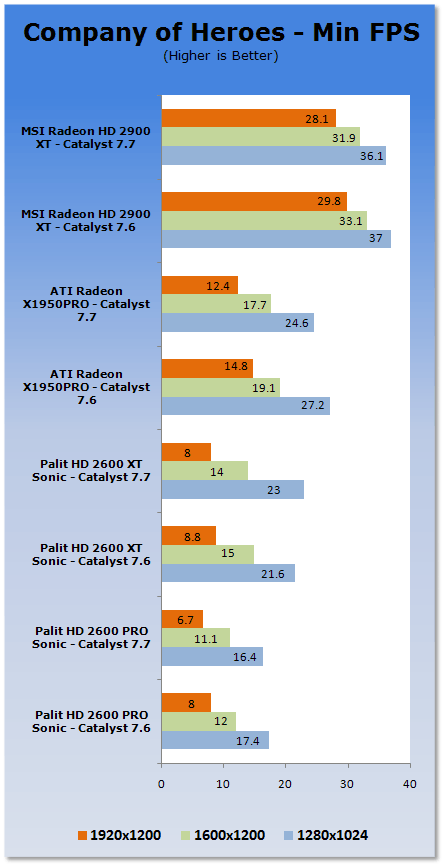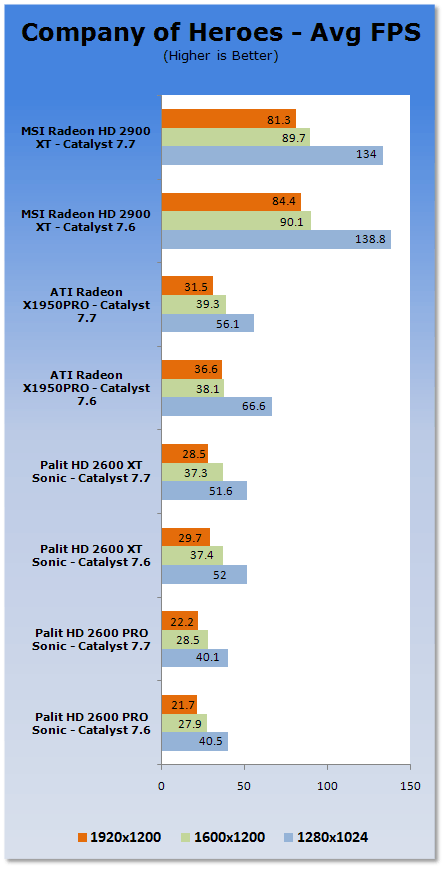 Company of Heroes performance seemed to drop across the board including almost all cards at all resolutions.
Benchmarks - High Quality AA and AF
High Quality AA and AF
Our high quality tests let us separate the men from the boys and the ladies from the girls. If the cards weren't struggling before they will start to now.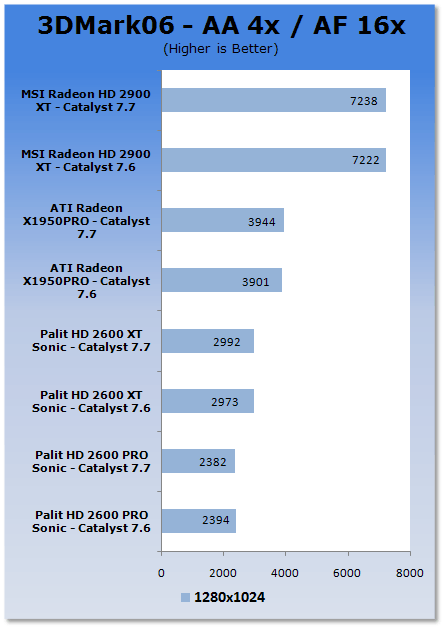 Like our non AA/AF tests we see no difference.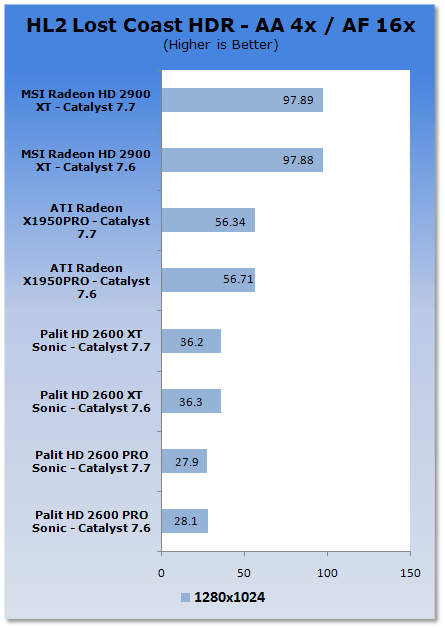 We again see no changes when we crank up the quality in Half Life 2 Lost Coast.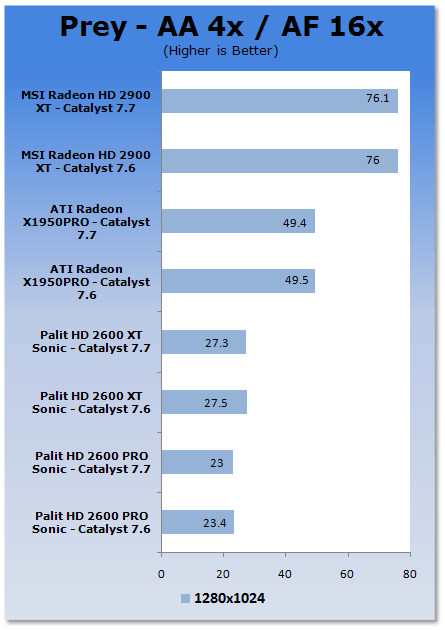 We leave with Prey which gives us nothing across the board.
Final Thoughts
This is one of the worst driver sets we have seen in some time. Not only did performance go nowhere on our lineup of games, but Company of Heroes actually took a small step backwards.
An even bigger issue we had with the drivers was the constant random crashing when starting COH.
We wouldn't recommend these drivers to someone we didn't like, we don't know what's going on this month but the AMD driver gods have not been nice to us.
We will keep an eye out for the 7.8s over the next four weeks and hope that AMD have decided to extract some more performance out of the HD range. The HD2600XT is so close to being the mid-range card to get when compared to the 8600GT, but it just needs a bit more performance to take it over the line.
Until next month, Happy Gaming!
PRICING: You can find products similar to this one for sale below.

United States: Find other tech and computer products like this over at Amazon.com

United Kingdom: Find other tech and computer products like this over at Amazon.co.uk

Australia: Find other tech and computer products like this over at Amazon.com.au

Canada: Find other tech and computer products like this over at Amazon.ca

Deutschland: Finde andere Technik- und Computerprodukte wie dieses auf Amazon.de