Introduction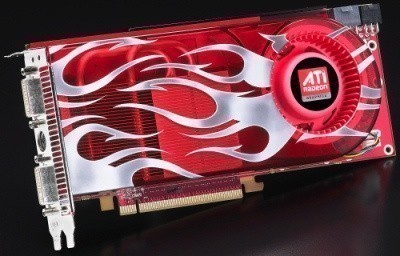 AMD's long awaited R600 DX10 GPU finally arrives
It has been a long time coming but today AMD is finally set to release its massively anticipated GPU codenamed R600 XT to the world with the official retail name of ATI Radeon HD 2900 XT. It is a hugely important part for AMD right now, who recently posted massive profit loss figures. It is counting on all these new models, along with the high-end 512MB DDR-3 DX10 part with 512-bit memory interface to kick ass and help raise revenue reports against the current range from the green GeForce team, which is selling like super hot cakes.
The new R600 range of graphics processing units was set to see a release on March 30 (R600 XTX) but due to production issues and lack of decisiveness to make any firm decisions, it got delayed and delayed. It was beginning to look like AMD would let down its loyal fan base; some even began suggesting the R600 was vaporware. That would have shaken up the industry immensely and thankfully for all, that did not happen. AMD is finally able to introduce some competition to Nvidia's GeForce lineup of cards with its new series of DX10 and Windows Vista ready products.
Eventually the folks at AMD got their act together and made some clear-cut decisions and got production issues under control and underway - probably due to indecisiveness between using GDDR-3 or GDDR-4 and associated cost vs. performance concerns. It was eventually leaked out to the world that the R600 XTX (the highest end model) would be reserved for system integrators due to its size and heat related issues - you may or may not see this GPU in OEM systems from companies like Dell and HP. That model will measure a staggering 12-inches long and probably will not be suitable for every computer case or configuration. It was deemed unacceptable for the consumer retail space and hence was scrapped from all plans.
Today AMD is launching an enthusiast part HD 2900 series with the HD 2900 XT, performance parts with the HD 2600 series including HD 2600 XT and HD 2600 PRO, along with value parts including HD 2400 XT and 2400 PRO. The HD 2600 and 2400 series have had issues of their own and you will need to wait a little longer before being able to buy these various models on shop shelves (July 1st). The HD 2900 XT will be available at most of your favorite online resellers as of today. Quantity is "not too bad" but a little on the short side with most of AMD's partners only getting between 400 - 600 units which is not that much considering the huge number of ATI fans out there. You may want to get in quick and place your order, if you are interested - some AIB companies are not sure when they will get in their next order, too.
Our focus today is solely on the HD 2900 XT 512MB GDDR-3 graphics card - it is the first GPU with a fast 512-bit memory interface but what does this mean for performance? While it is AMD's top model right now, it is actually priced aggressively at around the US$350 - US$399 mark in United States, which puts it price wise up against Nvidia's GeForce 8800 GTS 640MB. After taking a look at the GPU and the card from PowerColor as well as some new Ruby DX10 screenshots, we will move onto the benchmarks and compare the red hot flaming Radeon monster against Nvidia's GeForce 8800 GTX along with the former ATI GPU king, the Radeon X1950 XTX.
HD 2900 XT GPU
Radeon HD 2900 XT GPU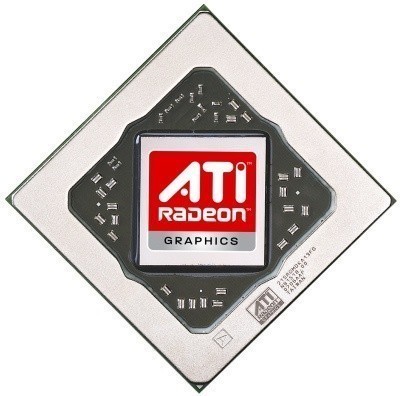 R600 is AMD's first range of top to bottom DirectX 10 graphics cards with fully certified support for Microsoft's Windows Vista operating system. While DX10 GPU support might not be very important right at this moment, soon it will be a requirement to experience the best graphics potential from current games, which are awaiting DX10 patches, and upcoming games such as Crysis, Alan Wake and Unreal Tournament 3. Sadly it is basically impossible for us to provide comparative DX10 benchmark numbers between AMD and Nvidia graphics cards at the moment - AMD gave the press a DX10 benchmark demo of Call of Juarez but it does not work properly on Nvidia graphics cards at this stage. 3DMark07 is not too far away and DX10 games and patches will come out soon (starting from June onwards) but until that time, we are unable to test this new API's performance.
R600 GPU is also the first out of the major GPU players to introduce a smaller 65nm manufacturing process but still manages to pack in a massive 700 million transistors for the top model. Keep in mind that the high-end HD 2900 XT uses 80nm process technology from TSMC but the HD 2600 and 2400 series use the more power efficient and cooler operating 65nm process. It is said that AMD will launch the faster R650 (possibly with two models, HD 2950 XT and XTX) in Q3 of this year that are also based on the improved 65nm process, which will allow AMD to ramp up clock speeds and fight harder against Nvidia. You were thinking it and you are right - it will probably only be three or four months before your brand new Radeon graphics card has been replaced with a faster model but that is just the way things seem to be now, like it or not.
It is also the first with 512-bit memory interface (compared to GeForce 8800 with 384-bit and 86.4GB/s bandwidth) which will increase memory bandwidth throughput (stock speeds push out 106GB/sec) without having to have the memory frequency tuned up as high or relying on more expensive GDDR-4 memory. For instance, the memory clock speed of the HD 2900 XT is
just
828MHz (or 1656MHz DDR) whereas the 8800 GTX operates at 1800MHz DDR with its slower interface. Using 320 processing units at a core clock speed of 742MHz with two FLOPs per unit, it is able to process data at 475 GigaFLOPS.
It is enough to make the new HD 2900 XT up to 150% faster than the old Radeon X1950 XTX in some ultra-high-resolution gaming tests, according to AMD press documents. Crossfire dual-graphics support is not going anywhere and of course, it is fully supported by the HD 2900 XT.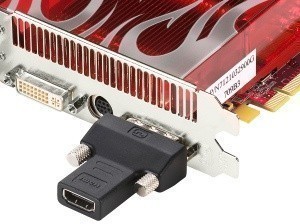 AMD may well have added "HD" into the product name since it is not only able to process video but also audio over HDMI. Details are unclear at this stage but this card will be able to output up to 5.1 surround sound through the DVI port using a special DVI to HDMI adapter, which is also a first - previously if you used a DVI to HDMI connector on older graphics cards, it would just carry video signals. AMD has not been very forthcoming with info about how the sound part works but apparently there is an audio chip on the card that is able to achieve the feat. AMD has done this to gain Microsoft Windows Vista Premium Logo certification, as requirements for HDMI systems state that you cannot split the audio output - e.g. HDMI carrying video and audio and optical or whatever else also carrying the signal to your speakers.
That finishes the summary on the GPU itself - let us move to the actual card now. Next page please!
HD 2900 XT Graphics Card
PowerColor HD 2900 XT Graphics Card
Due to limited availability as well as the fact press in different regions are getting priority over others, we tested an actual retail graphics card from PowerColor. It has the same clock speeds as all other reference cards floating around - 742MHz core clock and 512MB of GDDR-3 memory clocked at 828MHz or 1656MHz DDR.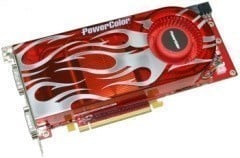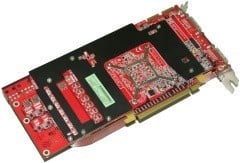 The PowerColor PCI Express x16 card looks just the same as reference cards. Later on you will see more expensive water cooled HD 2900 XT models from the usual suspects along with overclocked models in the following weeks. We did not get time to perform any overclocking tests but reports are floating around that the core is good to at least 800 - 850MHz and the GDDR-3 memory more than likely has room to increase. You may even see some companies produce HD 2900 XT OC models which use 1GB of faster GDDR-4 memory operating at over 2000MHz DDR or they will use special cooling to get the most out of the default setup.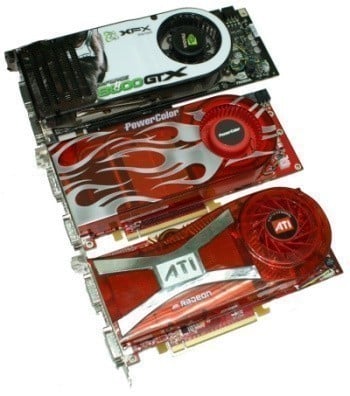 As far as size goes, the HD 2900 XT is a little longer than the Radeon X1950 XTX but a good deal shorter than the GeForce 8800 GTX, as you can see from the shot above with the PowerColor HD 2900 XT sitting in the middle of the group. Both of the other cards take up two slots and the HD 2900 XT is no different.
In 2D mode (non-gaming in Windows), the clock speeds are automatically throttled back to 506MHz on the core and 1026MHz DDR on the memory. This is done to reduce power consumption and also to reduce temperatures, which seems to pretty important for the HD 2900 XT. Check out this warning from the user manual supplied by AMD: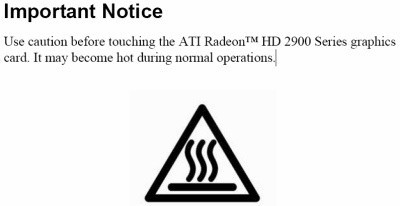 Ouch!
Using some AMD monitoring software, we noted idle temperatures of between 65 - 70-degrees Celsius from the core die and that is just sitting in Windows. At full load halfway through a 3DMark06 benchmark run, we noted a maximum temperature of 84-degrees Celsius from the core die - in other words, very hot! The air exhausting through the back vents on the card was not warm, but hot. I could not keep my hand in the way of the airflow for very long - it would make a good hairdryer if the airflow was a little stronger but people might look at you strangely if you dry your hair this way, not to mention you probably do not want to be waving your dripping wet hair around the back of your PC! Suffice to say, we suggest against trying. To be honest, I was not expecting the card to be so hot - at one time I almost burnt my fingers!
The card is said to be good to 100-degrees Celsius on the core itself but these temperatures are crazy and we tend to think that OC might be limited considering it is already running this hot - at stock speeds. Once AMD moves to 65nm process technology, this should cure some heat related issues while also allowing for higher clock speeds. Nevertheless, the flame design on the cooler is rather appropriate - the flaming hot monster indeed.
HD 2900 XT Graphics Card Continued
PowerColor HD 2900 XT Graphics Card Continued
The good news is that noise coming from the cooler has been improved (and it is heavier with more heat pipe action) over the previous Radeon X1950 XTX, which at full RPM fan speed produced a kind of high pitched whining type of sound. Thankfully the HD 2900 XT has improved on this and that kind of annoying high pitched sound does not exist and it is noticeably quieter than the previous high-end model. When in 2D mode, the HD 2900 XT was hardly audible - the reference Intel CPU cooler from Cooler Master was outputting more sound than the graphics card when sitting in Windows. At first, we even had to check if the fan was actually working while in 2D mode - you can hear when 3D mode kicks in but that was with the case open and in a completely silent room, not a realistic environment when you have the sound turned up playing games or music.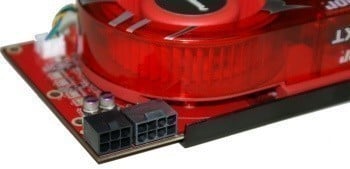 As far as power goes, AMD recommend a minimum 750-watt power supply unit for single card but we only used a (high-quality) 500-watt PSU for our testing and did not note any stability problems - and we were using an Intel Core 2 Quad processor operating at 3GHz, which is no pussycat. The power supply recommended is one with two 2x3-pin PCI Express power connectors. However, if you want to use AMD's built-in overclocking software in Catalyst Control Center called OverDrive, you will need one 2x3-pin and one 2x4-pin connector. This can be overcome by using a 2x4-pin to 2x3-pin connector, as shown below. Other Radeon overclocking tools such as ATI Tool may not even require the 2x4-pin connector but that remains to be seen.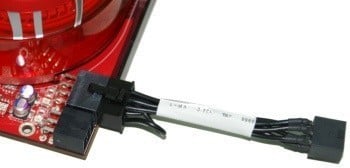 As far as other connectors go, you of course have the mandatory Crossfire connectors for dual-graphics support. On the back in the I/O area are two dual-link DVI connectors along with the S-video like port connector that allows for HDTV-out through component cable and so forth. As mentioned on the previous page, most companies should end up including a special DVI to HDMI connector that is not only able to output video but also audio.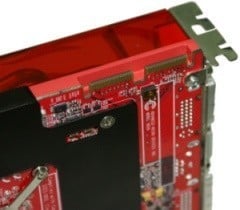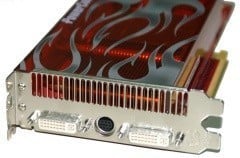 Since we tested the PowerColor HD 2900 XT before it was ready to be shipped out to customers, the retail package was not yet available, but we did get a chance to see the stylish box design. We are not exactly sure what will come in the package but you can most likely expect the usual array of cables and we have been told you will get the 2x4-pin to 2x3-pin connector and special HDMI adapter.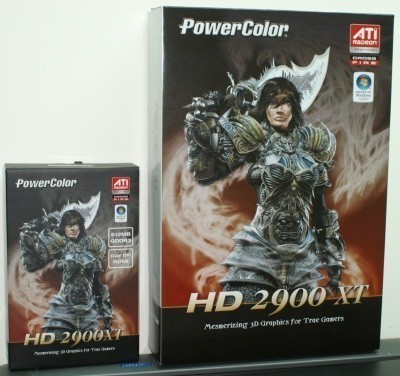 As we have already reported in the news, one of the major selling points of the R600 cards will be the fact that AMD has teamed up with Valve Software again to include a voucher for some upcoming games. When the games are ready (and it should not be too far away), you will be able to login to your Steam account and download the full versions of Half-Life 2: Episode 2, Team Fortress 2 (l33t!) and Portal. If other companies choose to also include another full version game, the package is starting to look quite impressive!
Before we move into the benchmarks, we want to show you a technology showcase of what the R600 GPU is capable of thanks to our friend Ruby but now all new and improved.
New and Improved Ruby - DX10 Screenshots
When, in the past, ATI and Nvidia released brand new graphics cards, they were usually accompanied by a tech demo showcasing what the product is capable of doing. We are pleased to see AMD is continuing that tradition.
The famous Ruby babe is back with the launch of the R600 GPU and now she is rendered in DX10 and looking better than ever.