nVidia nForce 680i LT SLI Chipset Preview - Boosting Mainstream
nVidia have just released their new cut down nForce 680i LT SLI motherboards with much more attractive pricing. Read on!
Published Mon, Mar 26 2007 11:00 PM CDT
|
Updated Tue, Nov 3 2020 7:04 PM CST
Introduction and History Lesson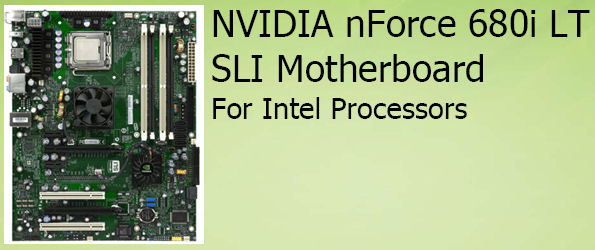 nVidia's chipset portfolio has always been one to watch, especially over the last two years, they really have put nails in the enthusiast coffin, for most other chipset brands, that is.
Platform chipset wise, nVidia is still very new to the game, only starting to come into the mix when Athlon was Socket A based. Intel, VIA and SIS had already made their names back in Socket 7 era. nVidia certainly had its ups and downs with their chipsets, more ups than downs, but one big thing that really could have set them back quite a long way.
nVidia really had some revolutionary design tactics when they first wanted to bring the nForce chipset to market, a Socket A designed chipset with Dual Channel DDR memory support, hardware 5.1 audio support and overclocking all in one neat package but it was a disaster. The chipset suffered yield problems meaning there wasn't enough, next the memory controller was too picky about what RAM it would use, and its dual channel memory support didn't give any performance advantage over the cheaper VIA KT series chipsets, the only real plus was the hardware 5.1 audio.
Rather than simply sticking an extra letter onto the name to make it look like a new revision (something VIA was guilty of quite a bit with the KT266A, KT333A and KT400A) nVidia took its chipset and threw it in the bin in favour of a new design. nForce 2 was the result and this baby really had some big pull. It featured a new memory controller that worked properly in Dual Channel mode with just about every module up to 400MHz. The FSB system was enhanced to allow overclocking greater than that of the VIA or SiS counterparts and the MCP was updated with new audio features and onboard networking.
When AMD's Athlon went to the new K8 architecture, nVidia was right there with the nForce 3 chipset, the first incarnation, nForce 3 150 was more of a make shift chipset, it had a few bugs, such as not running at the full 800MHz hyper transport speed that the K8 was designed to run at, it would only make 600MHz, any attempt to hit 800 resulted in a non posting system. The nForce 3 250 series fixed this as well as adding in additional Serial ATA features and Gigabit LAN. Overclocking improved for the 939 series and speeds of 1000MHz and 1600MHz were added for the FX series CPU. One thing that was a major disappointment was the removal of the hardware 5.1 audio.
This then brought us to nForce 4 chipsets where nVidia started to embrace the Intel platform. nForce 4 was the first chipset series to bring back SLI, a technology that they acquired when nVidia brought out 3DFX. Today's SLI differs from the old SLI 3DFX designed, SLI today is a serial system rather than parallel bus. nForce 4 SLI Intel edition chipsets made their way into the market about six months after the release of the AMD version, nVidia was a bit sceptical about the Intel market, after all Core 2 was still not even on the drawing board.
The nForce 5 chipset for Intel platform came and went with only a single variety, the 590SLI Intel Edition. This chip was highly criticized as its was simply the old nForce 4 SLI Northbridge with a new MCP, that meant all the poor overclocking performance was returned to the 590SLI Intel chip. nVidia simply decided to put this one to bed in favour of a new 600 series chip.
The nForce 600 series chips for Intel consist of the 680i SLI, 650i SLI and 650i Ultra. 680i SLI consists off all the enthusiast features such as dual full-speed x16 slots as well as a third x16 slot running x8 speed for a third graphics card for physics or for extra monitors. 650i SLI also allows you to run dual graphics cards in SLI mode but the two PCI Express x16 slots only ran x8 and the 650i Ultra doesn't support any SLI features at all.
Unfortunately between 650i SLI and 680i SLI there is a large price gap. So if you want full-speed SLI and other performance enhancements attributed to the 680i SLI, you need to pay a premium, right? Not according to ASUS who designed a rather unique chipset which is the basis for today's article. The P5N32 Hybrid SLI allows you to run dual full-speed SLI graphics cards on the board by combining the 650i SLI Northbridge with the 590SLI MCP Southbridge from the AMD platform chipset.
Whether nVidia looked at this and though it was a good idea or had this chip in the pipeline is unknown, but today we have the beefed up 650i SLI chipset which has now been given the name nForce 680i LT SLI.
nForce 680i LT SLI
nVidia's nForce 680i LT SLI in detail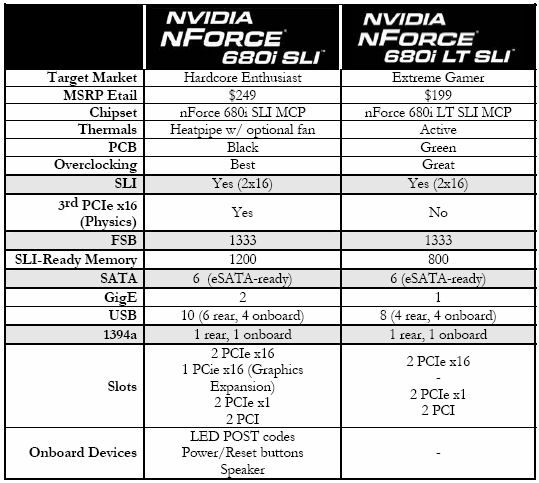 Initially you'll be able to buy the new 680i LT SLI motherboards for around $199 USD (they are currently retailing on US sites for $200 USD compared to around $230 - $300+ USD for the fully fledged 680i SLI boards) that are "Designed by nVidia" - this simply means that non-manufacturing motherboard and VGA companies are given the board designed and engineered by nVidia, manufactured by another company, and then finally put into a nice looking retail package with some fancy stickers and cables by companies such as eVGA and BFG.
First off nVidia has done a bit of remodelling with the latest chipset by changing a few of the major features of the 680i series. The Northbridge of SPP as nVidia calls it has been redesigned, it generates less heat but still requires active cooling, no heat pipes are recommended in the reference design of the board which will help reduce costs, unlike the 680i SLI. Being designed for mainstream society, nVidia has naturally stripped down on features.
nVidia has removed the SLI ready memory 1200 support from the 680i LT series and only recommends up to 800MHz SLI ready memory. While this may seem like a downward step, overclocking is still supported, and SLI 1200 memory should still work. It's just not validated for this board, however being nVidia ready memory, it should work without any problems. A full PCI Express x16 lane system remains on the SPP to control the first graphics card slot.
Overclocking wise the 680i LT SLI uses the same bus system as the 680i, no changes have been made so it should overclock just the same as the 680i chipset, unfortunately we don't have a board at this time to test, so we can't validate these claims but we will soon.
Most of the changes to the 680i LT SLI have been made on the MCP or Southbridge for those of us who still refer to it old school. First off nVidia has placed the second PCI Express x16 slot for SLI setup on the MCP like all of its full speed SLI setups. One of the main features that make the 680i unique is not included and that is Link Boost Technology. When you install two GeForce PCI Express graphics cards into a full-speed x16 system on 680 chipsets, the PCI Express clocks that control the graphics cards are raised 25% as is the Hyper Transport Link that connects the SPP to the MCP to increase the data transfer rates.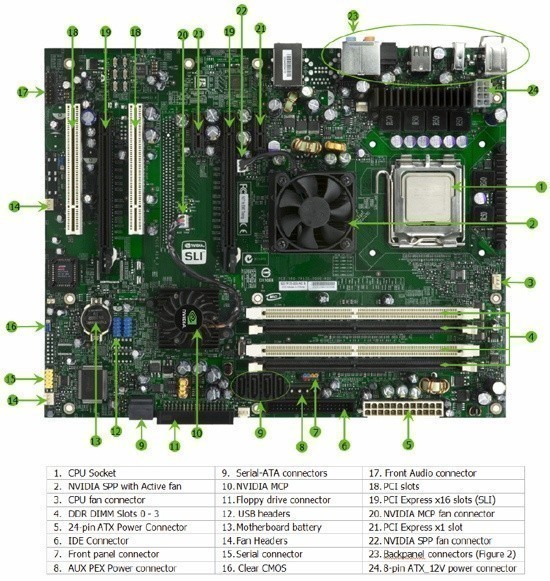 Where we get to the differences between the 680i and 680i LT is what's physically missing. First off no physics here (not that it's even available yet anyway) - on the 680i SLI, nVidia provisions for a third PCI Express x16 slot that runs at x8 speeds which is added for a third graphics card. With the third card you can either have it run as a physics engine or for two additional monitors. If you don't want to run a third graphics card you can use this slot to run PCI Express cards that require a x4 or x8 bus such as Highpoint's high-end Rocket RAID controller cards.
Next on the missing list is dual Gigabit networking. The 680i SLI MCP has two Gigabit Ethernet controllers built in. The 680i LT only supports a single Gigabit LAN chip, for most this is more than enough - I can honestly say I have never found the need for a second Gigabit LAN connection on a single system but some may miss it.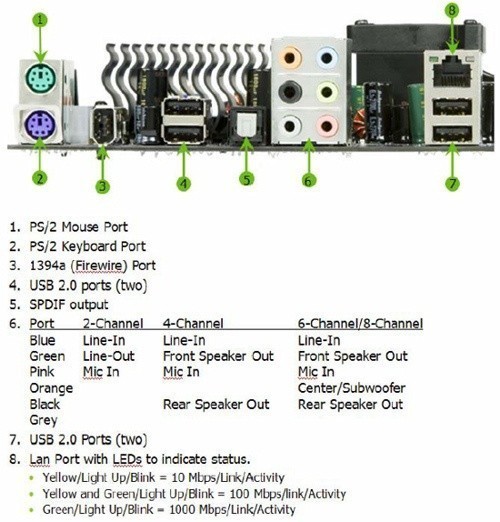 Last on the missing list are USB ports. 680i SLI runs with 10 USB port support out of the factory. 680i LT only has 8 ports, which I personally would find a bit constricting - all 10 ports on my current system are all used and I require a 4 port USB hub to run all of my USB devices. For the audiophile your in luck as the Azalia HD audio standard remains for 7.1 audio support and quite a good job nVidia has done of it on the 680i SLI. You're also missing some other basically onboard features such as LED post codes, onboard power and reset buttons and error message speaker.
Final Thoughts
We hope you have found our preliminary delve into nVidia's new nForce 680i LT SLI chipset informative.
You should start to see these chips hitting boards in the more affordable price range very soon - in fact, eVGA for one are already selling their 680i LT motherboard for around $200 USD but Newegg has a decent Mail-In Rebate bringing the price down to around a much more respectable $175 USD.
It definitely seems like a very solid design and move by nVidia as many users often complained about the price of some high-end 680i SLI motherboards being too expensive and sometimes rightfully so with some costing around $550 AUD (almost $450 USD!) in Australia. While the "Designed by nVidia" concept seems to be good using high quality parts we still hope to see other companies such as MSI, Gigabyte, ABIT, ASUS and so on come out with their own cut down 680i SLI designed motherboards.
Unfortunately we didn't quite get a testing review sample at the time of writing to give a comparison in performance and overclocking compared to the 680i SLI chipset, however we do have some companies already sending us schedules for their boards, so expect to see some reviews very shortly.
Until then, keep tweaking those systems!
PRICING: You can find products similar to this one for sale below.

United States: Find other tech and computer products like this over at Amazon.com

United Kingdom: Find other tech and computer products like this over at Amazon.co.uk

Australia: Find other tech and computer products like this over at Amazon.com.au

Canada: Find other tech and computer products like this over at Amazon.ca

Deutschland: Finde andere Technik- und Computerprodukte wie dieses auf Amazon.de
We openly invite the companies who provide us with review samples / who are mentioned or discussed to express their opinion. If any company representative wishes to respond, we will publish the response here. Please contact us if you wish to respond.