GTX 980 SLI vs R9 290X 8GB CF vs R9 295X2 on the AMD FX-9590 at 8K
What better way to test out the GeForce GTX 980 SLI, Radeon R9 290X 8GB CF and R9 295X2 than at 4K and beyond?
We've been playing around with our various GPUs here in the TweakTown VGA labs in the past few weeks, throwing them into battle against each other in various combinations. First, we started playing around by using an AMD-powered system with the AMD FX-9590 processor. We thought we'd play around with some Radeon GPUs, so we tested out the Radeon R9 290X 8GBs in Crossfire against the Radeon R9 295X2 dual-GPU card.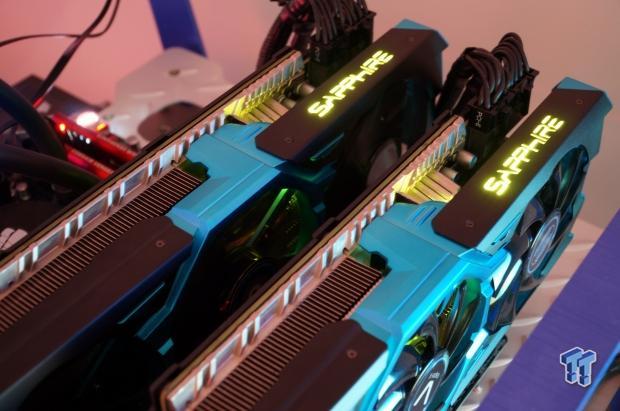 For our second test with the AMD CPU powering the system, we wanted to see how two NVIDIA GeForce GTX 980s in SLI would go against two Radeon R9 290X cards in Crossfire. Both of these tests were performed at 4K, so where can we go from here? Before we begin our testing with the Intel Core i7-5960X when it gets here in the coming weeks, we thought we would see how we'd go by really pushing the in-game details up to their maximum, and pitting all three set ups against each other. Oh yes.
For this test, we're running:
CPU: AMD FX-9590 8-core processor w/Corsair H110 cooler (stock clocks)
Motherboard: ASUS Crosshair V Formula-Z
RAM: 16GB Corsair Vengeance 2400MHz DDR3
Storage: 240GB SanDisk Extreme II and 480GB SanDisk Extreme II
Chassis: In Win X-Frame
PSU: Corsair AX1200i digital PSU
Software: Windows 7 Ultimate x64
Drivers: Catalyst 14.12 / GeForce 347.25
How We Tested
For our previous testing, we were running most of the games at 4K with their in-game settings maxed out, sans AA. Most of the time, except for GRID Autosport we left the AA disabled as there's just no point. But now, we're back and we're making these cards sweat. We're turning up the AA to absolutely maximum, and in some games we're enabling 200% supersampling, which at 4K, is rendering it at an effective '8K' resolution. Yes, 8K. 7680x4320.
Here's how we've got our in-game settings:
3DMark: 8K with AA disabled

Unigine Heaven: 4K w/4x AA

Metro: Last Light: 4K w/SSAA enabled

Sniper Elite 3: 4K with 4x supersampling

Tomb Raider: 4K w/4x SSAA enabled

Shadow of Mordor: 4K w/200% supersampling (8K)

Battlefield 4: 4K w/200% supersampling (8K)
As you can see, our two last tests in Middle-earth: Shadow of Mordor and Battlefield 4 are running 4K with 200% supersampling, which is doubling the rendered resolution to 8K, or 7680x4320. It's intense, and it's going to show just how much that additional VRAM on our SAPPHIRE Radeon R9 290X 8GB Vapor-X cards is going to help out. It'll also give us an indication of where things are going to go in the next few years when 4K becomes somewhat of a standard (maybe not for PC gaming, but for VR gaming it will) and then 8K and beyond (where VR will be going).
When it comes to actually playing at 4K with 200% supersampling, the best one to do that with is our real-time benchmark with Battlefield 4. Out of the three setups, the SAPPHIRE Radeon R9 290X 8GB Vapor-X cards really smashed it, with more playable frame rates.
Synthetic Benchmarks
This is where we're going to see the biggest improvements, in my opinion, is from the synthetic benchmarks. 3DMark and Heaven scale incredibly well with multi-GPU systems thanks to their superior multi-GPU coding, as most games are built with consoles in mind, so they do not scale well with multiple GPUs.
3DMark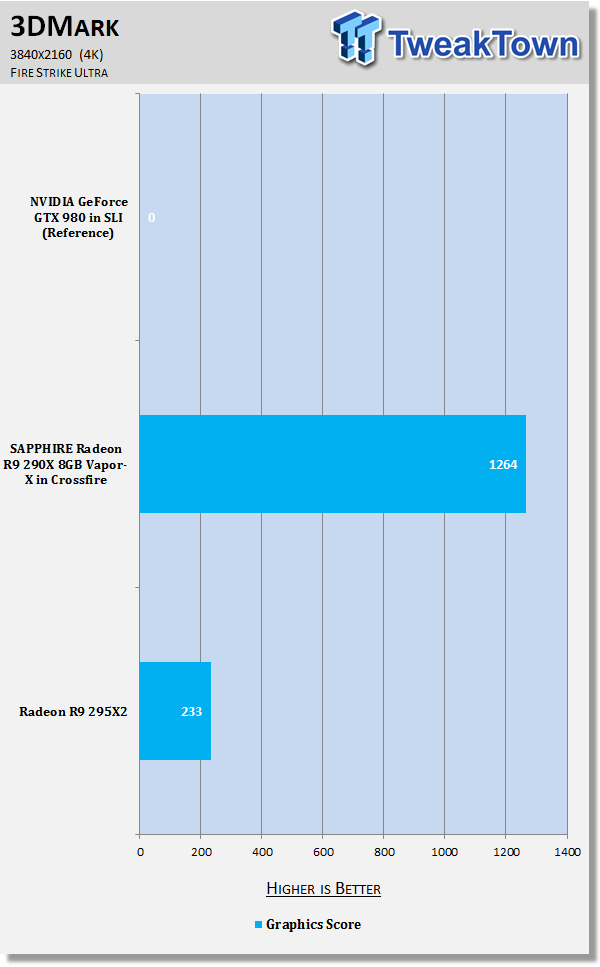 Heaven
Next, we have Heaven at 4K.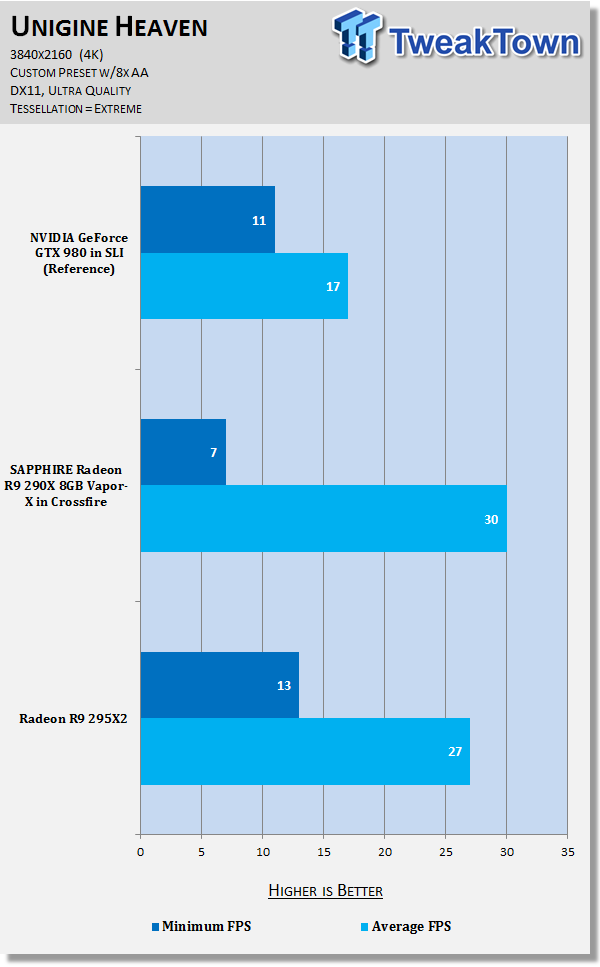 Game Benchmarks
Battlefield 4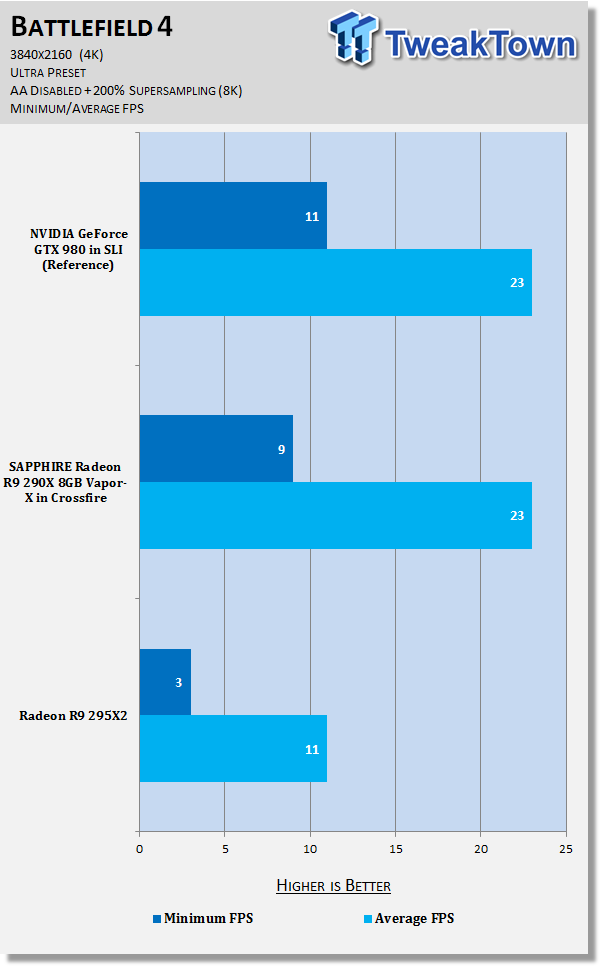 Metro: Last Light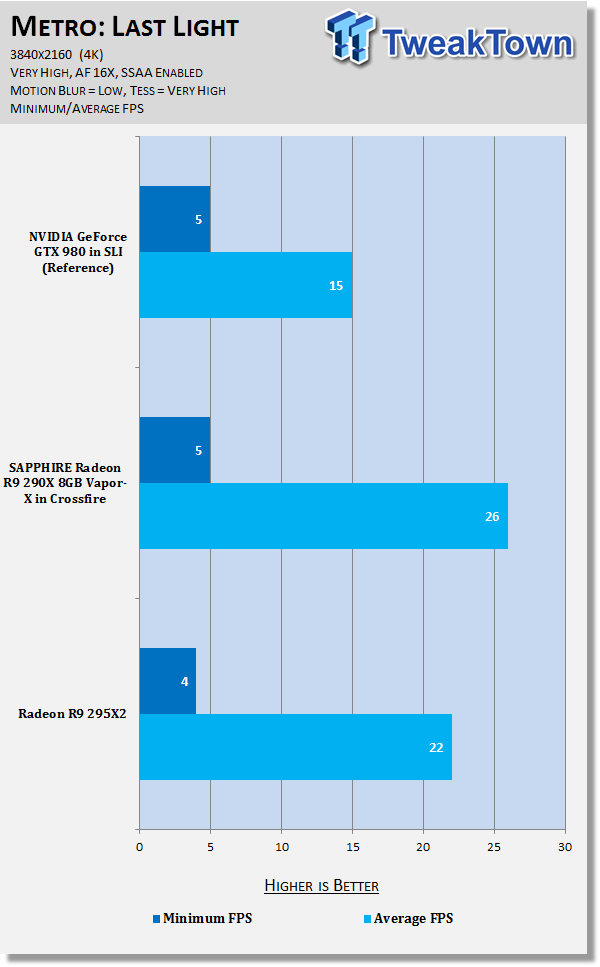 Middle-earth: Shadow of Mordor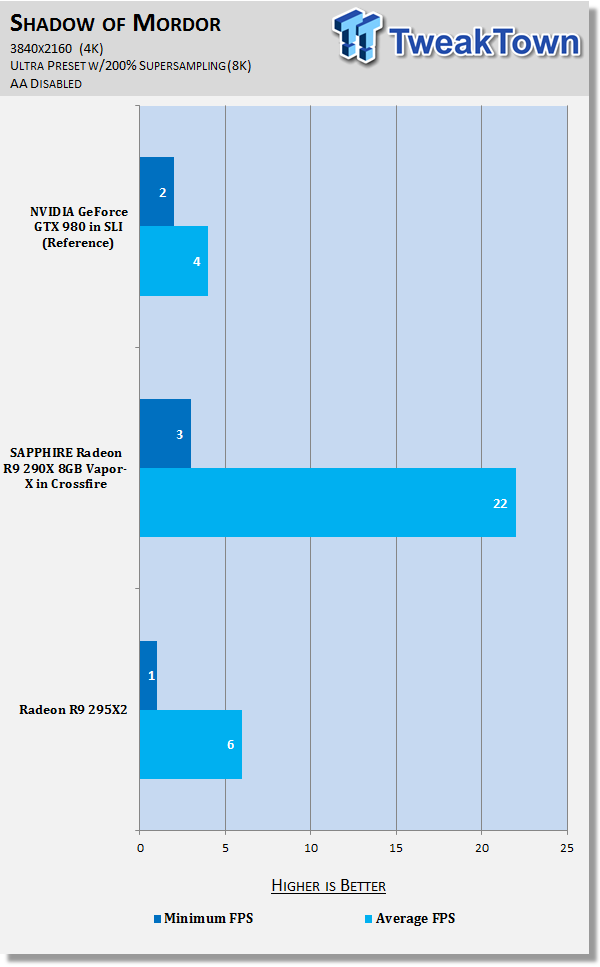 Sniper Elite 3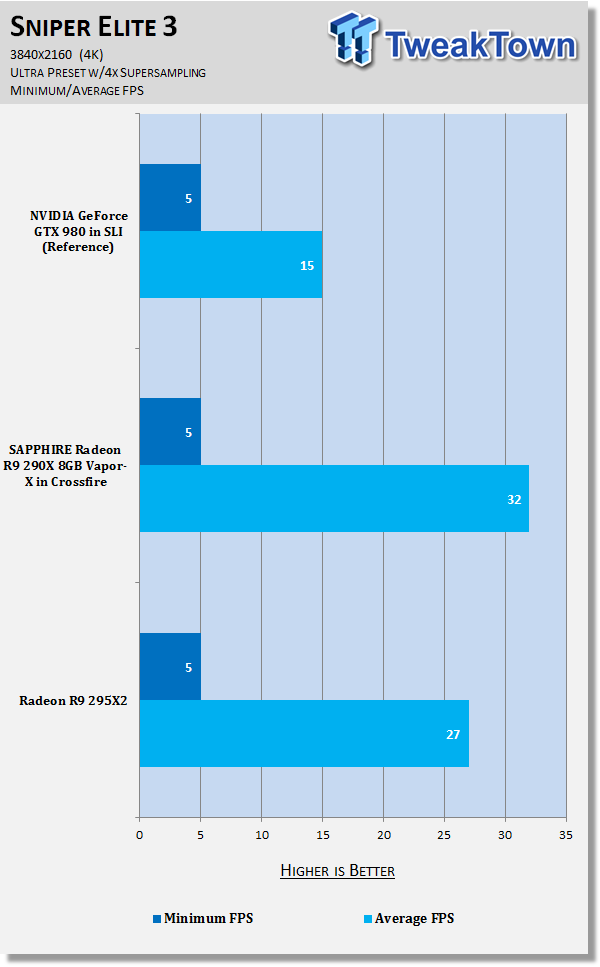 Tomb Raider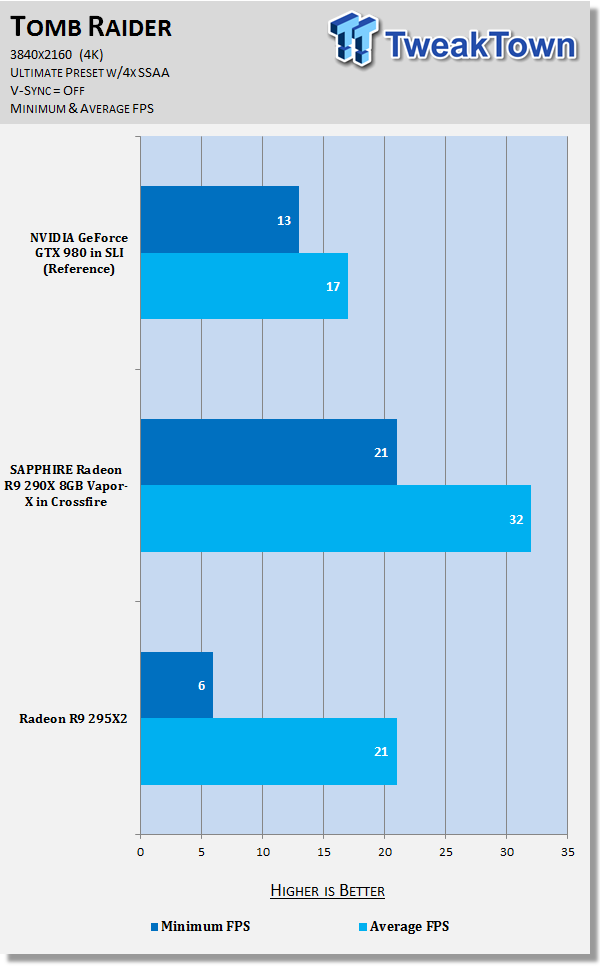 Performance Overview
How do you think it went? Out of all the tests, I thought the 200% supersampling in Battlefield 4, rendering an effective 8K resolution, would've seen the SAPPHIRE Radeon R9 290X 8GB Vapor-X cards far out and ahead of the competition, but they weren't. Tears.
Let's talk about the benchmarks, starting with 3DMark, where the two NVIDIA GeForce GTX 980s in SLI would not even complete the test. We were running it with the 8K setting, so 7680x4320, and it would just crash each and every time. The two Radeon cards were fine, with our two R9 290X 8GB cards absolutely demolishing the R9 295X2 and its 4GB of VRAM. We have a score of 1264 on the R9 290X 8GB cards, while our R9 295X2 managed just 233.
The GTX 980s began fighting their way back starting with Heaven, but still lost pretty badly to the 8GB of VRAM on the Radeon R9 290X cards. We have the GTX 980s with 17FPS versus 30FPS on the R9 290X 8GB cards, while the R9 295X2 scores 27FPS here.
In Battlefield 4, I expected the GTX 980s in SLI to be demolished because of their VRAM, but that wasn't the case. The GTX 980s scored the identical average frame rate that the Radeon R9 290X equipped with 8GB of VRAM did: 23FPS average. The dual-GPU card didn't do so well, with the Radeon R9 295X2 scoring just 11FPS average.
Metro: Last Light is another harsh game when its AA is enabled, with the R9 290Xs with 8GB of VRAM beating both of the other setups.
Middle-earth: Shadow of Mordor is our one game where the SAPPHIRE Radeon R9 290X 8GB Vapor-X cards just completely and utterly dominate. Starting with the NVIDIA GeForce GTX 980s in SLI, which scored just 4FPS minimum while the Radeon R9 290X 8GB cards gave 500% more performance with their 8GB of VRAM, with 22FPS. The Radeon R9 295X2 squeezed past the GTX 980s in SLI, with 6FPS average.
Sniper Elite 3 is another game that surprised me, where the 8GB of VRAM came in handy once again at 4K with 4x supersampling. The GTX 980s in SLI managed 15FPS average, while the R9 290X 8GB cards scored 32FPS, leaving the Radeon R9 295X2 with 27FPS.
Tomb Raider joins that surprise Anthony club, with the GeForce GTX 980s in SLI scoring 17FPS average at 4K with 4x SSAA enabled, while the Radeon R9 290X 8GB cards doubled that, with 32FPS leaving the R9 295X2 with 21FPS, beating out the two GeForce cards.
Final Thoughts
Up until just recently, 4GB of VRAM on the latest video cards has been the best you can get. It was only recently that the consumer side of things started to see cards with 6GB and 8GB of VRAM, with NVIDIA offering the GTX Titan range of cards with 6GB of VRAM, while AMD offer 8GB of cards with their Radeon R9 290X.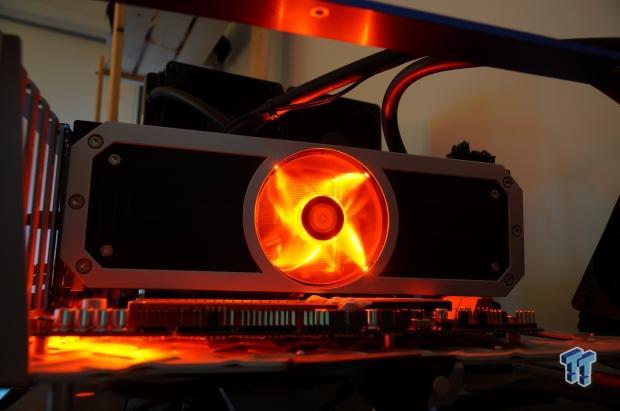 At 4K, you don't need 8GB of VRAM, it's as simple as that. But when you start moving above that and using 8K, or 7680x4320, you really need much more than 4GB of VRAM. 6GB of VRAM would be good, but 8GB of VRAM or more is ideal. During our testing, Battlefield 4 was using around 5.6GB of VRAM, while Shadow of Mordor was pushing 7.9GB of VRAM - filling the entire 8GB of VRAM.
We won't see 8K on the desktop side of things for a little while yet, but it is coming. What we're going to see first, is virtual reality headsets adopting 4K and beyond much quicker. We could see 8K on VR headsets as early as 2016, which isn't that far away. For PC gamers, 8GB of VRAM isn't needed and I would not recommend 8GB of VRAM to many people. There's only $100 or so difference between the Radeon R9 290X with 4GB and 8GB of RAM, so if you're at that point and don't plan on upgrading for quite sometime, then it might pay to grab the 8GB of VRAM.
4GB of VRAM is enough right now for every single game on the market, but there are some new games coming out this year that could push those boundaries. For now, 4GB is enough - you have nothing to worry about. But what we have here is an interesting look into the future of hardware and gaming, where 8GB and beyond is going to be a very big deal.
Last updated: Nov 3, 2020 at 07:12 pm CST
Related Tags