"60MM" content on TweakTown - Page 1
We found 3 items for the tag: 60MM

REVIEWS
The Hateful Eight (2015) Cinema Movie Review
"So what's goin' on? Y'all having a bounty hunters picnic?"

NEWS
Pictured: MSI shows off new SLI bridges
MSI showcases new SLI bridges for NVIDIA 900 series video cards complete with LEDs.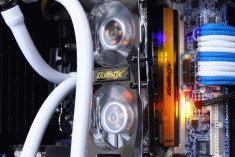 REVIEWS
Crucial Ballistix Active Cooling Fan w/ Memory Overview Display
Crucial brings sleek looking cooling, new temperature reporting memory modules, and an application to fully monitor this new DDR3.