"3D NAND FLASH" content on TweakTown - Page 1
We found 3 items for the tag: 3D NAND FLASH

ARTICLES
Samsung 950 Pro M.2 PCIe Gen 3x4 NVMe SSD RAID 0 Report
RAID is back! What happens when we create a bootable OS disk using the most powerful consumer SSDs ever made? Let's take a close look.

REVIEWS
Samsung 950 Pro M.2 PCIe Gen 3x4 NVMe SSD Review
Samsung's newest SSD, the 950 Pro, is the world's first 3D V-NAND powered NVMe SSD. How does this tiny SSD perform? Let's take a close look.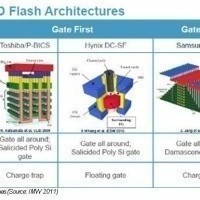 NEWS
NAND flash vendors preparing for a world of 3D NAND chips
Samsung, Toshiba and Micron are all prepping for 3D NAND flash memory.