Introduction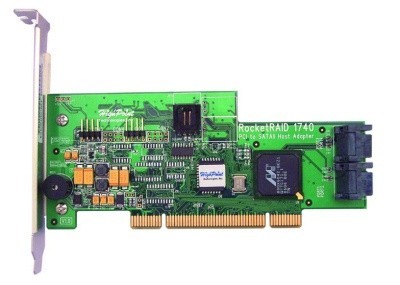 PCI Express has come into our PC industry with huge promises and yes, it has delivered. A single PCI Express x1 lane can deliver double the bandwidth of the PCI bus and it's point to point, no sharing like traditional PCI.
It begs the question - why haven't we seen more PCI Express cards on the market? We simply can't answer that, we can only surmise that PCI is cheaper to produce and more widely accepted. There are guaranteed PCI slots on any motherboard these days and even in older server systems which don't get as upgraded as often as the desktop sector.
Highpoint has sent us their latest RAID controller card for the PCI bus that is guaranteed to work in any PC as long as it has a PCI slot and that is any motherboard from the Intel Pentium 2 era to now.
Introducing the Highpoint 1740 PCI SATA-II controller card, let's see how it performs against PCI Express based controllers.
Package and Contents
The Package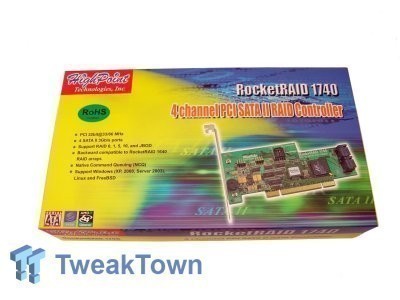 Before we get into the card itself, we want to take a look at the box and what you get for your dollars. The HP 1740 is aimed at the cheaper SATA-II setup for the home or server environment. The box displays the traditional colour scheme that Highpoint makes for its desktop products.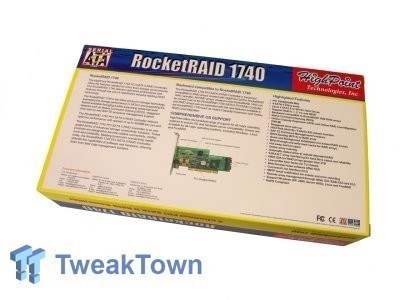 The back of the box displays a picture of the card as well as lists the features the card supports as well as some general info for users of other Highpoint products.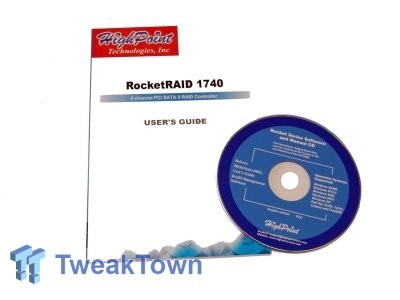 Documentation and software are very simple. There is a single user manual that gives installation instructions, setup instructions and basic info on the card itself. The included CD has drivers for Windows XP, XP64, Windows 2000 and Windows 2003 operating systems. The Windows boot drivers are also included so you can copy them to a floppy disk if you want to use the HP controller for your primary boot controller. On their website, there are also drivers available for Windows Vista (RC2 and above in 32-bit or 64-bit) as well as various versions of Linux and FreeBSD.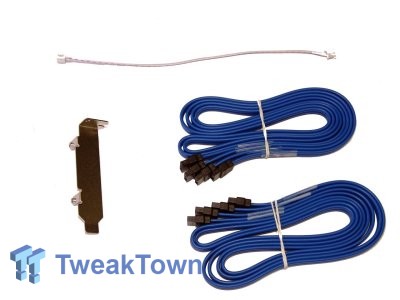 Highpoint includes 4 extremely long SATA data cables. These don't have any of the locking tabs that we enjoy on the latest cables, which is something we would like to see Highpoint fix in the next lot of controllers they supply. A half height PCI bracket is included for use in server systems that don't support full height PCI. Lastly there is the HP link cable that allows you to connect two cards together to expand the RAID array across a couple of controllers.
The Card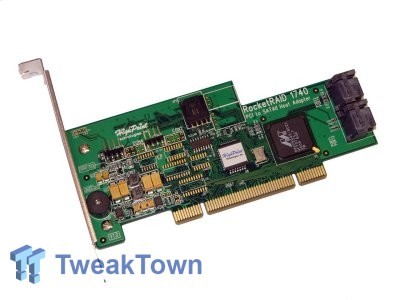 Now it's onto the card itself. Highpoint has used the half height size limit to the extreme by extending the card longer than the PCI slot itself. This is how they are able to keep the card small in height to fit the server environment. On the front of the card are the controller chips, Peizo buzzer speaker, HDD activity and Error LED ports, four SATA II 3Gb/s data ports capable of RAID 0, 1, 5, 10 and JBOD / Native Command Queuing (NCQ) and the HP link port.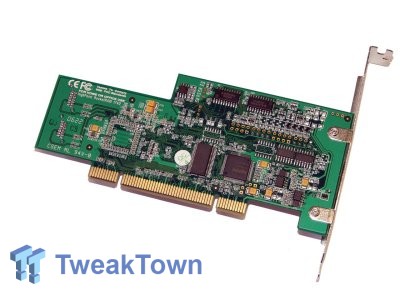 All of the card real estate is used to get the controller chips onboard. The back of the card hosts the IC chips as well as the Highpoint hot swap 601 controller chip to allow the drives to hot swap without any interference to the operating system.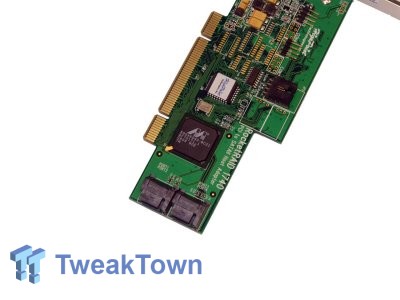 Lastly we have what drives the Highpoint 1740 controller. In the past, Highpoint has made its own controller chips, but we haven't actually seen any Highpoint branded chips since the IDE days, and all of the early SATA controllers with Highpoint controller chips were IDE to SATA bridges. This is true again; Highpoint has turned to Marvell for its PCI based 88SX6042 controller chip. This chip supports all of the features of the SATA 2.5 specs but runs them through the PCI bus rather than PCI Express or PCI-X.
Benchmarks - Test System Setup and PCMark
Test System SetupProcessor
: Intel Core 2 Extreme X6800 (Supplied by
Intel
)
Motherboard
: Gigabyte P965-DQ6 (Supplied by
Gigabyte
)
Memory
: 2x 1GB DDR2-1066 Corsair (Supplied by
Corsair
)
Hard Disk
: 2x 160GB Seagate 7200.9 (Supplied by
Seagate
)
Graphics Card
: nVidia GeForce 7800GT
Cooling
: Gigabyte Neon775 (Supplied by
Gigabyte
)
Power Supply Unit
: Corsair HX620W (Supplied by
Corsair
)
Operating System
: Microsoft Windows XP Professional SP2
Drivers
: Intel INF 8.1.1.1002, nVidia ForceWare 91.31 and DX9c
In this review we will be comparing the PCI based HP 1740 controller against the Intel ICH8R controller on the Gigabyte DQ6 motherboard along with against a couple of onboard Silicon Image controllers all of which are connected to the PCI Express bus.
Will the limited bandwidth of PCI Express affect the performance of the HP 1740 controller? Let's take a look!
PCMarkVersion and / or Patch Used:
1.1.0
Developer Homepage:
http://www.futuremark.com
Product Homepage:
http://www.futuremark.com/products/pcmark04/
Buy It Here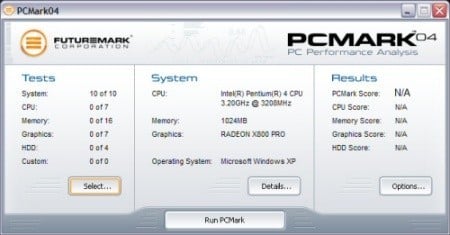 PCMark is a multipurpose benchmark, suited for benchmarking all kinds of PCs, from laptops to workstations, as well as across multiple Windows operating systems. This easy-to-use benchmark makes professional strength benchmarking software available even to novice users. PCMark consists of a series of tests that represent common tasks in home and office programs. PCMark also covers many additional areas outside the scope of other MadOnion.com benchmarks.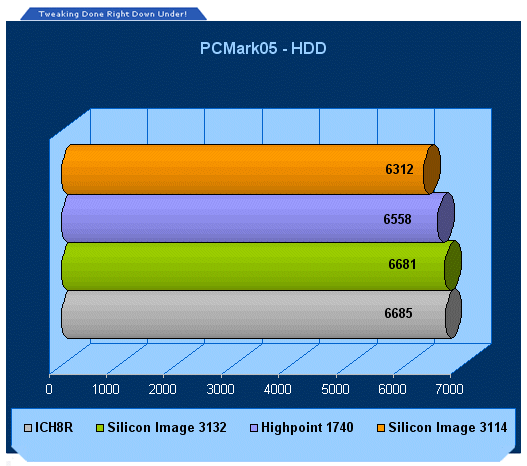 Here we can see that the Highpoint controller does fall slightly behind the PCI Express 3132 and the ICH8R Southbridge setup but with its NCQ and SATA-II support it manages to keep ahead of the 3114 PCI controller.
Benchmarks - HD Tach
HD TachVersion and / or Patch Used:
3.0
Developer Homepage:
http://www.simplisoftware.com
Product Homepage:
http://www.simplisoftware.com/Public/index.php?request=HdTach
Buy It Here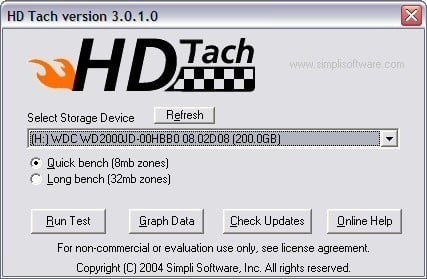 HD Tach has been around for a long time and is excellent when it comes to testing hard drive performance. It is also a very handy program when it comes to testing the controller used on particular motherboards. Tests such as Read, CPU Utilization and Burst are available at a click of the button and give you a good idea of how the hard drive can perform from system to system.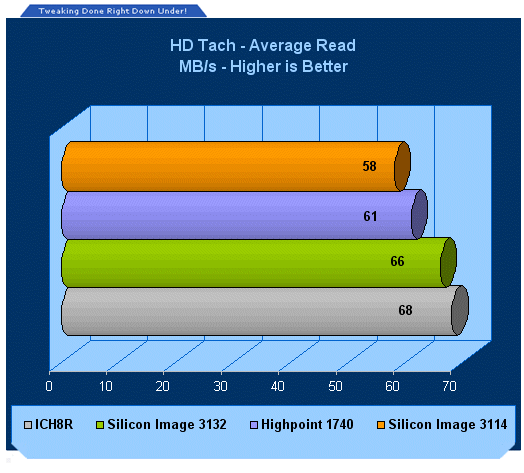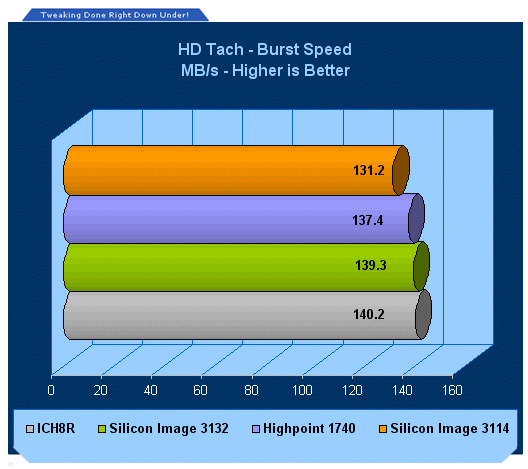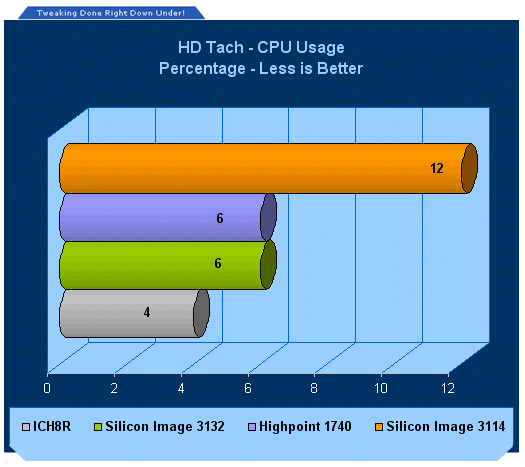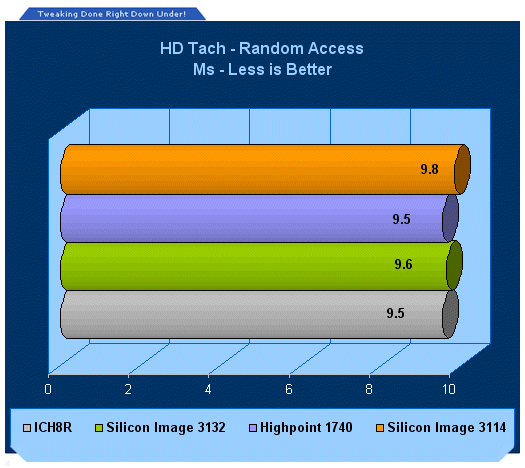 Here we see very little difference between all of the controllers.
Benchmarks - File Copy Test
X-Bit Labs File Copy TestVersion and / or Patch Used:
0.5.3
Developer Homepage:
http://www.xbitlabs.com
Product Homepage:
http://www.xbitlabs.com/articles/storage/display/fc-test.html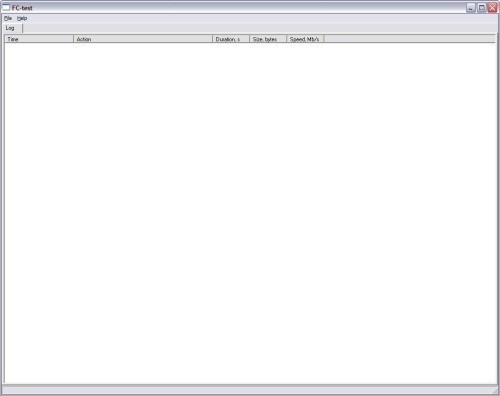 X-Bit Labs File Copy Test is a real world benchmark used to measure the performance of IDE subsystems. In this test, we time how long it takes to copy 2.3GB worth of data (four x 590MB files) onto the same hard disk drive with File Copy Test program optimizations disabled to help provide the most accurate time possible.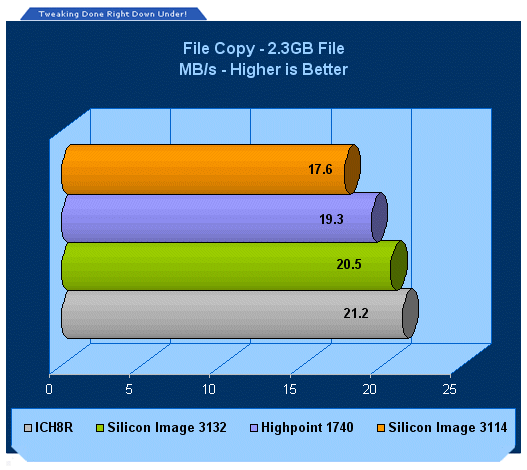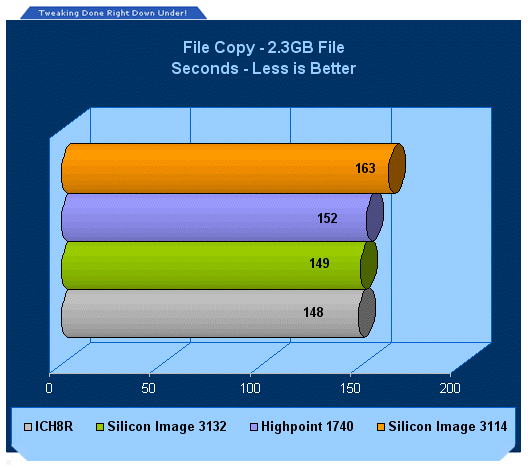 Here is where the strength of the PCI-E and Southbridge setups show how PCI is lacking the amount of bandwidth to keep a RAID setup satisfied in today's market.
Benchmarks - HD Speed
HD SpeedVersion and / or Patch Used:
1.5.22.5
Developer Homepage:
http://www.steelbytes.com
Product Homepage:
http://www.steelbytes.com/?mid=20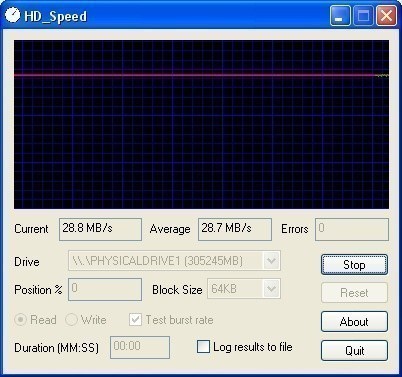 Measures both sustained and burst data transfer rates of your hard disks, cd/dvd-roms and floppy.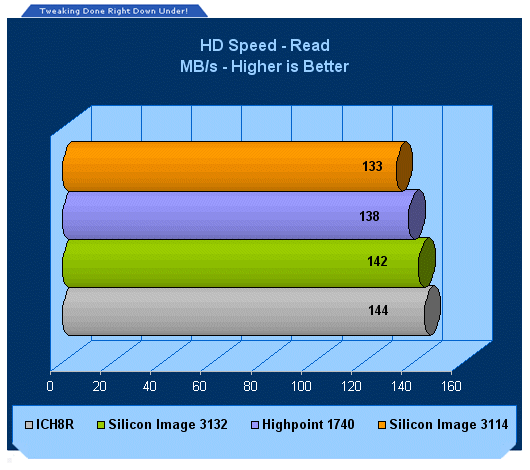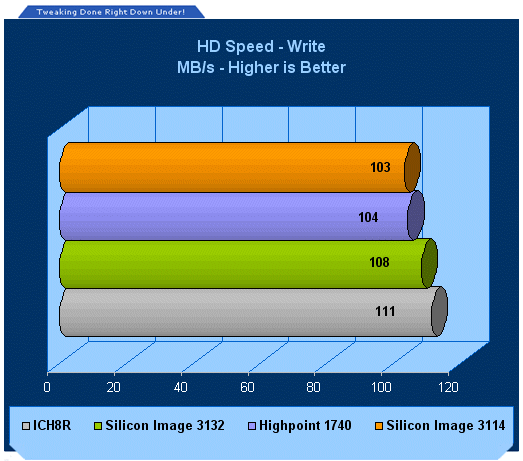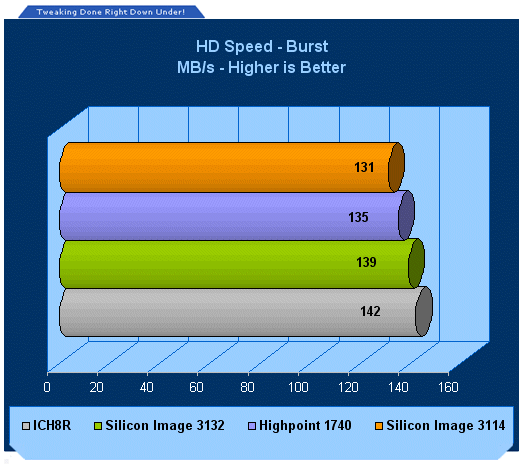 Again we see the PCI bus not able to keep up with PCI-E or integrated Southbridge.
Benchmarks - Game Loading Times
Game Level Load Times
Here we manually time (with a stop watch) game level loading times.
We loaded our test maps in Doom 3 and Quake 4. We did the tests over three attempts on each and used the average time to give a fair example. Due to the human factor, there is a slight reaction time delay because nobody is able to hit the button on the exact millisecond, however, all were right on the point of full load in each map.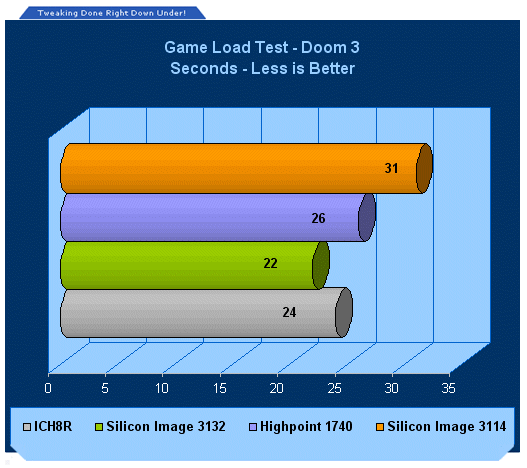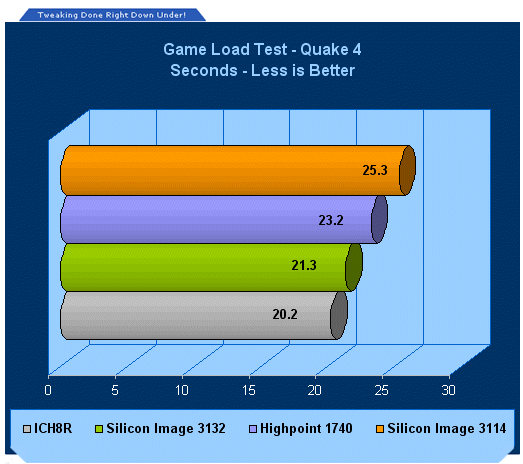 When it comes to games, the HP 1740 controller manages to do quite well only being a little slower than the Intel ICH8R onboard controller.
Final Thoughts
While PCI Express is the future, it's still nice to see Highpoint adding entry level storage solutions on the PCI bus for those who have older systems without PCI Express slots, which there are quite a few servers and gamers out there, with such configuration.
RAID is now common place, and it takes a lot to stand out in the crowd. Highpoint's PCI controller does a good job and while it won't offer any performance records especially in a RAID array due to the limited bandwidth of PCI, it's the first PCI based solution we have seen to offer SATA 2.5 compliance, which gives you NCQ and 3Gbps transfer rates.
Overall if you are looking for a cheap and effective controller, this is definitely one for you.
- Pros
Supports older PCI based systems
SATA 2.5 specs support
Native Command Queuing (NCQ)
Supports RAID 0, 1, 5, 10 and JBOD
Affordable price
Allows for spanning across two cards
Drivers for a lot of operating systems (even Vista)
- Cons
SATA 1 cables rather than SATA-II
- Latest Pricing
Rating - 8.5 out of 10