AMD AM2 Digital Home - ASUS M2NPV-VM Motherboard
Today we look at the ASUS M2NPV-VM motherboard that is designed for Socket AM2 processors and with Media Center in mind.
Published Sat, Oct 14 2006 11:00 PM CDT
|
Updated Tue, Nov 3 2020 7:04 PM CST
Rating:

80%
Manufacturer: ASUS
Introduction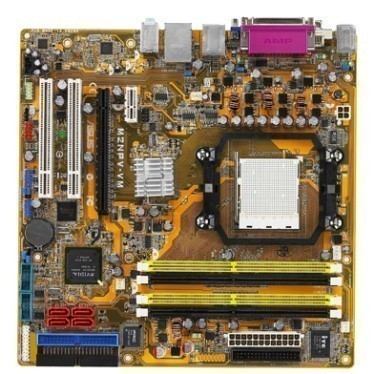 The Digital Home experiment has been going on for quite some time now, even Intel tried this with its Pentium D line. While Digital Home is a great idea, it simply wasn't feasible with processors of the day. Intel's Pentium D line simply consumed too much power and produced far too much heat to even be in the running for a Media Center PC and AMD's K8 needed a better chipset than what was on the market. Given AMD does use a lot less power than that of the Pentium D, it still chews up too much power to really sit in a 24/7 PC.
Times have changed. Core Architecture from Intel now gives the ViiV platform the option for the Digital Home, with Core Duo the biggest plus for the HTPC - a notebook grade CPU running on desktop components gives it a real thumbs up. AMD isn't that far behind with its Athlon 64 Energy Efficient ranges which operate at lower core voltages and output less heat than the standard range.
Today we are looking at a motherboard from ASUS which is designed to take on the Digital Home on the K8 front on the AMD Live! platform. Paired with nVidia's GeForce 6150 chipset, this baby is a feature packed setup. How will it perform compared to our Foxconn motherboard based on the same architecture?
Let's have a look!
Specifications
Specifications of the M2NPV-VMCPU
Supports AMD Athlon 64 FX AM2 Series
Supports AMD Athlon 64 X2 AM2 Series
Supports AMD Athlon 64 AM2 Series
Supports AMD Sempron AM2 Series
Chipset
NVIDIA Geforce 6150
Geforce 6150 Northbridge
nVidia 430 MCP
HT @ 1600MHz
System Memory
4 DDR2 SDRAM 240pin DIMM Sockets
Supports DDR2-400/533/667/600
64/128Bit Dual Channel
Supports up to 4GB Total Memory (4x 1GB)
Bus Frequency
200MHz Internal
2000MHz External
Hyper Transport
Expansion Slots
1 PCI Express x16
1 PCI Express x1
2 PCI
Connectivity
2 Parallel ATA port supporting 4 IDE Drives
4 Serial ATA ports
1 Gigabit Ethernet Port
Expansion Ports
1 PS2 Keyboard Port
1 PS2 Mouse Port
8 USB 2.0 Ports (4 rear accessible, 4 via expansion bracket)
1 DVI-I Output
1 CRT Output
3 Stereo Audio Ports
Package and Contents
Inside the Box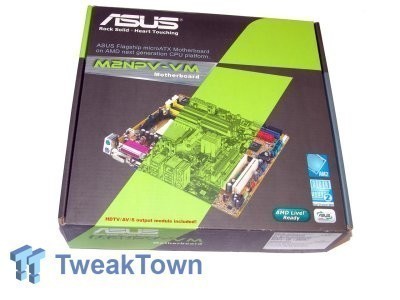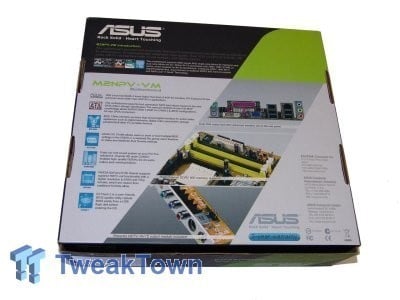 ASUS has designed a new series of boxes for its Value/HTPC line. This is a new breed from ASUS supporting AMD Live! as well as being RoHS (or part of the new "Green" manufacturing process). On the front is very little info on the board apart from the model number.
The back gives a bit more info on the boards features as well as a drawing of the board itself - it's nice to be able to see what you're getting before you buy it.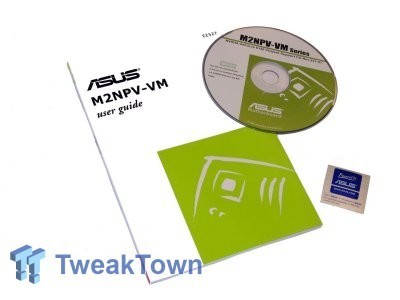 Documentation and software are pretty simple from ASUS this time around. The M2NPV-VM is set for the Digital Home and the value sector, so cutting down on costs is a must. There is your standard user manual with quite a bit of helpful info inside. Software wise you get a single CD with drivers for XP, XP MCE and XP64.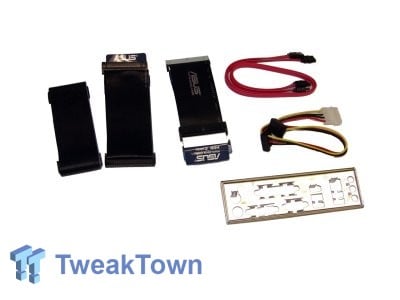 The ASUS cable bundle for the boards IDE/SATA setup is quite nice. While the board does support extra SATA ports, you only get 2 SATA DATA cables and 1 SATA power splitter supporting 2 drives. A single FDD and 2 HDD ribbon cable set are also included. The I/O shield is a new design also as this board differs from ASUS's normal layouts.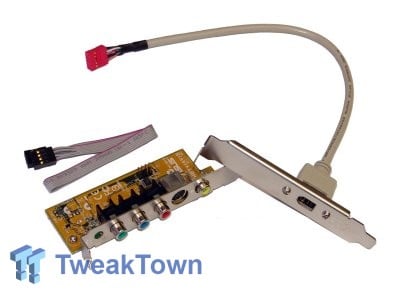 To the expansion bundle and for a budget board, ASUS has done pretty well here. First off what we really liked was the inclusion of this TV out expansion board. This baby has S-Video Out, RCA out and Component out ports and once connected with a ribbon cable to the boards TV out header, you can hook it up to any TV out there.
A single PCI Rider bracket cover with a Firewire port makes up the last of the additional expansion features and in all we are quite happy with this setup.
The Motherboard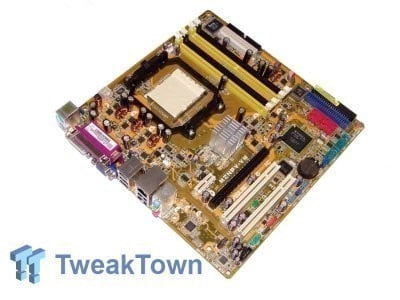 Now it's onto the board itself and just by looking at it, we can see that ASUS has put more work than usual into its Digital Home series of boards than what you would expect for something on the budget side of thing.
The board itself is a Micro ATX board measuring 24.5 x 24.5cm, a standard size for this form factor, this board will fit into any case supporting the Micro ATX format.
ASUS has also done a fantastic job on placing the connectors. The 24-pin power connector and FDD connector located behind the 4 DIMM sockets on the right hand side of the board mid section. The 4-pin CPU power is located behind the PS/2 ports at the top right of the board, another good place that's for sure. The 2 IDE and 4 SATA ports are located at the bottom right of the board. On the Micro ATX layout is this is the best spot for them to keep them out of the way of the internal components.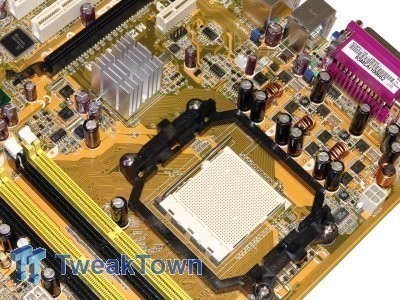 The area around the CPU is quite clean and should pose no problems for non-stock cooling; however, your case size will make the determination if you can fit a larger cooler in or not. The CPU gets its power from a 3 phase voltage regulation system. AMD's K8 draws much less than some of the Intel offerings (though Core 2 now equals AMD's setup) so 3 phase is enough - 4 or more is better for overclocking but we aren't expecting much from clock speeds when it comes to this board considering that is designed to be a Media Center PC.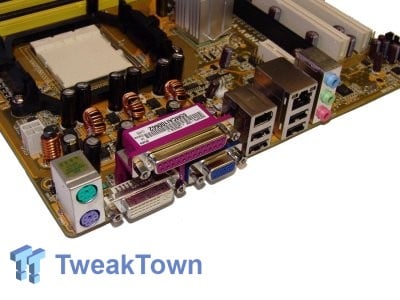 The rear expansion ports are different from the usual ASUS layout. First off there are no e.SATA ports and that we are kind of disappointed about, as the Digital Home will benefit from e.SATA enclosures for external storage of movies. You will also notice there is no Serial port or Parallel port. They have been removed to make way for the 15-pin CRT port and the DVI-I port. Since the board uses the GeForce 6150 Northbridge you can use the onboard graphics for basic video setup and dual monitor support. For the HTPC, this will be more than enough to power the system and as we have mentioned, there is a stack of visual output methods and the only connector missing from the group is HDMI.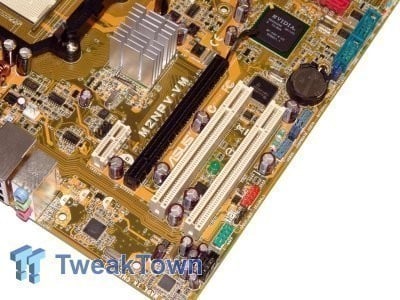 To the expansion slots now and ASUS has a good arrangement for the DH setup. A Single PCI Express x16 slot is used if you want to go discrete graphics or if you want to use both the onboard and a separate graphics card you can to use up to 4 monitors - a very helpful feature indeed. A single PCI Express x1 and 2 PCI slots make up your expansion possibilities.
For additional controllers there is a single Texas Instruments PCI Firewire controller chip to give you 2 Firewire ports, one of the rear I/O ports and 1 for the PCI Riser bracket. If your case has Front Firewire port you can leave the PCI riser bracket in the box and wire the extra port to the front panel.
BIOS and Overclocking
Now it's into the BIOS section of the ASUS M2NPV-VM. Being a budget board, we aren't expecting too much in the way of overclocking options.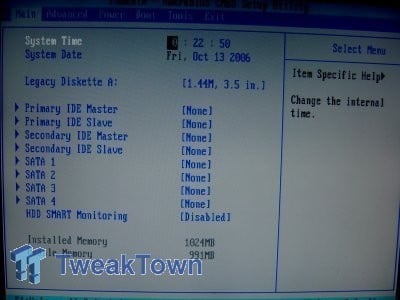 ASUS uses its traditional Award BIOS using the same menu system that Intel uses for its motherboards. This menu system was first used by ASUS back when the Pentium 3 Slot 1 was the king CPU. While it did fall back to the original blue menu a couple of times, this is now the BIOS setup that defines ASUS. We upgraded our BIOS to 0405 from the Beta BIOS that board was shipped with. Like all of the ASUS boards to get to the overclocking features, you need to access the Jumperfree sub-menu under the Advanced tab.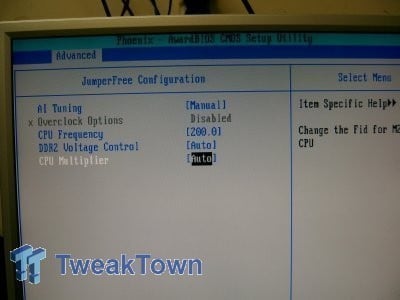 When in the Jumperfree section you see how few overclocking options we have. There are only three major ones - FSB, DRAM voltage and CPU multiplier. Your FSB range goes from 200MHz to 400MHz in 1MHz increment, DRAM voltage goes from default to 1.9v only and CPU multiplier, well that's explanatory.
With all these settings we only managed a 213MHz FSB clock. This was likely because there are no voltage changes for the CPU, HT links or any multiplier adjustments for the HT link, causing instabilities above 213MHz FSB. It goes without saying, the ASUS M2NPV-VM motherboard will not land you any new world record overclocking results but at the same time it was designed to sit next your TV and not be running 3DMark.
Important Editor Note: Our maximum overclocking result is the best result we managed in our limited time testing the motherboard. Due to time constraints we don't have enough time to tweak the motherboard to the maximum and find the highest possible FSB as this could take days to properly find.

We do however spend at least a few hours overclocking every motherboard to try and find the highest possible overclock in that time frame. You may or may not be able to overclock higher if you spend more time tweaking or as new BIOS updates are released or "burn in" time might come into play if you believe in that.
Benchmarks - Test System Setup and Sandra
Test System SetupProcessor
: AMD Athlon 64 X2 3800+ (Socket AM2)
Memory
: 2x 1GB DDR2-1066 Corsair (Supplied by
Corsair
)
Hard Disk
: 500GB Seagate 7200.9 (Supplied by
Seagate
)
Graphics Card
: nVidia GeForce 7800GT
Cooling
: Gigabyte NeonK8 (Supplied by
Gigabyte
)
Operating System
: Microsoft Windows XP SP2
Drivers
: nVidia nForce Platform Driver 8.26, nVidia ForceWare 91.31 and DX9c
Today we are pitting the ASUS M2NVP-VM motherboard against our other Digital Home contender, the Foxconn 6150K8MD motherboard which we found to be quite a good HTPC contender when we first tested it.
We are doing all of benchmarks at stock speeds as both these motherboards don't like overclocking and if you're looking at buying either of these boards, you'll more than likely be using them as a Media Center PC and not for gaming or setting a new 3DMark world record.
Let's move onto our testing and see how each performs. We'll run every test with discrete graphics (GeForce 7800GT) and with the onboard nVidia graphics.
SiSoft SandraVersion and / or Patch Used:
2007
Developer Homepage:
http://www.sisoftware.co.uk
Product Homepage:
http://sisoftware.jaggedonline.com/index.php?location=home&a=TTA&lang=en
Buy It Here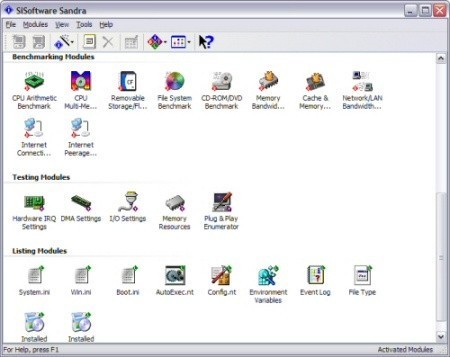 SiSoft Sandra (
S
ystem
AN
alyser,
D
iagnostic and
R
eporting
A
ssistant) is a synthetic Windows benchmark that features different tests used to evaluate different PC subsystems.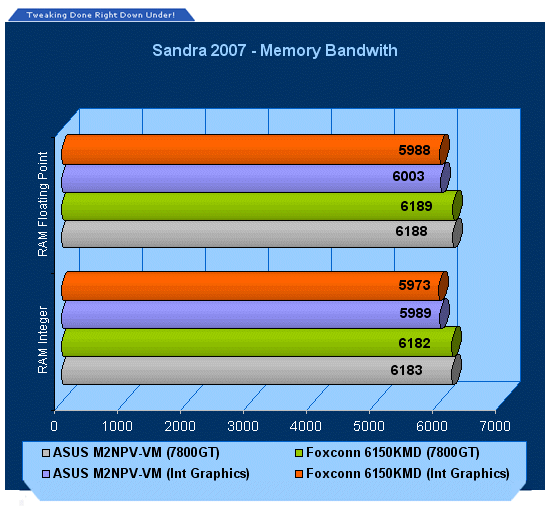 Memory performance when the onboard graphics system is enabled drops a bit since some of the actual memory and the bandwidth are being hogged by the GeForce Northbridge. However, it isn't a big a drop as when Intel graphics systems are enabled on GMCH based systems - way to go nVidia.
Benchmarks - PCMark
PCMarkVersion and / or Patch Used:
1.1.0
Developer Homepage:
http://www.futuremark.com
Product Homepage:
http://www.futuremark.com/products/pcmark04/
Buy It Here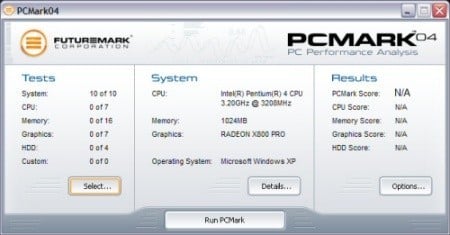 PCMark is a multipurpose benchmark, suited for benchmarking all kinds of PCs, from laptops to workstations, as well as across multiple Windows operating systems. This easy-to-use benchmark makes professional strength benchmarking software available even to novice users. PCMark consists of a series of tests that represent common tasks in home and office programs. PCMark also covers many additional areas outside the scope of other MadOnion.com benchmarks.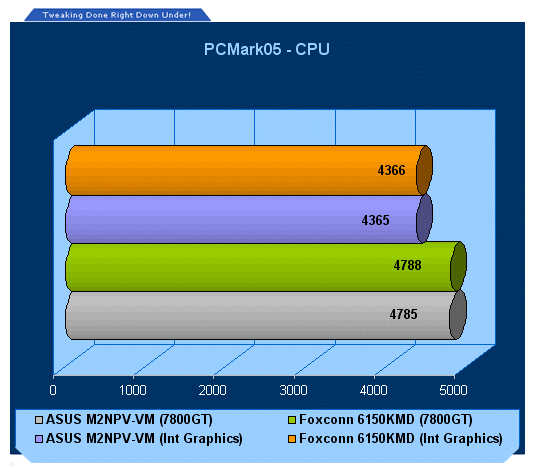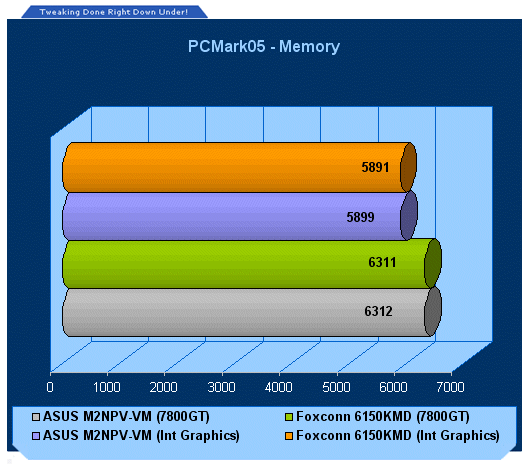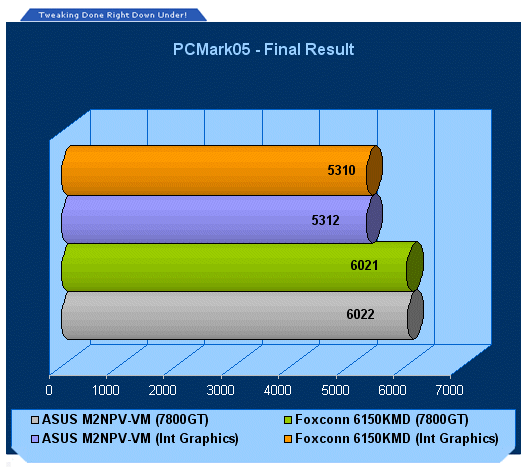 With the onboard graphics enabled both the CPU and memory take a dive in performance, ASUS does manage to stay just in front though.
Benchmarks - 3DMark05
3DMark05Version and / or Patch Used:
Build 120
Developer Homepage:
http://www.futuremark.com
Product Homepage:
http://www.futuremark.com/products/3dmark05/
Buy It Here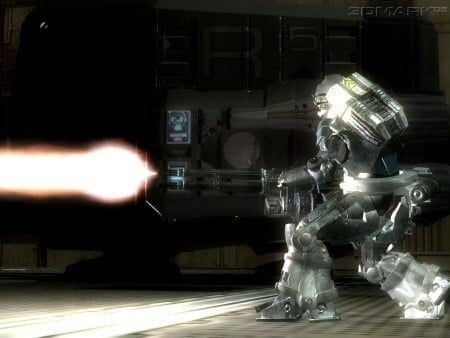 3DMark05 is now the second latest version in the popular 3DMark "Gamers Benchmark" series. It includes a complete set of DX9 benchmarks which tests Shader Model 2.0 and above.
For more information on the 3DMark05 benchmark, we recommend you read our preview
here
.
It is totally clear that the onboard graphics is not going to be a gamers delight - however, when running Windows and playing DVD's this surely will be more than enough power with the onboard, if you prefer a bit more spice, you can see the discrete graphics system works great.
The good news is that the GeForce 6150 Northbridge supports DX9 with Shader Model 3.0 and that means that you'll be able to use the onboard graphics of the ASUS M2NPV-VM to run the fancy Windows Vista Aero interface.
Benchmarks - 3DMark06
3DMark06Version and / or Patch Used:
Build 102
Developer Homepage:
http://www.futuremark.com
Product Homepage:
http://www.futuremark.com/products/3dmark06/
Buy It Here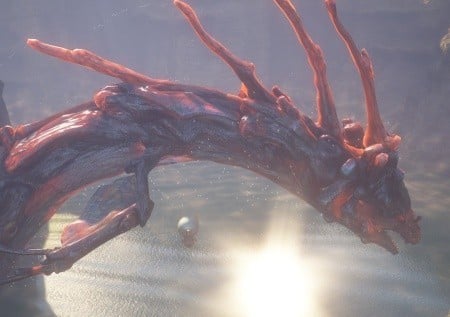 3DMark06 is the very latest version of the "Gamers Benchmark" from FutureMark. The newest version of 3DMark expands on the tests in 3DMark05 by adding graphical effects using Shader Model 3.0 and HDR (High Dynamic Range lighting) which will push even the best DX9 graphics cards to the extremes.
3DMark06 also focuses on not just the GPU but the CPU using the AGEIA PhysX software physics library to effectively test single and Dual Core processors.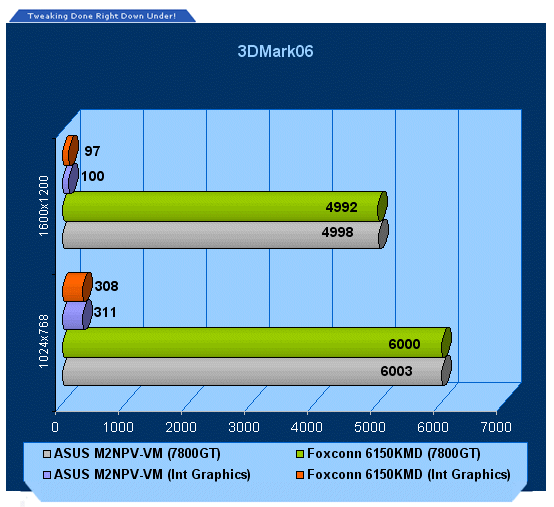 With more stress on the system, the integrated graphics really doesn't perform well for gaming purposes.
Benchmarks - Doom 3
Doom 3Version and / or Patch Used:
1.1
Timedemo or Level Used:
Custom Timedemo
Developer Homepage:
http://www.idsoftware.com
Product Homepage:
http://www.doom3.com
Buy It Here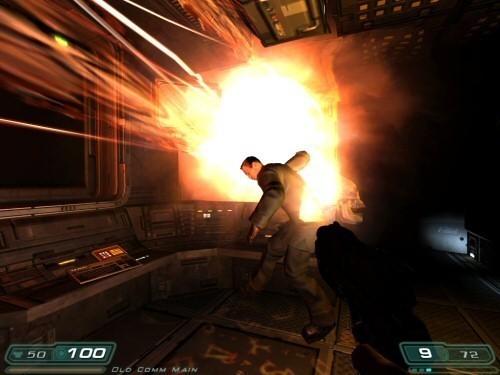 Doom 3 is still one of the most popular games at the moment and is quite intensive in the 3D department, even though it is starting to age. With our own custom time demo we are able to give a realistic rating on what kind of FPS you will be achieving.
For more information on benchmarking Doom 3 we recommend you check out our extensive article regarding it
here
.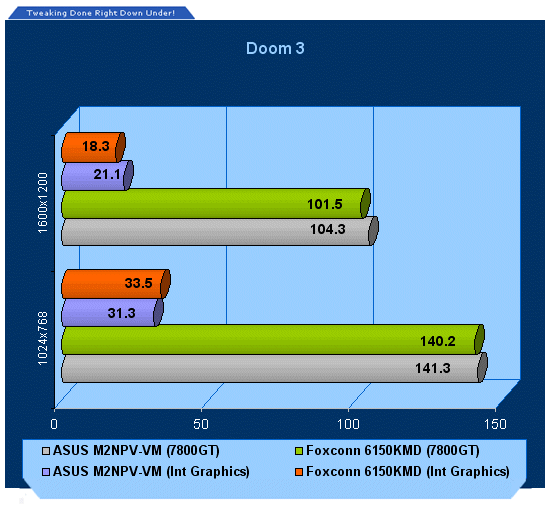 At the lower settings Doom 3 is barely playable on the integrated graphics, when going higher you are just asking for trouble.
Benchmarks - Quake 4
Quake 4Version and / or Patch Used:
Unpatched
Timedemo or Level Used:
Custom Timedemo
Developer Homepage:
http://www.idsoftware.com
Product Homepage:
http://www.quake4game.com
Buy It Here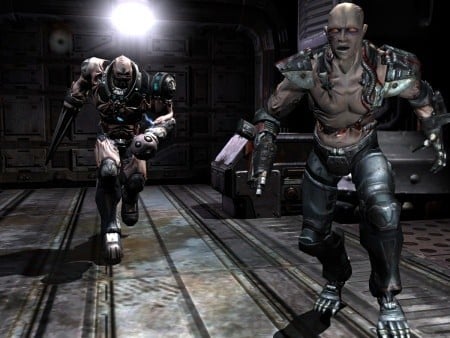 Quake 4 is one of the latest new games to be added to our benchmark suite. It is based off the popular Doom 3 engine and as a result uses many of the features seen in Doom. However, Quake 4 graphics are more intensive than Doom 3 and should put more strain on different parts of the system.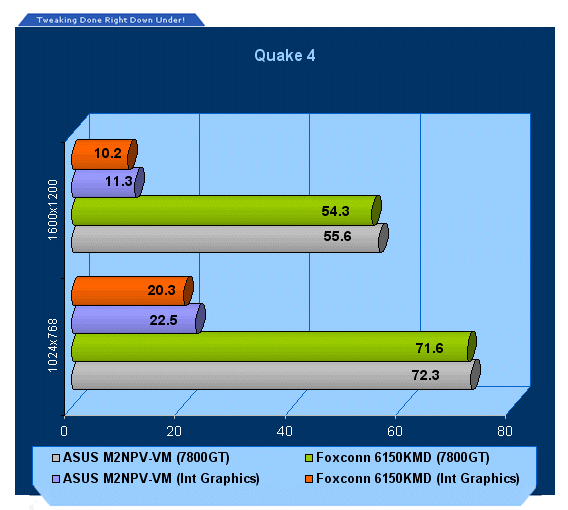 Even at the low settings here Quake 4 on the integrated GeForce 6150 is not what we would even consider playable.
Benchmarks - F.E.A.R.
F.E.A.R.Version and / or Patch Used:
Unpatched
Timedemo or Level Used:
Built-in Test
Developer Homepage:
http://www.vugames.com
Product Homepage:
http://www.whatisfear.com/us/
Buy It Here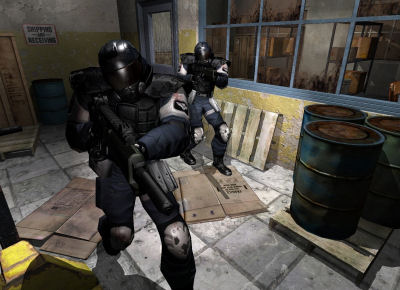 F.E.A.R. (First Encounter Assault Recon) is an intense combat experience with rich atmosphere and a deeply intense paranormal storyline presented entirely in first person. Be the hero in your own spine-tingling epic of action, tension, and terror...and discover the true meaning of F.E.A.R.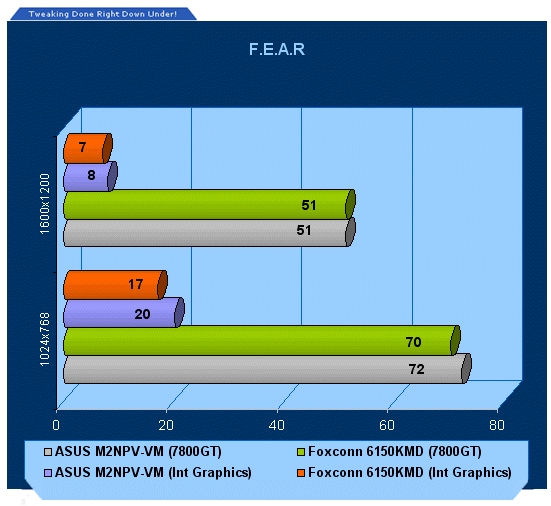 All we can say here is that integrated graphics + F.E.A.R. = no way!
Benchmarks - Far Cry
Far CryVersion and / or Patch Used:
1.3
Timedemo or Level Used:
Benchemall Demo
Developer Homepage:
http://www.crytek.com
Product Homepage:
http://www.farcrygame.com
Buy It Here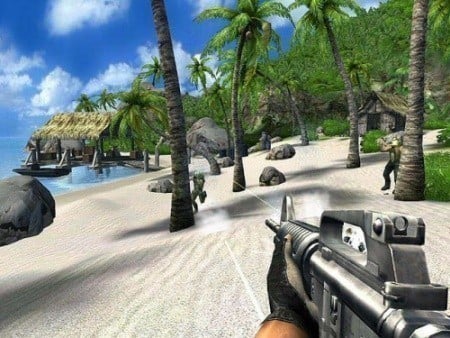 While Far Cry is now one of our older benchmarking games, it is still able to put pressure on most computers systems. Utilizing PS2.0 technology with the latest versions supporting Shader Model 3.0 with DX9c and offering an exceptional visual experience, there is no denying that even some of the faster graphics cards get a bit of a workout.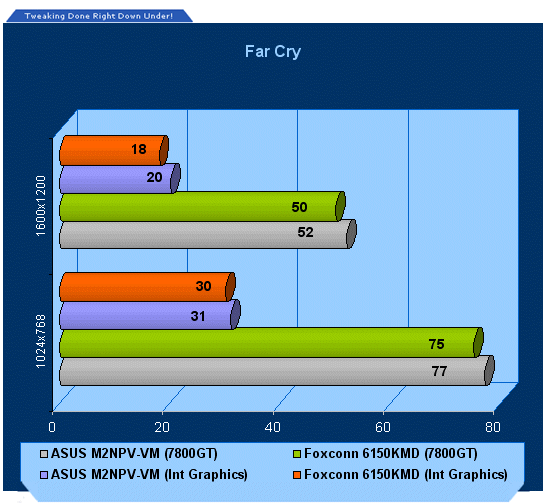 At the lower settings, you can just get away with playing Far Cry on the integrated graphics.
Final Thoughts
The ASUS M2NPV-VM satisfied all our basic requirements for a solid Digital Home/HTPC based motherboard.
The big plus for us was the inclusion of the DVI-I and the CRT port so even without having a separate graphics card, you have the ability to run dual monitors or hook the computer up to a HDTV through the DVI port. The thing missing, which would have made the board perfect, is a HDMI port. Sure, more and more graphics cards are now being released with a HDMI port but it would have been nice to see one included on the board itself.
The inclusion of the TV out module supporting S-Video, Composite as well as component video modes also was a sweet deal - if your TV doesn't have a DVI port, it is sure to have one of the three TV standards on it.
Added to this is the fact that the GeForce 6150's onboard graphics controller can be enabled at the same time a PCI Express graphics card is installed to give multiple monitor support. This is really a nice addition as some large TV's coming out have the need to run two DVI ports to get the screen image up and working nicely. Added to this, GeForce 6150 supports DirectX 9 with Shader Model 3.0 which means it will work just fine with the fancy Aero interface in the upcoming Windows Vista OS.
While overclocking was extremely limited and the onboard graphics system isn't going to break any records for gaming, we did find that running DVD's and DIVX movies off it were smooth and resulted in no lag for the PC. The board lacks any method of digital audio output and it would have been much nicer to see digital optical output but that's lacking unless you want to buy a third-party sound card.
Our overall impression is a good one and we hope to see more Digital Home boards surface taking advantage of not only AMD but Intel Core architecture soon.
- Pros
Integrated graphics cuts down on costs
Supports Aero interface in Windows Vista
Passive cooling for quiet operation
Ability to use both onboard and external graphics at same time
Plenty of options for visual output
Great price
4 SATA ports with RAID
Firewire
- Cons
Lacks digital audio output
Extremely limited overclocking
No HDMI port
- Latest Pricing
Rating - 8 out of 10
PRICING: You can find products similar to this one for sale below.

United States: Find other tech and computer products like this over at Amazon.com

United Kingdom: Find other tech and computer products like this over at Amazon.co.uk

Australia: Find other tech and computer products like this over at Amazon.com.au

Canada: Find other tech and computer products like this over at Amazon.ca

Deutschland: Finde andere Technik- und Computerprodukte wie dieses auf Amazon.de
We openly invite the companies who provide us with review samples / who are mentioned or discussed to express their opinion. If any company representative wishes to respond, we will publish the response here. Please contact us if you wish to respond.