ASUS Crosshair Republic of Gamers Socket AM2 Motherboard
ASUS sent us their spunky new Crosshair AM2 motherboard - it comes packed with features for overclockers and gamers.
Published Wed, Sep 20 2006 11:00 PM CDT
|
Updated Tue, Nov 3 2020 7:04 PM CST
Rating:

90%
Manufacturer: ASUS
Introduction
ASUS has been amongst the forefront of PC technology since the Pentium 3 Slot 1 days - in fact, ASUS is by far the most tried motherboard manufacturer out there for consumers. There have been exceptional products from this company and there have been some shockers, but through it all, ASUS has lived and learned what makes for a good IT company, and has stood the test of time.
Now with the ASUS and Gigabyte co-operative, we are bound to see even more come from ASUS in an attempt to take out the high road not only from its partner Gigabyte but to stay on top of the IT market.
ASUS today have provided us with a new motherboard designed to be the ultimate gamer's motherboard for the AM2 platform; it is part of the new "Republic of Gamers" series from the Taiwan company. Designed with hardcore gamers and overclockers in mind, this board looks more like an amusement park than a board with tubes, pipes and lovely colours.
Today we test out the ASUS Crosshair motherboard based on the nForce 590SLI chipset from nVidia. How will it compare to our DFI 590SLI board? Let's have a look and see what it has to offer for the gamer, it' target buyer.
Specifications
Specifications of the ASUS CrosshairCPU
Supports AMD Athlon FX AM2 Series
Supports AMD Athlon 64 X2 AM2 Series
Supports AMD Athlon 64 AM2 Series
Supports AMD Sempron AM2 Series
Chipset
nVidia nForce 590SLI
nForce 590SLI SPP
nForce 590SLI MCP
Hyper Transport @ 2000MHz
System Memory
4 DDR2 SDRAM 240pin DIMM Sockets
Supports DDR2-400/533/667/800MHz
64/128Bit Dual Channel
Supports up to 8GB Total Memory (4x 2GB)
Bus Frequency
200MHz Internal
1600MHz/2000MHz External
Hyper Transport Interconnect
Expansion Slots
2 PCI Express x16
1 PCI Express x4
3 PCI
Connectivity
1 Parallel ATA port supporting 2 IDE Drives
6 Serial ATA ports
2 e.SATA Ports
2 Gigabit Ethernet Port
Expansion Ports
1 PS2 Keyboard Port
1 PS2 Mouse Port
10 USB 2.0 Ports (4 rear accessible, 6 via expansion bracket)
6 Stereo Audio Ports
2 RJ45 LAN Ports
1 SPDIF RCA Port
1 SPDIF Toslink Port
2 e.SATA Ports
2 Firewire Port (1 rear accessible, 1 via expansion bracket)
Package and Contents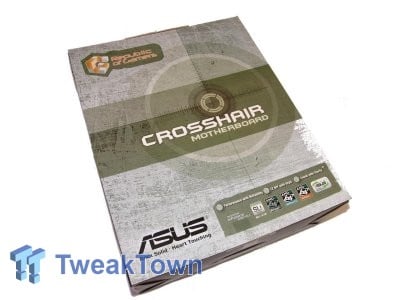 Into the extras we delve first. ASUS has gone with a totally different board to its other boards it ships on the market. Its style is like an army camouflage theme. On the front there is little info but the back gives a full feature list of what the board supports. You can open the front flap to get a view of the board itself, that's when you know just what you are getting.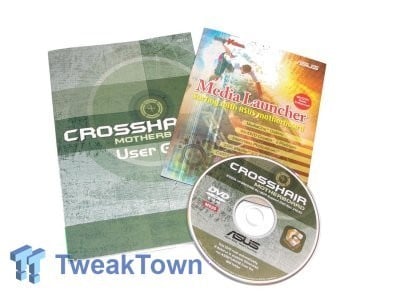 In terms of software and documentation, ASUS provides a good bundle, enough to get you started and beyond. First is the user manual. This baby has quite a lot of info on the board, features and setup procedures; ASUS always provides a good manual. Software side of things there is a single driver CD with all the drivers for Windows XP and XP64. There is an Intervideo bundle that ASUS is packaging with all its top of the line boards which comes with WinDVD and WinPVR. If that wasn't enough, you also get a copy of 3DMark06 Advanced Edition along with some anti-virus software.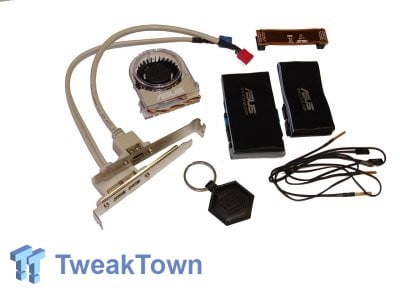 The cables that are provided in the first bundle are a single IDE cable and a single FDD cable, 1 Firewire port and 2 USB ports. There are also 3 thermal probes provided so you can monitor certain other areas of the system like the VGA, HDD and chipset. A flexible SLI bridge connector is provided for use with SLI graphics cards.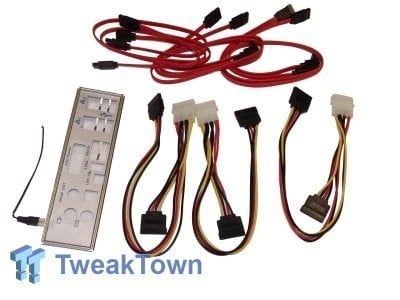 There are 6 SATA cables provided for the onboard SATA controller, 3 SATA power adapters with 2 SATA drivers per adapter (total of 6 SATA power) and lastly is the I/O shield for the rear of the case, since ASUS uses different port configurations on each of their boards.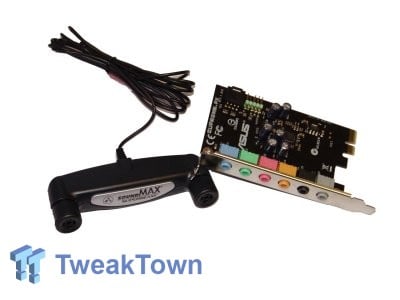 Lastly we come to the audio extra. ASUS ran out of room on the board to add the audio ports. To this end, a special daughter board is used with the HD Audio codec onboard with 6 Stereo audio ports, the front audio connector header and the analogue CD-IN port. This plugs into a PCI Express x1 like port above the first PCI Express x16 port on the board. A SoundMAX Microphone system is provided as an additional extra for your system.
The Motherboard
The Motherboard - Layout and Features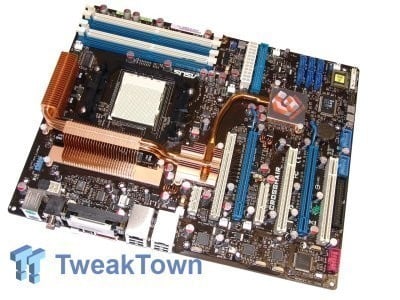 Now we get on to the nitty gritty part we all love, the board itself.
ASUS uses its black PCB with a full-sized 30x30cm ATX layout. You can see why we call it an amusement park - with a lot of pipes and stacks, it looks like a rollercoaster ride. While ASUS has done a good job in the past with cleanliness of layout, there are a few slips here. The 24-pin power connector is located below the single IDE connector. These are on a vertical access to the expansion slots. Requiring a bit more space, this also proses a problem when putting in 7950GX2 cards which take a lot of space up, will it press against the power plug? The 4/8pin EPS12V connector is located between the I/O ports and the CPU socket, a routing nightmare this can be if you have thick cables.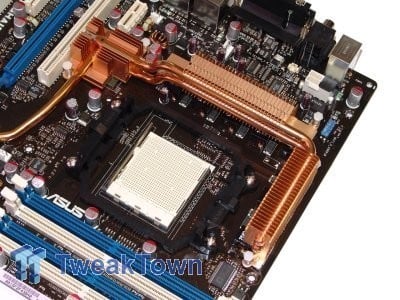 The CPU is surrounded by a heatpipe/heatsink assembly that cools not only the Mosfets, but routes heatpipes to the SPP and MCP to take the heat away from these components. The heatsinks use the air from the CPU heatsinks that is exhausted to cool the sinks themselves. A 6 phase power regulation system is used to provide power to the CPU, a very stable setup. The 4 DDR2 DIMM sockets reside just beside the CPU to reduce the mount of trace wires leading from the CPU's on die memory controller to the DIMM's themselves - Bank 1 is colour coded blue, bank 2 is white.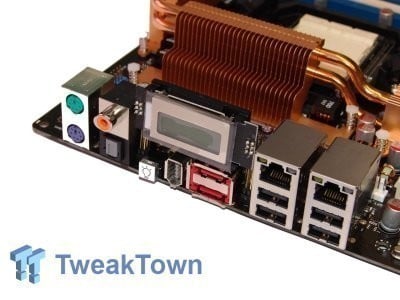 Now we get to the rear I/O which is where ASUS has done a rather unique setup. The main features of this board are the LCD Poster. This LCD screen displays post codes of the board if your board shuts down abruptly or refuses to power on. This allows you to see the POST code without having to open the system. You will also note a small switch near the Firewire port. This illuminates the onboard blue LED's. This is so you can install components on the board without the aid of a flashlight or simply to add the bling factor to your board. For the LED's to work you need to have the PSU connected to give the LED's power, it draws its voltage from the 5vSB rail. This is also the first board from ASUS to add s couple e.SATA ports provided by a Silicon Image 3132 controller chip.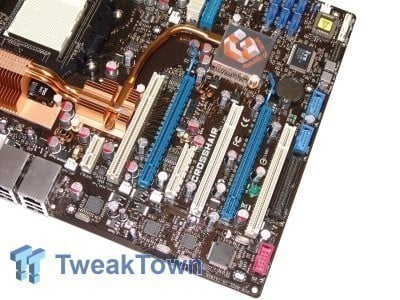 Lastly onto the expansion slots, and again ASUS does it unique, at the top of the board near the I/O ports is a small audio riser port. This is used to connect the Audio module card we showed you earlier. Below that is one of the three PCI slots the board supports. Then we get to the first of the PCI Express x16 slots that the board supports. Below is a PCI Express x4 universal slot. There is no back on the PCI-E x4 slot, so you can place cards of larger size into this slot, however, they will only run in x4 mode. Below that is the second of 3 PCI slots, after that the second PCI Express x16 slot for SLI graphics (and yes this board supports Quad SLI with two GeForce 7950GX2's) and last but not least is the third PCI slot.
In the way of additional features not supported by the onboard chipset is a Realtek Firewire controller chip and a Silicon Image 3132 PCI-E SATA chip to run the two e.SATA ports.
BIOS and Overclocking
BIOS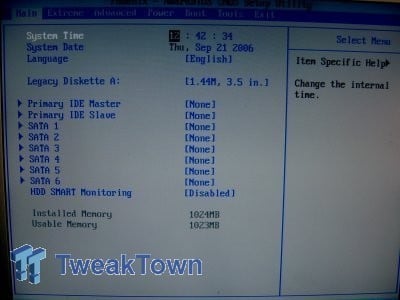 ASUS uses its menu based Award BIOS setup. We updated our board to version 0121 which was the latest at time of release. This BIOS enhanced some of our overclocking features that failed when running original supplied BIOS, 290MHz FSB clocks would result in random reboots but with the new BIOS we managed to get higher clock speeds.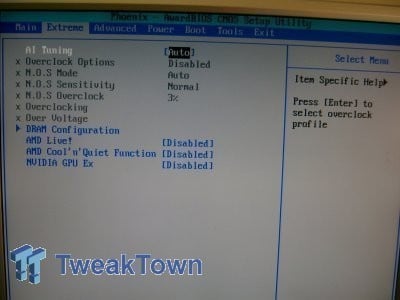 ASUS has changed the layout of the board somewhat, normally we go to the advanced menu, this time it's under the Extreme or Extreme Tweaker menu which is where all the overclocking settings are located that you will need. To gain access to the overclocking submenus you need to first set the AI Tuning feature to manual.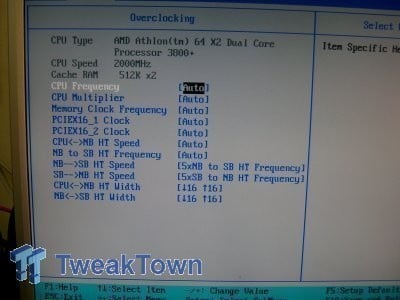 First we look at the overclocking features under the Overclocking Sub-menu. First is the CPU Frequency. This controls the FSB of the CPU clock; you can adjust it from 200MHz to 400MHz in 1MHz increments.
Next is the CPU Multiplier. This allows you to change your Athlon 64's CPU ratio, you can go as low as 4x up to the maximum your CPU supports, in our case its 10x. If you have a FX series, you can go as high as the board supports, which we aren't sure of.
Next is the memory clock frequency, you can select DDR2-400, DDR2-533, DDR2-667 and DDR2-800. Next are the PCI Express frequency controls for the PCI-E x16 slots, you can go from 100MHz up to 150MHz in 1MHz increments. Lastly you have the ability to control the Hyper Transport dividers and speeds; these are self explanatory to any AMD user.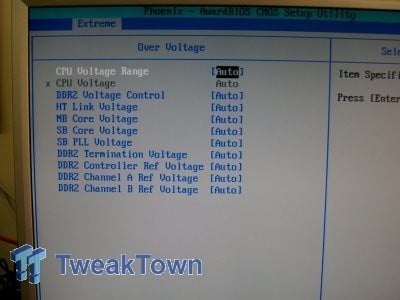 Now we go back to the Extreme menu and go to the overvoltage menu. This controls all of the voltage options for the board. First off is the CPU Voltage Range, rather than going though separate voltages you have a range to select from. Once you select a range you can then edit the voltage in 0.01v increments in that range, you can basically go from 0.85v to a max of 1.85v in 0.01v increments with this setup, a much better setup than any other board manufacturer has.
Next comes DDR-2 voltage. ASUS has the best range by far of any board here, 1.8v standard up to 3.45v in 0.05v increments. HT Link and NB Core voltage go from 1.2v to 1.5v in 0.05v increments. HT link voltage is for the CPU to Northbridge voltage and the NB Core is for the Northbridge voltage. SB Core and SB PLL voltage runs fro, 1.5v to 1.8v in 0.05v increments, SB Core controls the Southbridge chipset voltage, SB PLL controls the clock generator for the Southbridge.
Overclocking
With all these features we managed to get our FSB up to a maximum speed of 361MHz with a CPU voltage of 1.45v, DDR2 voltage at 2.2v, NB voltage at 1.3v, SB Voltage at 1.55v and DRAM at 1:1 - this yielded us a CPU clock speed of 2.16GHz (361MHz FSB x 6).
For your reference, we are comparing the ASUS Crosshair against the DFI NF590 SLI-M2R/G Lanparty motherboard which managed a higher FSB of 375MHz FSB - it's certainly one of the best new Socket AM2 motherboards on the market right now, so it will be interesting to see how ASUS compares against DFI.
Benchmarks - Test System Setup and Sandra
Test System SetupProcessor
: AMD Athlon 64 X2 3800+ AM2
Memory
: 2x 1GB DDR2-1066 Corsair (Supplied by
Corsair
)
Hard Disk
: 500GB Seagate 7200.9 (Supplied by
Seagate
)
Graphics Card
: nVidia GeForce 7800GT
Cooling
: Gigabyte Neon K8 (Supplied by
Gigabyte
)
Operating System
: Microsoft Windows XP Professional SP2
Drivers
: nForce Platform Driver 9.16, nVidia ForceWare 91.31 and DX9c
Our test system remains unchanged for our K8 setup. We used our trusty Athlon 64 X2 3800+ CPU. When doing overclocking tests we try to reduce the CPU speed down as close to stock speed as possible with lowering the multiplier, this lets us know if there are any benefits from the overclocking the bus speed to be gained.
We are comparing the ASUS Crosshair against the DFI NF590 SLI-M2R/G Lanparty at stock and overclocked speeds. ASUS was running at 2.16GHz (or 361MHz FSB x 6) and DFI was running 2.25GHz (or 375MHz FSB x 6) with DRAM running at 1:1 ratio. DFI has the pure clock speed advantage coming into the race but let's see what story the benchmarks paint for us.
SiSoft SandraVersion and / or Patch Used:
2007
Developer Homepage:
http://www.sisoftware.co.uk
Product Homepage:
http://sisoftware.jaggedonline.com/index.php?location=home&a=TTA&lang=en
Buy It Here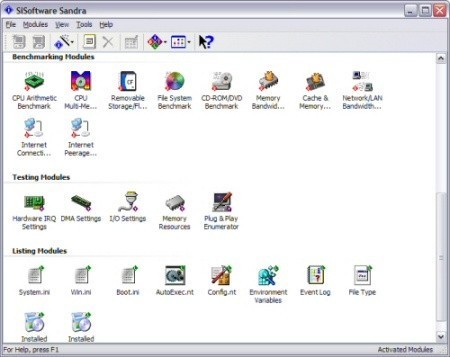 SiSoft Sandra (
S
ystem
AN
alyser,
D
iagnostic and
R
eporting
A
ssistant) is a synthetic Windows benchmark that features different tests used to evaluate different PC subsystems.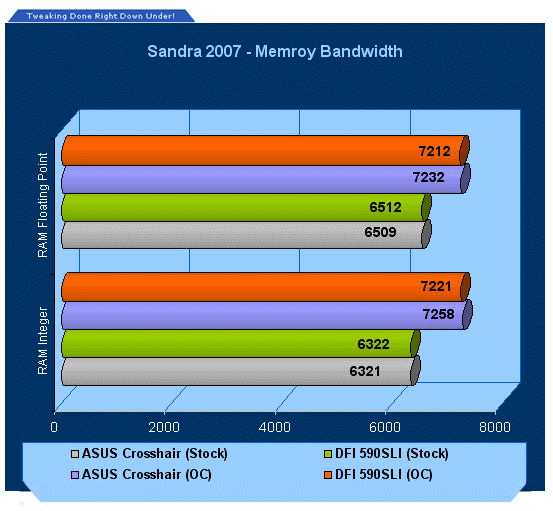 At stock ASUS just pulls ahead because of its slightly higher bus speed it runs the CPU at when clocked at stock, when overclocked, ASUS pulls just ahead of the DFI board.
Benchmarks - PCMark05
PCMarkVersion and / or Patch Used:
1.1.0
Developer Homepage:
http://www.futuremark.com
Product Homepage:
http://www.futuremark.com/products/pcmark04/
Buy It Here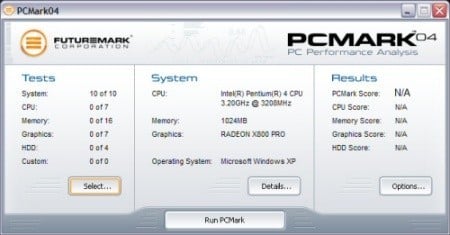 PCMark is a multipurpose benchmark, suited for benchmarking all kinds of PCs, from laptops to workstations, as well as across multiple Windows operating systems. This easy-to-use benchmark makes professional strength benchmarking software available even to novice users. PCMark consists of a series of tests that represent common tasks in home and office programs. PCMark also covers many additional areas outside the scope of other MadOnion.com benchmarks.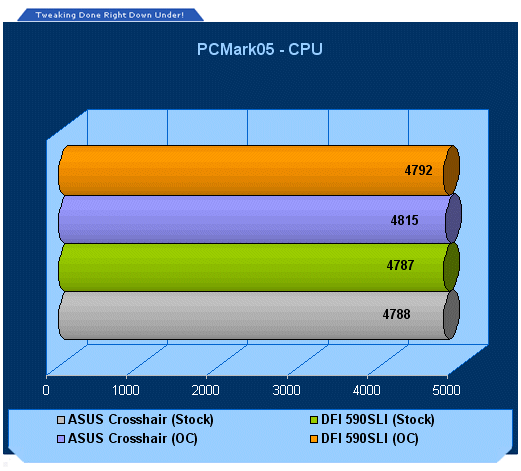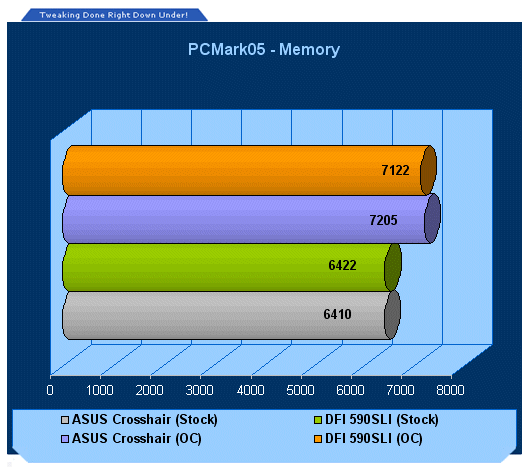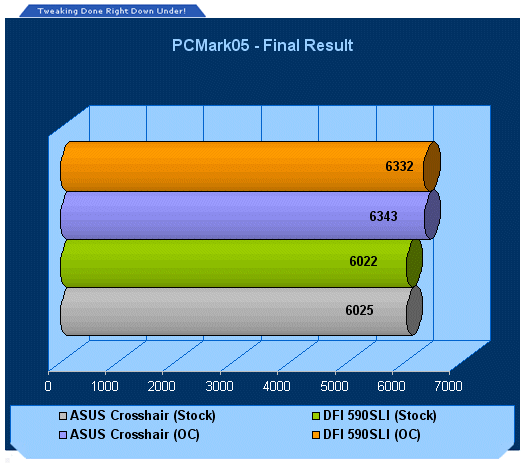 ASUS falls slightly behind on the CPU test for some reason, but gains ahead in memory and overall speed.
Benchmarks - 3DMark05
3DMark05Version and / or Patch Used:
Build 120
Developer Homepage:
http://www.futuremark.com
Product Homepage:
http://www.futuremark.com/products/3dmark05/
Buy It Here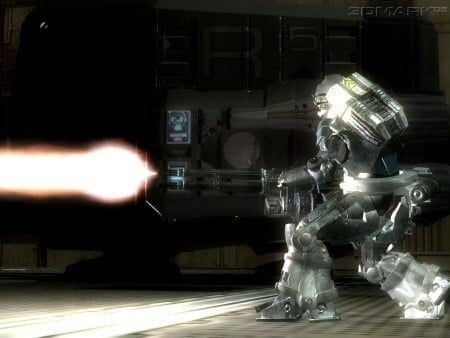 3DMark05 is now the second latest version in the popular 3DMark "Gamers Benchmark" series. It includes a complete set of DX9 benchmarks which tests Shader Model 2.0 and above.
For more information on the 3DMark05 benchmark, we recommend you read our preview
here
.
At stock clocks, the DFI and ASUS are equally matched, when overclocked, ASUS pulls just ahead of the DFI board.
Benchmarks - 3DMark06
3DMark06Version and / or Patch Used:
Build 102
Developer Homepage:
http://www.futuremark.com
Product Homepage:
http://www.futuremark.com/products/3dmark06/
Buy It Here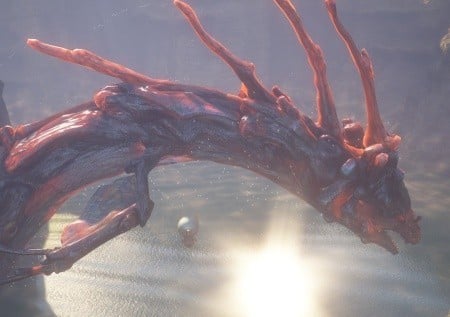 3DMark06 is the very latest version of the "Gamers Benchmark" from FutureMark. The newest version of 3DMark expands on the tests in 3DMark05 by adding graphical effects using Shader Model 3.0 and HDR (High Dynamic Range lighting) which will push even the best DX9 graphics cards to the extremes.
3DMark06 also focuses on not just the GPU but the CPU using the AGEIA PhysX software physics library to effectively test single and Dual Core processors.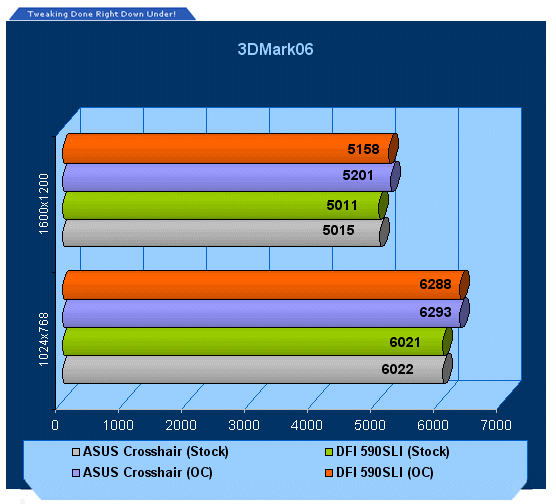 In our last Synthetic test, ASUS comes out ahead in overclocking.
Benchmarks - Doom 3
Doom 3Version and / or Patch Used:
1.1
Timedemo or Level Used:
Custom Timedemo
Developer Homepage:
http://www.idsoftware.com
Product Homepage:
http://www.doom3.com
Buy It Here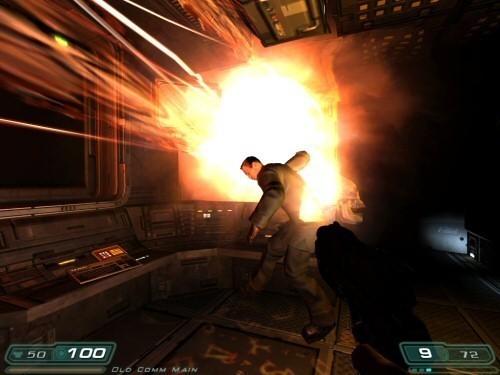 Doom 3 is still one of the most popular games at the moment and is quite intensive in the 3D department, even though it is starting to age. With our own custom time demo we are able to give a realistic rating on what kind of FPS you will be achieving.
For more information on benchmarking Doom 3 we recommend you check out our extensive article regarding it
here
.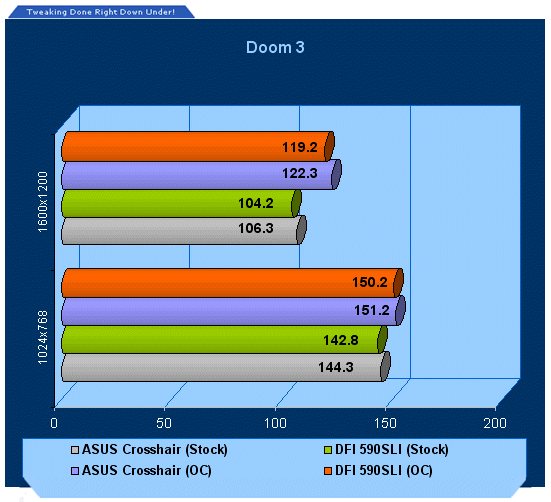 Doom 3 shows ASUS getting the creds here.
Benchmarks - Quake 4
Quake 4Version and / or Patch Used:
Unpatched
Timedemo or Level Used:
Custom Timedemo
Developer Homepage:
http://www.idsoftware.com
Product Homepage:
http://www.quake4game.com
Buy It Here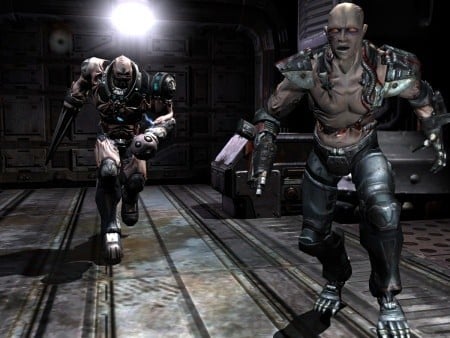 Quake 4 is one of the latest new games to be added to our benchmark suite. It is based off the popular Doom 3 engine and as a result uses many of the features seen in Doom. However, Quake 4 graphics are more intensive than Doom 3 and should put more strain on different parts of the system.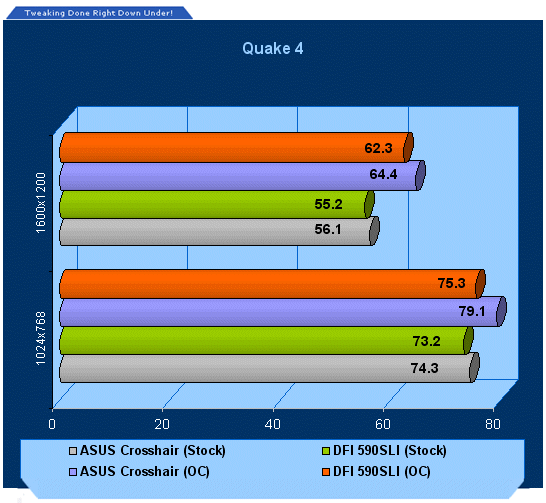 Quake 4 gives ASUS a bit more of a lead when the stress is turned up.
Benchmarks - F.E.A.R.
F.E.A.R.Version and / or Patch Used:
Unpatched
Timedemo or Level Used:
Built-in Test
Developer Homepage:
http://www.vugames.com
Product Homepage:
http://www.whatisfear.com/us/
Buy It Here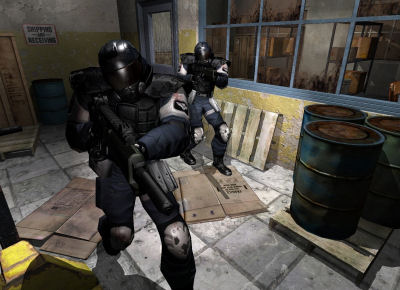 F.E.A.R. (First Encounter Assault Recon) is an intense combat experience with rich atmosphere and a deeply intense paranormal storyline presented entirely in first person. Be the hero in your own spine-tingling epic of action, tension, and terror...and discover the true meaning of F.E.A.R.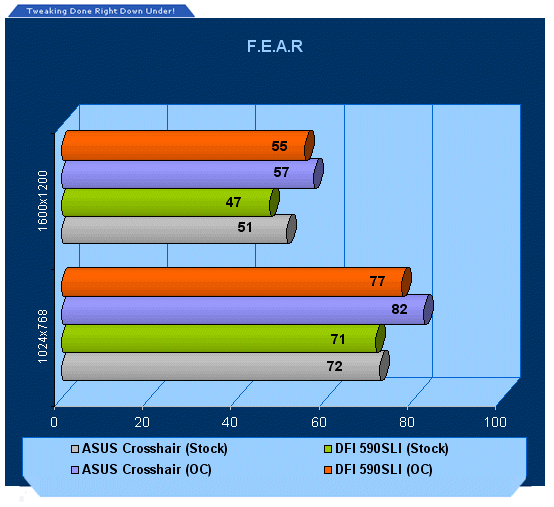 Our last test shows the ASUS to be a good performer.
Final Thoughts
ASUS keeps going from strength to strength with its motherboards, and with the new joint venture with Gigabyte, yet another great motherboard company, we are bound to see some very interesting products and more of them.
The ASUS Crosshair motherboard is extremely powerful and stacked with impressive features for the gamer and overclocker and some which we've never seen before but that power comes at a price. While it is a faster board than the new DFI NF590, it also has a higher price tag than the DFI board. If you want the extra features and can afford this board it is a better option but if you want something that is more on your budget level, ASUS is too far up there, DFI will be better for you with a cheaper price tag.
Overall we were suitably impressed with the ASUS Crosshair motherboard performance and its impressive and unique features but its price tag needs a pole volt to get over. If you have a big enough pole volt, we are quite sure you will also be suitably impressed with ASUS' first "Republic of Gamers" motherboard.
- Pros
Fast
Good overclocking
Great software bundle
Dual X16 slots for SLI
LCD Panel
Onboard LED's to help install components in the dark
e.SATA ports
Silent heatpipe design
- Cons
Pricey (but get what you pay for!)
Placement of power connectors could have been better
- Latest Pricing
Rating - 9 out of 10 and TweakTown's "MUST HAVE" Best Features Award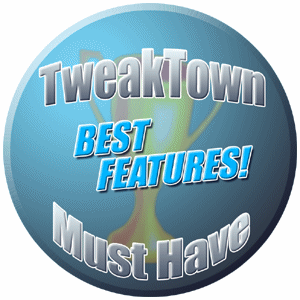 PRICING: You can find products similar to this one for sale below.

United States: Find other tech and computer products like this over at Amazon.com

United Kingdom: Find other tech and computer products like this over at Amazon.co.uk

Australia: Find other tech and computer products like this over at Amazon.com.au

Canada: Find other tech and computer products like this over at Amazon.ca

Deutschland: Finde andere Technik- und Computerprodukte wie dieses auf Amazon.de
We openly invite the companies who provide us with review samples / who are mentioned or discussed to express their opinion. If any company representative wishes to respond, we will publish the response here. Please contact us if you wish to respond.