Introduction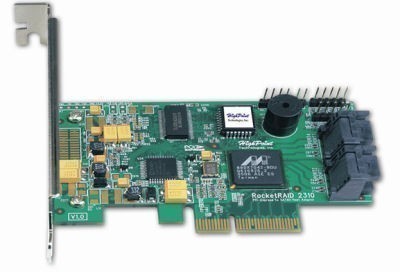 Highpoint's 4 channel 2310 SATA-II controller tested
PCI Express is now starting to show its versatility with cards starting to pop up all over the place which take advantage of this new bus technology. For example, we now have TV tuners from ATI popping up, LAN cards from Gigabyte and RAID controllers from Highpoint.
Servers have now started to take full advantage of PCI Express - why use long 64-bit PCI-X cards that take up more space than a parked Boeing 747, when you can use a smaller card offing up to 10 times the bandwidth of PCI or PCI-X? It seems pretty redundant.
Highpoint has jumped onto the PCI Express bandwagon very quickly for both servers and the consumer PC market with its range of RocketRAID controller cards. So far, we have looked at the first instalment, the RocketRAID 2320, an 8 port SATA-II PCI Express controller card which is designed for servers or very high-end desktop computers.
Today we have its smaller and more affordable brother - the RocketRAID 2310 - which is a 4 port version using PCI Express x4 for its interface but also works in x8 and x16 slots for added compatible and flexibility. Let's take a close look at Highpoint's latest and RoHS world friendly controller. We'll see if it should find a place in your desktop PC, if you're looking to expand your storage capabilities.
Inside the Box
Package and Contents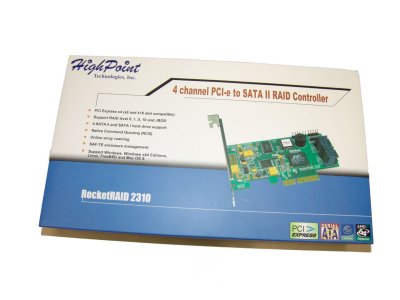 Before we get into the benchmarks let's have a squiz at the packaging as well as the card. Highpoint uses its new white, blue and red box packaging for all their controller cards to come from their factory. On the front you get a small picture as well as some basic info on what the controller card feature set is.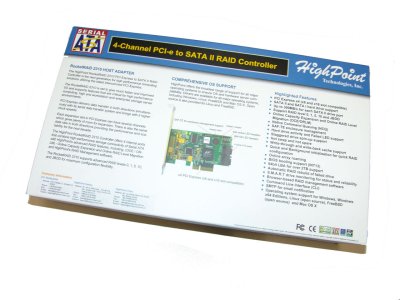 On the back you get a bit more detailed info as well as some sale info on the card itself. Highpoint has always given buyers detailed info on their controller cards from the box so you know what you are getting and what to expect - no tricky surprises.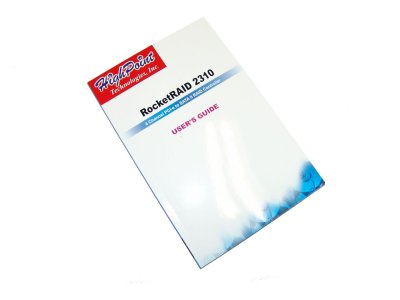 Inside the box the first thing you get is the RocketRAID 2130 user manual. This is extremely detailed for a controller card manual. All the settings from the jumpers, BIOS and admin settings as well as Windows install software are included within the many pages.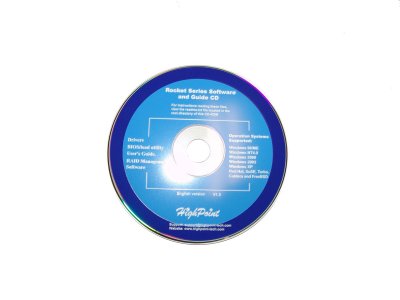 Rather than floppy disks, a single CD with all the Windows drivers and software are included. A boot option is also included to make Windows XP or Windows 2000 installation diskettes. You can also use the RocketRAID 2310 with Linux, FreeBSD and Mac OS X.
Highpoint includes its own metre long SATA data cables which they have been producing since they started releasing their controller cards. There are 4 in total, enough for the 4 ports that the card supports.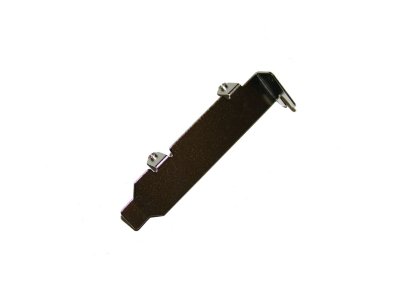 Last on the package list is a half height PCI riser bracket for use in small form factor server cases like 1U or 2U chassis.
The Controller Card
The Card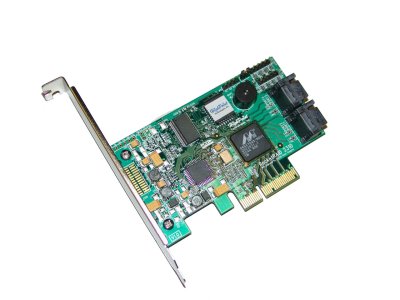 The card is rather small for a server related product. Its height matches the standards for half height PCI, so even the smallest server chassis will be able to accept the 2310 controller card. Length is also smaller then we expect - compared to its older brother, the 2320, the card is half the length.
Interface with the motherboard is through the same PCI Express x4 that the 2320 uses. You can use this card in any PCI Express x4, x8 or x16 slot or if you have a desktop motherboard with a universal PCI Express slot, you could also use that.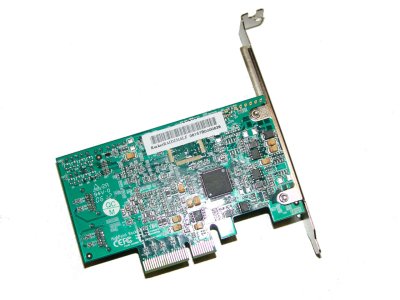 The back of the card is extremely bare with only a HPT601 controller chip to aid in hot swapping and monitoring the SATA drives SMART status.
In the past Highpoint has produced its own controller chips to power their cards. Lately, Marvell chips have been given the thumbs up by the company. This is the case with the RocketRAID 2130, which uses a single Marvell 8SSX7042 chip. This chip has 4 SATA-II ports with support for all SATA 2.5 specifications as well as a PCI Express x4 interface. While x4 is the preferred speed, the controller can be slowed down to run at x2 or x1 speeds if the 2130 controller is to be used on desktop motherboards.
Benchmarks - Test System Setup and PCMark
Test System SetupProcessor
: Intel Pentium Extreme Edition 840 (800MHz FSB) (Supplied by
Intel
)
Memory
: 2x 512MB Super Talent DDR2-1000
Hard Disk
: 2x Seagate 7200.9 in RAID 0 (Supplied by
Seagate
)
Graphics Card
: ASUS GeForce 7800GT (Supplied by
ASUS
)
Operating System
: Microsoft Windows XP Professional SP2
Drivers
: Intel INF 8.0.1.1002, nVidia 5.52 IDE and Highpoint 1.1
Like with our RocketRAID 2320 review, we are pitting the RocketRAID 2130 against the integrated SATA-II controllers built into Intel's ICH7 Southbridge chipset (through the ASUS P5WD2E motherboard) and nVidia's nForce 4 SLI chipset (through the ASUS P5N32 SLI motherboard).
For every testing configuration, we used RAID 0 with NCQ enabled for a level playing field.
PCMarkVersion and / or Patch Used:
1.1.0
Developer Homepage:
http://www.futuremark.com
Product Homepage:
http://www.futuremark.com/products/pcmark04/
Buy It Here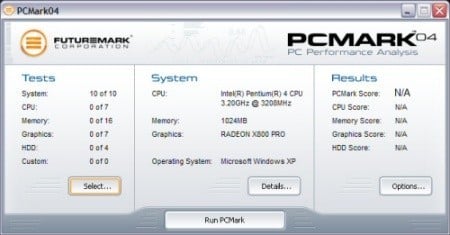 PCMark is a multipurpose benchmark, suited for benchmarking all kinds of PCs, from laptops to workstations, as well as across multiple Windows operating systems. This easy-to-use benchmark makes professional strength benchmarking software available even to novice users. PCMark consists of a series of tests that represent common tasks in home and office programs. PCMark also covers many additional areas outside the scope of other MadOnion.com benchmarks.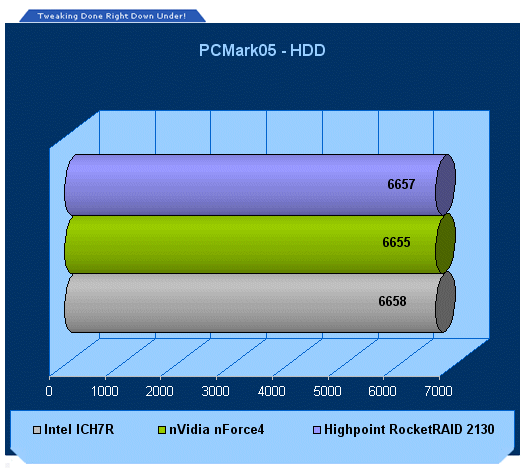 Highpoint's RocketRAID 2130 performs just as expected.
Benchmarks - HD Tach
HD TachVersion and / or Patch Used:
3.0
Developer Homepage:
http://www.simplisoftware.com
Product Homepage:
http://www.simplisoftware.com/Public/index.php?request=HdTach
Buy It Here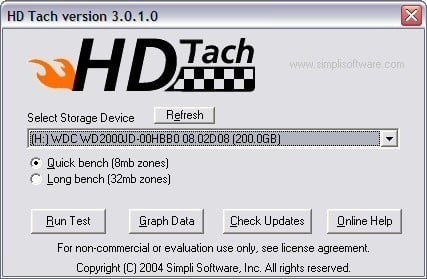 HD Tach has been around for a long time and is excellent when it comes to testing hard drive performance. It is also a very handy program when it comes to testing the controller used on particular motherboards. Tests such as Read, CPU Utilization and Burst are available at a click of the button and give you a good idea of how the hard drive can perform from system to system.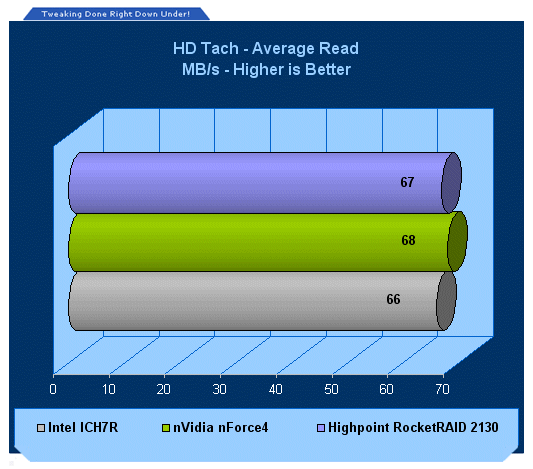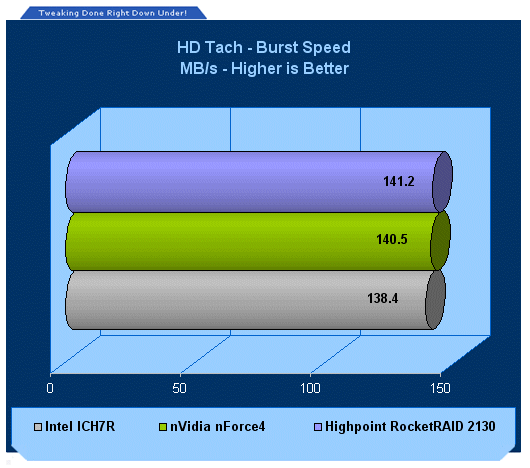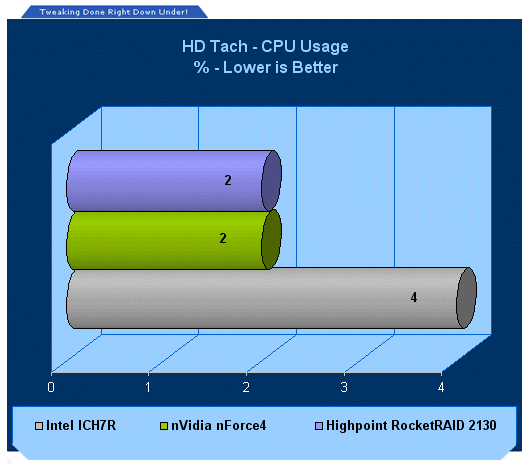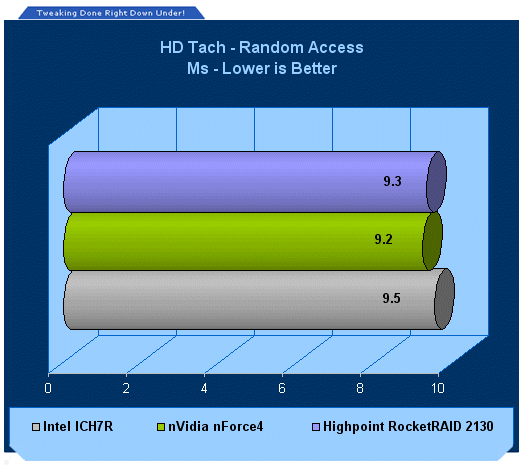 HD Tach shows Highpoint's RocketRAID 2130 keeping up with all the integrated controllers.
Benchmarks - File Copy Test
X-Bit Labs File Copy TestVersion and / or Patch Used:
0.5.3
Developer Homepage:
http://www.xbitlabs.com
Product Homepage:
http://www.xbitlabs.com/articles/storage/display/fc-test.html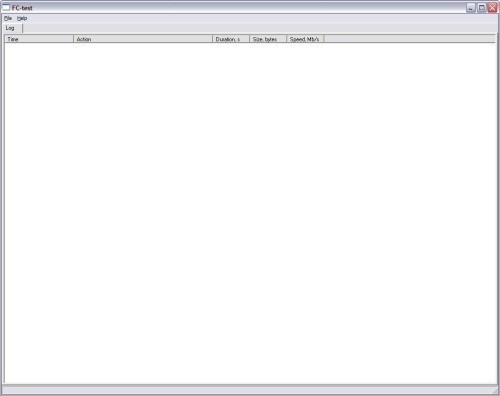 X-Bit Labs File Copy Test is a real world benchmark used to measure the performance of IDE subsystems. In this test, we time how long it takes to copy 2.3GB worth of data (four x 590MB files) onto the same hard disk drive with File Copy Test program optimizations disabled to help provide the most accurate time possible.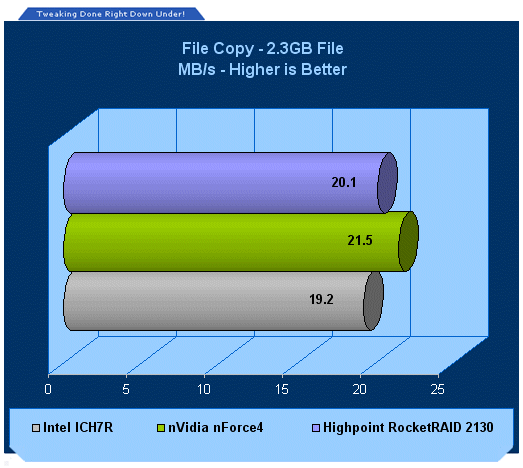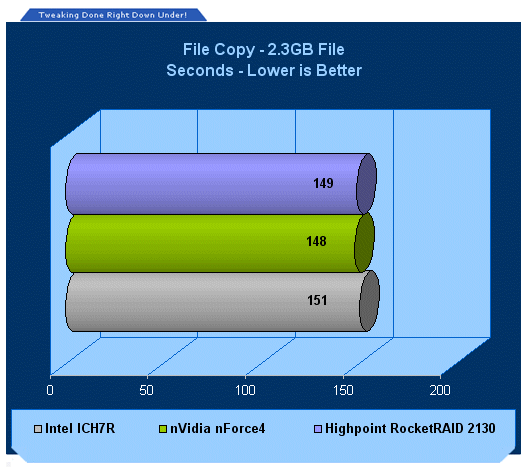 In the file copy testing area, Highpoint manages to keep up with onboard controllers once again.
Benchmarks - HD Speed
HD SpeedVersion and / or Patch Used:
1.5.22.5
Developer Homepage:
http://www.steelbytes.com
Product Homepage:
http://www.steelbytes.com/?mid=20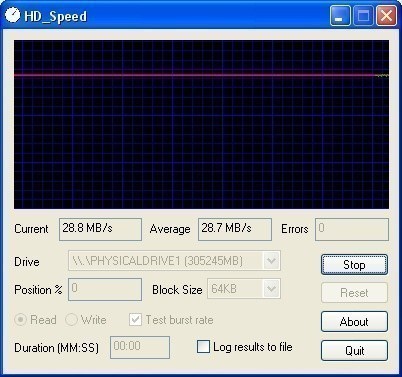 Measures both sustained and burst data transfer rates of your hard disks, cd/dvd-roms and floppy.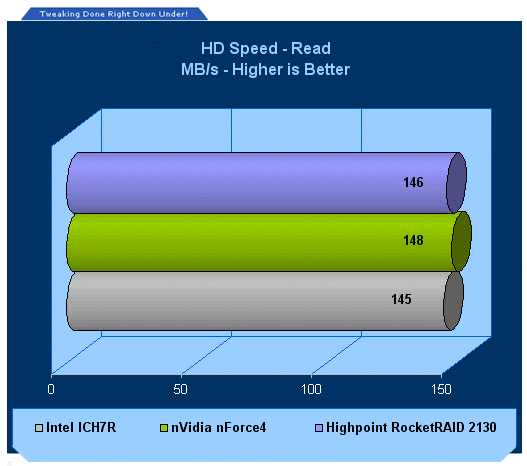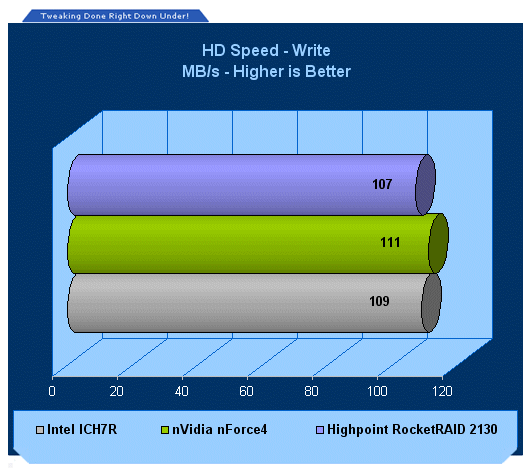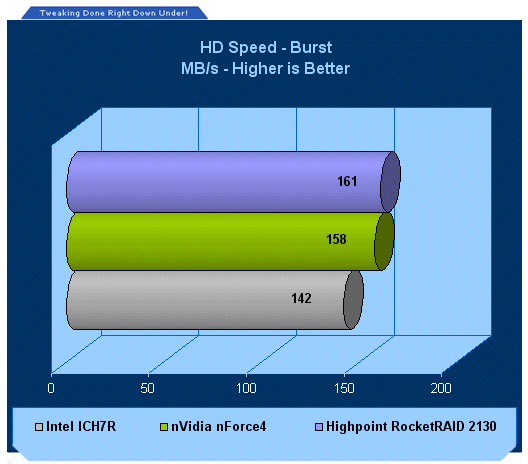 HD Speed puts the controllers all on about equal par with the RocketRAID 2310 controller managing to come out on top in the burst speed department.
Benchmarks - Game Level Loading
Game Level Load Times
Here we manually time (with a stop watch) game level loading times.
We loaded our test maps in Half Life 2, Doom 3 and Quake 4. We did the tests over three attempts on each and used the average time to give a fair example. Due to the human factor, there is a light reaction time delay because no one is able to hit the button on the exact millisecond, however, all were right on the point of full load in each map.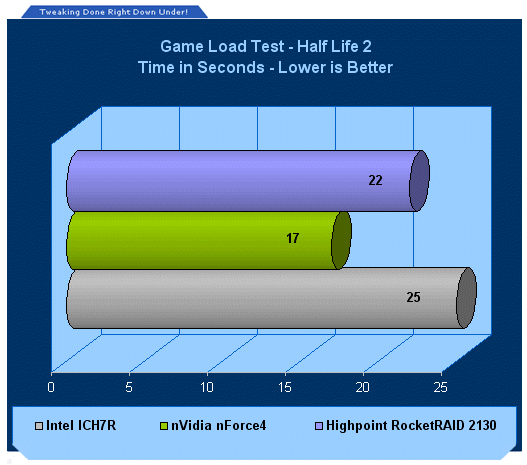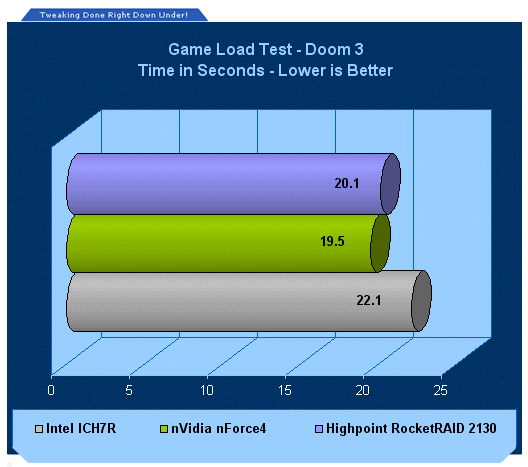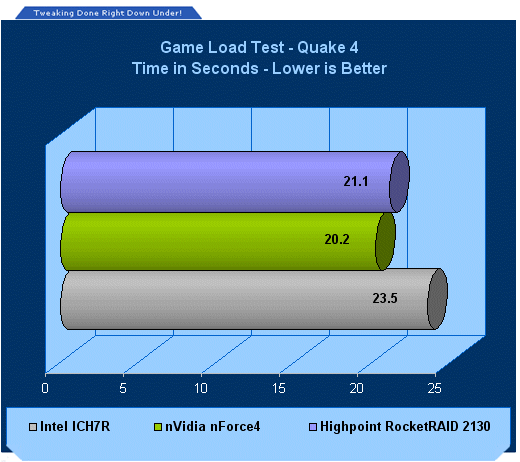 In real world applications we see Highpoint manages to keep up with the best of them but it's clear here that nVidia's controller offers the best performance.
Final Thoughts
While Highpoint don't have a flood of products like motherboard manufacturers do, Highpoint does put a lot of work and research into what is needed and what can be produced. Lately they've been flooding us with review samples which are designed to satisfy the needs of the server and home user markets, and so far we have not been disappointed in any of the Highpoint offerings.
The RocketRAID 2130 is a great offering for server users who need a smaller storage solution add-on rather than what the more expensive RocketRAID 2320 offers - and why pay extra for what you don't need?
RocketRAID 2130 offers a great balance of server support features with a much more reasonable price tag, and for home users wanting extreme storage options and fast speeds - the RocketRAID 2130 cannot be beat.
Overall we had no complaints about the controllers features, compatibility or software, all worked flawlessly. Although, it would have topped things off very nicely if Highpoint also decided to add external SATA (e.SATA) support.
- Pros
Works on a range of PCI Express ports - lots of flexibility
Performance on par with the fastest onboard IDE controllers from Intel and nVidia
Reasonably priced
4 port SATA-II with SATA 2.5 specs
RAID 0, 1, 5, 10 and JBOD plus NCQ support
Small and compact card - good for HTPC users
Easy to read and understand users manual
Good software for RAID setup
- Cons
No e.SATA support
Nothing much else
- Latest Pricing
Rating - 9 out of 10 and TweakTown's "MUST HAVE" Best Performance Award