Apacer NOX RGB DDR4-3200 32GB Memory Kit Review
The Apacer NOX packs some serious performance and beats most of its competitors, but the price will certainly set your back a fair bit.

Published Sat, Jun 29 2019 10:00 AM CDT
|
Updated Tue, Nov 3 2020 6:57 PM CST
Rating:

90%
Manufacturer: Apacer

Looking back through our DDR4 review history, while we assumed we had seen some other Apacer RAM recently, the dates on the folders and the dates on site beg to differ. From what we can gather, it has been nearly two years since we last saw anything from them.
However, if the LED eyes of the Dragon sticks, or the various versions of Panther kits were not your style, don't fret, as Apacer has something up their sleeve that is a bit more mainstream, and something that many users will gravitate towards on aesthetics alone.
It is pretty obvious, that when it comes time to buy a new kit of DDR4, once you have the speed and density in mind, looks and matching the rest of your system is next in line. At the same time, we also realize that performance is also a huge factor in that purchase.
That being said, and while Apacer may not be your go-to brand, in the latest submission for testing, we have found a pleasing mix of all things that come together to possibly make for the perfect addition to any PC requiring the use of DDR4.
The kit of RAM we have on hand today is the Apacer NOX RGB, more specifically, the AH4U32G32C08YNBAA-2. Going from what the site has to offer, we should be looking at an ultra-wide angle RGB light diffuser which displays all of the memory lighting.
Along with the RGB light show, we also have meticulously screened ICs, aluminum heat spreaders, XMP 2.0 support, and while on the topic of support, ASUS, GIGABYTE, MSI, and ASRock, with the various motherboard RGB control can change the default effect, but sadly there is no standalone software for those without motherboard control of the RGB LEDs.
If what you are about to see does not match some of your prerequisites when it comes to selecting a new set of DDR4 memory, Apacer still may have you covered. Capacity starts at 8GB, with 16GB and 32GB kits as well. Speeds start at 2400MHz, but there are also 2666, 3000, and 3200MHz kits to choose from. If voltage is of any concern, the 2400 and 2666MHz kits need 1.2V while the 3000 and 3200MHz kits need 1.35V when the XMP 2.0 profile is enabled.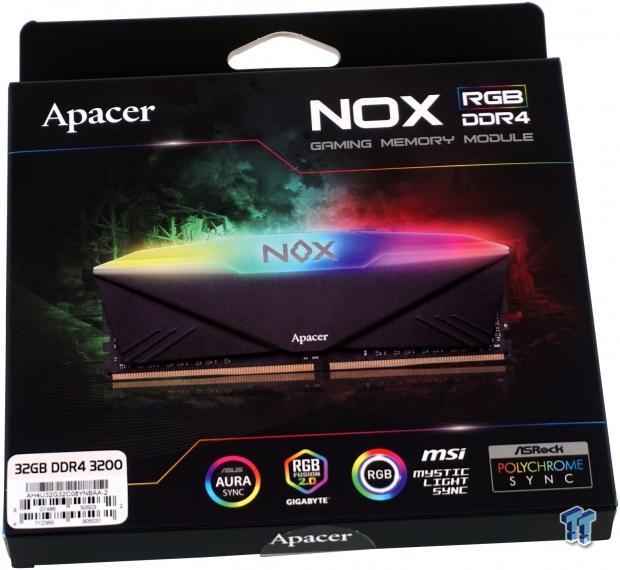 Packaging for the Apacer NOX RGB DDR4 is typical to many selections out there, where a black background is used to display a large image of the RAM right in the center of the panel. Apacer makes sure that everything you need to know is right there on the front. Everything from density, speed, model number, and even what motherboards and software are capable of addressing the way in which the RGB LEDs are displayed.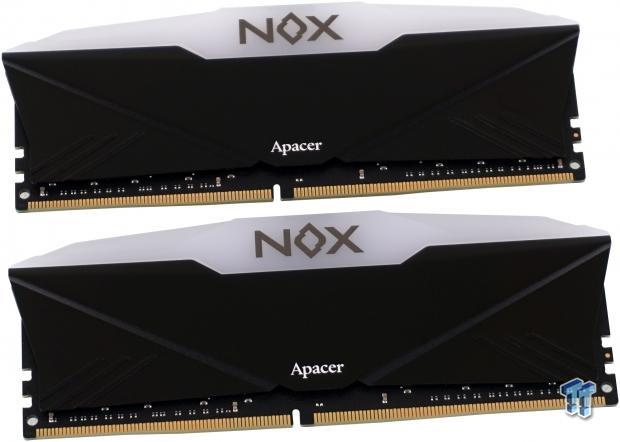 The Apacer NOX RGB are taller than many other solutions, but the thick light diffuser on top with the NOX name is why they are as tall as they are. The rest of the memory is covered with matte black, textured, aluminum heat spreaders, which have an angle bent into the spreaders, directing your eyes to the Apacer name painted on them, and for accents, wither side has three ribs which are near perpendicular to the angled bits above them. Use of a black PCB is also a nice touch we appreciate.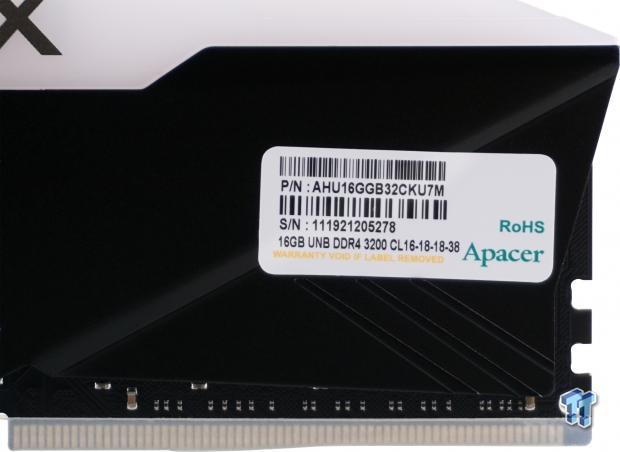 The other sides of the kit are identical to what we just looked at, but there is one key difference, the product sticker. The sticker is placed on the sides that face the CPU socket, so this will not be visible when in use, but there is some good information to be had. The part number tops the sticker, followed by the serial number for each stick, but at the bottom, we see not only the density of the module, but the XMP 2.0 profile speed and timings as well.

In most builds, this is how the memory will be viewed, and from the top, most of what you see is the diffuser bar on top of the RGB LEDs. Along with the name being printed on the side of the spreaders, the top of the diffuser also has the Apacer name plainly visible and can be seen while the LEDs are active as well.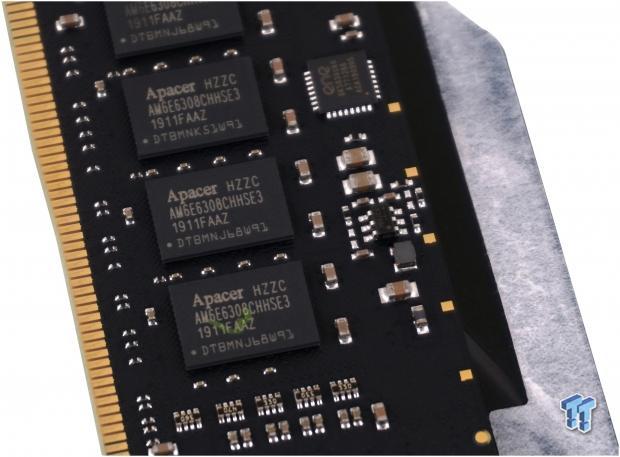 We did pop the hood to see what was under it, and while the Apacer branding and part numbers do not lead to much when searching, we always have Thaiphoon Burner as a backup, as long as the SPD is programmed. What we found is that these ICs are Samsung K4A8G085WB-BCPB, B-die, on the eight-layer PCB.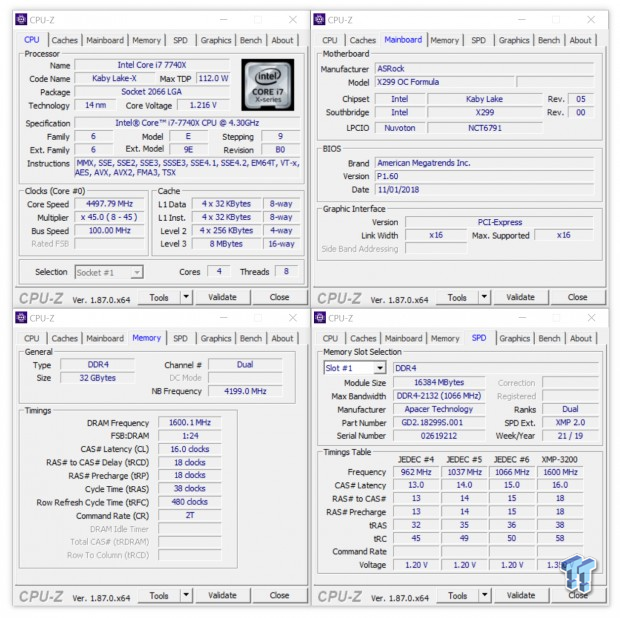 After installation and a trip to the BIOS to enable the XMP 2.0 profile, we find our Apacer kit to run at what is specified. We get 3200MHz of speed, timings are set to 16-18-18-38 2T, and they do require 1.35V to operate. Another trip back into the BIOS shows us that with our motherboard, the VCCSA is increased to 1.35V, and the VCCIO is at 1.20V at this time.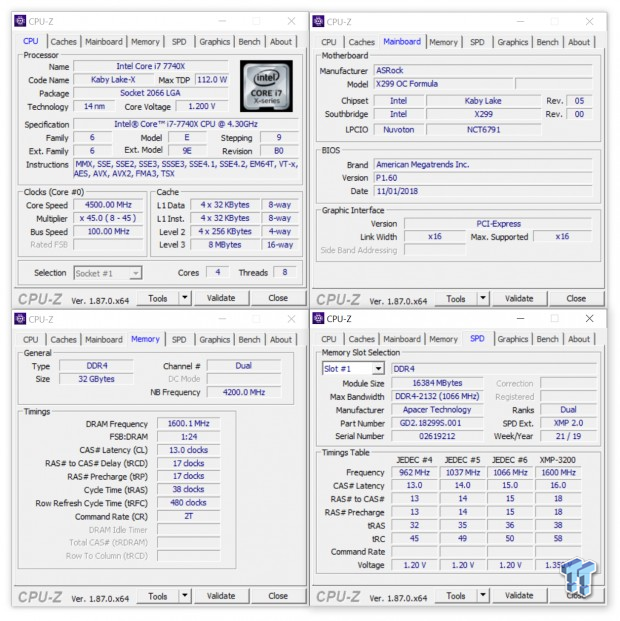 Attempting to lower the timings leads us to the result of 3200MHz stability with 13-17-17-38 2T Timings, which is not bad for the density, but anything below 17 on the tRCD and tRP cause immediate BSODs. To get here, the NOX RGB do require 1.45V to the memory, as well as a 0.10V increase to the VCCSA and VCCIO for complete stability.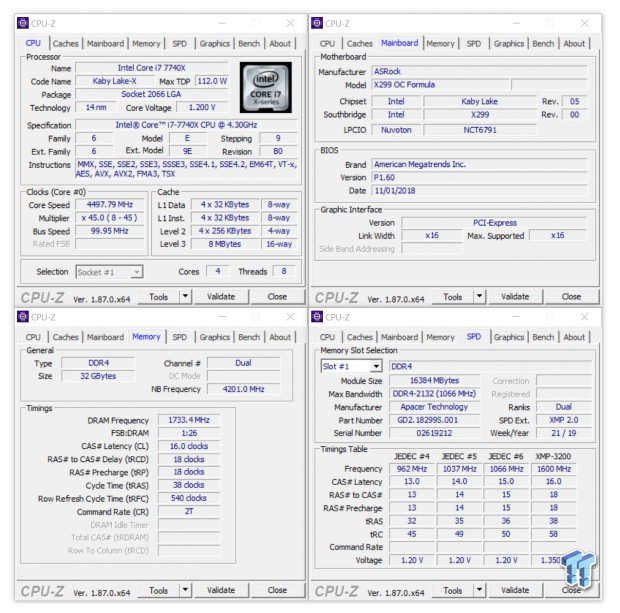 Using the same voltages as the above run for lowered timings, we went on to increase the overall speed. We have no issues running the 3466MHz with XMP 2.0 profile timings, but 3600MHz attempts ran into BSODs as well. After finding the maximum speed, we also tinkered with the voltages and found the XMP provided voltages were enough to keep this memory stable at this speed.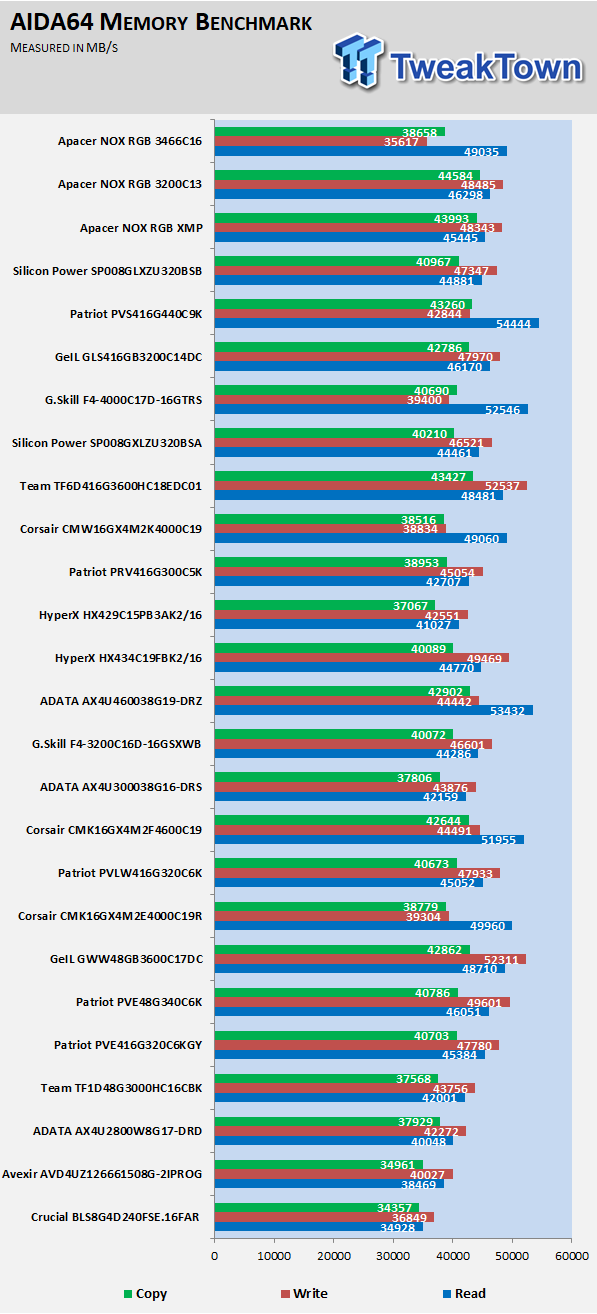 Out of the box, with XMP enabled, the Apacer NOX is a strong contender against other 3200MHz kits, beating most, and only slightly behind kits like the Patriot Viper Extreme and the GeIL Super Luce RGB. Lowering the timings offers a marked improvement, into the range of 3400MHz kits, not that far behind 3200MHz sets. However, running at the max stable speed seems to do wonders for Read throughput, but just kills Write and Copy performance.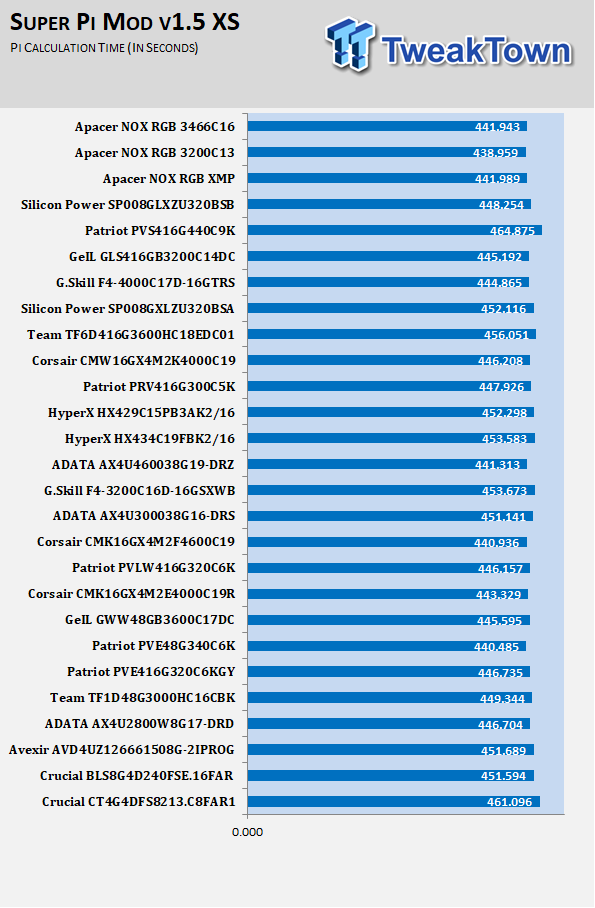 Seven minutes and twenty-one seconds is not a shabby run in SuperPi, and this is just the XMP profile doing its thing. Comparatively, that is fourth place overall, competing against two 4600MHz and a 3400MHz submissions. Lowering the timings gave us only a few seconds of performance gains, but again, making the move for more speed does not pay off here either.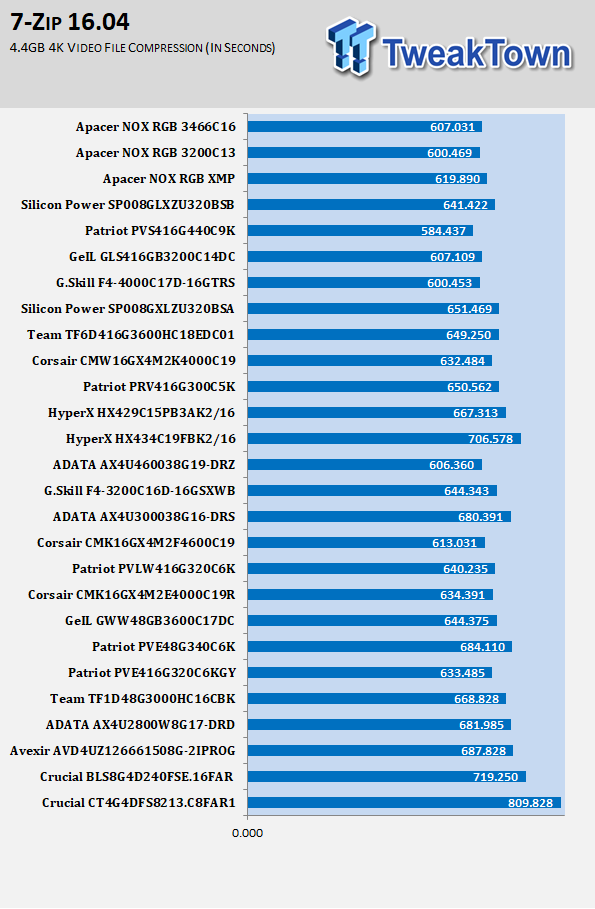 Only the GeIL Super Luce does better than the Apacer NOX with the XMP profiles enabled on all of the 3200MHz RAM in the chart, and performs better than some of the higher binned kits as well. Lowering the timings removes nearly nineteen seconds of time back in your day compared to the XMP run, and beats out the 4000MHz G.Skills. The higher overall speed has a benefit here in this test of nearly twelve seconds, but still not the benefits we see from the lower timings.
Physically, the Apacer NOX RGB has quite a bit going for it. Reasonable timings, speed that is the sweet spot of DDR4, and aesthetics that many will pine for. Visually, the black PCB covered with the matte black textured, aluminum heat spreaders looks good, and the oversized LED diffusion bar adds quite a bit of RGB LED lighting into the chassis as well as a somewhat muted display of lighting, compared to many of the RGB RAM on the market. The overall height of 51.5mm might cause issues with certain CPU air coolers fitting over them, but then again, why buy RGB memory if you are going to cover it with a cooler.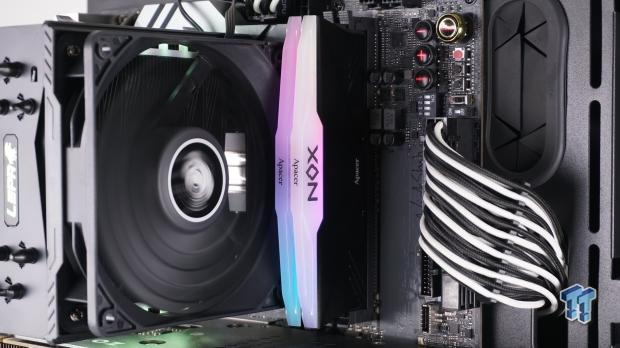 This dual-sided RAM is impressive when it comes to the arena of overclocking as well. While its XMP 2.0 profile performs well and competes toe to toe with many other submissions at the same speed, having the ability to get more out of the memory is always a nice addition.
We were a tad surprised to see we could get all the way down to CAS13 with stability, and even though we could add more speed, it did not pay off as we expected it to. Keep in mind, our results are not guaranteed, some may do better, and some may do worse.
However, we still appreciate what Apacer has done with the full package of items that buyers want to see. So far, there are no major complaints about form, functionality, compatibility, overclock-ability, and we don't even mind much that there is no Apacer software for control of the RGB LEDs.
There is but one single factor that, to us, will drive users to other options, and that is the cost. Right now, we cannot find this memory at any of the usual haunts, but we do know that the MSRP had been set to $279.99. We will wait a moment for that sticker shock to set in. Comparatively, against other RGB LED solutions with 3200MHz of speed and 32GB of density, it is quite a stretch to ask that much.
Vengeance RGB, Dominator Platinum RGB, Trident Z RGB, XPower Turbine RGB, even the GeIL Super Luce RGB that outperforms it is more affordable right now. We are unsure of the plan of Apacer once they hit the market in mass with the NOX RGB, but our suggestion would be to lower that pricing.
Up until this point, we wanted to fully recommend that you try out a set of Apacer DDR4 that is on par with the rest of the options, but sadly, at this price, it is a hard sell to anyone with the ability to compare costs across the board.
Chad's DDR4 Dual-Channel Test System Specifications
Motherboard: ASRock X299 OCF
CPU: Intel Core i7 7740X - Buy from Amazon
Cooler: LEPA NEOllusion - Buy from Amazon
Video Card: ZOTAC GeForce GTX 970 AMP. Extreme Core
Storage: Samsung XP941 256GB
Case: Thermaltake Core P3 - Buy from Amazon
Power Supply: Corsair RM750 - Buy from Amazon
OS: Microsoft Windows 10 Home 64-bit - Buy from Amazon
Software: CPU-Z 1.78.3 x64, Super Pi Mod 1.5XS, 7-Zip 16.04, AIDA64 Engineer 5.92.4300
| | |
| --- | --- |
| Performance | 93% |
| Quality | 100% |
| Features | 90% |
| Value | 75% |
| Overall | 90% |
The Bottom Line
While the Apacer NOX is brilliant, and is one of the top performers, you will have to pay for that advantage. In today's market, the cost is prohibitive for most buyers, even though everything else panned out well.
Apacer 16GB DDR4 2666MHz RAM Memory Module
Today
Yesterday
7 days ago
30 days ago

-

-

-

* Prices last scanned on 1/24/2021 at 12:10 pm CST - prices may not be accurate, click links above for the latest price. We may earn an affiliate commission.
We openly invite the companies who provide us with review samples / who are mentioned or discussed to express their opinion. If any company representative wishes to respond, we will publish the response here. Please contact us if you wish to respond.
Related Tags