Compro VideoMate H900 PCI TV/FM Card
Today we check out the Compro VideoMate H900 which offers the ability to add FM Radio and TV functions to your PC.
Published Tue, Feb 28 2006 11:00 PM CST
|
Updated Tue, Nov 3 2020 7:04 PM CST
Rating:

95%
Producer / Publisher: Compro
Introduction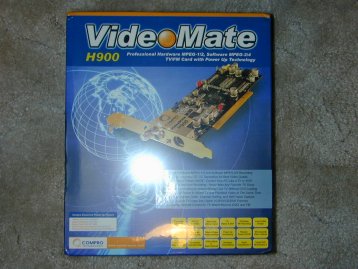 In the old days of computers (you remember... about 10 years ago), these machines were just beginning to make an appearance in the average person's home. With a design that was set to become "
industry standard
", you could upgrade to a whopping 1-2MB of memory and had processors that matched the processing power of those that sent the Apollo rockets into space! Of course, multimedia was a new buzzword at this point in time and just something to be dreamed about.
Nowadays, however, computers have become so powerful that manufacturers are looking for more things for them to do on a near constant basis. TV tuner cards have been out for a while, but even the internal ones have often times been found to be lacking in the features department.
This brings us to the topic of today's article, the Compro VideoMate H900 board. It boasts many features and we'll take a closer look at them to see if this might be something worthy to put on your wish list.
In The Box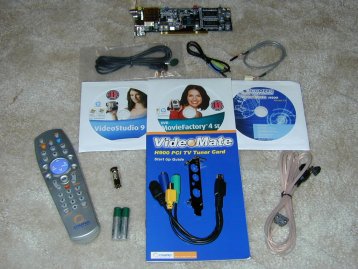 When you break through the plastic wrap and get to the goodies hidden inside, you'll be greeted with several items. Besides the TV board itself, you get a remote control (with batteries no less), all necessary cabling to handle the features of the product, a driver disk, two additional program disks, an antenna for the radio functions, a user manual and a short PCI bracket for those needing to install inside a small enclosure.
Before we dig too deeply into the board itself, we'll take a quick look at the peripheral accessories to give us an idea of what we can expect.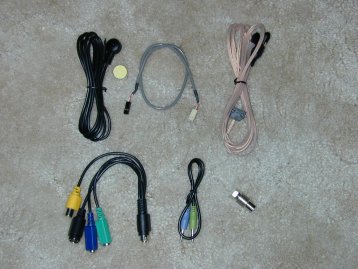 As I mentioned earlier, you have all the cables you need to handle the task at hand. Going in order of the pictured items above we have an infrared receiver (for the remote control), power crossover cable (to allow for remote PC startup), the FM radio antenna, an S-Video breakout cable set, standard RCA crossover cabling in case you need to have separate sound going into your audio board, and a cable connection converter.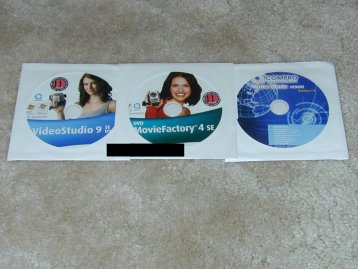 The software package that comes with the H900 device consists not only of the drivers for the card, but other handy utilities and programs as well.
The driver pack loads not only the drivers but also the utilities necessary to make use of this multimedia device. We'll dig a little deeper into these in a bit, though.
The other 2 disks contain programs that you may or may not have a desire for. VideoStudio and MovieFactory are included to help you make the most of any data you save to disk. These programs will help you crop and edit video data for a more professional look. Since these are stand alone products as well as a part of the included software bundle, we won't be going into depth on these programs.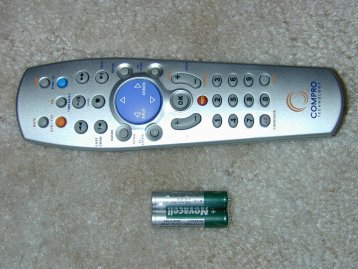 Since it would be entirely too much to ask for us to actually move a mouse and change a channel, Compro has included a remote control that allows you to utilize all of this board's functions. What is even more surprising is the addition of batteries.
The Board
Unlike many of the external TV products currently available that hook up via a USB connection, the H900 is an internal PCI device. While USB devices are very convenient, I have yet to find one that gives the same picture quality as an internal one. This is due to the bandwidth differences in the technologies involved. USB 1.1 has a maximum bandwidth of 12 Mbit/sec and USB 2.0 increases this to 480Mbit/sec. While this is optimal for some devices, video signals generally have a very large footprint. The PCI bus gives you a bandwidth of 127MB/sec, or 1016 Mbit/sec. It is easy to see where the internal devices have a lot better signal quality.
Of course, this is general information. We'll cover the actual quality in a bit.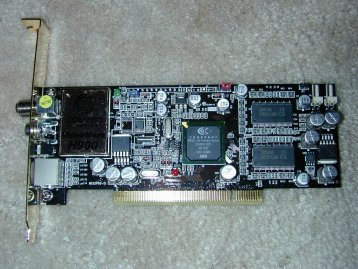 The default configuration of the H900 is as a full-height PCI card suitable for a normal PC system. Included in the packaging you will also find a half height bracket for those wanting to use the HTPC setup that is becoming more popular of late. The card itself has a pretty low profile, so should not cause any problems for any type of system it is installed into.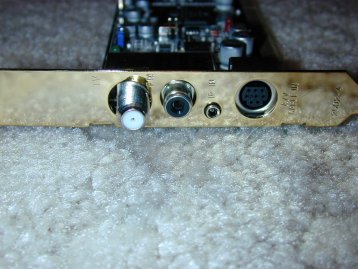 Moving to the business end of the card shows a minimal layout that still manages to provide ports necessary to use the all of the functions included with the H900. From left to right you see a standard cable input port, an FM antenna port, a small jack for the infrared device, and an S-Video port that allows you to port video in from a VCR, DVD or similar device. Overall we have a lot of possibilities with this little toy.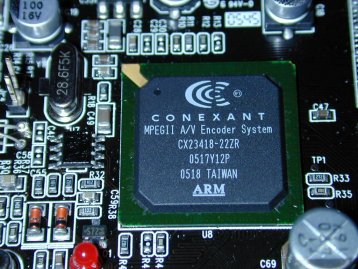 While this product has full TV playback capabilities, what do you do if you want to save off video or input A/V data from an external source? You have two choices in this situation, hardware or software encoding. The H900 features the Conexant hardware encoder built onto the board. It has the ability to encode incoming A/V data into MPEG2 format. The advantage to hardware encoding is that it doesn't suck the life out of your computer since it has its own processing power built in.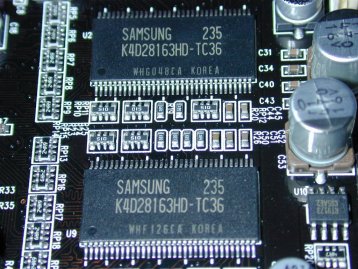 To help with the encoding chores, the folks at Compro have also included 32MB of DDR memory. This will come in handy when it comes to the encoding chores since it will cause even less of a drain on your own system resources.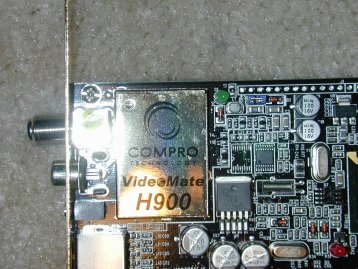 One of the more important features of the H900 would have to be the TV tuner. This little gem allows you to use your PC as a television set, but it does a bit more as well. Not only can you watch TV in an adjustable size window, you can also make use of advanced features such as Picture In Picture, Picture Out of Picture, and channel surfing with multiple channels being displayed in one window. When you find a channel that interests you, just double click it and it comes to the front. Not too shabby at all for an add-on board.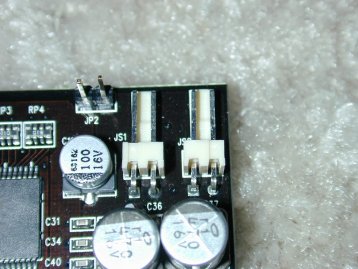 Another feature that this card touts that isn't the norm is remote system startup. This goes beyond what you might expect from a TV card. The way it works is simple; you take the motherboard cable that generally hooks up to the power switch on the enclosure and you hook it up to the appropriate 2-pin port shown above. From there you simply use the included 2-pin cable and attach it to the motherboard header normally used for the start button. This now allows you to use the remote control to power up the computer.
Now that we've looked a bit at the features, lets take a look at how it comes together on your screen.
Putting It All Together
FM Radio Functions
Well, we have emptied the box and gotten everything connected, so now we need to take a look at how it all comes together on the desktop. We've gotten the board installed and loaded the drivers and basic utilities that come with the driver pack. We'll start off with the radio...
The main control window is not unlike any normal DVD-type utility so I'm not covering it too much here. We're going to take a harder look at the options instead. Above you see the Channel screen of the FM Radio Utility. I performed an autoscan and the program picks up all stations found during a search across the entire FM band. It might be a good idea to know what the channels in your area are, though, as during the scan the utility usually managed to pick up channel bleed-over both one band above and below the proper frequency.
You'll also note that you can set preset numbers for easy access to the channels you listen to all the time. Almost like having controls similar to those on your car radio.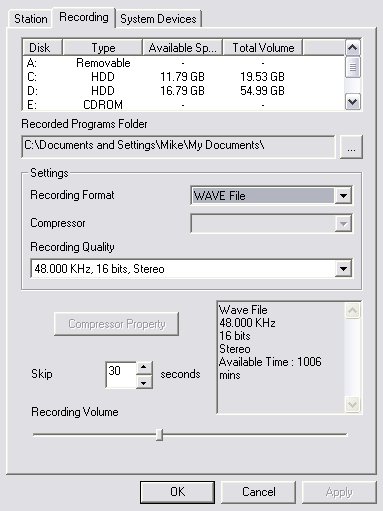 One nice feature of the utilities used in the H900 is the ability to record. The FM radio functions are no different in this respect. You can save off the data from the radio just like any other file. Not only that, but you also have the choice of formats for saving the radio content. Whether you prefer .wav, .wma or .mp3, the ability to do so is at your fingertips.
Once you choose the location of your saved files, the utility also takes into consideration your choices for the format and it shows you the amount of time (in minutes) you have available. This can be extremely helpful for those who might have a second or third hard drive installed just for storing A/V type data.
TV/DVR Functions
Like the FM Radio utility, the TV/DVR recording utility has a user interface like any number of DVD player programs commonly used, so I won't cover it here. Oh, and if you thought the FM Radio section showed some nice features, wait until you see what you can do with the TV recording.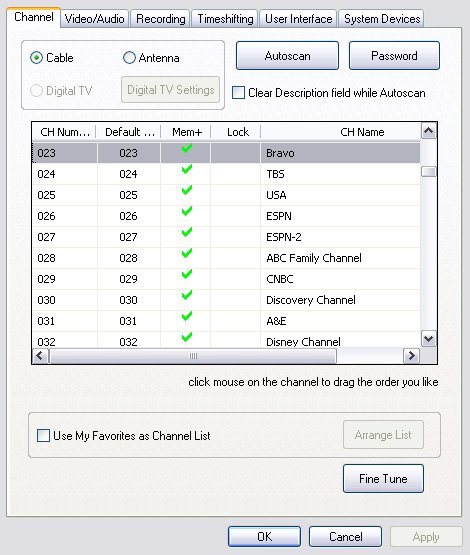 Starting off with the Channel portion of the utility, you can see that it is similar to that of the FM Radio section. I added in the actual channel descriptors for my installation for convenience. You don't have to do this, but since I like mine to show the channel number and name both, it came in handy.
You also have the ability to use password protection. Don't want the kids coming into your computer and watching channels you don't approve of? No problem. Just use the password protection and they're locked out.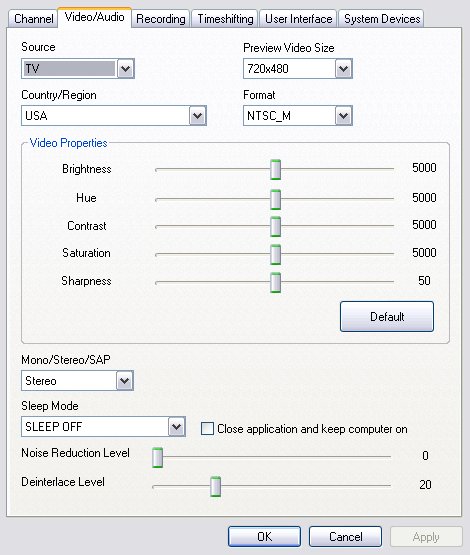 Moving on to the A/V settings shows us a good deal of flexibility in how we watch our television. Whether you want to personalize the colors or audio output or even default screen size, you have the ability to handle it.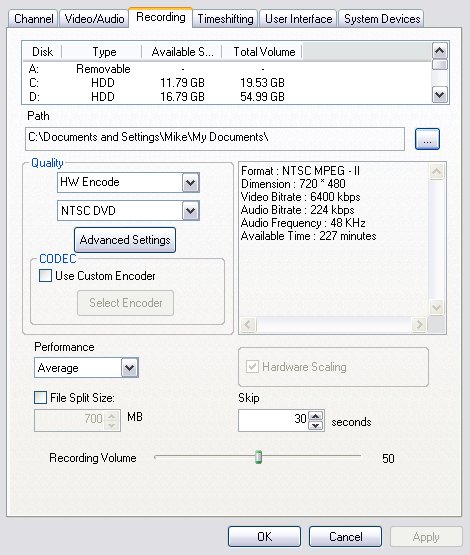 When it comes to saving off the data, this is where we go to get things set up just the way we want them. From this screen you select a path for your saved video files, and also the format to be used to save the files. For those with a sharp eye you'll see an area where you can use custom video CODECs. MPEG2 is the default method used to save the data streams, but you can use something else if you like.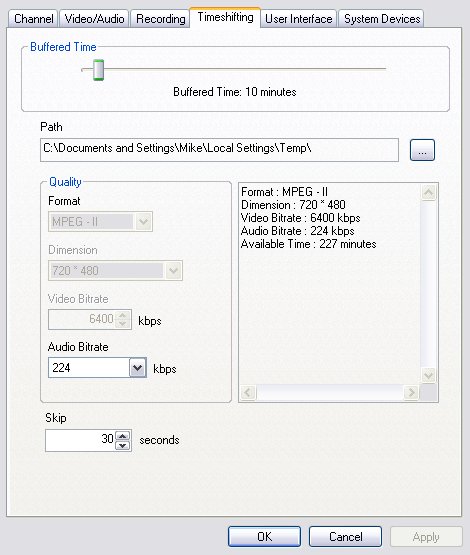 For those who have used a DVR in the past, this screen will have a familiar feel to it. Time shifting is a feature that allows you to record the current program in the event you get called away from the computer. When you get back, the time shifting lets you continue watching the program from where you left it.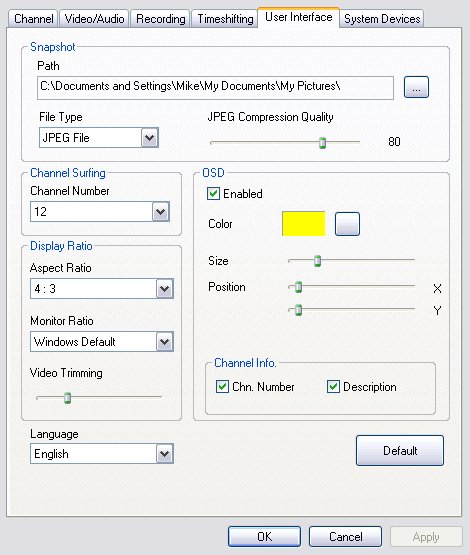 Our final stop in the TV arena shows the User Interface options. Here is where you come to set up those little options that make the TV viewing personalized to your own liking. It also allows you to choose between .jpg or .bmp formats for saving screenshots of what is showing on the TV.
Picture Quality
What's that... you wanted to know what the picture quality is? Very well, lets take a quick peek at that then.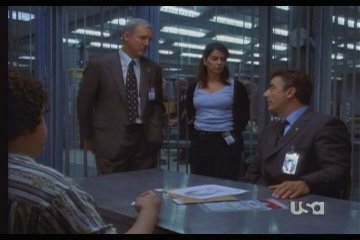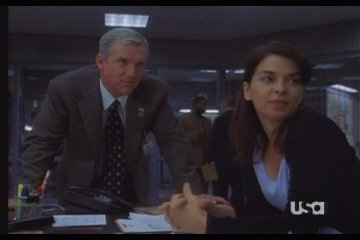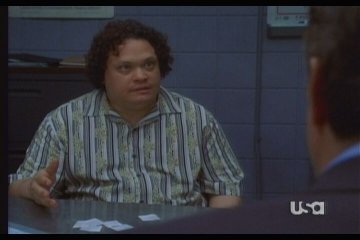 The image is one of the saved screenshots from within the PVR utility and while it shows a decent picture quality, it doesn't do full justice to the output of the H900. While quality of any sort is a speculative opinion, I was impressed with the overall output of this Compro device. Normal viewing was very good and even during action-filled programs like sporting events, there was only a very small amount of ghosting that did not take away from the enjoyment of the program at all.
Final Thoughts
After all is said and done, we find ourselves with a product that does what it claims with ease. Not only does it have the ability to give a very reasonable TV output, it also has other features that do a good deal to set it apart from the others.
With features like PIP/POP dual channel displays as well as multiple frame channel surfing, the H900 performs functions of a high-end television set. Add to this the built in hardware encoding and the ability to use your PC as a DVR device and you have an outstanding overall multimedia device.
There was a slight amount of ghosting during high action programming like sports, but the overall distortion was very slight and among the better performing pictures that I have seen on A/V products to date.
As far as price is concerned, availability looks to be very limited at this point in time so I can't give an impression on this particular topic. Given the features and picture quality compared to others I've had the pleasure of testing in the past, it wouldn't be out of line to expect a price marking toward the top of the comparable products listings. If it ends up being lower, then move it up even higher on your list of possibilities.
Bottom line... If you've been thinking of adding television functionality to your computer or have been making plans for an HTPC, then do yourself a favor and add the Compro VideoMate H900 to your short list of possibilities. With very good video output and a feature list that is more than just a little impressive, you won't be disappointed with this little gem.
- Pros
Very good picture quality
PIP/POP/multi-frame channel surfing
Hardware encoding
Low profile card
- Cons
Slight ghosting in high-action programs
Rating - 9.5 out of 10 and TweakTown's "MUST HAVE" Best Features Award!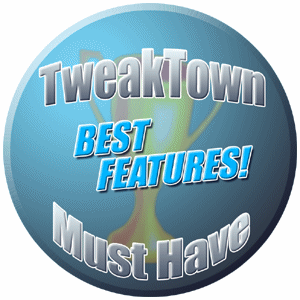 Reviewer's Adendum:
After contacting the folks at Compro, it appears this product will have a MSRP of around $115US, so fits very nicely into the pricing range of comparable products. While not the cheapest on the market, it is a good deal lower than many others that have fewer features. Availability is estimated at the end of March.
PRICING: You can find products similar to this one for sale below.

United States: Find other tech and computer products like this over at Amazon.com

United Kingdom: Find other tech and computer products like this over at Amazon.co.uk

Australia: Find other tech and computer products like this over at Amazon.com.au

Canada: Find other tech and computer products like this over at Amazon.ca

Deutschland: Finde andere Technik- und Computerprodukte wie dieses auf Amazon.de
Similar Content
We openly invite the companies who provide us with review samples / who are mentioned or discussed to express their opinion. If any company representative wishes to respond, we will publish the response here. Please contact us if you wish to respond.