Patriot Viper RGB DDR4-3000 16GB Memory Kit Review
Looking for new memory? Well, the Viper RGB might have everything you are looking for, join us as we run it through its paces in the lab.

Published Sep 12, 2018 10:00 AM CDT
|
Updated Tue, Nov 3 2020 6:57 PM CST
5 minute read time
TweakTown's Rating: 98%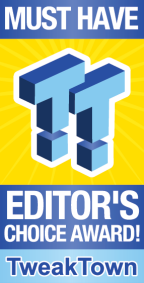 The Bottom Line
It is rare, but the Viper RGB memory has everything you are looking for. They are affordable, they are great looking additions to any build, and best of all they perform! Passing on this memory may be a decision you will regret!

Patriot has been around for a long time, and the Viper Series of memory has many versions over the years, even more so as of late. With various samples of the Vanilla Viper DDR4 memory sporting standard heat spreaders with a tooth-like top to them, that was the mainstay for quite some time, being the mainstay. We did see one evolution not that long ago which came with the Viper Elite sticks, where the heat spreaders were highly stylized, and vents were added along the top of them. Patriot then moved into the Viper LED, with a whole new heat spreader designs, and the addition of a saw-toothed light bar to the top. The latest addition is the Viper RGB line of memory, and the look is entirely different yet again.
What Patriot would like you to know about these sticks is that, first and foremost, you will get lost in the spectrum of colors offered in this series. Another huge bonus is that the Viper RGB is made to work with both Intel as well as AMD with complete compatibility. The Viper RGB is made with black or white spreaders, the maximum speed option is 4133MHz, and not only is it motherboard controllable as far as the lighting is concerned, but there is also Viper Software to use with motherboards that do not fully support RGB components.
Specific to this review, we will be looking at the PRV416G300C5K kit, which is Patriots Viper RGB 3000MHz 16GB dual-channel memory. The timings are fair, the voltage is at the top end of the suggested voltage for an XMP 2.0 Profile, they are covered with a limited lifetime warranty, and at first glance, they appear to be everything the masses are looking for in DDR4. Not only will we get up close and personal as far as aesthetics and what you get, but we will put it through our testing and see just how well this Patriot Viper RGB memory stacks up against all of the other dual-channel kits we have seen thus far.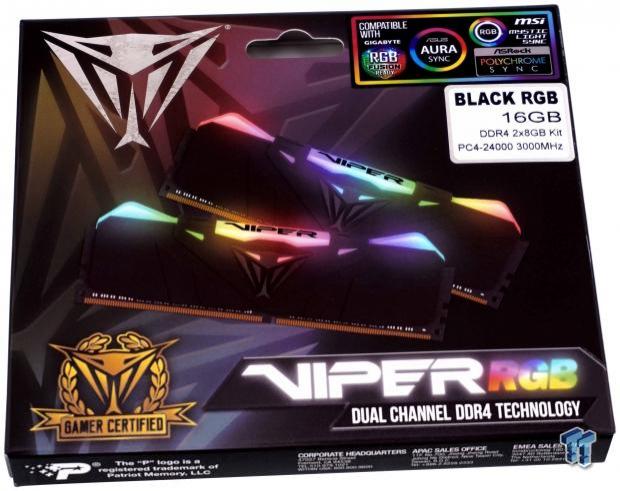 The front of the box has a ton to offer, beyond the logos and the name of the product. At the top, we find all of the motherboards capable of controlling the RGB lighting with the color, density, and speed of the RAM included in the box below it. Not only that, but there are a pair of sticks in the center, illuminated, to give you an idea of what to expect to see when they are in your PC.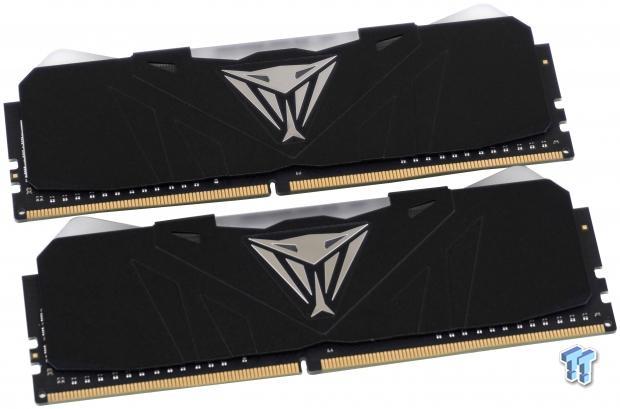 Black PCBs start things off under the matte black heat spreaders, which not only are angular in design but have a large Viper logo in the middle, which has been chromed. The light bar at the top is level with the heat spreaders across the middle, with tabs that protrude on either end of them. Also, the triangular cutaways on either side, as well as the eyes of the Viper log are backlit.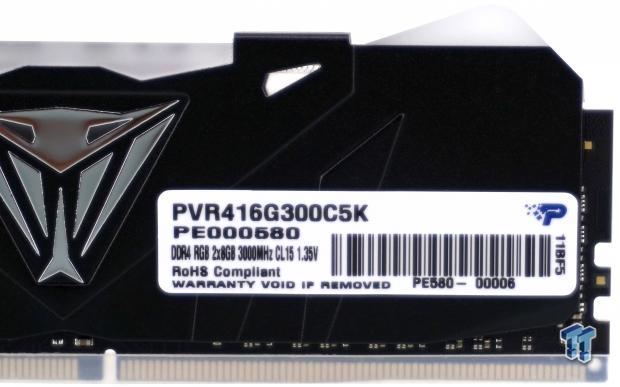 On the other side of either stick, you will find the product sticker on the right of the Viper logo. On it is the PVR416G300C5K part number, but we see that it is a 16GB kit of 3000MHz memory at CAS15 timings, using 1.35V to do so.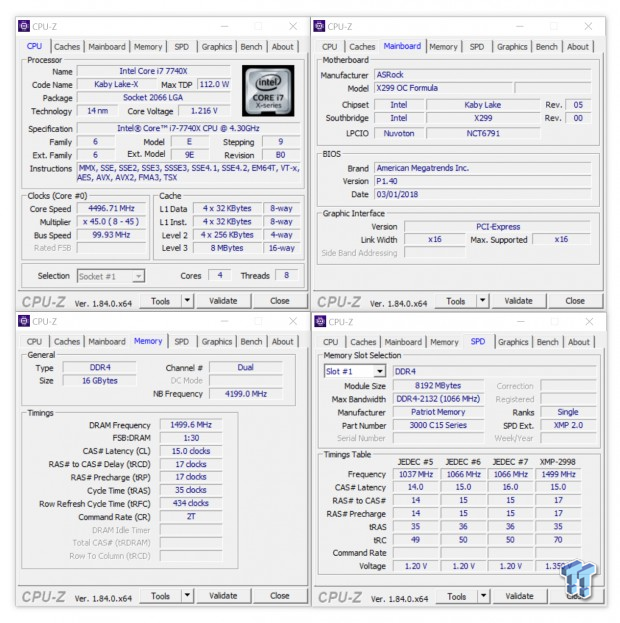 The first boot, followed by a trip into BIOS to enable the XMP 2.0 profile delivers what we are said to get. The memory is currently running at 3000MHz with 15-17-17-35 2T timings. As for the voltages, the VDIMM is indeed 1.35, while the VCCIO is 1.20V and the same for the VCCSA.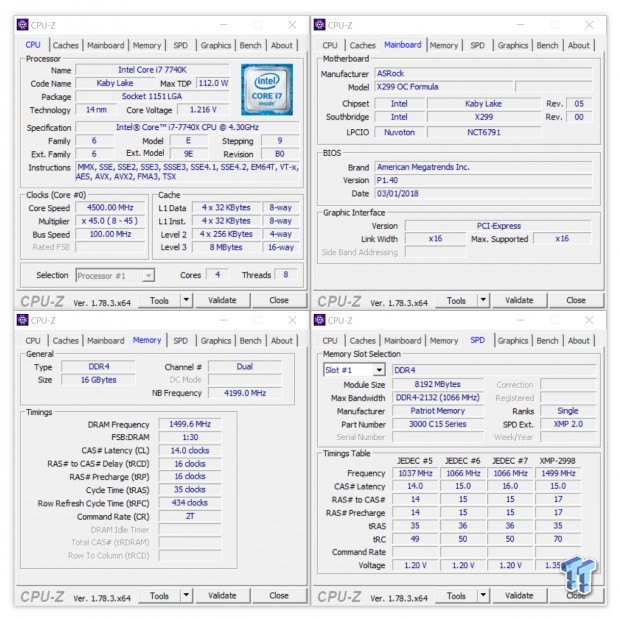 Considering these are some form of Samsung ICs, we did expect timings to be easier to lower. The best we could get with any stability is the 14-16-16-35 2T timings we see in this image. Anything free is good, we just expected a little more leeway is all.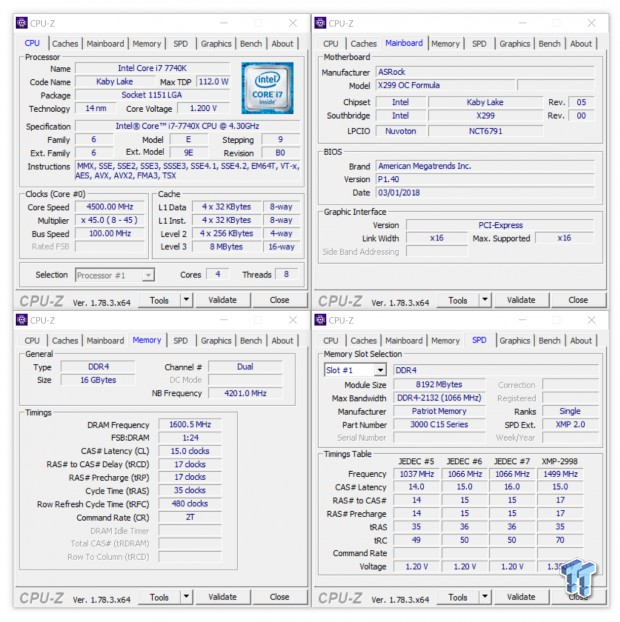 Again, any gains that are free are appreciated, and the 200MHz boost to a stable 3200MHz is more than we paid for. Many kits do tend to offer more headroom, but we were only using 1.45V for the memory and 1.30V for the VCCIO and VCCSA voltages to obtain the last two overclocked results.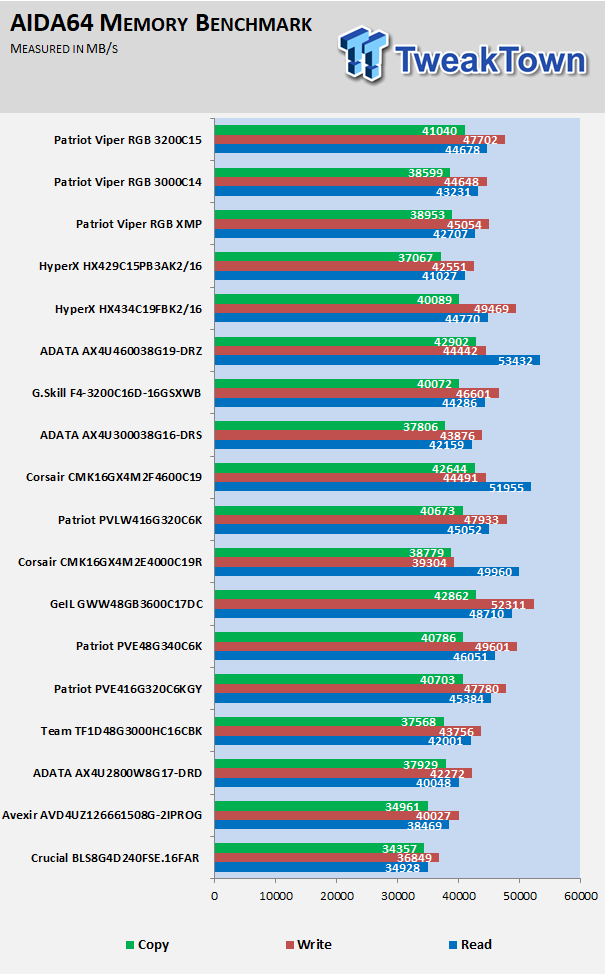 The XMP results are better than any other 3000MHz kit in the chart as well as anything slower. Lowering the timings did not offer much for gains, but moving to 3200MHz does bring us closer to what we see in other kits of that speed. Not too shabby.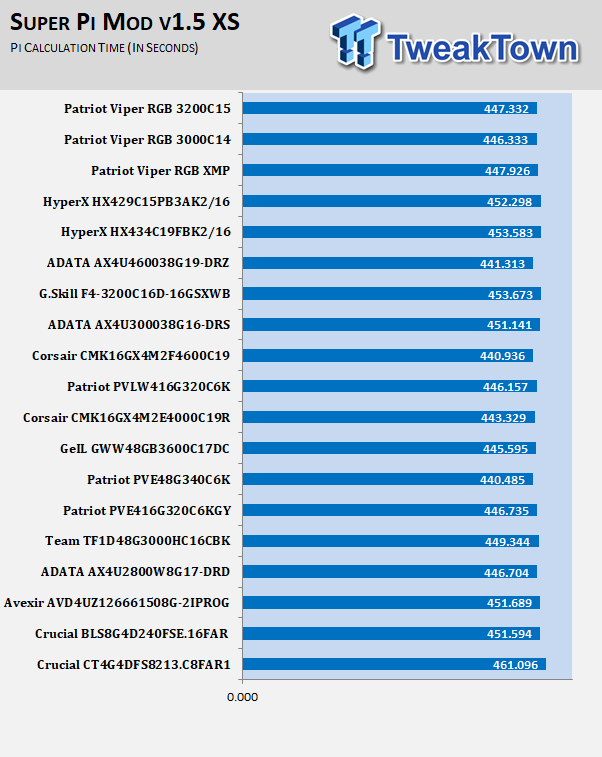 SuperPi times are better than expected. The Patriot Viper RGB beats the other 3000MHz kits and even competes with 3200 and 3400MHz kits. Again, with the limited headroom, there are gains from overclocking this set of DDR4, but they are minimal.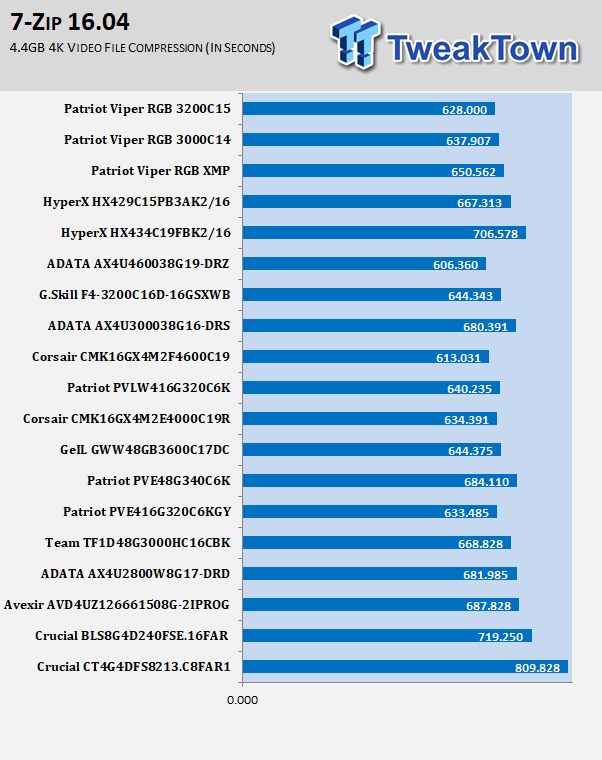 File compression is where the Viper RGB shine. They handily beat out the similarly specified kits in the chart with the XMP profile active. However, where other testing showed minimal gains, this time the scores show some of the best times in this chart, no matter what speed the memory is running on the other offerings.
Unlike some of the RAM we have seen lately, the Viper RGB can stand its ground in our tests. In all honesty, you do not need 4000MHz memory to run games well and have a smooth desktop experience, and this 3000MHz memory falls into the sweet spot of DDR4. What we mean to say is that the speed is enough not to choke off other parts of the PC, yet not so fast it required stupidly high timings to run at whatever that speed may be. To us, performance is the first factor in choosing what memory is in our motherboards, and The Viper RGB deliver better than expected performance, and still offers a bit of headroom for those looking to get every last drop of performance form a system.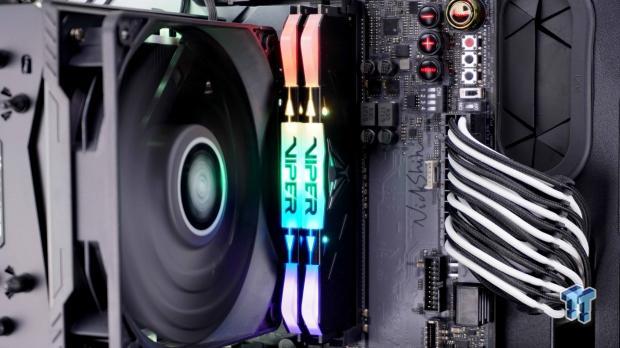 Fresh out of the box with nothing controlling the RGB lighting, the memory displays as it is seen above. The memory defaults into a rainbow mode where the LEDs are continually cycling through all of the colors of the spectrum. For those with motherboard RGB controls via the BIOS or software, the Viper RGB is compatible, and the entire system can be set to a theme, where the chassis, cooler, motherboard, and memory all sync. For those without this feature, you still have an option to customize these flat black sticks RGB LEDs via Viper software. Even while some may consider it a bit corny, we dig the fact that the eyes in the Viper logos are illuminated. Nice touch.
Price is also a huge factor when it comes to making a purchase, and we did some digging to put perspective on this situation. The swing in cost for CAS15 3000MHz memory with 16GB over two sticks is in the range of $150 to $250 depending on the kit. With that said, the Patriot Viper RGB can be found at Newegg for $181.99, and slightly cheaper at Amazon for $179.99. Pricing is just above the bottom end of pricing, and well below the halfway mark too. In the end, we are left with no reason why this Patriot Viper RGB DDR4-3000 16GB kit should not be on the top of your list of choices, whether for Intel systems or AMD.
Chad's DDR4 Dual-Channel Test System Specifications
Motherboard: ASRock X299 OCF
CPU: Intel Core i7 7740X - Buy from Amazon
Cooler: LEPA NEOllusion - Buy from Amazon
Video Card: ZOTAC GeForce GTX 970 AMP. Extreme Core
Storage: Samsung XP941 256GB
Case: Thermaltake Core P3 - Buy from Amazon
Power Supply: Corsair RM750 - Buy from Amazon
OS: Microsoft Windows 10 Home 64-bit - Buy from Amazon
Software: CPU-Z 1.78.3 x64, Super Pi Mod 1.5XS, 7-Zip 16.04, AIDA64 Engineer 5.92.4300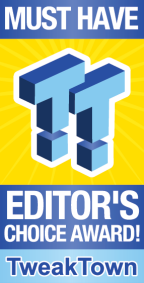 | | |
| --- | --- |
| Performance | 97% |
| Quality | 99% |
| Features | 100% |
| Value | 96% |
The Bottom Line: It is rare, but the Viper RGB memory has everything you are looking for. They are affordable, they are great looking additions to any build, and best of all they perform! Passing on this memory may be a decision you will regret!
PRICING: You can find products similar to this one for sale below.

United States: Find other tech and computer products like this over at Amazon.com

United Kingdom: Find other tech and computer products like this over at Amazon.co.uk

Australia: Find other tech and computer products like this over at Amazon.com.au

Canada: Find other tech and computer products like this over at Amazon.ca

Deutschland: Finde andere Technik- und Computerprodukte wie dieses auf Amazon.de
We openly invite the companies who provide us with review samples / who are mentioned or discussed to express their opinion. If any company representative wishes to respond, we will publish the response here. Please contact us if you wish to respond.