HyperX FURY DDR4-3466 16GB Dual-Channel Memory Kit Review
There is much to like about the HyperX Fury DDR4-3466 16GB Dual-Channel Memory Kit, its simple yet effective design complements its performance.

Published Mon, May 21 2018 10:00 AM CDT
|
Updated Tue, Nov 3 2020 6:57 PM CST
Rating:

81%
Manufacturer: HyperX

It seems to have been a while since we last saw DDR4 from HyperX, but with one quick email, we now have a pair of kits to have a look at. The first of which, is the highest binned offering of the Fury line of their memory. Some of the Things HyperX wants you to know about the Fury line is that there is automatic overclocking, up to 3466MHz, but the XMP1 profile must be used to accomplish this on Intel systems. They like to show off the limited voltage used at just 1.20V, but only if using the XMP2 profile. They are deemed cost-efficient and high-performance, as well as sporting an asymmetrically designed heat spreader, which is also low-profile.
The set we have in hand are black but is one of three color choices. Each set can be found with red or white heat spreaders as well. We made mention of the dual XMP 2.0 profiles which deliver speeds of 2933MHz using XMP2, or the HX434C19FB2K2/16 can also deliver 3466MHz by applying the XMP1 profile. As advertised, this set of RAM offers 3466MHz of speed, but the timings are loose at 19-23-23-42 2T, which allowed HyperX to set the voltage to 1.25V. However, the slower profile with slightly tighter timings does run with just 1.20V. If anything were to go wrong with the Fury DDR4, there are no worries, as a lifetime warranty backs it.
As we put this 16GB dual channel kit through its paces and run our tests on it, we have quite a bit to cover. With multiple profiles to test, and overclocking the sticks too, we feel we have a good sense of what this HyperX Fury DDR4 has to offer. Of course, there are other factors to consider as well, like the design and low-profile nature of the set of RAM, and we will take all of this, plus pricing, into consideration and see if the HyperX Fury memory is the right fit for you.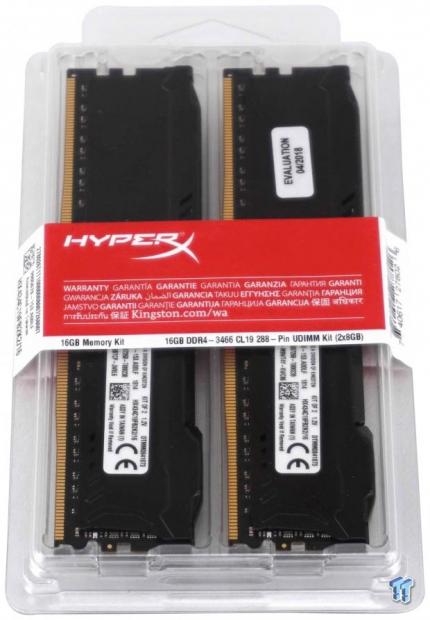 HyperX uses the simplest of packaging, which offers a view of the memory, with no need for fancy designs or artistic renderings of what is inside of it. The bright red HyperX sticker not only seals the packaging, but it is also there to specify the density, type, and speed of the RAM.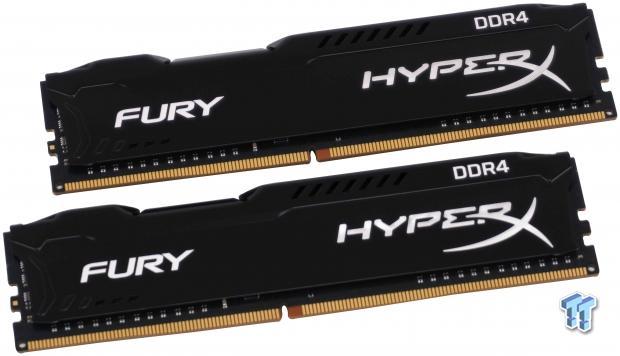 What you see now is the better side of the HyperX Fury. All of the names and text displayed is exposed metal with a subtle groove pattern. In this instance, the heat spreaders are black and have angular lines, open slots at the top and bottom, and a body line along the top. We can see a bit of the PCB, and we like that it is black and not green.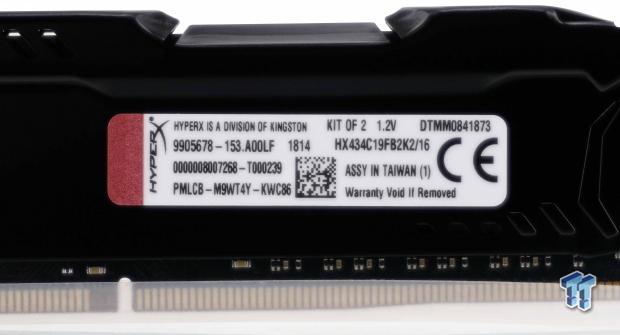 The other side of the sticks have no exposed metal at all, just an expanse of black metal shaped identically to what is on the other side. We do find the product sticker here, where we see the voltage, the model number, where they were made, and a message not to remove the label with a penalty of voiding the warranty.

Along the top edges, we find a pair of tabs which locks the two halves of the heat spreaders together. The HYPERX name seen here is painted on, and to the left of the name are notches for a bit of added appeal visually.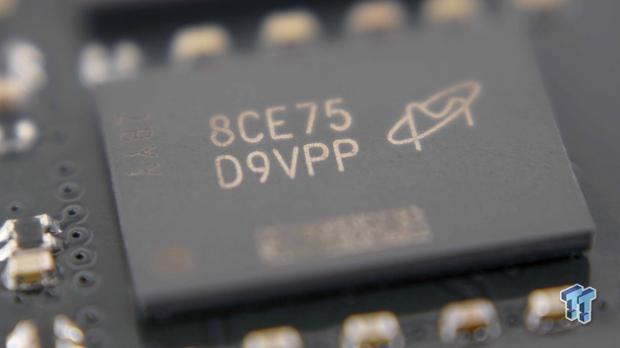 To be honest, we expected to see Hynix ICs here, but instead found ICs made by Micron. These are D9 ICs, and if previous experience with these ICs is any hint of what is to come, they should clock pretty well.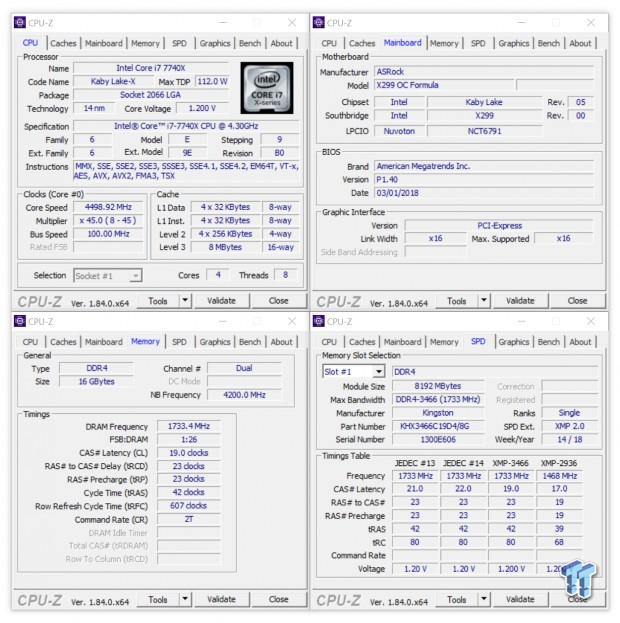 Using the XMP1 profile, we find the Fury to run at advertised speed and timings. Currently, they are running at 3466MHz with 19-23-23-42 2T timings, but the profile uses 1.25VDIMM, and the VCCIO is 1.20V, and the VCCSA is 1.35V. If by chance this XMP 2.0 profile gives you issues, there is another choice.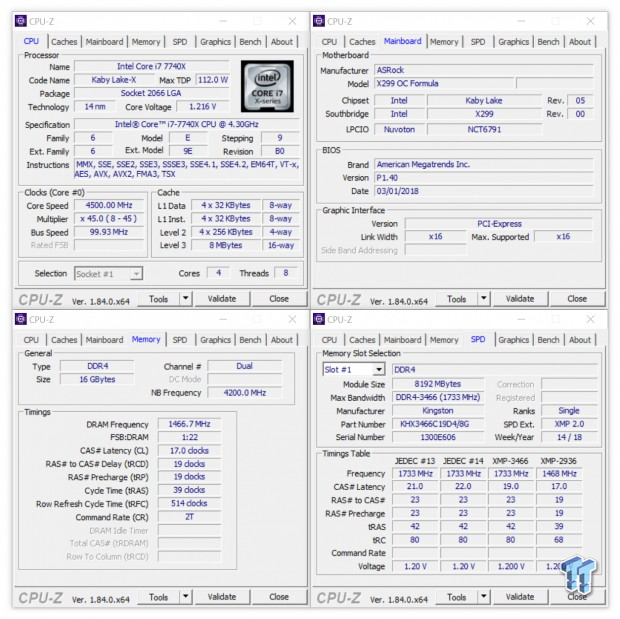 HyperX built in a second XMP 2.0 profile into this kit. By selecting XMP2 in the BIOS, the Fury now runs at 2933MHz with 17-19-19-39 2T timings. The voltage is also lowered, where 1.20VDIMM is used, and the VCCIO is dropped to 1.10V and the VCCSA is only 1.20V.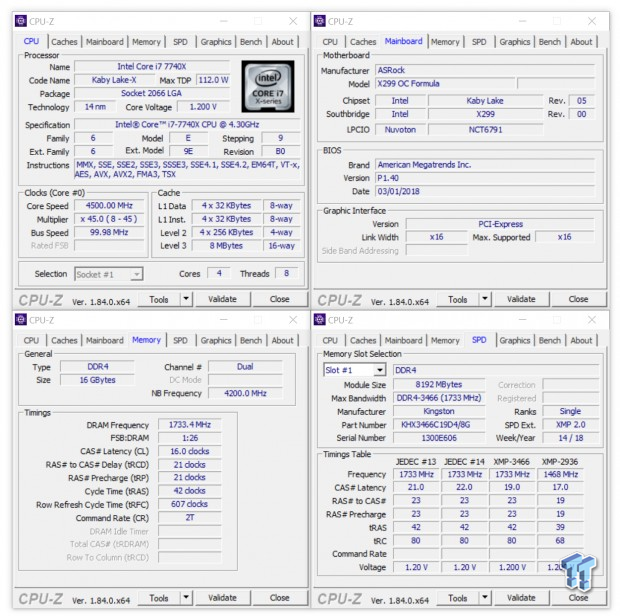 Using just 1.35VDIMM set in the BIOS, and using 1.25V and 1.35V for the IO and SA voltages respectively, we were able to reduce the stable timings of the Fury quite a bit. At 3466MHz, we were able to achieve 16-21-21-42 2T timings, to squeeze all the performance we could get from this manner of tweaking RAM.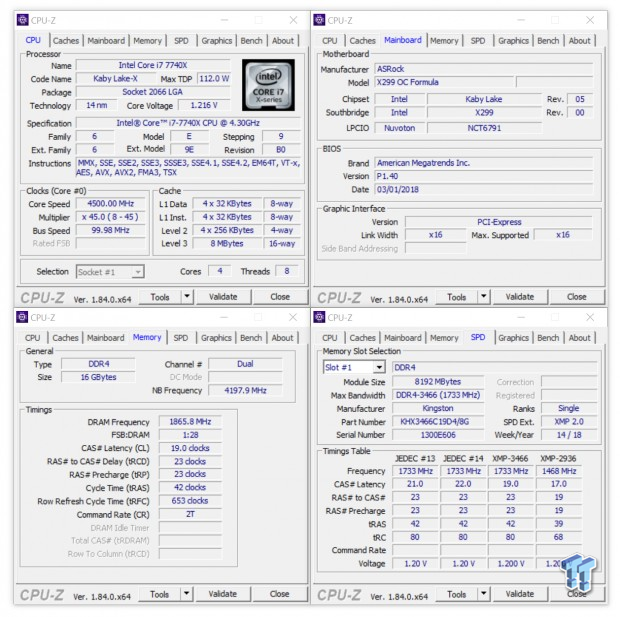 Attempting to get the most megahertz from the Fury DDR4, we used the same voltages as the last attempt and started increasing the speed with the straps available in our BIOS. Once we got the speed up to 3733MHz we were okay, but getting anything further stable was not possible, and nearly 300MHz increase in speed is a welcomed bonus.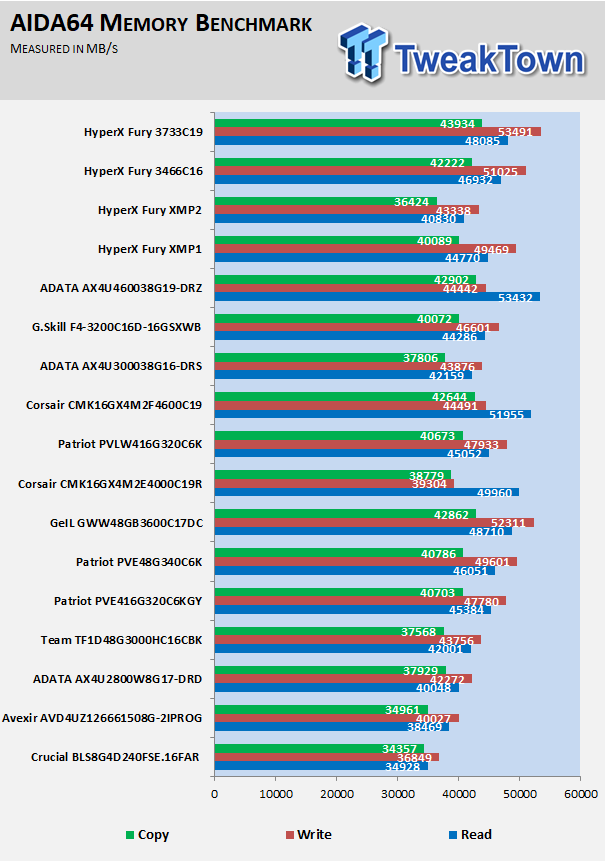 The results of the AIDA64 bench suite are better than expected. The Fury with XMP1 hold their own against much tighter timed 3200MHz kits, and while Read performance is reasonable, the Write capability is what shines. XMP2 is much less impressive, but fall where it should. Tightening the timings added quite a bit of help to the kit, but overall speed won out at the end of the day.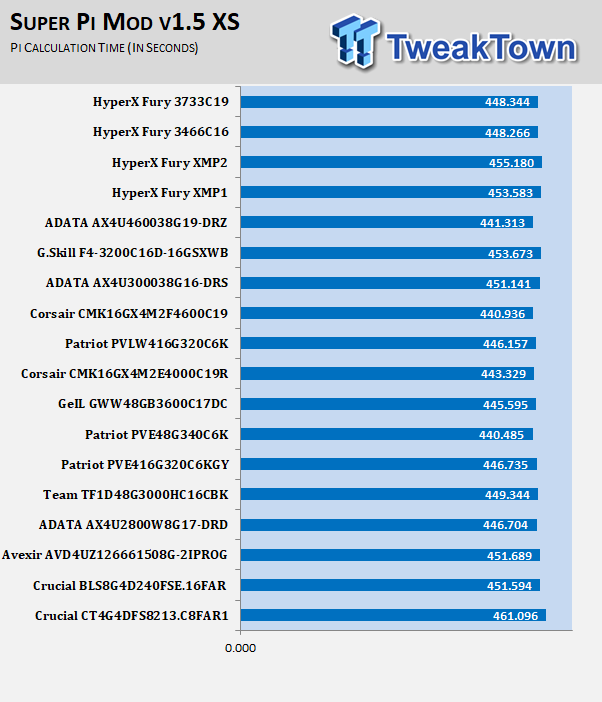 Going by Super Pi 32M results, XMP1 delivered similar performance to 3200MHz RAM, yet gets beat buy almost all others on the list. XMP2 increased the time by nearly two seconds. Even trying things with lowered timings or more speed did not improve things that much.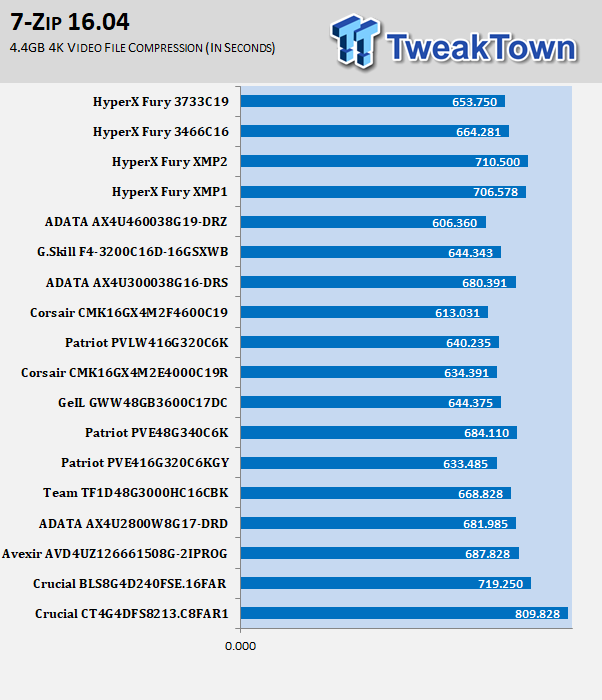 Only two kits in the chart did worse than what we see of the XMP1 profile, and with the XMP2 profile adding four seconds of compression time, we feel it speaks for itself. By tightening the timings or increasing the speed, we see a drastic drop in time, which is good, but still not great.
There is much to like about the HyperX Fury DDR4. We like the limited voltage needed to run the XMP 2.0 profiles for starters. We like the aesthetics of the RAM too, as not everyone needs RGB lighting or super fancy heat spreader designs, and these being black will blend in with nearly any build. The fact that the Fury is low-profile is also nice, as not everyone uses AIOs or custom water cooling. Although the use of a large tower cooler may block the view of the Fury, the 34mm height of them will not cause a problem with cooler fitment. We also like that there are multiple XMP profiles, and every IMC is not created equal. Offering customers options ensure that with one thing selected in BIOS, everyone gets to have increased speed over the SPD profile.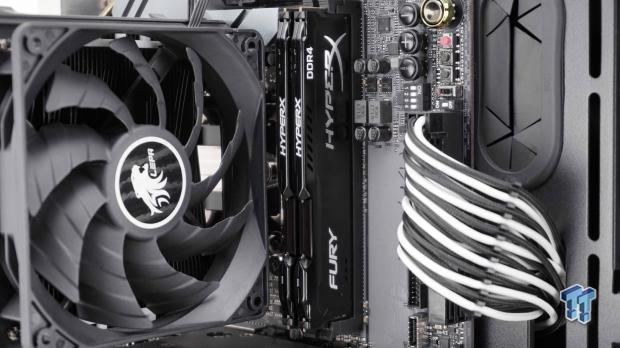 However, testing does not bode well for the Fury. AIDA64 results were not that bad, but in compression, and calculation time, the Fury 3466MHz kit falls behind the competition. There is some room in the Micro D9 ICs for improvement, but with the advertised speed being what it is, HyperX may have lost their way opting for low-voltage and high timings as a way to get the predetermined speed. We do know there are those out there looking for energy saving RAM, like in an HTPC, but for the average gamer or power user, there may be better options if productivity time is of concern to you.
When we started, another point was made where we felt maybe the HyperX Fury 3466MHz memory could have won us over, and that was in its cost-efficiency. When looking to buy the HX434C19FB2K2/16 kits, we see that HyperX has the MSRP set to $248. Amazon does offer them a couple of dollars cheaper, and there are no signs of this RAM on Newegg, but comparing to other kits in this high priced market, The Fury is more expensive than other similar DDR4 with the same features. Corsair Vengeance RGB, G.Skill TridentZ, and Ripjaws V, at the same speed, are more affordable. For our usage, we would gladly take a bit more voltage to the memory in exchange for lower timings, possibly better performance, and less of a dent in our bank account. Sorry, but, in the end, all there is to brag about is the low voltage, aesthetics, and cooler clearance for the Fury from HyperX.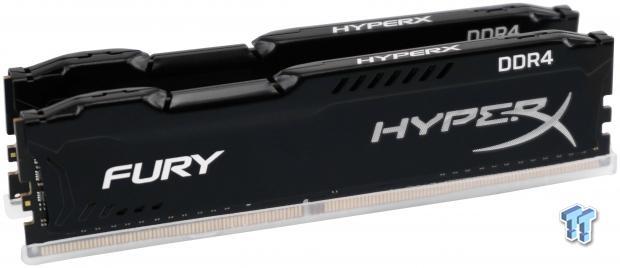 Chad's DDR4 Dual-Channel Test System Specifications
Motherboard: ASRock X299 OCF
CPU: Intel Core i7 7740X
Cooler: LEPA NEOllusion - Buy from Amazon
Video Card: ZOTAC GeForce GTX 970 AMP. Extreme Core
Storage: Samsung XP941 256GB
Case: Thermaltake Core P3 - Buy from Amazon
Power Supply: Corsair RM750 - Buy from Amazon
OS: Microsoft Windows 10 Home 64-bit - Buy from Amazon
Software: CPU-Z 1.78.3 x64, Super Pi Mod 1.5XS, 7-Zip 16.04, AIDA64 Engineer 5.92.4300
| | |
| --- | --- |
| Performance | 79% |
| Quality | 90% |
| Features | 80% |
| Value | 75% |
The Bottom Line: HyperX lost sight by forcing the voltage restraint. Timings are too high, performance is not there, and the cost is higher than most of its competition. We feel that your money is more wisely spent on another set of DDR4 3466MHz sticks!
PRICING: You can find products similar to this one for sale below.

United States: Find other tech and computer products like this over at Amazon.com

United Kingdom: Find other tech and computer products like this over at Amazon.co.uk

Australia: Find other tech and computer products like this over at Amazon.com.au

Canada: Find other tech and computer products like this over at Amazon.ca

Deutschland: Finde andere Technik- und Computerprodukte wie dieses auf Amazon.de
We openly invite the companies who provide us with review samples / who are mentioned or discussed to express their opinion. If any company representative wishes to respond, we will publish the response here. Please contact us if you wish to respond.