ADATA XPG Z1 DDR4-4600 16GB Dual-Channel Memory Kit Review
ADATA XPG Z1 DDR4-4600 16GB Dual-Channel Memory Kit brings chart topping performance, a sleek look and record speeds. Check it out here.

Published Thu, May 3 2018 10:00 AM CDT
|
Updated Tue, Nov 3 2020 6:57 PM CST
Rating:

94%
Manufacturer: ADATA

It wasn't until a fellow reviewer at TweakTown asked me a few questions on whether or not some new DDR4 he had requested for testing would work, which I was made aware of the existence of what we are looking at today. Initially, the question asked was if 4600MHz RAM would work with an 8700K clocked to 5.2GHz. After much discussion in general terms, curiosity prevailed, and the question was asked as to which kit he was attempting this. Much to our surprise, he had gotten his hands-on some ADATA sticks that were not even in existence on the XPG product page.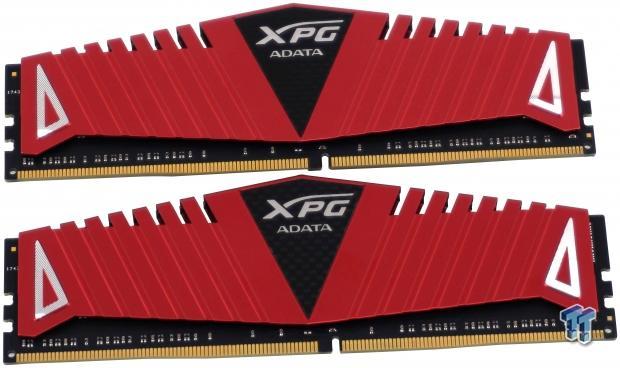 So after an email or two, we got our hands-on a kit, so that we could see what was possible, as the only other set of DDR4 we have tested at this speed was sent to us by Corsair. Once the memory arrived at our door, we found that they are so new, that retail packaging was not included, just two sticks, well protected, inside of a cardboard box. With a bit of deductive reasoning, we concluded this ADATA XPG memory is from the Z1 series based on the red, uniquely shaped, heat spreader design. With this series, ADATA does describe things which will benefit the buyer, but what we find most important is their mention of the usage of more copper in the PCB for more stable transfer of data, but also the cooling effect that comes along with it. ADATA also mentions the use of top-quality ICs, and what we found on the PCBs proves they went for the best of the best.
The set of memory we have in our hand at this time is the ADATA XPG Z1 AX4U460038G19-DRZ sticks. The DDR4 was delivered to us in two 8GB sticks, each binned to be capable of 4600MHZ. Timings are about where expected, shown to run 19-23-23-43 2T, but keep in mind that the voltage required is 1.5V. Geared towards the overclocker, and those, specifically, who own an MSI Z370I Gaming Pro Carbon AC, and Asrock X299 OC Formula, an ASUS ROG Maximus X Apex. Not only that, but you also need a CPU which has no issues running a stable BCLK overclock, as most motherboards do not offer a 4600MHz divider/strap for the memory. If you are one of the lucky who has the right motherboard and a golden sample CPU, then these sticks could be the cherry on top of the sundae when attempting to get the most speed possible out of your PC.
The ADATA XPG Z1 sticks all look like this, no matter the speed or the density. They utilize red heat spreaders, which are angled at the top edge, with slots removed on either side of the wing-like design. The slots at the top correspond to the grooves on the sides, there are exposed metal triangles at either end, and the sticker in the middle is made to look like carbon fiber.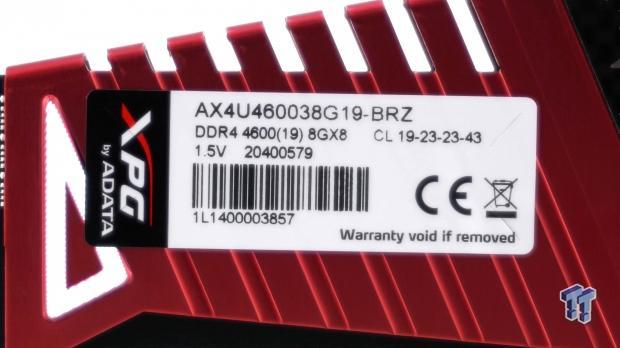 On what we consider the wrong side of the sticks, ADATA has placed the product stickers on the side which faces away from the CPU, or the side which is easily viewed. On the sticker, we see the part number for the stick, not the kit, which is followed by the speed, density, timings, and voltage.

The heat spreader is a two-piece design, and are attached to the ICs with thick thermal tape. Near the center, and at the top of some of the fins, there are tabs which lock into each other, so that the spreaders are even with a clean finished appearance to the top of the sticks.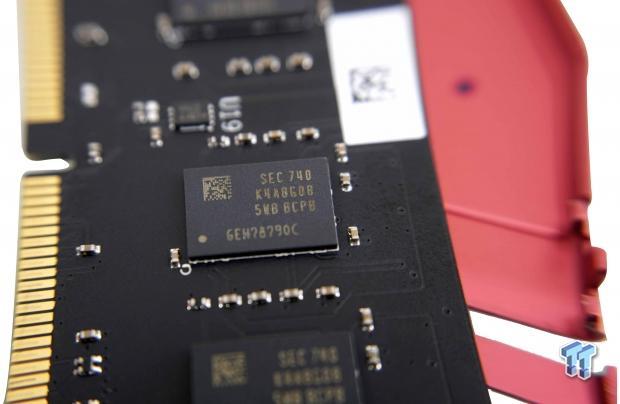 ADATA says they used top-quality chips, and after removing the spreaders, we could not ask for better. Samsung is the chip of choice when it comes to high speed, but using the K4A8G085WB BCPB B-die ICs is the only way to go in our opinion, as many other ICs won't come near the XMP 2.0 profile that this DDR4 delivers.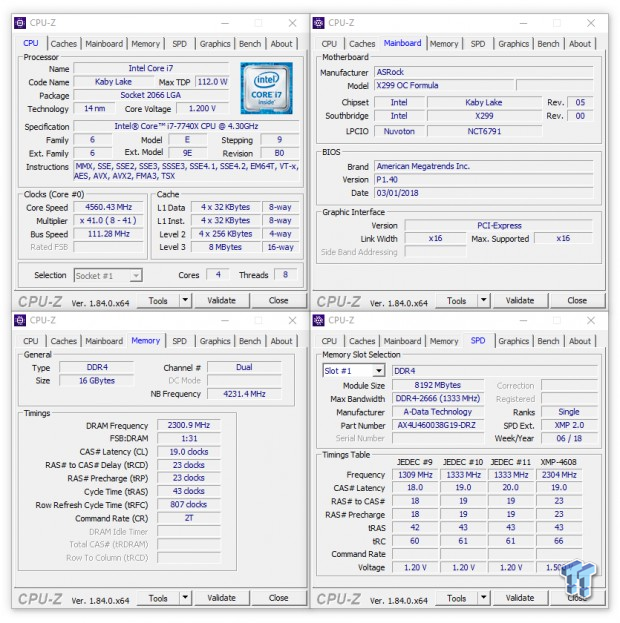 The only way we were "safely" able to run the AX4U460038G19-DRZ was via the XMP 2.0 profile. Once loaded back into Windows, we can see the kit is running at 4600MHz with 19-23-23-43-807 2T timings. However, to accomplish this feat, the VDIMM is set to 1.5V, and the VCCSA and VCCIO were both set to 1.40V as well.
We could have attempted to use our standard methods to overclock them, by adding voltage to the three main settings, but we err on the side of caution here. With no additional airflow, and while using a CPU air cooler, we do not suggest taking these sorts of steps as damage to the IMC and the memory could occur.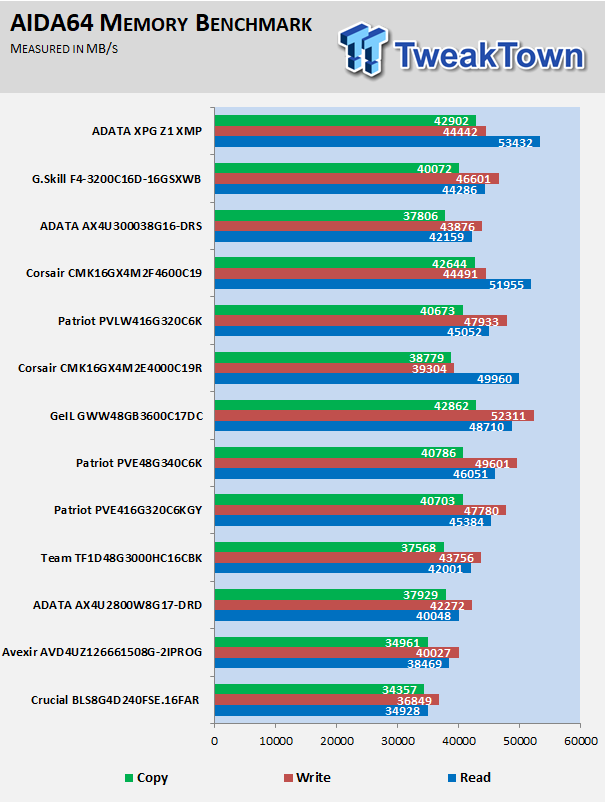 With the XPG Z1 4600 kit set with the XMP profile, we see the best Read results to date. The Write and Copy results are on par with the CMK16GX4M2F4600C19 RAM, but is handily beat by many of the much slower competition.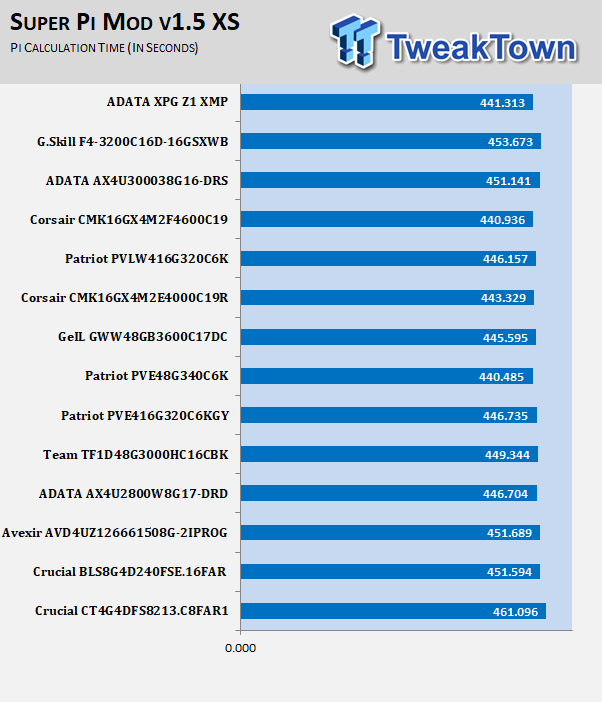 From the baseline of 2133MHz at the bottom of the chart, we were able to gain near twenty seconds of time back when calculating something like Pi. However, the Corsair 4600MHz set is slightly faster at this test, but only by less than half a second.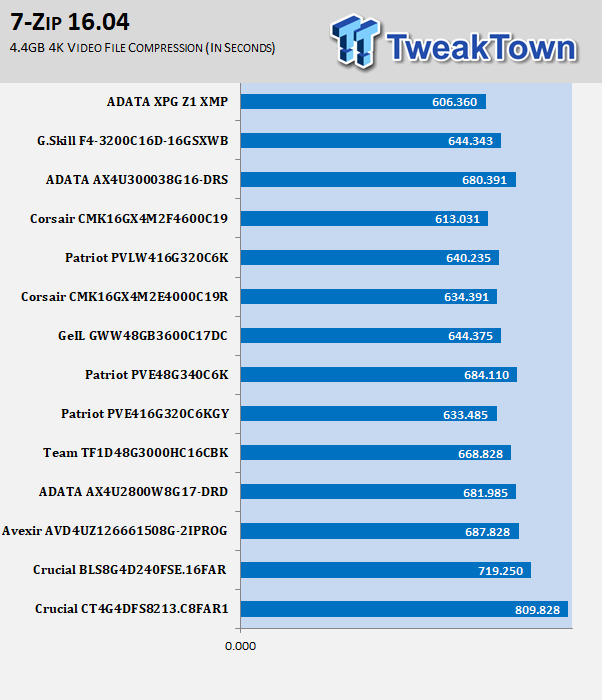 Where the ADATA XPG Z1 shines is in file compression. Not only does it top the chart with the lowest time, but it is also nearly seven seconds faster than comparable Corsair memory.
While the Corsair solution was a bit more flexible for the tinkers out there, the ADATA XPG Z1 at 4600MHz has made a strong showing. Just by setting the XMP 2.0 profile, we were able to get blistering speed, huge Write performance, and file compression ability better than anything we have tested to date. While on the one hand, we do not see this as a kit for the layperson, but for those with the ability of extreme cooling and the grapes big enough to keep trying more voltage, there is more left in the tank. While we were unable to get much stable when it came to overclocking this kit, the way in which it was failing tests told us that with a bit more voltage, we could have gotten some headway in that respect too.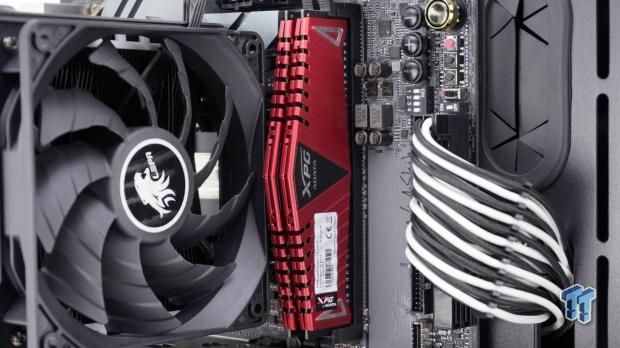 The styling of the kit is a lot more subdued than much of what we see on average, for the RGB haters out there, this is a viable solution to get style and performance, without having to pay extra for things you do not want. The only downside to this kit within the realms of performance and appearance is that we do wish the stickers were not visible like in the image above. Not a deal killer, but we would prefer the cleaner appearance of the design that ADATA took the time to develop the Z1 Series heat spreaders. In some instances of testing, you can get higher results with slower memory, but where is the fun in saying I run 3200MHz when you can brag about using 4600MHz sticks instead.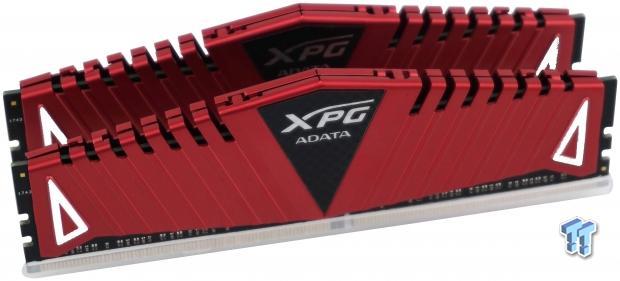 The last thing we need to address is what will it cost to own the ADATA XPG Z1 4600MHz DDR4. In emails with our representative, we had it spelled out to us that the MSRP for these DIMMs is set at $449. Right now, memory pricing is insane, but we have to evaluate the cost in some fashion. Currently, you can get the G.Skill Trident Z (non-RGB) $41 cheaper, and Corsair's solution is $160 more, but it does come with a fan. With what is available on the market right now, at this speed and density, we cannot fault ADATA asking what they are for the AX4U460038G19-DRZ. However, this will leave the average user wondering why so much, yet those with the ability to "be creative" with RAM clocking for world records, this is one of maybe three or four options to go with currently, and come at an average cost with today's hike in DDR4.
Chad's DDR4 Dual-Channel Test System Specifications
Motherboard: ASRock X299 OCF
CPU: Intel Core i7 7740X - Buy from Amazon
Cooler: LEPA NEOllusion - Buy from Amazon
Video Card: ZOTAC GeForce GTX 970 AMP. Extreme Core
Storage: Samsung XP941 256GB
Case: Thermaltake Core P3 - Buy from Amazon
Power Supply: Corsair RM750 - Buy from Amazon
OS: Microsoft Windows 10 Home 64-bit - Buy from Amazon
Software: CPU-Z 1.78.3 x64, Super Pi Mod 1.5XS, 7-Zip 16.04, AIDA64 Engineer 5.92.4300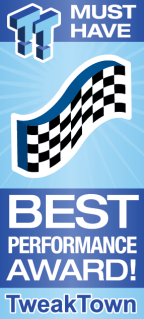 | | |
| --- | --- |
| Performance | 99% |
| Quality | 98% |
| Features | 90% |
| Value | 90% |
The Bottom Line: With chart topping performance in some of our tests, subtle looks that appeal to everyone, and at speeds anyone would love to brag having, the XPG Z1 4600MHz DDR4 is impressive. Although, ADATA has restricted its market and those with a keen eye will appreciate what has been delivered.
PRICING: You can find products similar to this one for sale below.

United States: Find other tech and computer products like this over at Amazon.com

United Kingdom: Find other tech and computer products like this over at Amazon.co.uk

Australia: Find other tech and computer products like this over at Amazon.com.au

Canada: Find other tech and computer products like this over at Amazon.ca

Deutschland: Finde andere Technik- und Computerprodukte wie dieses auf Amazon.de
We openly invite the companies who provide us with review samples / who are mentioned or discussed to express their opinion. If any company representative wishes to respond, we will publish the response here. Please contact us if you wish to respond.