Terminator 2: Judgment Day 4K Ultra HD Blu-ray Review
He sure is back, but sadly this 4K debut isn't the homerun you we're hoping for.

Published Fri, Mar 2 2018 10:00 PM CST
|
Updated Tue, Nov 3 2020 6:57 PM CST
Terminator 2: Judgment Day 4K Ultra HD Blu-ray Review
Few directors working today have made the same cultural impact as James Cameron - amazingly so since he's only made a handful of films. And while the films made without his input have hardly been stellar, the action thriller series that he birthed in 1984, as well its 1991 sequel have stood the test of time. Having found great success with a 3D re-release of the 1997 disaster epic Titanic, Cameron returned Terminator 2: Judgment Day to theatres worldwide, and which now comes to the home cinema.
The T-800 (Arnold Schwarzenegger) is a robot from the future, sent back in time to save the young boy John Connor, whom will grow up to become the leader of the human resistance against the merciless sentient robots. However, a more technologically advanced robot, the T-1000 (Robert Patrick) has also been sent back, with the mission of killing John Connor. Thus, begins a cat and mouse hunt with two unstoppable machines, with the future of the human race in the balance.
Unlike the 3D re-release of Titanic, Terminator 2: Judgment Day 3D wasn't a huge money-spinner, which suggests that their won't be forthcoming re-releases for other Cameron hits like The Abyss or Aliens. That's a shame, but it has re-kindled the director's interest in the flagging series, announcing last year that he will play a key role in more sequels to get the franchise back on track. Bring it on.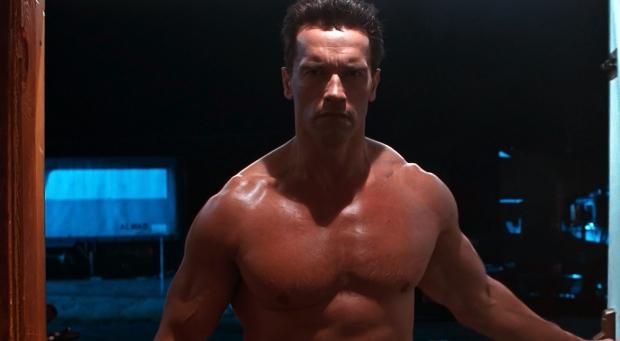 Video
Terminator 2: Judgment Day is presented in its original 2.25:1 aspect ratio, encoded with H.265 compression and finished with a static HDR-10 grade.
At this point, I've lost count of how many times I've purchased and re-purchased Terminator 2, but it's probably somewhere in the order of six times. Throughout the years, the film has enjoyed some lavish special edition releases (even dating back to its Laserdisc release), but it's never really shined on video in a manner that befits its status as a crown jewel in modern sci-fi pantheon. Sadly, this treatment also extends to its premier release in 4K.
During prep for the film's 3D re-release, Terminator 2: Judgment Day Studio Canal went back to the film's original negative to strike a new 4K transfer, for which some restorative work was undertaken (particularly in regards to some CG fixes for well-known flubs). As is typical practice for a 3D production workflow, digital noise reduction was applied to take an edge off the film's in-built grain. However, the DNR seems to be slightly more egregious than the norm. In an unfortunate turn of events, this same post-DNR master has been re-purposed for all 2D editions.
Viewing Terminator 2: Judgment Day in 4K makes for an extremely frustrating experience. Scattered throughout the film are some shots and sequences that look positively stunning and an obvious step-up from previous versions. But every example of this is equally matched with shots that are inversely some of the ugliest I've witnessed in 4K, with thick lashings of DNR literally turning actors into wax models, and sharpening tools employed to counteract it. Having been filmed in Super 35, Terminator 2: Judgment Day has always been a particularly grainy film, but you certainly wouldn't know it from this presentation. Here, that grain has been wiped clean, taking plenty of fine detail away with it.
Despite this, there are times that the film shines. The modern colour grading removes the horrible red push seen in previous editions and updates the visual look of the film quite concisely, even if it does occasionally over-step the mark. But it's all a very mixed big. Somewhere down the line, Terminator 2: Judgment Day fans might get the ultimate 4K presentation that this version should have been. Until that point, fans are going to have to keep waiting patiently.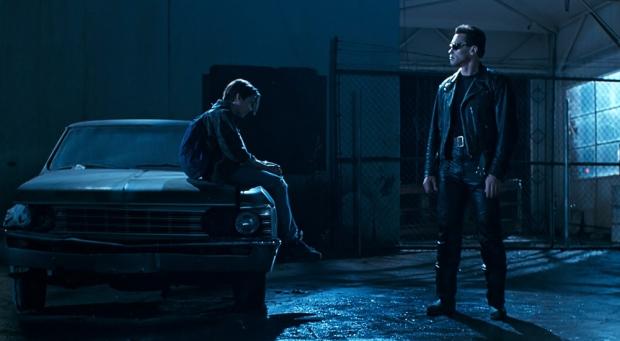 Audio
Terminator 2: Judgment Day's primary English audio track is a 5.1 DTS HD-Master Audio encoded at 16 bits.
Unlike the vast majority of films released on the 4K format, this hasn't been remastered for modern immersive audio formats, instead only providing the same 5.1 mix that was struck in the mid 2000's for a previous DVD release.
For the most part, the mix presented here is pretty good with a few standout scenes which showcase some aggressive surrounds mixing, including the opening future battle sequence and the bike chase through the canals. The soundtrack is only let down by some inconsistent LFE mixing which provides for an unbalanced experience. For example, a shotgun shouldn't sound bassier, than say, an exploding aircraft.
A more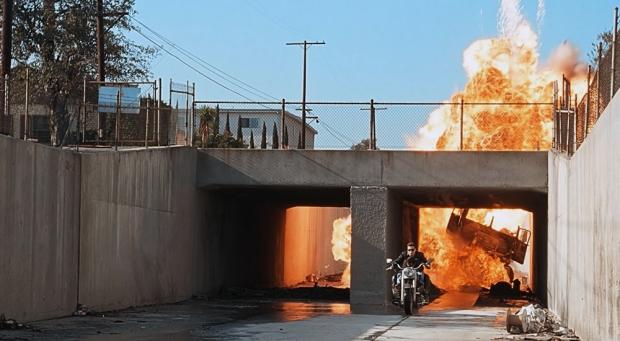 Extras
This new Terminator 2 edition comes packing a 'best hits' selection of previously released bonus features, including two audio commentaries, deleted scenes, a vintage making of featurette, and trailers.
The sole new extra is the nearly hour-long Reprogramming the Terminator documentary, which serves as an excellent retrospective on the film, and its impact on pop culture. Including newly shot interviews with most of the cast (sans Linda Hamilton), as well as notable crew such as ILM's Dennis Muren, the documentary reveals some trivia and behind the scenes stories that will surprise even the most knowledgeable of Terminator fans. Plus you'll get to marvel at who has aged well... and who hasn't.
[award]1234[/award]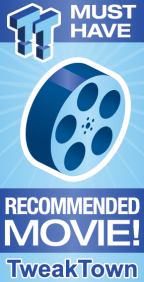 | | |
| --- | --- |
| Performance | 91% |
| Quality | 67% |
| Features | 78% |
| Value | 70% |
The Bottom Line: What could have been a stunning 4K release of a modern classic has been spoiled by cost cutting and plain dumb decision making.
PRICING: You can find products similar to this one for sale below.

United States: Find other tech and computer products like this over at Amazon.com

United Kingdom: Find other tech and computer products like this over at Amazon.co.uk

Australia: Find other tech and computer products like this over at Amazon.com.au

Canada: Find other tech and computer products like this over at Amazon.ca

Deutschland: Finde andere Technik- und Computerprodukte wie dieses auf Amazon.de
We openly invite the companies who provide us with review samples / who are mentioned or discussed to express their opinion. If any company representative wishes to respond, we will publish the response here. Please contact us if you wish to respond.
Related Tags