Corsair Vengeance LPX DDR4-4600 16GB Memory Kit Review
After some super speedy DDR4 RAM from Corsair? Join us as we take a close look at their Vengeance LPX DDR4-4600 16GB dual-channel memory kit.

Published Mon, Dec 4 2017 10:58 AM CST
|
Updated Tue, Nov 3 2020 6:58 PM CST

Just the other day we took a look at some Vengeance LPX memory which was the fastest kit we had run up to that point, and with them being based on Samsung ICs, we were able to do some outlandish things for someone limiting the voltage used to do so. However, Corsair is one of the few makers wanting to push the bar as far as possible within the abilities of what memory is available to those with pockets deep enough to afford them. Which leads us to test the fastest set of memory available on the market today, based purely on XMP speed and the desire to go as fast as possible.
Today we have the Corsair Vengeance LPX, not red heat spreaders this time, but black instead, and come out of the box ready to run at a blistering 4600MHz. The kit we are speaking of is the CMK16GX4M2F4600C19, which boasts a speed of 4600MHz at 19-26-26-46 2T timings, but requires 1.5V for them to run correctly. While outside of the standards of an XMP 2.0 profile, Corsair has designed what they call the value/budget friendly series into something which could be an overclockers dream.
Of course, we already know that RAM this fast is not for everyone, but there are many that a set of DDR4 such as this will significantly interest them. If you are one of those that has to have the latest and greatest in technology for the PC, need memory for HWBOT points, want to impress your friends, or are searching for the last drop of capability from a PC, you may want to stick around. G.Skill also has a set similar to these, but Corsair was the first to announce this sort of capability in DDR4 and also were the only ones to send us a set to test. Stick with us as we find out if the adage of "more is always better" rings true, as we have the highest echelon of DDR4 in hand and are eager to show what it is capable of.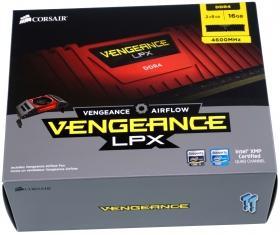 In what we have gathered, all Vengeance LPX memory which includes the Vengeance Airflow fan is shipped in the same box. We see red RAM on the box, but not inside, and while the speed and density can change at the top-right corner, all of them shows as quad channel kits even though they are not all four stick kits. As for this set, we are given two 8GB sticks which will run at 4600MHz.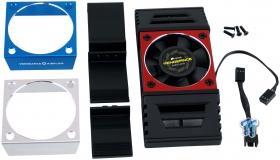 Inside of the box, you will first run into the body of the RAM cooler with the 60mm fan and red accent plate. Under it are the optional blue and silver plates, the trio of brackets to mount the cooler, as well as the screws and the 7V adapter.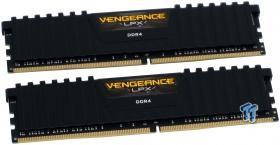 Inside of plastic cases, we found the Vengeance LPX with black heat spreaders. We do prefer these sticks, over the red versions, as the black spreaders, on top of the black PCBs, blends better. Even the logo goes along with the theme and does not stand out as much as it did with the last set.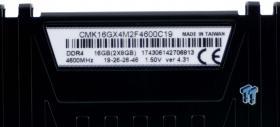 Rather than a metal badge with the LPX name on it, on the back of both sticks, we find a product sticker there. On it, we find the CMK16GX4M2F4600C19 model number, along with the timings needed, the voltage used, and that they are version 4.31 kits.

The top edge of the heat spreaders is identical to the red ones we saw last, just this time they are black, and the Corsair name pops against the background, painted in white letters. The top edge is open too, which means better airflow to the ICs if opting to mount the Vengeance Airflow fan assembly.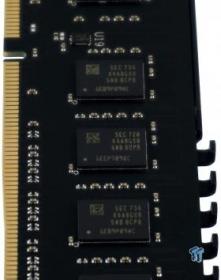 It does take a bit of effort to remove the heat spreader, but we can identify the ICs used on these sticks. These are the same Samsung K4A8G085WB-BCPB chips we saw on the 4000MHz set, just that this time the ICs have to pass a much more stringent binning process to get to 4600MHz.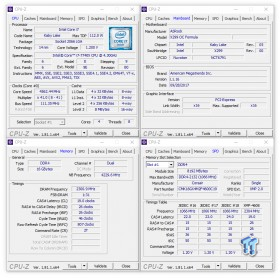 Upon setting the XMP profile, we find that Corsair programs the kit to underclock the CPU a bit. When we booted up for the first time, the CPU was running at a 38X multiplier, and the overall speed was set to 4229MHz to get the rated memory speed. So that testing is on a more level playing field, we increased the CPU speed as nearest to 4.5GHz as possible. We do, however, see that the RAM is running exactly as stated on the box and the stickers. What you do not see, is that the XMP 2.0 profile also requires the need for 1.45V to the VCCIO and VCCSA.
In this image, we see the lowest we could take the timings before losing stability. All of this is done with the default XMP voltage too, as we did not want to press our luck on killing the memory or the IMC in testing. Even with speed unchanged at 4600MHz, we were able to drop timings to 19-20-20-46 2T, which is a considerable drop from what we started with.
We would have shown a shot of the memory at higher speeds, but sadly, nothing past 4600MHz was stable with the CPU set as we have it. If we allow the CPU to clock down as it does when enabling the XMP profile, we were able to get 4750MHz stable, but with the drop in CPU speed, the benefits were lost, so we opted not to cover this angle.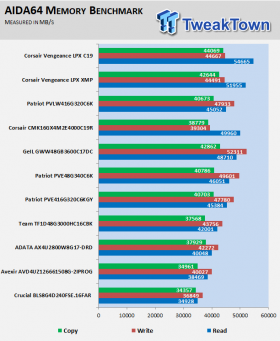 With the XMP profile enabled and no messing around with it, we see that the performance is not as high as we had hoped. Considering there is a 1000MHz difference to the GeIL memory in the chart, the numbers are nice but not as high as we would have thought them to be. Lowering the timings helped massively with the Read ability, but as for the Write and Copy, they do not see much of a boost.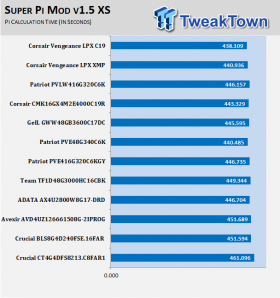 Using SuperPi to crunch a massive amount of numbers, the Vengeance LPX 4600MHz memory is ahead of all the rest of what we tested using the XMP profiles. There is a three second gain over the 4000MHz memory, and by lowering the timings, we gained just over a second more of our life back.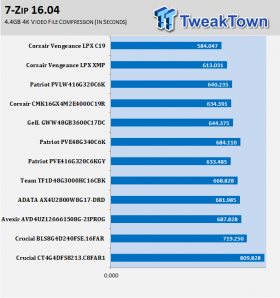 Compressing a video file is something many will want to do in their daily grind at the PC, and the showing from the Vengeance LPX 4600MHz RAM with the XMP profile is the best we have ever seen, nearly 30 seconds gained by using it. Lowering the timings of it also bodes well for Corsair, as it is the first set we have had to break into the nine-minute range to completion.
With what Corsair has delivered, we see that they have made sure to align all of their ducks in a row. It is hard enough to bin ICs past 3600MHz, and while many will not see the need for a 1000MHz bump in speed, our tests show advantages to having such a kit. Using the top of the line ICs is also a huge advantage to those looking to break records with memory as well. The fan is integral to suck quests, and we are glad to have it. Running without the fan, we saw temperatures of 40-degrees, but for those that want to press their luck by adding more voltage, air cooling them is something you are going to want to do. The bonus here, with the CMK16GX4M2F4600C19 memory, is that to gain what we have here, all we had to do was change timings, we never touched any of the voltages. If you are looking for brute speed, you may have to settle for a lower CPU clock, have a cherry-picked processor, or plan to add a bunch more juice to make it all work.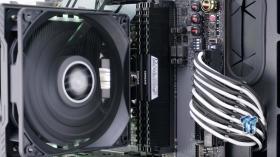 The memory is not that amazing to look at, compared to many other fancy DDR4 offered currently, but if you planned on using the fan, you would not see much of the Vengeance LPX anyways. What we do wish is that Corsair offered a cover plate for the fan that was black so that we could keep the murdered-out appearance the sticks provided out of the box. Red and blue do not match our system in the slightest, and the silver is too bright against all the black and gray, but we are grasping at straws for something to complain about here. In all honesty, as long as you are aware of what the XMP 2.0 profile is going to require to run the memory every day, we cannot complain in what we saw with our Vengeance LPX. Yes; it could have offered better bandwidth in AIDA, but the time gained back in the compression, and number crunching, is worth it to us.
There is still one factor which will keep this memory out if the hands of the average buyer, and sort of breaks the mentality of the Vengeance series being developed for the every-man out there, and that is the cost. On the product page, Corsair is asking an astounding $579.99 for the kit we just looked at. Newegg is currently selling them for $20 less, but keep in mind that the competition is selling their set at $449.99 sans a fan. It is a shame, as many would likely appreciate having a go with a kit such as this, but with the current price point being what it is, we feel many will opt for the competitor's offering. Even with pockets that are packed full of cash, we feel that many will not see the advantage to the Corsair Vengeance LPX 4600MHz memory. It is a shame too. As much as we would love to gloat about why this should be part of your benchmarking and productivity arsenal, it seems Corsair has priced themselves nearly out of the game.
Chad's DDR4 Dual-Channel Test System Specifications
Motherboard: ASRock X299 OCF
CPU: Intel Core i7 7740X - Buy from Amazon
Cooler: LEPA NEOllusion - Buy from Amazon
Video Card: ZOTAC GeForce GTX 970 AMP. Extreme Core
Storage: Samsung XP941 256GB
Case: Thermaltake Core P3 - Buy from Amazon
Power Supply: Corsair RM750 - Buy from Amazon
OS: Microsoft Windows 10 Home 64-bit - Buy from Amazon
Software: CPU-Z 1.78.3 x64, Super Pi Mod 1.5XS, 7-Zip 16.04, AIDA64 Engineer 5.92.4300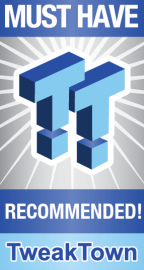 | | |
| --- | --- |
| Performance | 97% |
| Quality | 98% |
| Features | 95% |
| Value | 80% |
The Bottom Line: There is no getting around that massive price tag, but if you can afford them, the Vengeance LPX at 4600MHz is an amazing thing to behold! Great ICs, a fan to cool the RAM for those willing to push boundaries, and performance we have not seen from any other kit to date!
PRICING: You can find products similar to this one for sale below.

United States: Find other tech and computer products like this over at Amazon.com

United Kingdom: Find other tech and computer products like this over at Amazon.co.uk

Australia: Find other tech and computer products like this over at Amazon.com.au

Canada: Find other tech and computer products like this over at Amazon.ca

Deutschland: Finde andere Technik- und Computerprodukte wie dieses auf Amazon.de
We openly invite the companies who provide us with review samples / who are mentioned or discussed to express their opinion. If any company representative wishes to respond, we will publish the response here. Please contact us if you wish to respond.