Team T-Force Delta RGB DDR4-3000 16GB RAM Kit Review
Team's T-Force Delta RGB DDR4-3000 16GB dual-channel memory kit gets put to the test as we see what it can do under our testing.

Published Fri, Oct 6 2017 11:55 AM CDT
|
Updated Tue, Nov 3 2020 6:58 PM CST

Team Group has been keeping us busy as of late, submitting many kits, some similar to others, and some quite different in appearance. Since all but one of them are in the T-Force series, and the emblem for the series looks like bird wings, it only stands to reason that the design of these heat spreaders also follows along with that same idea. However, where previous kits have had upward angled "wings," some with RGB LEDs, some with standard LEDs, and even some without any at all, what you are about to see is something we did not expect from Team Group.
The memory we are bringing you today is the TF4D416G3000HC16CDC01 from Team Group, better known as the Team T-Force Delta RGB RAM. These set of RAM are available with black or white heat spreaders, come in speeds of 2400, 2666, or 3000MHz and range from CAS15 to CAS16 depending on the speed chosen. All kits are XMP 2.0 capable, they come with a lifetime warranty, and of course, have RGB LED lighting, which is ASUS Aura Sync compatible.
What we have in store for you now, is the 3000MHz kit with timings of 16-18-18-38 2T, which requires 1.35V to operate properly. The Delta design offers a 120-degree view of the RGB lighting, on to and from the sides via the asymmetric minimalist design. These sets of RAM also incorporate a customized JDEC RC 2.0 circuit board which increases the distance between the power and signal layers, which raises the signal strength by thirty-five percent. With all of the thought and technology going into this set of DDR4, all there is left to do is to have a look at the Team T-Force Delta RGB RAM, and see how well it stands up to others we have tested.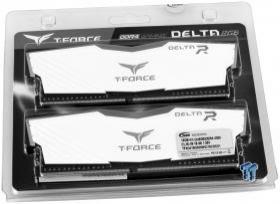 The memory comes in a clear blister package, where the DDR4 is on full display. As you can tell, we have a set with white heat spreaders, and the sticker near the bottom shows the kits rated speed, timings, and even the part number. The black and red insert which displays the company and product names works well to make this Delta RGB RAM pop.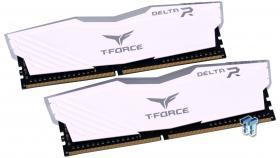 Upon black PCBs, Team uses larger metal heat spreaders, which is shaped evenly from side to side, but the left has five angled grooves, and the right has a unique shape to fit the Delta R name at the top. To go along with the look of the top and Delta R name, the T-Force name and logo are painted on with gray paint.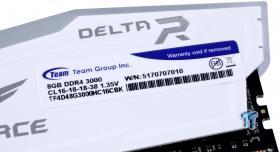 The reverse of the sticks looks identical to what we just saw, except for one small detail. On this side of each of the sticks, we find the blue and white product sticker. The sticker shows us that this is an 8GB stick of 3000MHz memory, and we also see that the timings match the sticker on the package. Do note. However, the model number has changed slightly to an individual product number, not that of the dual channel kit.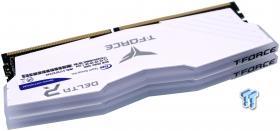 While the metal heat spreaders flank both sides, the top of the modules is left with a full view of the opaque plastic, which is how the RGB LED lighting is shown. Just so that once the RAM is installed, anyone who looks into your PC will instantly know who makes this kit, as the T-Force name is painted on the right end in black.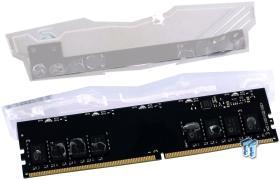 Removing a heat spreader was relatively simple to do, and we find thermal pads used on the ICs and the power delivery circuits. There is some clear tape to hold the metal to the sides of the plastic light transfer component, which is illuminated by five LEDs along the top edge of each stick.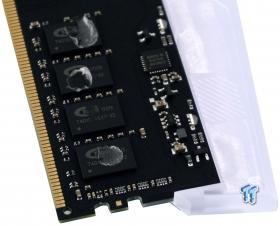 While the ICs are shown marked with the Team name and logo, and sport the T4D10248XT-32 model number, by booting up Typhoon Burner, we found out what they really are. In our kit, we found the ICs to be Hynix chips, more specifically H5AN8G8NAFR-TFC ICs.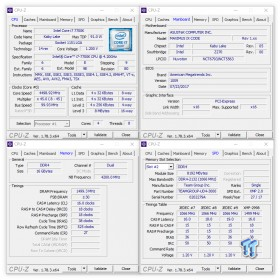 As we always do, once the BIOS is updated, we start off by enabling the XMP 2.0 profile. With just a single thing changed in the BIOS, we booted the PC and found that our Delta RGB RAM is indeed set to run 3000MHz, and the 16-18-18-38 2T timings are present. One thing did catch our eye though, and that is the tRFC setting of 525. This is usually found in 32GB kits and is typically much lower for 16GB kits.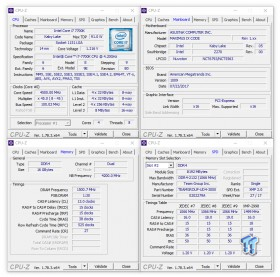 We then attempt to get the timings as low as we can get them to go, and remain stable and usable. With this set of T-Force Delta RGB memory, we were able to drop the timings to 13-15-15-38 2T, which is a vast difference than what the XMP 2.0 profile offers. At this time, we did need to bump the VDIMM to 1.40V, but the VCCIO and VCCSA did not need adjusting from their 1.144V and 1.136V settings.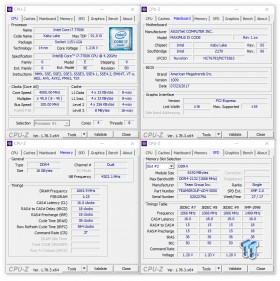 When it comes to raw speed, Team left a fair bit to be had. Using the typical settings of 1.45VDIMM, 1.20 VCCIO, and 1.25 VCCSA, we were able to run this set at 3333MHz. We were able to boot them to 3466 and run most of the benches, but SuperPi was cranky at this speed and would have taken some tinkering to get stable, but to do so is out of the realm of what we choose to do for our reviews.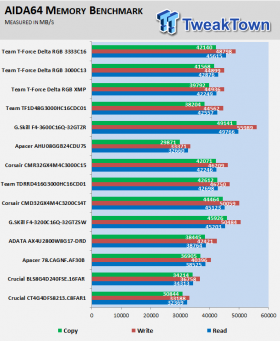 In AIDA64, the Delta RGB RAM performs where we would expect, surpassing one of the other 3000MHz Team kits in the chart. The compare closely to the similarly spec'd Corsair memory, and are not that far behind the 3200MHz and 3600MHz kits. Lowering the timings helps with read and copy performance, but once set to 3333MHz, it allows this kit to spread its wings a bit and challenge many other sets in this chart.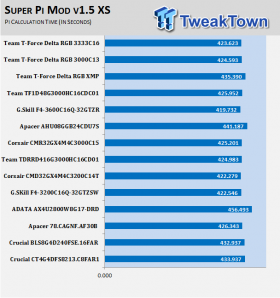 SuperPi times are close, no matter which kit you look at, many of them taking over seven minutes to complete the 32M test. The stock result of seven minutes and fifteen seconds is not that impressive to be blunt. Lowering the timings puts the Delta RGB in range of many of the others, and swapping low timings for more speed shows minimal gains in this test.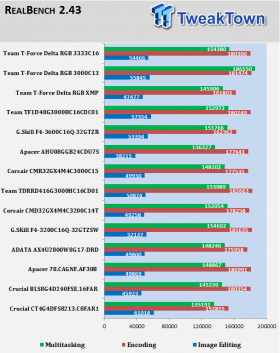 When it comes to Super Pi testing, the lower the time seen in the chart, the better for the test subject. With the XMP profile used, the time is better than expected, and on the ROG profile, the TridentZ RAM beats it by the slightest of margins. Lowering the timings helps some for this test, but not like the speed increase, which has this kit running in the six-minute range.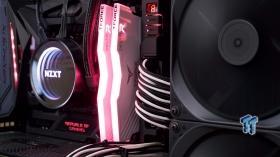 Using RealBench to show performance does not bode well for the T-Force Delta RGB either, at least not while using the XMP 2.0 profile. Many of the other kits trounce this memory, but if you are not afraid to tinker with the timings or change the speed strap, you can have DDR4 with some of the best results we have seen to date.
We love the way the T-Force Deltas RGB looks, even while not powered. The downturned wings are more pleasing than others from Team we have seen in the past, and with a maximum height of 49mm, they can still fit under many CPU coolers available today. The use of black PCBs dresses up the overall look of this memory, and the flexibility offered in this RAM when it comes to overclocking is better than anything we have seen from Team Group in the past. That being said, for those who want plug-and-play DDR4, you may be better off looking at kits which offer better performance at that level.
Once running on a compatible ASUS Aura motherboard, what starts as a rainbow of LED lighting, which desyncs over time with one another, can be software controlled to mimic what the motherboard RGB LEDs are doing. This enables the entire system to be matched in various modes of color shifting LEDs, or one can select a static color which delivers a unified appearance to the whole system. There is no doubt that the white T-Force Delta RGB DDR4 looks amazing on our test system, and for those who prefer a stealth approach, remember, these can be had with black spreaders as well.
As we attempted to shop around for the memory, we find that if you desire an 8GB kit of these modules, it will cost you right around $90 for 2400MHz or 2666MHz sets. For those looking for 16GB kits, you are required to spend $143.99 for the 2400MHz set, $146.99 for the 2666MHz set, but sadly, at this time, the 3000MHz kit we tested cannot be found in the wild. If we had to take a stab at pricing based on the other kits, we would assume Team would deliver them at roughly $150. A quick scan of other similar sets of memory shows this to be right smack in the middle of the pack for price currently, which will tend to bring more buyers to this kit. If only the XMP 2.0 performance were slightly better across our tests, we would be able to fully support Team and the T-Force Delta RGB DDR4. However, if you like to tinker with your memory, we were able to get impressive results with very little effort involved.
Chad's DDR4 Dual-Channel Test System Specifications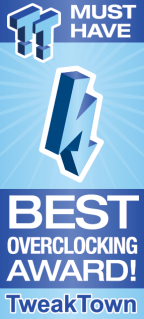 | | |
| --- | --- |
| Performance | 90% |
| Quality | 95% |
| Features | 99% |
| Value | 92% |
The Bottom Line: Team's T-Force Delta RGB look amazing, but lacks a bit in XMP 2.0 performance. However, either lower the timings some, or increase the speed, and this kits jumps to the top of our charts.
PRICING: You can find products similar to this one for sale below.

United States: Find other tech and computer products like this over at Amazon.com

United Kingdom: Find other tech and computer products like this over at Amazon.co.uk

Australia: Find other tech and computer products like this over at Amazon.com.au

Canada: Find other tech and computer products like this over at Amazon.ca

Deutschland: Finde andere Technik- und Computerprodukte wie dieses auf Amazon.de
We openly invite the companies who provide us with review samples / who are mentioned or discussed to express their opinion. If any company representative wishes to respond, we will publish the response here. Please contact us if you wish to respond.