Creative Sound Blaster E-MU XM7 Bookshelf Speakers Review
Want to step up from general computer speakers into the audiophile realm? Sound Blaster thinks the E-MU XM7 speakers should be the top of your list.
Published Sat, Nov 7 2015 6:23 PM CST
|
Updated Tue, Nov 3 2020 6:59 PM CST
Introduction
With our review on Sound Blaster's X7 DAC completed, it only makes sense to check out some speakers that are designed for such a unit. Creative sent us along these E-MU XM7 'bookshelf' speakers to showcase what may be the next logical step up from your general 'computer speaker' offerings.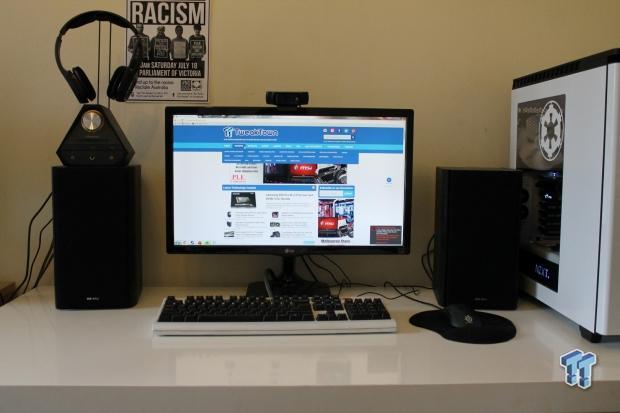 Being a step up from what you'll usually find at your local PC store, these speakers require an amplifier to operate, which is why I paid tribute to the Sound Blaster X7. Being 'bookshelf speakers', there's no standalone subwoofer driver here, so these speakers have the possibility of not providing enough punch for the bass junkies.
Specifications
While not providing a standalone subwoofer, the E-MU XM7 bookshelf speakers offer two drivers per unit, these being a 5" woofer and 1" tweeter. They aim to provide a solid overall soundstage when compared to bass-heavy computer speakers with big dedicated subwoofers on the floor.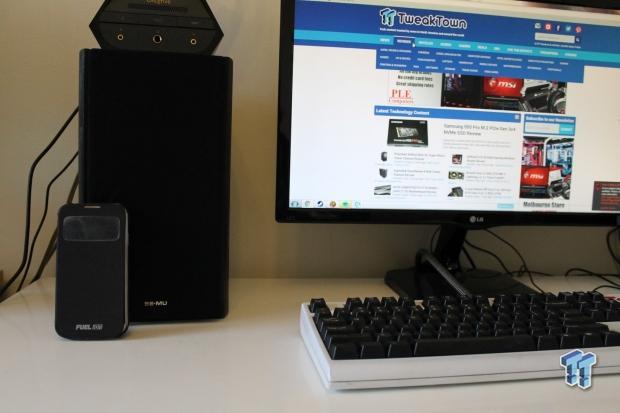 Each speaker measures in at 298 x 174 x 232 mm, showing that they are quite big in stature. A quick look at the image above shows how they dwarf my Samsung Galaxy S4, with further images below in this review showing the sheer size when compared to small Plantronics Bluetooth headphones and the Sound Blaster X7 DAC. However, this sizing is to be expected when housing two drivers within and a port on the rear.
Weighing in at 4.35 kg each, these speakers are not light either. The size and weight mean you're going to have to find a solid grounding platform for them, something that people don't often account for when upgrading from comparatively small computer speakers like my Logitech X-530 setup.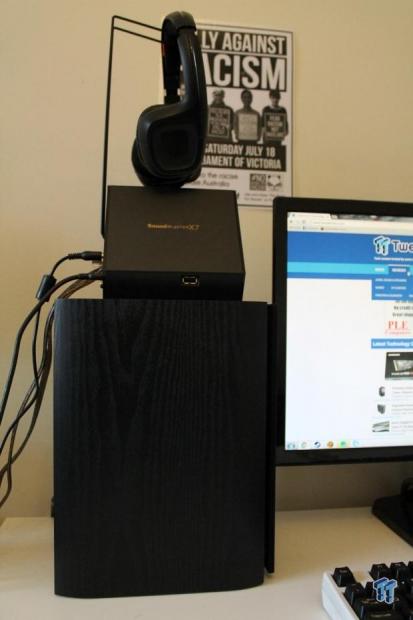 Providing gold-plated binding posts and a brown wood grain finish, this speaker comes with two soft grilles on the front and two handy 2.5-meter lengths of speaker cable within. The drivers themselves offer 60 W of maximum input power and an impedance of 6 Ohms.
Pricing & Availability
Available from Amazon for $269.99 with free shipping, the Creative Sound Blaster E-MU XM7 is certainly a step-up from general computer speakers in the price department, especially when you take into account that you're going to need a DAC to drive it too. The price may be stretching your wallet a little, but if the speaker lives up to its name, it will be worth every cent when going through the testing phase.
What's in the box?
The official 'accessory' list here includes two soft grilles to protect your drivers, two lengths of speaker cable (2.4 m each) and a user manual.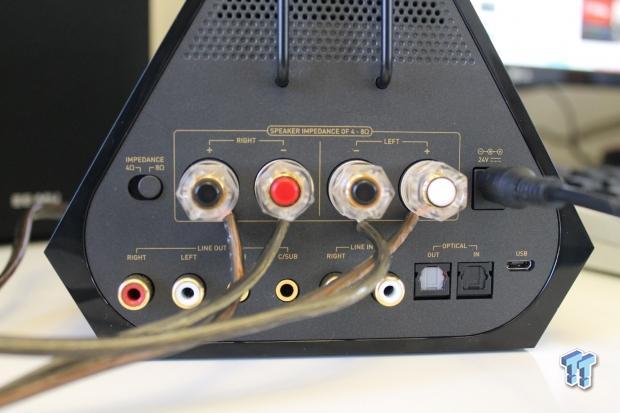 There isn't anything I can think of to include in this package. The box is made of plain cardboard and is eco-friendly, which is nice. The packaging can also be pieced back together well, meaning you can transport these units around without too much hassle.
Let's dig deeper
Connected through easy-to-access binding posts on the rear of the unit, you can either chose to screw the 'raw' speaker wire in yourself or fashion up some banana plugs if you wish.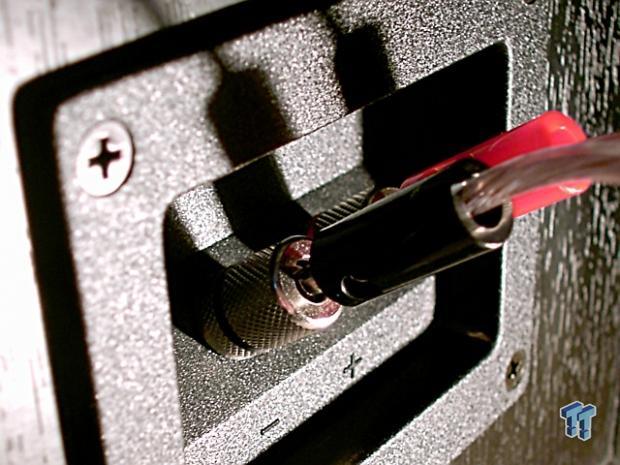 Opting for the 'straight' speaker wire route, the connection is easy to make and extremely solid, something you'd likely expect. As mentioned before, these speakers are quite heavy, and this also helps ground them quite well meaning that no matter what volume was pumped through, the speakers didn't vibrate, rattle or move on my desk.
The wood construction feels great to the touch and is extremely well built, showcasing no issues of frame vibration when the sound was turned up, with the port on the back further adding to the styling and sound prowess displayed here.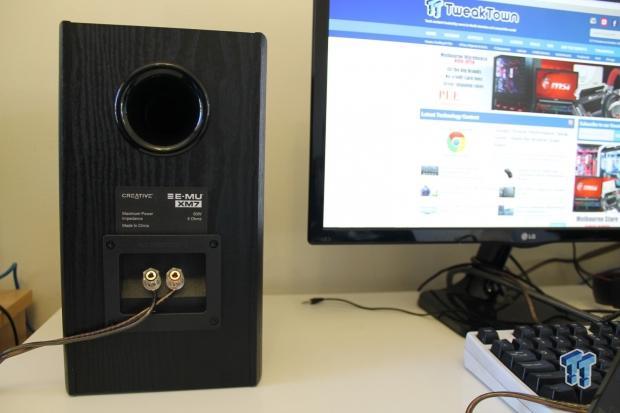 Hit me with the Music
I used the Creative Sound Blaster X7 DAC to power these speakers, utilizing my Samsung Galaxy S4 playing Spotify Premium (higher quality) tracks through either a USB or Bluetooth connection. The testing below will not only make mention of the speakers themselves but also touch on how they provide a different experience over my Logitech X530 computer speakers - bearing in mind that the Logitech speakers are only worth around $100 in total.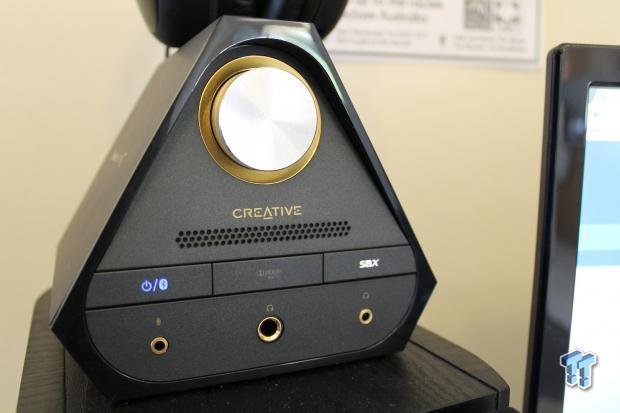 First cab off the rank is a song was inspired thanks to the smash-hit movie, 'Straight Outta Compton'. N.W.A's 'Express Yourself' helped show exactly why these speakers are in a much higher price bracket, demonstrating a crisp sound, being something that you're going to notice instantly no matter what the track.
On top of the clarity is a complete 'fullness' of sound, meaning that these units provide a comprehensive soundstage, enabling you to hear things as never before. Obviously there is a fall due to no dedicated floor-based subwoofer, and that comes in the form of no booming bass, but this is no real issue at most sound levels, as the bass is still present and punchy. Bear in mind that if you're loading up something that is bass heavy and you're turning up the speakers quite loud (above 90%), the bass is going to fall off quite a lot.
Twenty One Pilots' 'Ode To Sleep' further helps articulate the clarity and fullness of sound. There isn't too much bass in this track, so listening at 80% volume from all around my house reported back no issues whatsoever.
Moving into something a little more laid back, Nas' 'The World is Yours' helps further demonstrate the all-around abilities of the E-MU XM7 speakers.
Last up is about the 'punchiest' track you can get, 'Warcry' by Audiofreq, featuring ridiculous amounts of reverse bass. This song sounds great at lower levels, but once again, if you're wanting to turn it up super loud and rock the windows, you're going to run into bass related issues.
What's Hot
Well-built: The wood grain feels nice, it's stable, and the unit won't vibrate across the desk.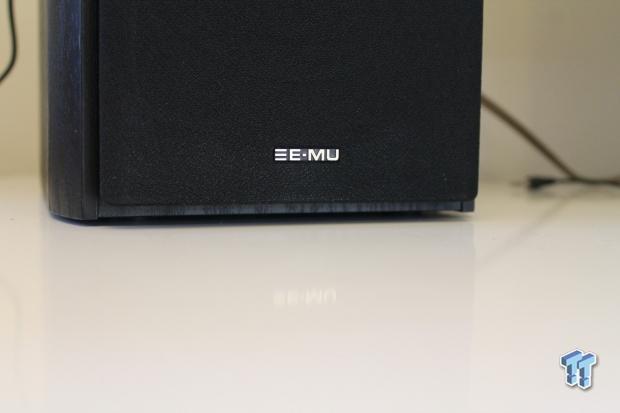 Clarity is crisp, and the music is full: For those looking at a speaker to tackle almost every task fairly well, the E-MU XM7's are for you. The clarity is extremely crisp, and it's going to perform well across all tracks.
What's Not
Lack of top-end bass: If you're a fan of big, booming bass, you're either going to have to look elsewhere or add a dedicated subwoofer into the mix. As these are 'bookshelf' speakers they don't claim a 'bassy' experience, but it's something that people don't necessarily take into account, and it could make or break this pricey purchase.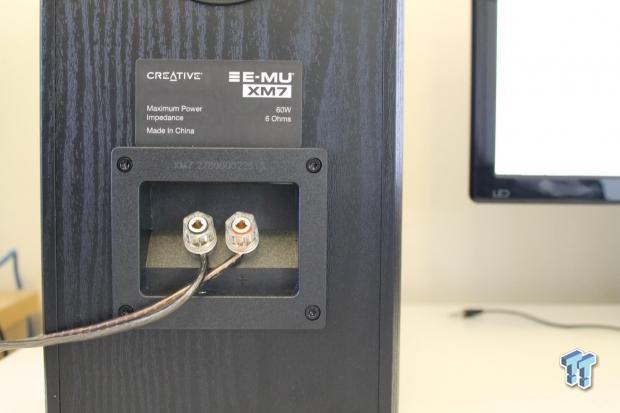 Final Thoughts
Although pairing it with an expensive DAC like the X7 makes this whole price of kit quite expensive, you get what you pay for, blissfully crisp tunes for many years to come with the E-MU XM7.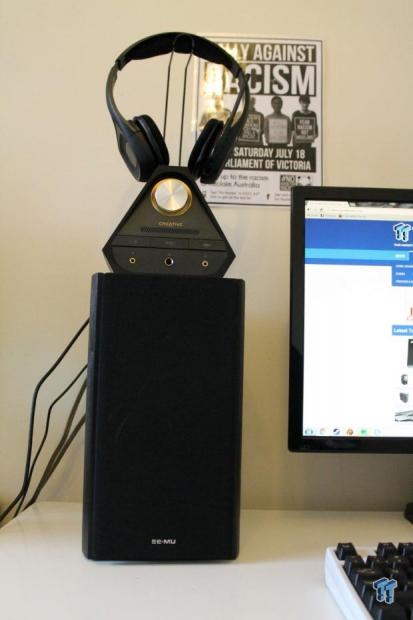 For those looking at a speaker to tackle almost every task fairly well, the E-MU XM7's are for you. But if you're looking for booming bass, you're going to have to add a subwoofer into the mix. These speakers are 'bookshelf', thus are not designed to offer rock concert level bass, but it's something that not everyone may consider when purchasing.
However heavy these units may be, they look great and will suit a myriad of applications from a home music setup, to computer or console gaming and even a beginner TV Hi-Fi kit. If you're wanting to add some massive punch, I suggest a versatile DAC like the Sound Blaster X7 and adding a subwoofer into the mix.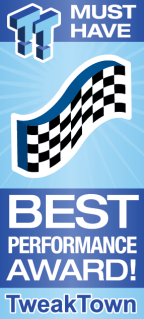 | | |
| --- | --- |
| Performance | 95% |
| Quality including Design and Build | 90% |
| General Features | 90% |
| Bundle and Packaging | 90% |
| Value for Money | 85% |
The Bottom Line: For those looking at a speaker to tackle almost every task well, the Creative Sound Blaster E-MU XM7's are for you. However, if you're looking for big bass, you're going to have to add a dedicated subwoofer into the mix at additional cost.
PRICING: You can find products similar to this one for sale below.

United States: Find other tech and computer products like this over at Amazon.com

United Kingdom: Find other tech and computer products like this over at Amazon.co.uk

Australia: Find other tech and computer products like this over at Amazon.com.au

Canada: Find other tech and computer products like this over at Amazon.ca

Deutschland: Finde andere Technik- und Computerprodukte wie dieses auf Amazon.de